Today's post is super sweet and tasty! It's Candy clip art. As I type these words, in the back of my head I am singing:
Lollipop, lollipop Oh Lolli Lolli Lolli, lollipop, lollipop
Oh Lolli Lolli Lolli, lollipop, lollipop
Oh Lolli Lolli Lolli, lollipop
I think that song was from the Stand by Me soundtrack back in the day? Anyway, I can't help but hum that lovely tune when I look at this clip art. If you have no idea what I am talking about, here is a video for your listening pleasure.
Candy Themed Birthday Party
As a mum, I try to limit the amount of candy and sweets my kids have, but it does not mean that they are any less loved then when I was willing myself with them as a child. This neverending love makes candy or sweets an excellent theme for a kids party. Don't think for a second that a candy themed party means you have to overdo it with the sugar. A child's birthday party theme is all about providing something for the kids to get excited about. Seeing a candy themed invitation will signal to a child that there will be sweets, not that they would ONLY be sweets! I know the promise of a single lollipop or candy is enough to get my kids excited for days! If you do decide to throw a candy themed birthday party, I'm creating some free party printables for you to use as a part of your planning. The link to these freebies will be posted over the next few days.
Candy Clip Art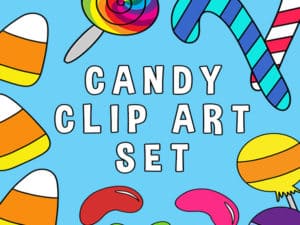 Today's full clip art set is available for purchase via
Creative Fabrica
for $5.00.
The files are also available as a part of the monthly Creatives Fabrica subscription. With a Creative Fabrica subscription, you simply pay a single monthly fee and download all of the Creative Fabrica graphics and fonts that you can find. There is no minimum commitment and get access to 1000's of designs. I use lots of the clip art on Creative Fabrica to create the printables on this site, and I find it to be an absolute bargain for how much I use the graphics. I am a user, seller and an affiliate of the site and I love it. If you have not checked out Creative Fabrica before, it's worth checking out their weekly freebie section. Every week they offer free graphics and fonts for downloads, sometimes they even have Party with Unicorns full clip art sets for free!
If you do decide to purchase the candy clip art set, you will receive 25 30 high-res PNG files.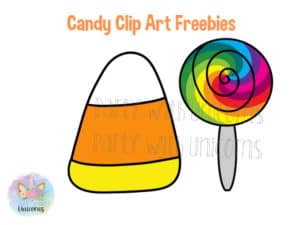 As a part of today's post, I am putting up two of the clips as freebies. These include the Candy Corn Clip Art and Lollipop Clip Art. To get your freebies, join our newsletter below by entering your email details. Once you had entered these details, the link to download the files will appear.
More Free Clip Art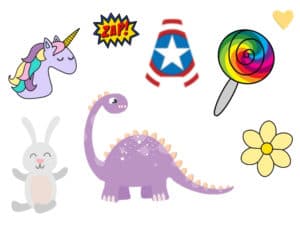 If you are looking for more free clip art resources, be sure to check out our kid's clip art library. Every post has at least one freebie, and there are also many full clip art sets available for download.
As always, I love to see what you do with the free clip art so be sure to tag me on Pinterest, Instagram or Facebook with your creations. If you have any questions, please let me know in the comments below.
Download Candy Clip art Freebies
To download the coloring pages, just head over to the Freebie library. In the library, you will find over 75 free printables with more being added every day!