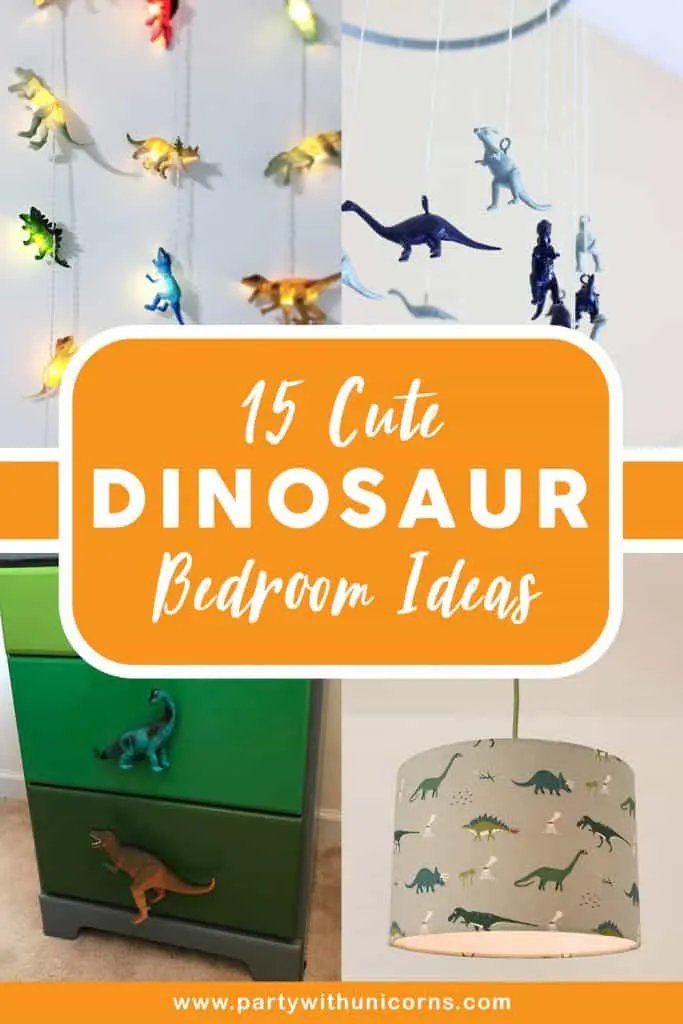 I know that part of being a parent is making sure our kids have their own space to enjoy. That's why we usually love the idea of doing some makeover with our child's bedroom. But redecorating a bedroom space might be challenging for some parents who don't have time to search the net for ideas. That's why I am back again with another list of bedroom ideas that hopefully will help parents like me! This time I am covering a Dinosaur-themed bedroom.
The list consists of 15 cute Dinosaur-themed bedroom ideas that you can purchase, make, or get inspiration from.
15 Dinosaur Bedroom Ideas
Photo Credit: www.busybliss.com
If you want to step-up your kid's dinosaur-themed bedroom, why not change the wall hooks to dino heads or tails instead? This DIY tutorial on how to make a Dinosaur Wall Hooks will surely help you out in pulling off this project. Your child will surely love this tiny detail in his/her room.
Photo Credit: www.withawinkandasmile.com
Another DIY project I stumbled to help you out in making your child's bedroom all about the dinosaurs is this DIY Dino Dresser. I personally love the idea of revamping an old boring dresser into a new cool kid-approved one!
If you want to keep the kids safe when playing inside their room, a play mat can help you achieve some peace of mind. This Dinosaur Play Mat I saw on Amazon is such a perfect piece to match your child's Dinosaur-themed bedroom!
I know that when doing a bedroom makeover, walls can be a challenging part. What to do with those plain boring walls? Add some decors on it! One idea is this very cute Dinosaur Prints from Amazon. This will surely add some cuteness to a Dinosaur-themed bedroom!
Photo Credit: www.etsy.com
You can also add this amazing Dinosaur Alphabet Print from Etsy. Let your child learn dino names from A to Z!
Another wall decor idea is this colorful Dinosaur Wall decal from Amazon. A lot of us parents want to make our child's bedroom wall festive with colors but scared to paint them permanently. So these decals are just the perfect solution for that since you just have to stick it onto the wall and remove it if you plan to redecorate again.
Photo Credit: www.pinterest.ph
If you're planning to make a Dinosaur-themed bedroom or nursery for an infant, this Dinosaur mobile idea is the cutest!
Another Dino-inspired idea you can do for your child's dinosaur-themed bedroom is to get these cute window curtains with Dinosaur prints all over it!
Of course, your child's bed must also match the theme. So make sure to get some bedding set that has dino prints on it like this bedding set from Amazon.
Photo Credit: www.pricerighthome.com
This Dinosaur Wall Clock I found is just the cutest! It will be a perfect addition to a Dinosaur bedroom as well.
Photo Credit: www.etsy.com
For your child's bedroom lamp, you can opt for this fun Dinosaur Lampshade I found on Etsy.
Photo Credit: www.pinterest.ph
This Dino chair I saw on Pinterest is just the cutest of all! This is a fun idea to add to a Dinosaur bedroom. Your kids will definitely love it as much as I did.
Photo Credit: www.etsy.com
Another aesthetic decor idea for a Dinosaur bedroom is this Dinosaur String Lights from Etsy. You can place it behind the bed headboard or anywhere you want!
Photo Credit: www.pinterest.ph
If you want to go the extra mile, this Dinosaur bookshelf idea is perfect to store your kid's books and toys.
Documenting our kid's growth is a tradition we all want to keep. So I decided to include this Dinosaur Height Growth Chart from Amazon as part of our Dino bedroom decor ideas.
I hope this list of ideas somehow helped you in brainstorming how to redecorate your child's bedroom to achieve that Dinosaur-themed one!
Similar Posts: