Dinosaur Clip Art
Today's Friday Freebie is the dinosaur clip art that was used to make the recently uploaded dinosaur party invitations and the dinosaur activities for preschoolers. I hope you love this set as much as I do! The inspiration for this set was creating cute dinosaur clipart for girls. Inspiration aside, once it was drawn up, these dinos were so cute that I am sure boys would love them too! Be sure to scroll down to the end of this post to download a few more party printables and crafts for kids using this set. They are perfect matches for the invitations previously posted.
Dinosaur Clip art – Download
The dinosaur clipart collection includes:
– high quality PNG (transparent background) images which are 300dpi RGB
– Nine colorful dinosaurs
– Volcano
– Tree
– Hearts
– Rocks and grass
– Leaves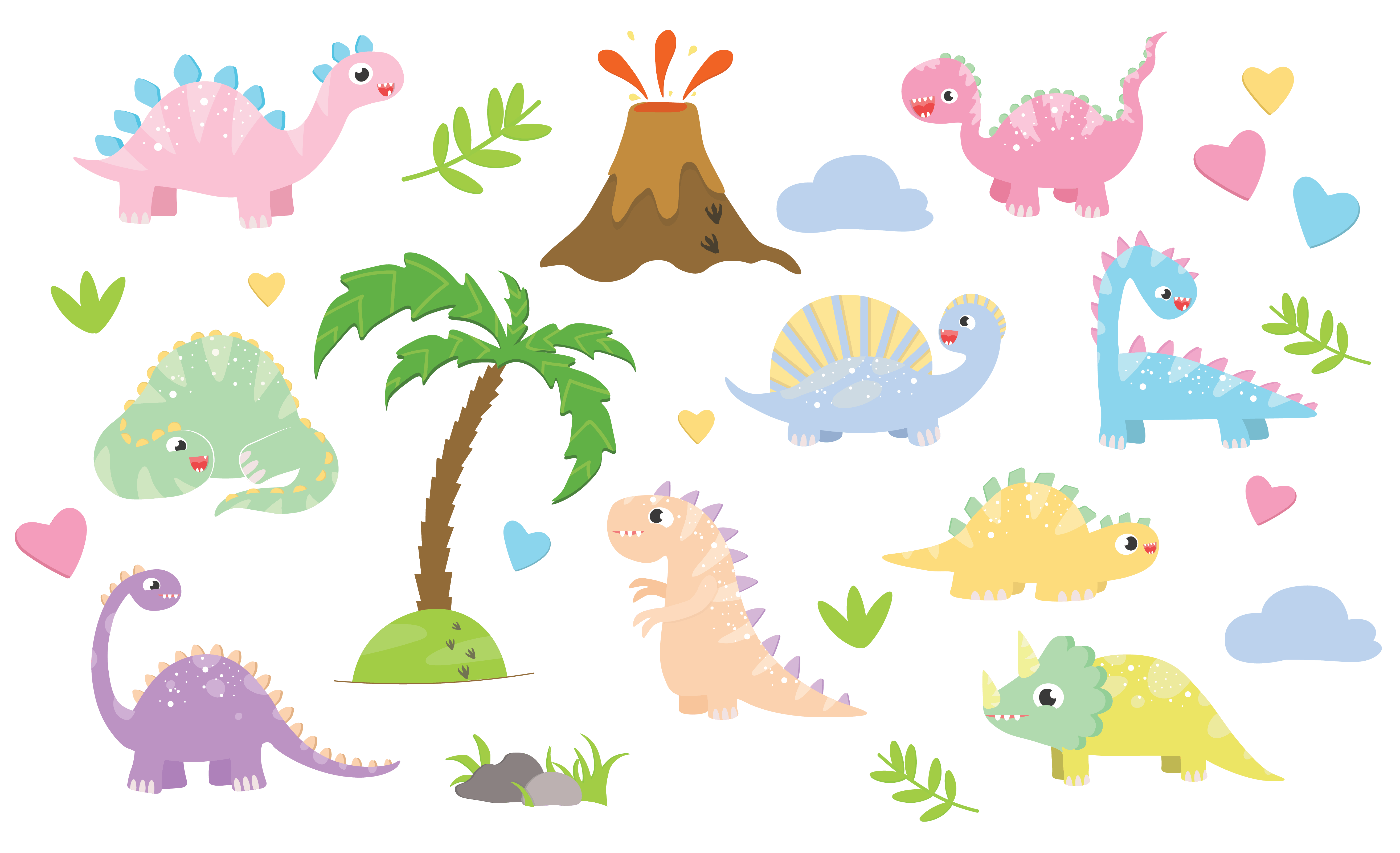 To save the dinosaur clip art files to your computer, just click on the image above. When the full-size image open, just click "Save As' to choose a location on your computer to save the files. If the image is not opening on your computer, please check if you have a popup blocker on your browser.
YOU MAY NOT share, resell or redistribute these products. Personal use only. If you would like to use a commercial product, please contact me here. All rights reserved © 2018 PartywithUnicorns
Dinosaur Gift Envelopes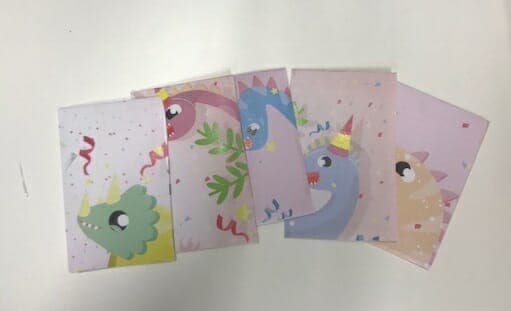 These cute gift cards and envelopes are the perfect addition to any dinosaur gift. Included in the printable are four six different dinosaur designs and also a matching sheet of gift notes. If you are not into writing notes, these envelopes are also the perfect size to house a gift card! These gift cards also match the dinosaur party invitations recently posted.
The image below shows how you can make the envelopes. You simply cut out the envelope template and then you fold the templates along the black lines shown and then apply glue to the tabs that say "glue". As per the instructions above, to save the Dinosaur Gift Envelope files to your computer, just click the image above.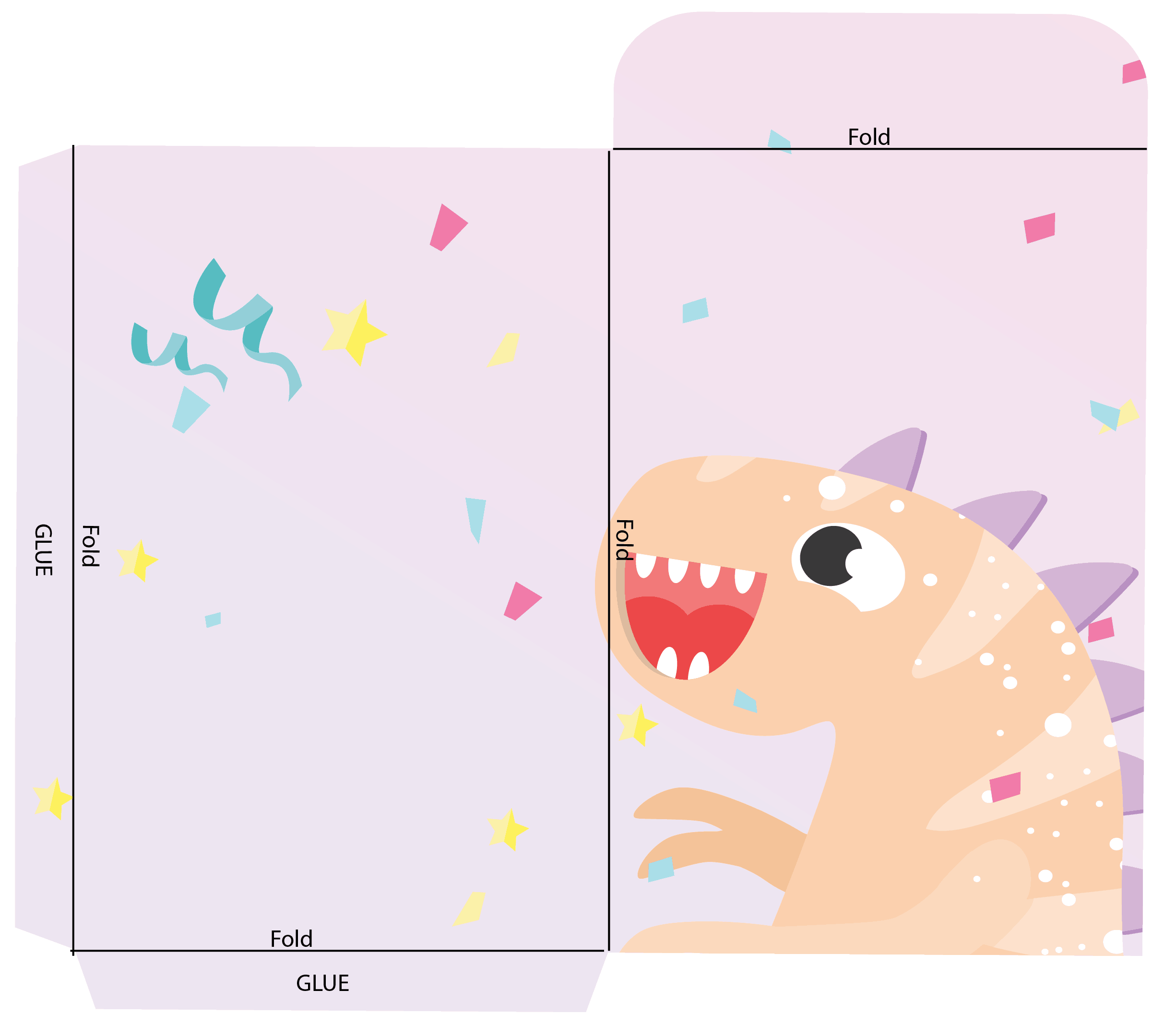 Dinosaur Birthday Party Games – Pin the plate on my dinosaur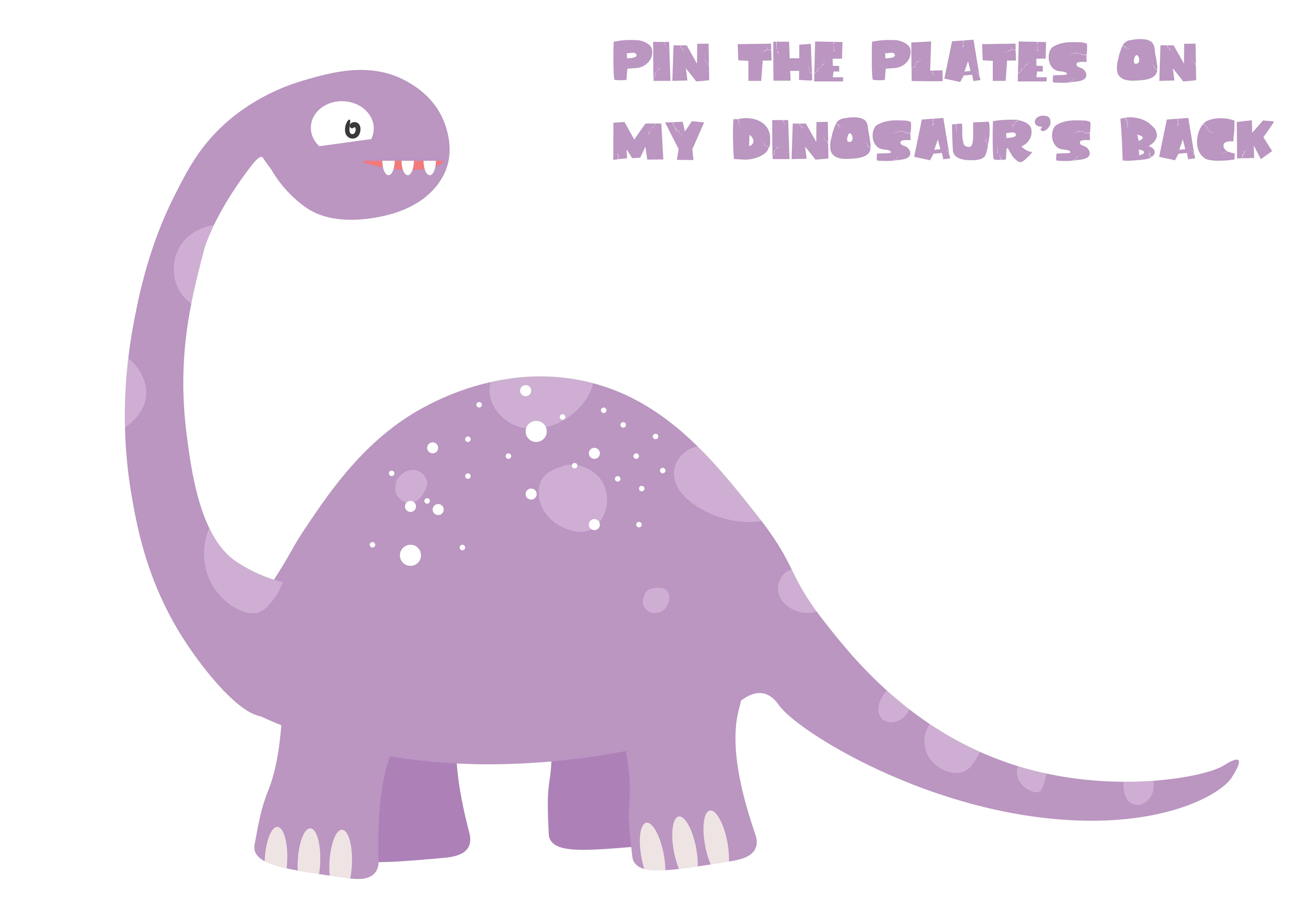 If you are looking for dinosaur birthday party games, here is a poster template for "Pin the plate on my dinosaur's back". This dinosaur spin of an old classic is sure to be a hit at any kids party.
The Dinosaur Party Game Template is set to print at A2, so it will print over 6 regular pieces of printer paper. The easiest way to do poster printing at home is to open the document in Adobe readers and select "print". When the print menu comes up, you need to look under the "page sizing and handling" menu, and select poster. This will show you how many sheets of paper are required to print out your poster. You can also customize the size for making the poster bigger or smaller in this menu.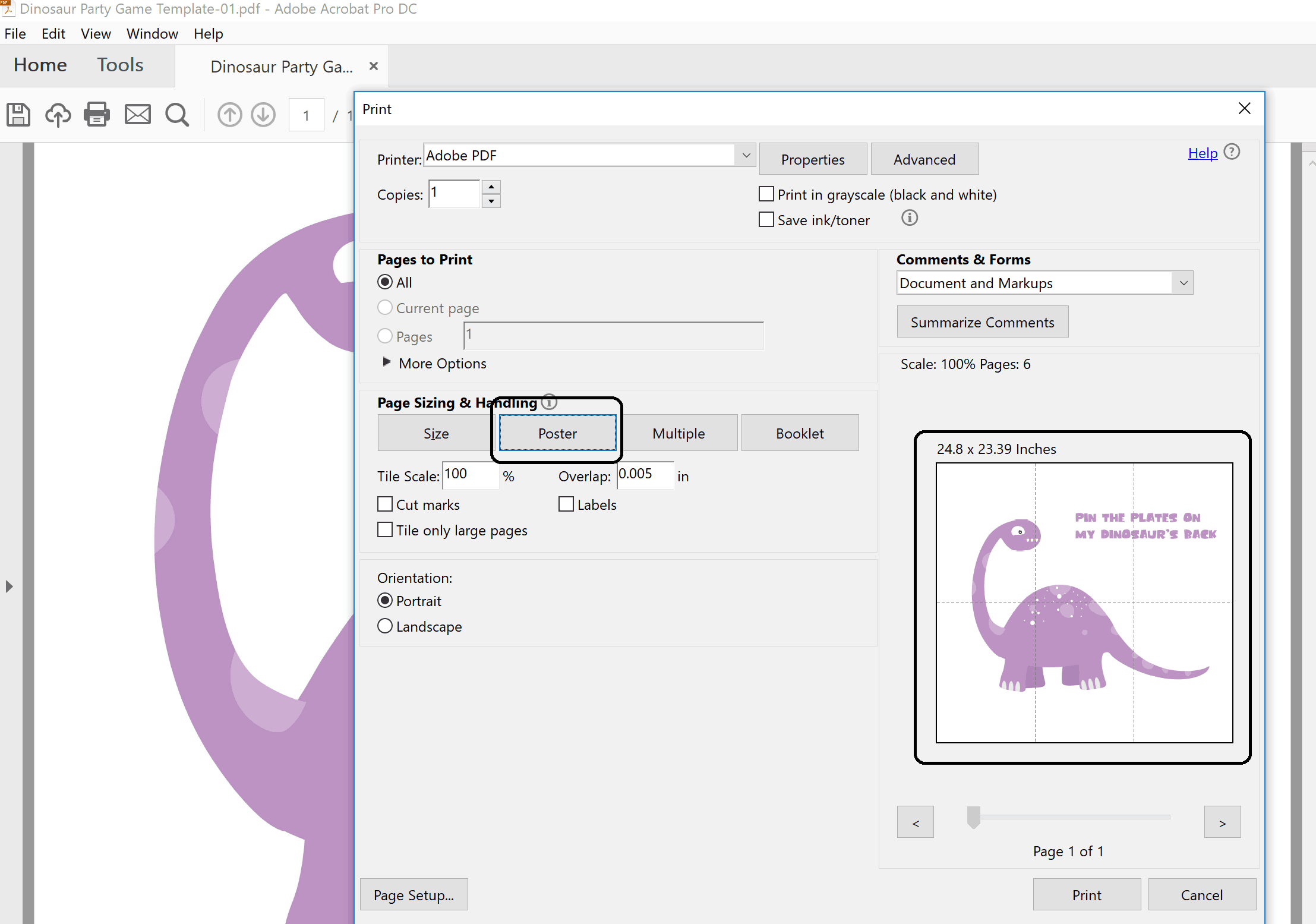 Once you are happy with your sizing, you simply hit "print". The poster will print over the specified number of pages. All you need to do then is tape or glue the poster together. The plates template is set to print on A4, so it can just be printed in a single sheet of paper.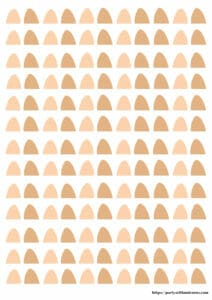 If you have a laminator, I would laminate the poster sheets. This will allow the kids to pull the plates on and off as many times as they want without damaging the poster. If not laminator is available, maybe print some extra sheets of plates so kids can have multiple turns if they want. You may also want to consider adding a child's name to their plates, so they can show people which one is there when the dino starts to get totally covered in plates!
Dinosaur Party Decorations

Next up, is some dinosaur party decorations in the form of bunting or a banner. This bunting matches the dinosaur party invitations previously posted and the dinosaur gift card envelopes posted above. The Dinosaur Bunting template consists of 17 pages of flags which includes 6 dinosaur flags and then one flag for each letter of the alphabet so you can make your own words. The set also includes two blank flags so you can customize. As with most of my customizations from this website, I would use Canva for this task. Reminder – Check which pages of the PDF you need to print for your required letters, otherwise, you may end up wasting ink and paper.
Dinosaur Footprint Template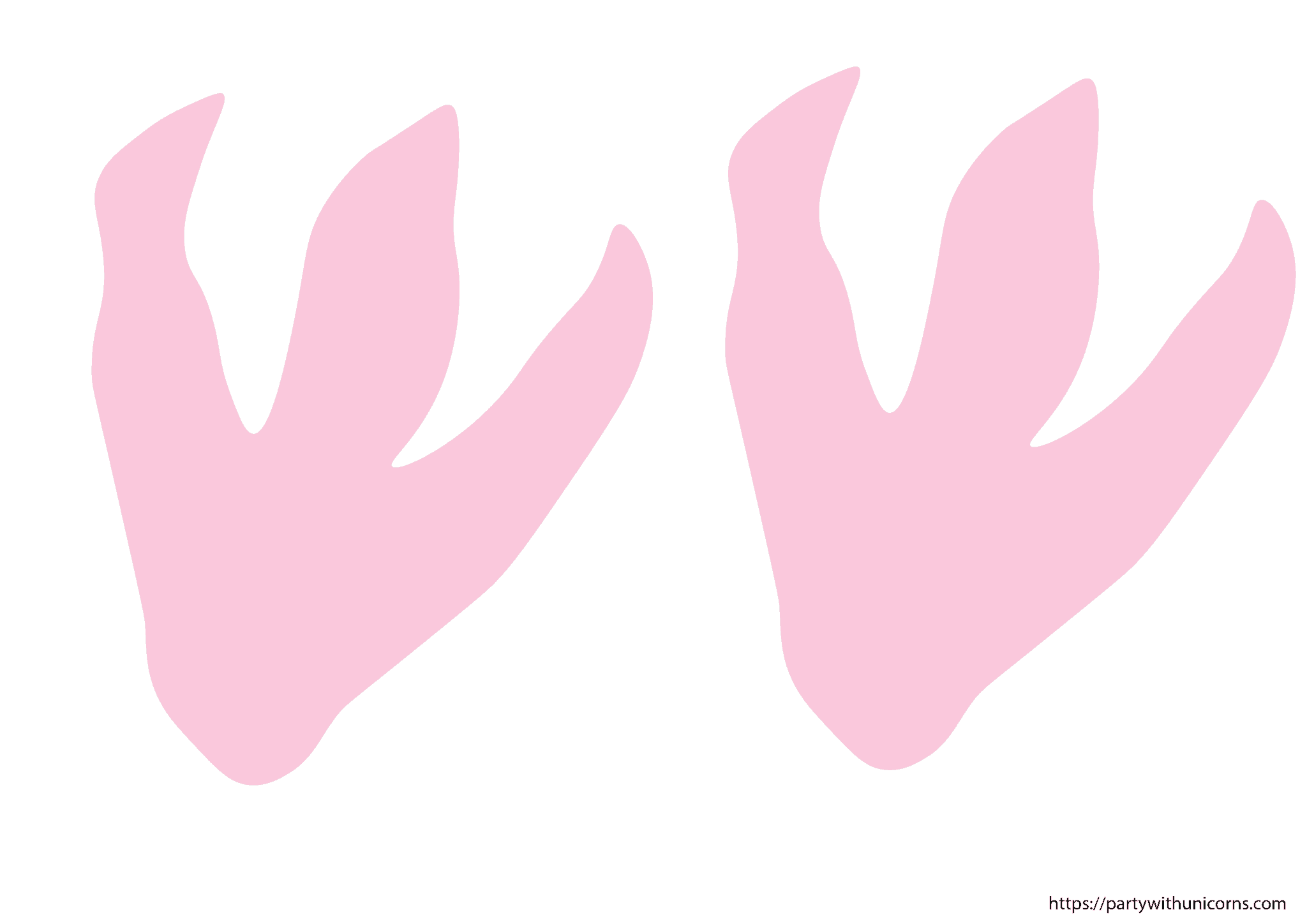 The next Dinosaur Party Decorations that I have made with this set of clipart is a Dinosaur Footprint Template. Print out these pink footprints and you can place them by the front door with a sign that says "Dinosaurs Ahead". Another neat idea is to use them in your backyard to mark out the path for a dinosaur egg hunt. As with the other printables, just click on the image above to open it at full size. When the full-size image is open, just right click and hit "Save As" to save it to your computer.
Dinosaur Party Favor Bags
I recently posted DIY crafts instructions and templates for dinosaur party favor bags. If you are looking for a cute dinosaur bag, I would recommend you check it out (I am, of course, very bias). To add to these bags and keep on the theme with our dinosaur clip art inspired party planning, I have also done some favor bag tags. These tags are all ready to go, so all you need to do is print them out and cut. To download the file, click on the image below.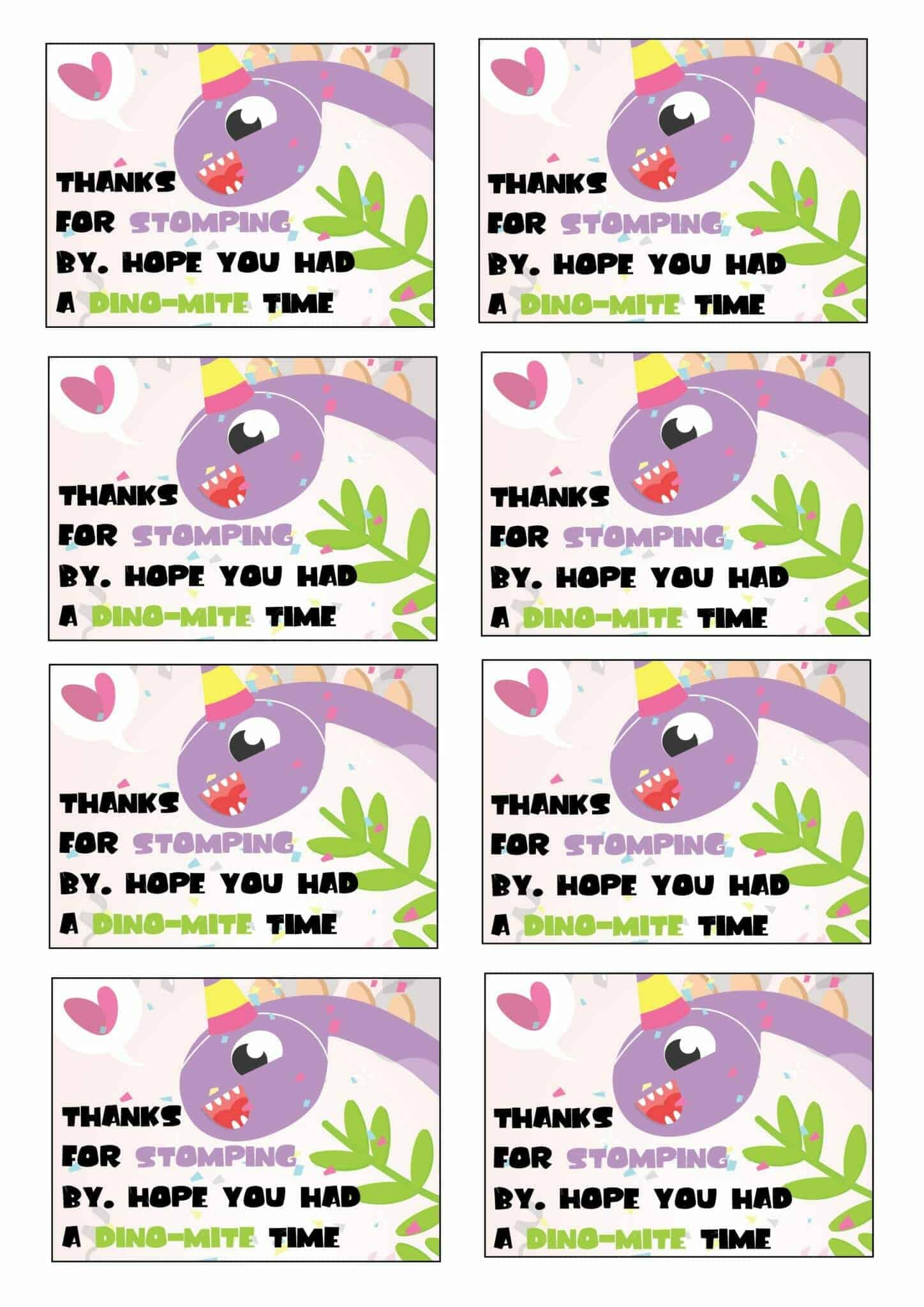 So that my collection of dinosaur party items from this cute set of dinosaur clip art. As always, I'd love to see what you come up with using this set of dinos. Be sure to get in touch via the comments or alternatively, get in touch via Pinterest. If you are willing to share your materials or templates, please let me know. I am always happy to post links to related items.