Affiliate links may be sprinkled throughout the awesome, free content you see below. I'll receive a small commission if you purchase from my links (at no extra cost to you), which I'll totally blow on awesome things like adding more free content to this website. :)
If you are planning a Dinsey Princess Party, here is my roundup of some great Disney Princesses Party Invitations. Please note – that I do not have details on which retailers have the appropriate licenses for the graphics they are using. please check with each retailer or website at the time of purchase.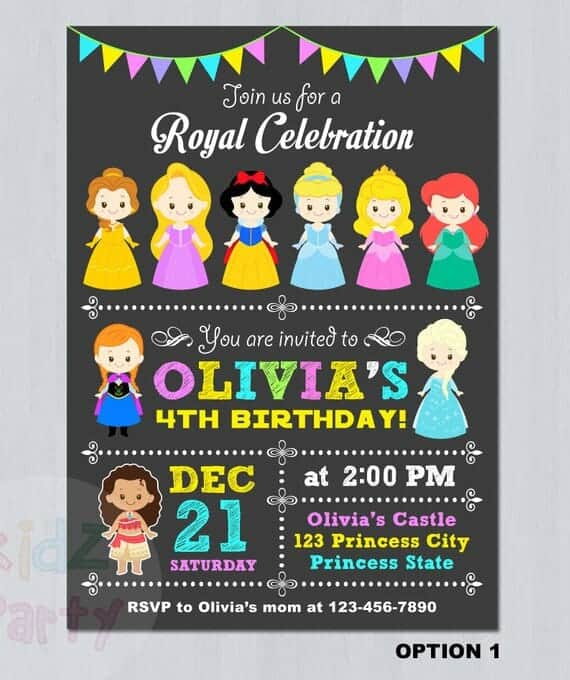 This really cute birthday Party invitation which shows all of the Disney princesses as small Ooshi like cartoons is from the Kidzparty Etsy shops. Its super cute and would go perfectly would some Ooshi party favors. It comes as a printable invitation, so once you order the invitation artwork will be updated with all of your details and sent via Etsy or email. You are then free to print the invitation from your home computer, print at a print shop or use as a digital invitation.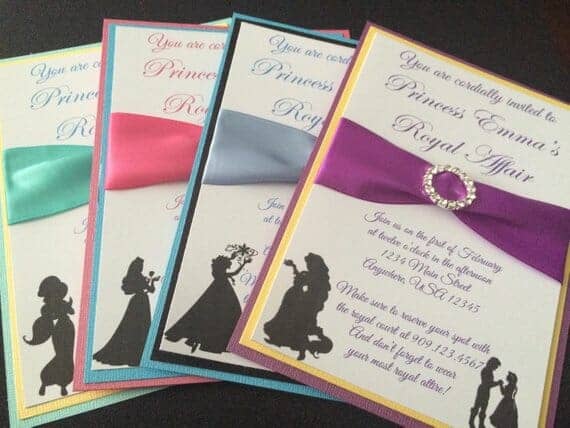 JJsPersonalTouch makes these custom invitations with a sturdy shimmer card stock, silk ribbon and bejeweled rhinestone buckle. They are made to match your favorite Disney princess. If you are feeling crafty and looking to save some money, you can probably pull together a similar invitation from scratch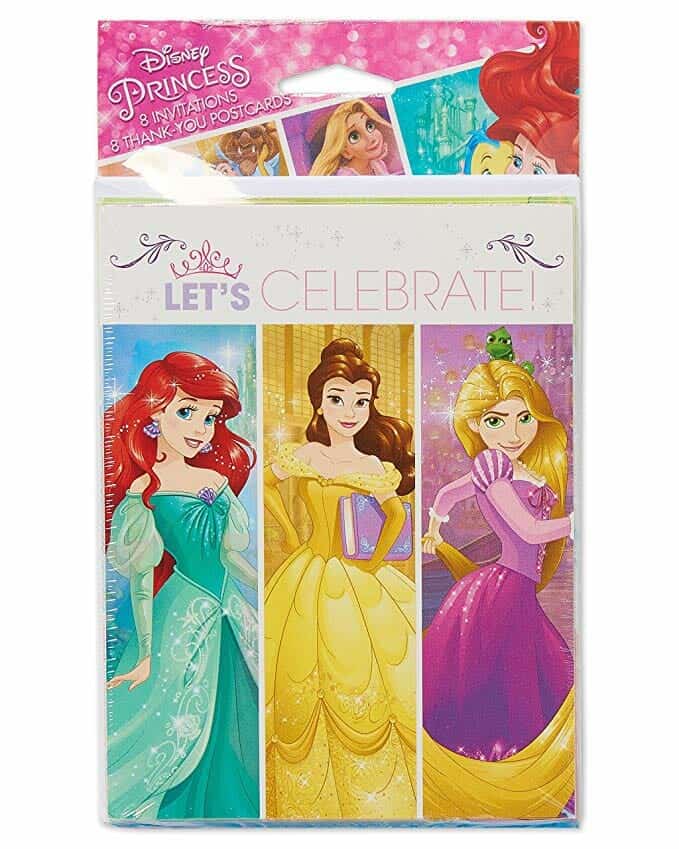 American Greetings have fill in your own details invitations on Amazon. I have to say, I love it when my kids come home with these types of invitations. Its total nostalgia from the 80's, sitting around with my mom as she filled in all of the details! I do such little handwriting these days, I'm not mine would even be legible. Regardless, they still get the thumbs up from me!.
Zazzle also has an entire line of Princess Invitations that you can customize. With Zazzle, you pay per printed invitation, but you can customize everything about the invitations including the shape.
Beauty and the Beast Invitations
If your little one is a Beauty and the Beast fan and you are looking for something unique, check out this Beauty and the Beast Pop-up Invitation from Inkspireve. The invitations are custom designed and each one is made with premium cardstock and laser printed. For these special invite, you pay per invitations so for larger gatherings the price may add up quickly.
I am also a fan of these single princess cartoon invitations from TLCSquared. My favorite of her illustrations is Belle but she has most of the princesses available. I think it's a nice unstated invitation that is not the same illustrations that you see on every licensed Disney product.
Little Mermaid Birthday Invitations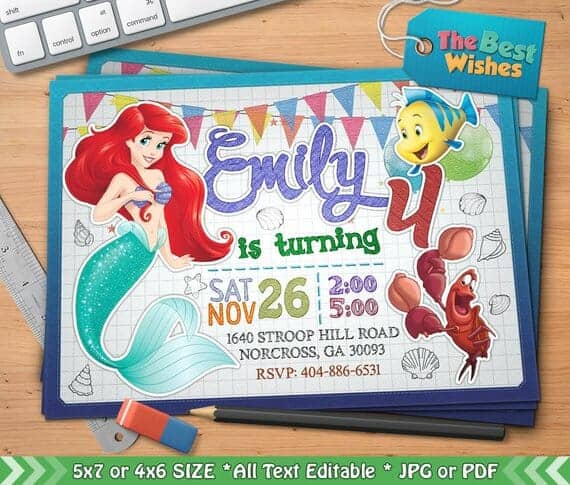 The Best Wishes Store does this cute digital little mermaid party invitation. You can apply the same design to pretty much any princess or cartoon character you can think of.
As with the Beauty and the Beast invitations, Inkspireved makes pop up little mermaid invitations that are in the shapes of clam shells. Super cute!
Moana Birthday Party Invitations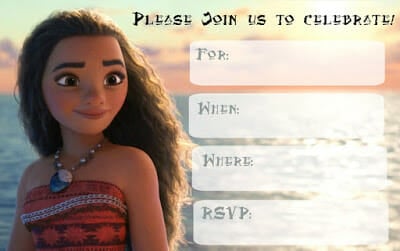 Kristen from Musings of an Average Mom has done some very cute Moana Invitations that she has made available as a free download on her blog. You can find these here. In addition, she has also made some matching party materials that you can download at the same time.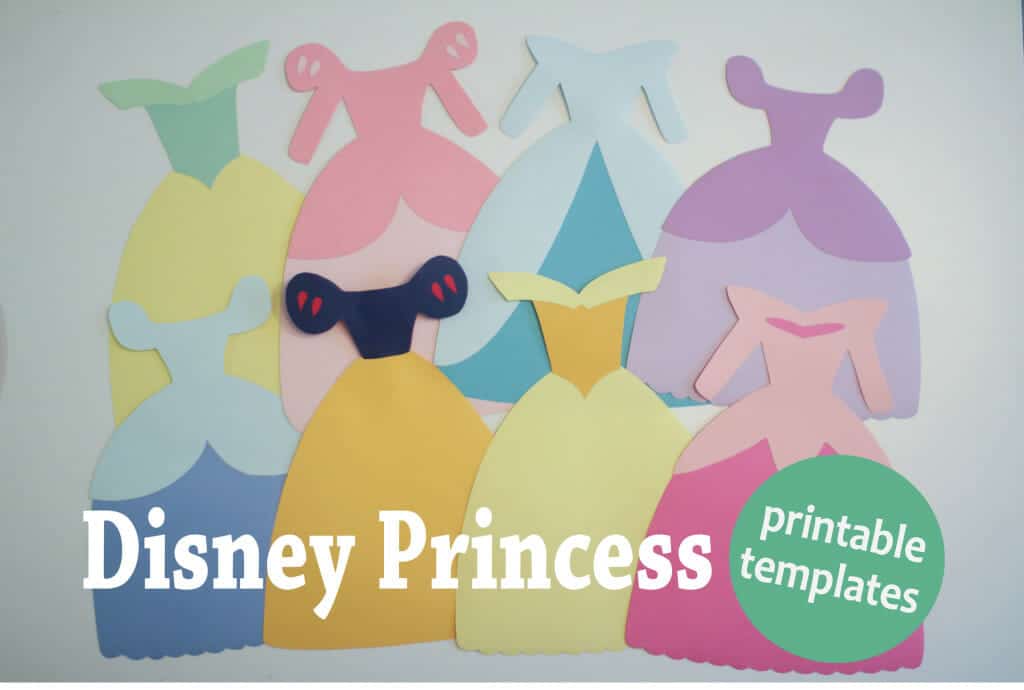 Hot hands Bakery has made some adorable Dinsey Princess Dress templates which you can download for free. They give lots of great ideas for how to use the templates including:
Party Decorations: Birthday girl name banner – Create duplicates for names longer than 8 characters. Print out large block letters in reverse on white paper. Cut and attach to the skirt portion of each dress.
Party Decorations: Wall or chair decorations – Attach a princess dress cutout to the back of every chair so each party attendee has her own character. Be careful if everyone wants the same character.
Party Activity: Guess the Disney Princess Dress game
Party Activity: Print out templates on white cardstock for girls to color and cut their own princess dress. Include jewels and glitter for an extra fun, messy time. This could make a good rainy day, slumber party or babysitting activity too
Bedroom decor: Each will fit perfectly in an 8 x 10-inch frame.
These are all great ideas for the dresses, but, I think they missed one. These cute dresses could be the perfect Disney Princess Party Invitations too! Just create the dresses and then write the party details on the skirt. Very cute and homemade too!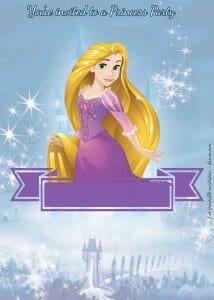 Bagvania has a number of free Disney Princess Party invitation templates that you can download and edit yourself for free. If you were to go this route and you are not familiar with Photoshop, check out my Canva post for instructions on how to edit invitations online.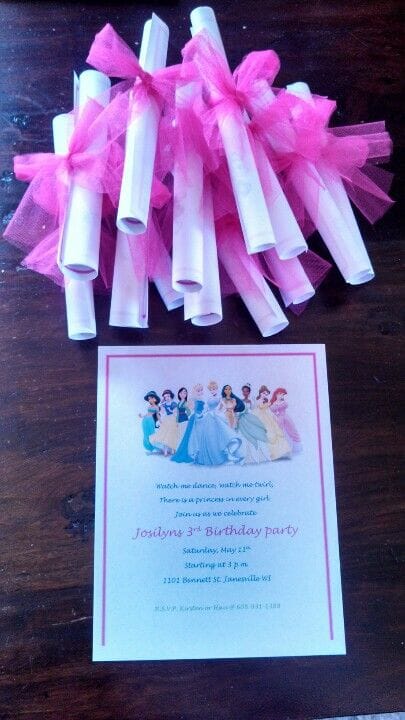 Unfortunately, this Pinterest find doesn't see to lead anywhere, but I love this idea of the scrolled invitation. This is something that could easily be DIY and would be extra special. If you the origin of this photo, please let me know so I can give credit where credit is due.
Let me know your favorites in the comments below or recommend any other favorites that I should add to the list.