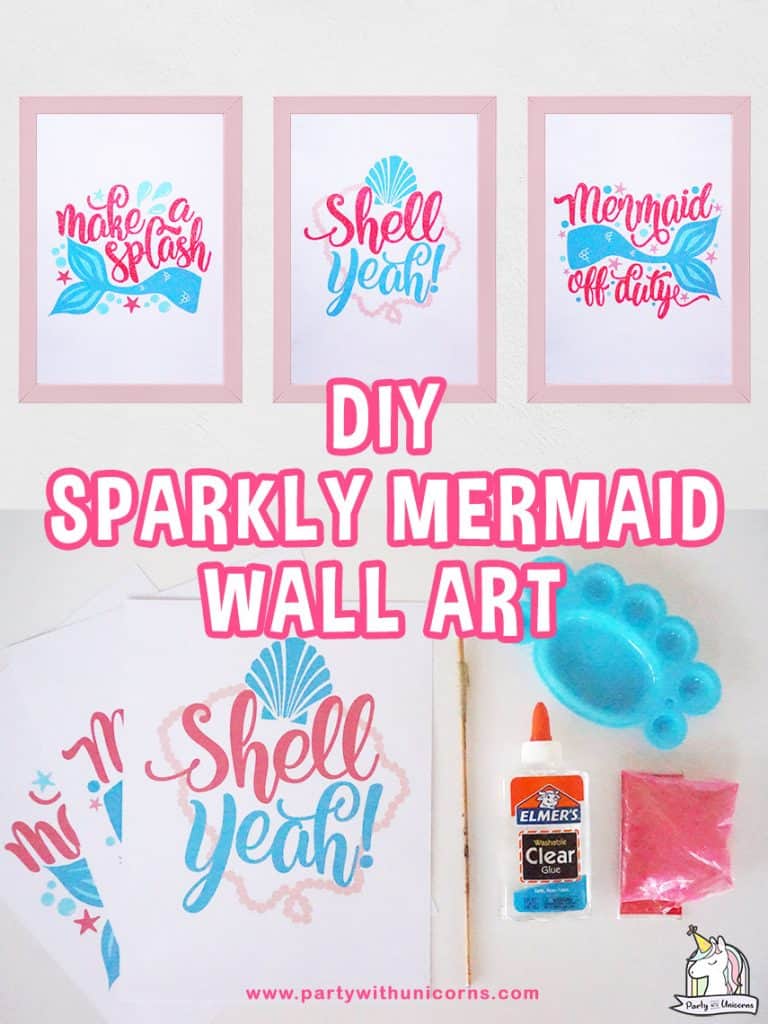 Hello, everyone! Today I am back with a fun DIY mermaid wall art project to share. For today's project, I have partnered with Design Bundles. Using pre-designed artwork sets from Design Bundles is a simple and creative way to decorate a bedroom, nursery or create some fun mermaid party decor. Using these adorable graphics you can create professional-looking wall art for a fraction of the price of store-bought designs.
Mermaids are one of our most popular party themes. It's hard to believe that the Little Mermaid was released almost 30 years ago as it is as popular today as it was when I was a child. If your daughter (or son) is a little mermaid fan, then they are going to love the graphics from the Mermaid svg bundle. My daughter is a huge mermaid fan and she loved this project and hanging the final result on her bedroom wall.
DIY Mermaid Artwork Supplies
Let's start, shall we?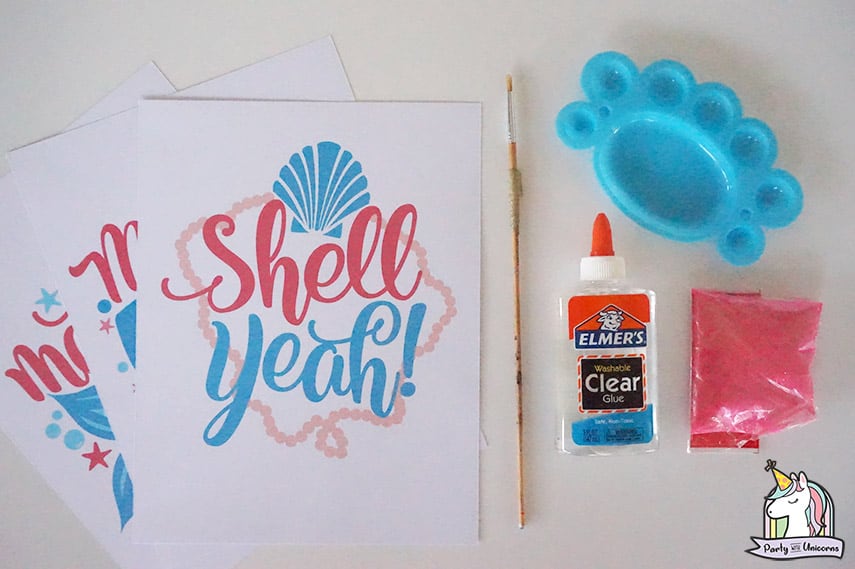 Printed Mermaid svg
Clear Glue
Glitters
Plastic Paint Palette (or any plastic dish)
Paint Brush
Toothpick (optional)
An extra piece of paper (optional)
A quick word of warning, this project can get a little messy! If you plan to have your kids help with this craft, make sure to guide them all throughout the project so you don't end up in an entire house covered in glitter.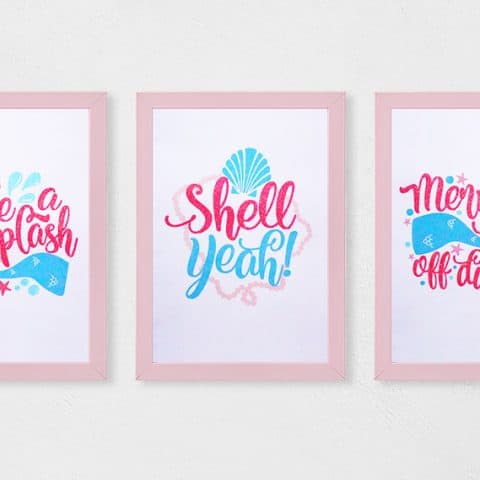 DIY Sparkly Mermaid Wall Art
Total Time:
1 hour
5 minutes
Sparkly Mermaid Wall Art perfect for your little daughter's bedroom wall
Materials
Printed Mermaid SVG Graphics
Glitters
Toothpick (optional)
An extra piece of paper (optional)
Tools
Clear Glue
Plastic Paint Palette (or any plastic plate)
Paintbrush
Instructions
Head over to Design Bundles to purchase the Mermaid svg graphics bundle. The set comes with 14 SVG files and any of them will work with this project. Simply print out the graphics you want to use for your set..
Squeeze some glue onto the plastic paint palette.
Using your paintbrush, apply some glue to the part of the graphics you want to sparkle. In my case, I wanted the pink text to sparkle.
Put some glitters on top of the text.
Get rid of the excess glitters by shaking the printed paper onto a piece of extra paper. You can place all the excess glitters on the extra paper to keep your glitters in place
Repeat steps 4 and 5 until you finish adding glitters to the text. If there are glitters that pass beyond the boundaries, remove them with a toothpick.
Once you're happy with the added glitters. Leave it out to dry.
Repeat steps 4 to 7 if you plan to make more wall art.
Frame your sparkly mermaid art and hang it on the wall!
There you have it, super cute, super simple and super sparkly mermaid wall art. If you are planning a mermaid party these designs would make a super cute dessert table background. You can also check out Design Bundles other svgs to find a theme that works for you. This simple craft idea can be applied to any of their graphics sets.
More Fun Mermaid Ideas
If you are planning a mermaid party or just looking for some fun ideas to keep your mermaid fan busy, be sure to check out these popular posts:
I hope you enjoy this classy craft tutorial. Your little mermaid will surely love this new wall art in their bedroom. Let their inner mermaids shine!
Happy crafting.
Similar Posts: