Affiliate links may be sprinkled throughout the awesome, free content you see below. I'll receive a small commission if you purchase from my links (at no extra cost to you), which I'll totally blow on awesome things like adding more free content to this website. :)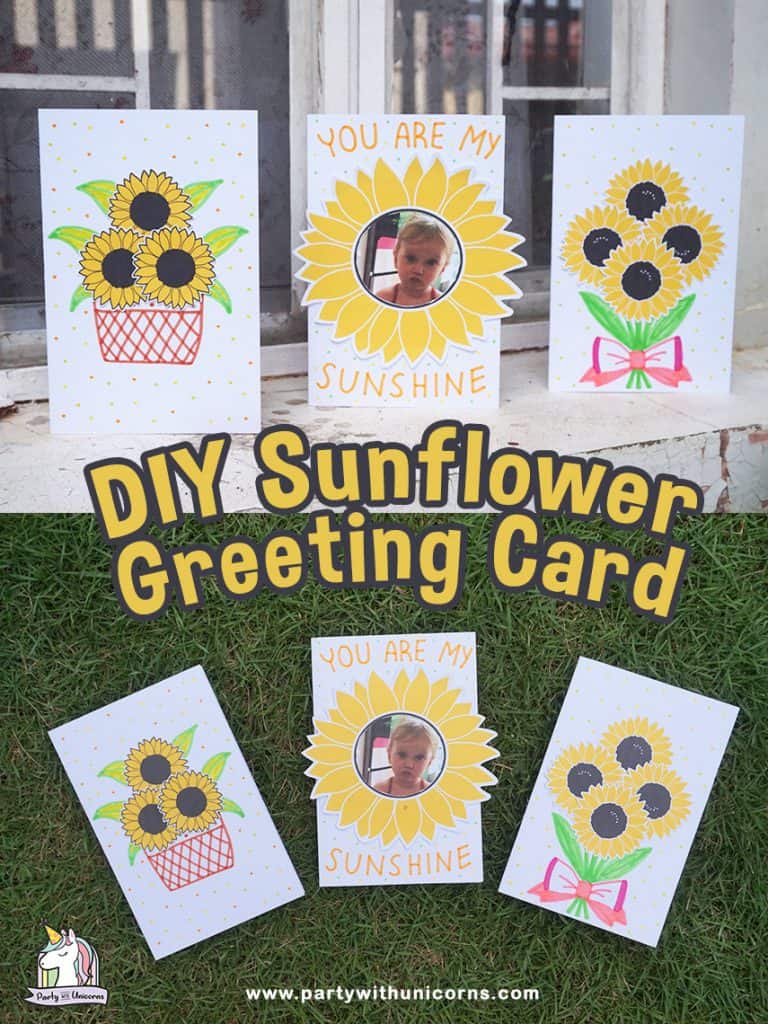 We are enjoying a glorious spring here in Australia, the sun is out and the flowers are in bloom! In celebration of this beautiful season, I am posting a fun spring-themed craft post all about sunflowers. With their bright yellow petal looking like the sun, there is something about these flowers that just captures the season.
I have loved Sunflowers for a very long time. I have such a clear memory of them from my childhood. When i was in Kindergarten, I planted a sunflower in my family garden, I remember watching it grow from a seed into this huge flower that towered over me. I thought it was absolutely the coolest thing ever (reflecting on this story, it's probably the only flower I have actually ever successfully grown!).
Okay, enough with the memories, let's get down to some crafting business. For today's craft project, we will be making greeting cards inspired by sunflowers. Personally, I think the sunflower has universal appeal and these cards are perfect to anyone, young or old.
I partnered with Design Bundles for today's project. I have used their super cute sunflower svg bundle in my designs. The set comes with 6 sunflower designs that can be repurposed for all sorts of craft projects, not just for greeting cards.
Sunflower Greet Card Supplies
Let's start by gathering the supplies needed: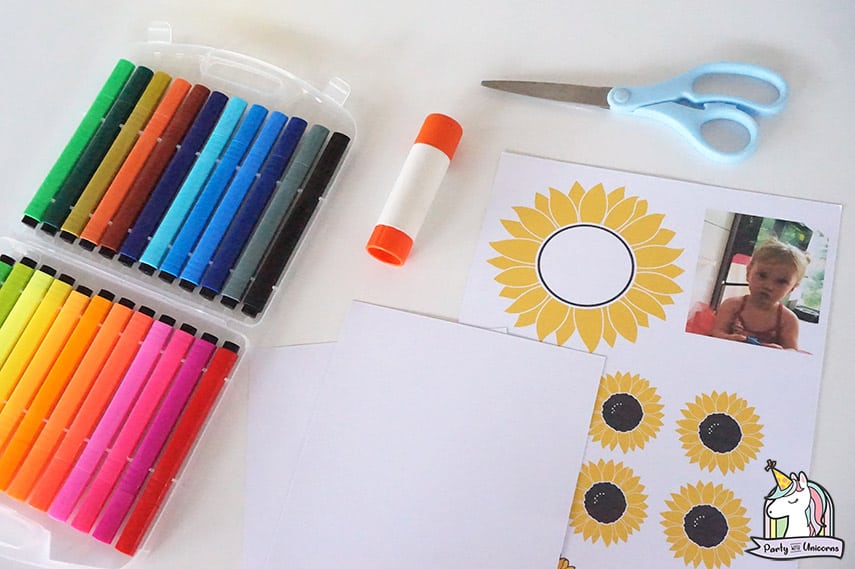 Printed Sunflower svg graphics
Cardstock
Colored markers
Glue
Scissors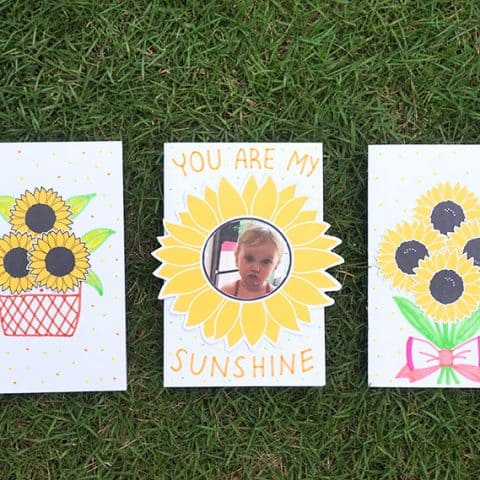 DIY Sunflower Greeting Cards
Cute Sunflower greeting card crafts for Kids
Materials
Printed Sunflower graphics
Cardstock
Colored markers
Instructions
Head over to Design Bundles and purchase the Sunflower svg bundle. Once you have downloaded it, you can layout the graphics using Word or Photoshop to resize it. Then print it out.
Cut out the sunflower graphics. For this project, I decided to use a photo of my daughter in one of the designs I'll be making. I've cut the graphics out by hand, but you can use a cutting machine if you have one available.
For my first greeting card design, I used the Monogram Frame Sunflower graphic and cut the center circle.
Get your cardstock and resize it according to your desired greeting card size by cutting it. Then fold it in half.
Glue the photo on top of the cardstock and put the Monogram Frame Sunflower on top of the photo. This design will look like a Sunflower photo frame. Get your colored markers and add some wordings and designs.
For my second and third greeting card design, I used the Sunflower Outlined and Sunflower Two-Color graphics. I use the graphics to design a sunflower bouquet and a basket of sunflowers.
Voila! You now have your own Sunflower greeting cards to brighten your family and friend's day. In the examples provided, I have drawn the basket and bouquet, but, don't worry if drawing is not your thing. These sunflower designs look great with just simple accents like dots.
If you want to get your younger kids involved in this craft project, simply past the sunflower image onto the front of the card and ask them to decorate around the flower. You'll be amazed at the sunflower masterpieces that they will create.
That's it for today's tutorial. If you are looking for more ideas on crafts to make, be sure to check out Design Bundles other svg sets.
Happy crafting, everyone!