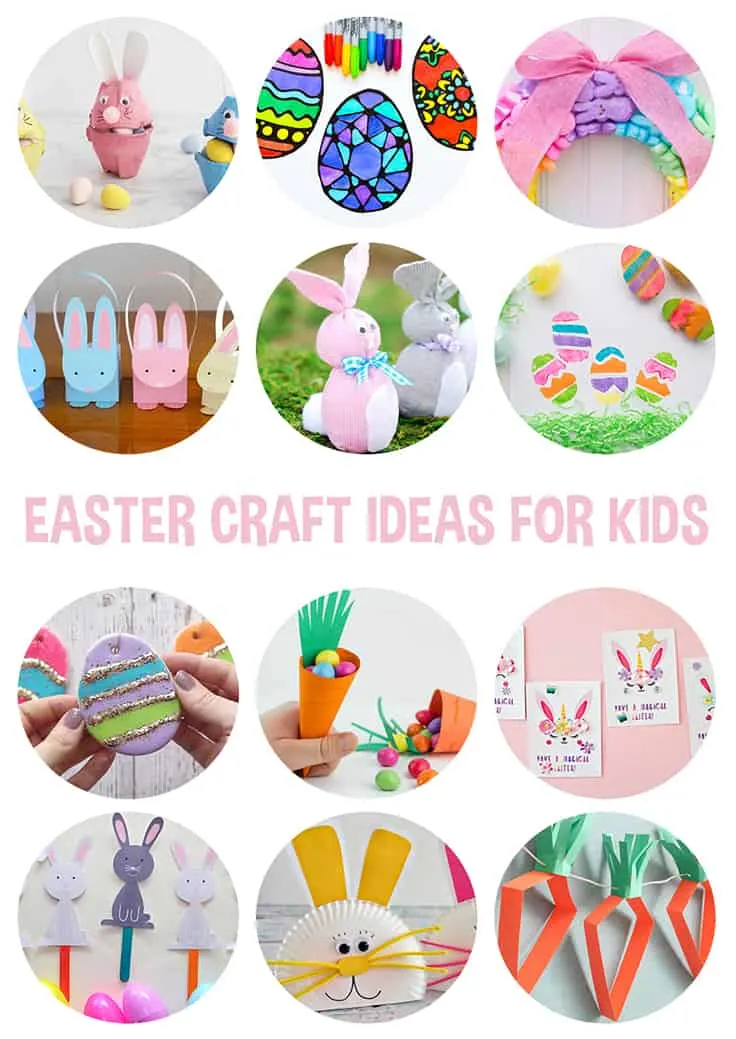 Hello, there crafty moms! We all know Easter season is coming and we sure love to do some craft or artsy projects with our kids to spend time with them during this time. So to save you from looking for craft projects that are easy to make and perfect for Easter season, I collected 12 Easter craft ideas for kids. These projects are all super cute that I look forward to doing them with my kids. All of these craft projects are simple, fun to make and frugal!
Unicorn Easter Basket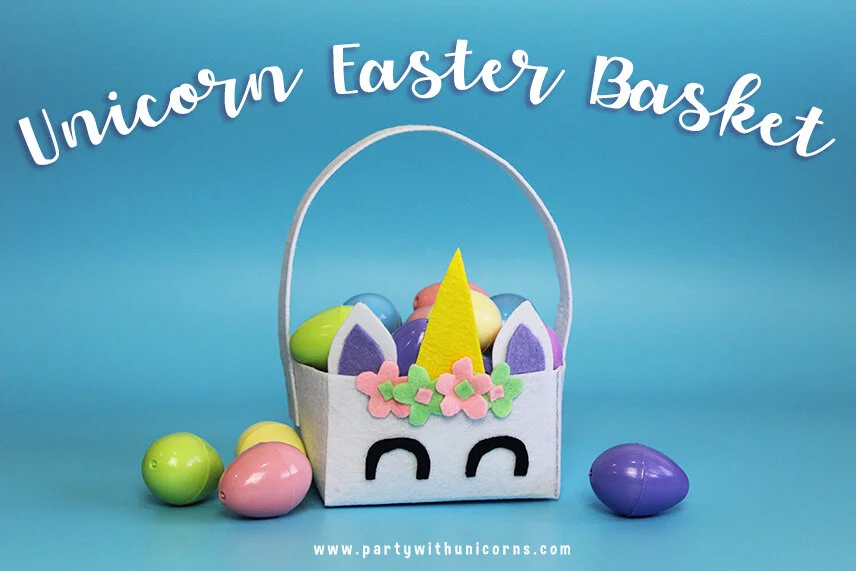 If you are new to Party with Unicorns, check out my DIY instructions to make your Unicorn Easter Basket. The perfect accessory for your Easter egg hunt this year.
Easter Craft Idea – Egg Carton Bunny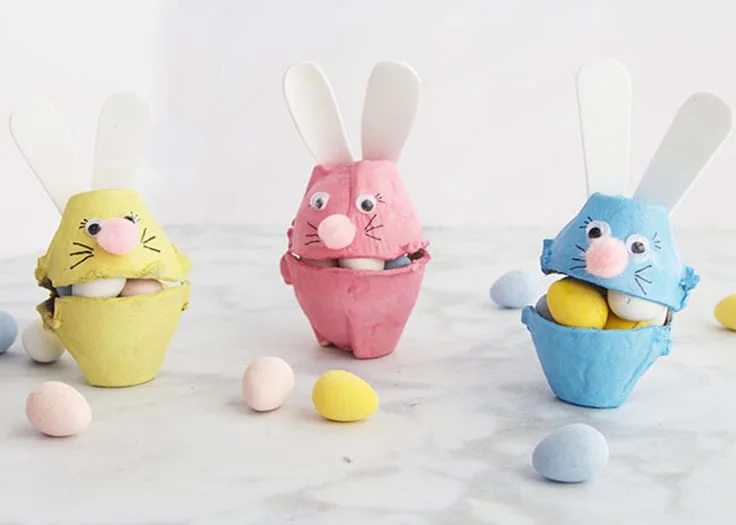 Too much empty egg carton trays at home? No problem! Here's a fun way to recycle your egg carton trays this Easter season. This craft project from The Best Ideas For Kids is so easy to make and only need supplies that you already have at home! Let your kids enjoy painting each egg carton and sneak some goodies inside the tray as well.
Rainbow Bunny Wreath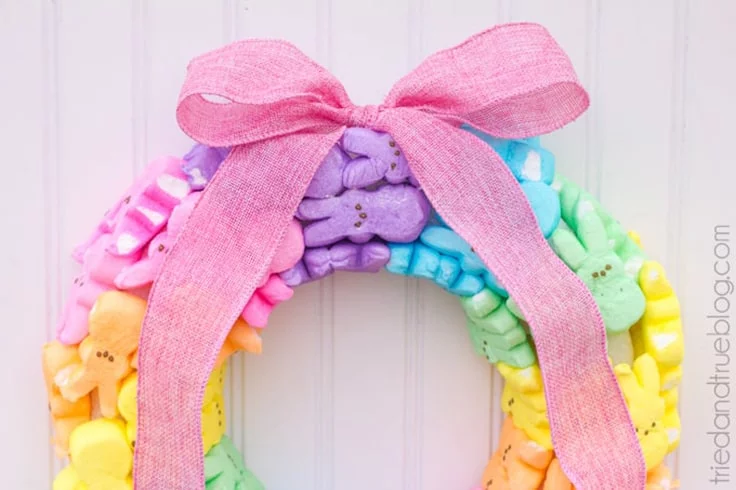 If you think candy cannot be used for making crafts, then you are wrong! This excellent Easter wreath idea made of Bunny Peeps by Tried and True proved us that marshmallow candies are not just pleasing to the mouth but also pleasing to our eyes when used as decor. Make this Easter Bunny Wreath with your kids, and I am sure you will love the color combinations and also the process in making and holding that squishy marshmallow bunny.
Easter Coloring Sheets for Kids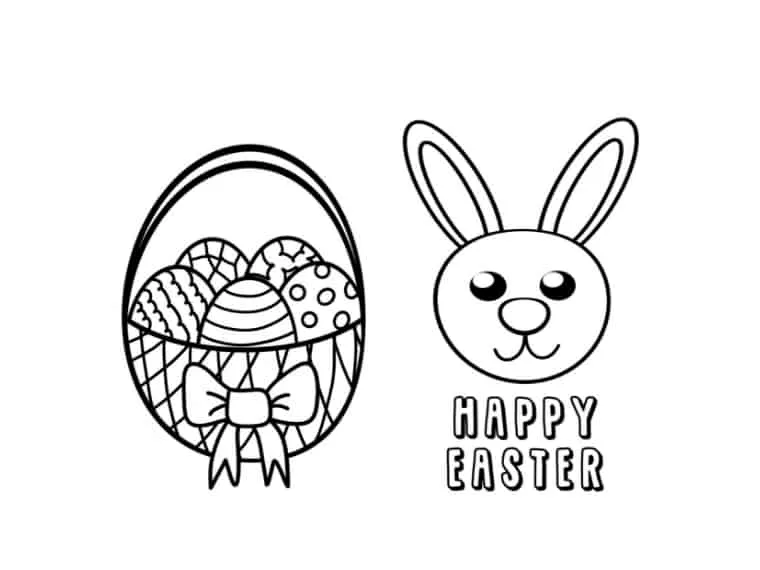 A little bit more self-promotion here! We have some free Easter Coloring Sheets you can download and use with the kids.
Bunny Unicorn Easter Card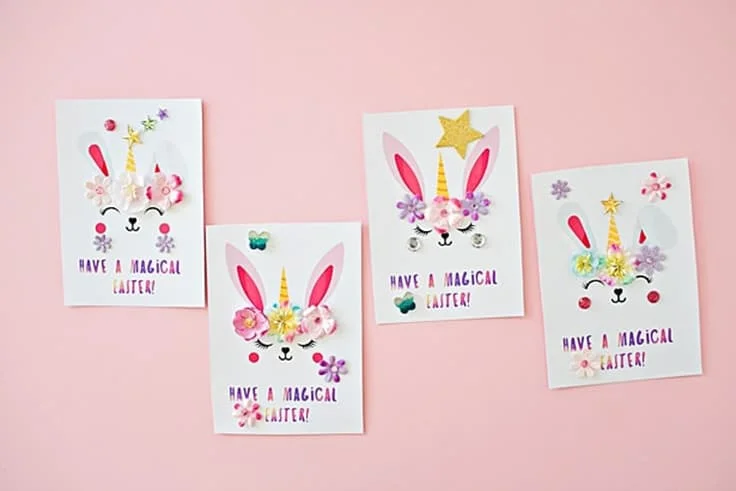 Who doesn't love receiving cards? This Easter, why not create cards to send to your loved ones? And to give a spin to the usual Easter bunny symbol for the Easter season, try this "Bunnicorns" card by Hello Wonderful. Too easy to make that you and your kids can create a ton of this! You will surely make your loved ones happy and will make their Easter more memorable.
Salt Dough Easter Eggs Ornament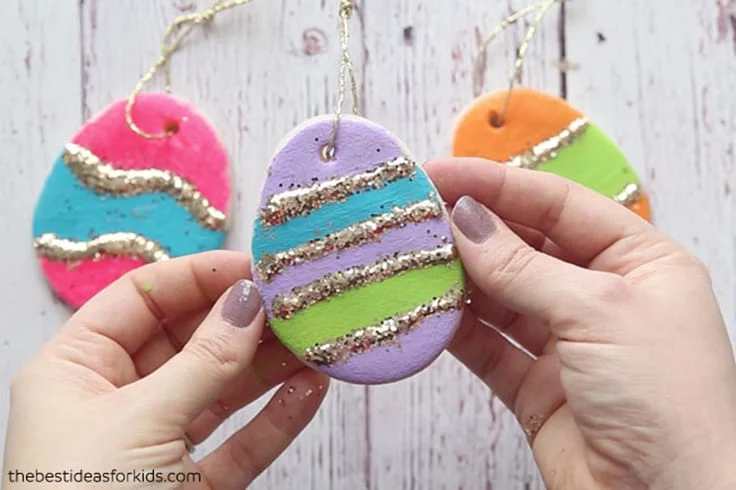 If you are one of those people who celebrate Easter with an Easter tree and looking for a DIY Easter Tree ornament, then this Salt Dough Easter Egg Ornament is perfect for you. If you are not familiar with salt dough, do not worry. This Easter craft project from The Best Ideas for Kids will surely help you out. Besides, you only need three ingredients to make this dough: flour, salt, and water!
These ornaments are a great idea if you plan to invite more kids at home. Let them decorate each egg, and no Easter egg will look the same. Your Easter tree will no doubt have unique ornaments to boast.
Sock Bunny Easter Craft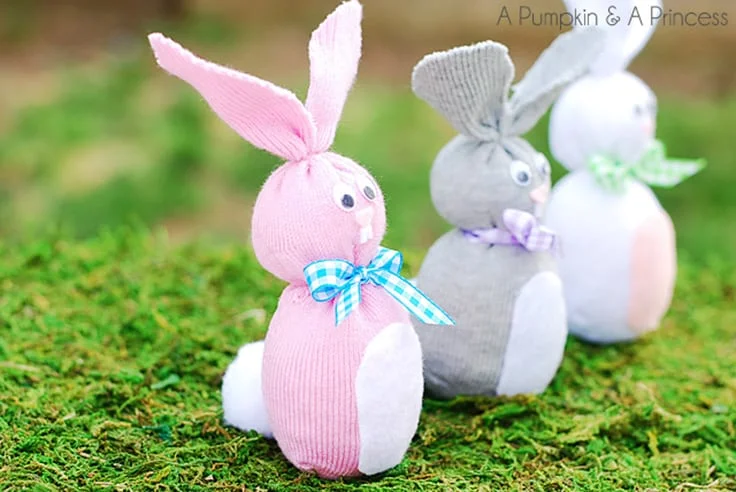 Looking for an Easter gift to your kids or someone special? Forget buying the same old Easter gifts from malls or your local stores and DIY instead. Here's a cute Sock Bunny Easter gift idea from A Pumpkin and A Princess. This sock bunny is super easy to make and is the perfect way to save a little extra money this year. You can even use recycled supplies if you want to be resourceful.
You can also make this Sock Bunny Easter craft with your kids to serve as decoration in your home this Easter season.
Stained Glass Easter Egg Suncatcher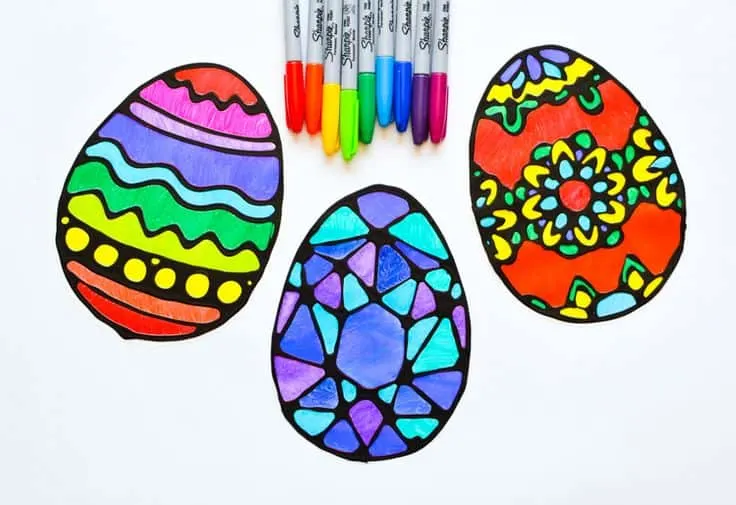 Wanna make your window look festive this Easter? Here's a fun idea to decorate your window with your kids without damaging anything from your window. Create this Stained Glass Easter Egg Suncatchers by Adventure in a Box and decorate your window as much as you want!
The kids will enjoy decorating each Easter egg suncatchers with their markers and will love the colorful reflections on the walls when the sun shines through the window and suncatchers.
Carrot Easter Basket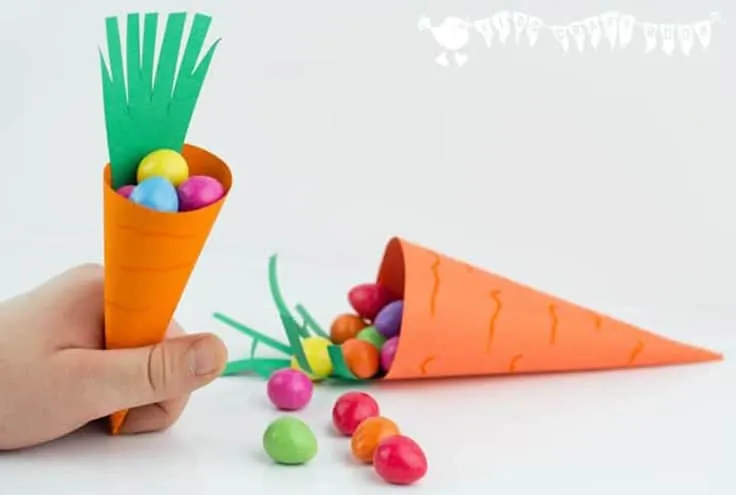 Kids love treats on Easter! If you want to step-up the treat-giving tradition during Easter season, why not create a cute Easter basket for the kids or with the kids? This Carrot Easter Basket by the Kids Craft Room is one of my to-do Easter basket for small candies or treats because it is too cute and very cheap to make. Did I mention super easy? What else can you ask for!
Paper Plate Bunny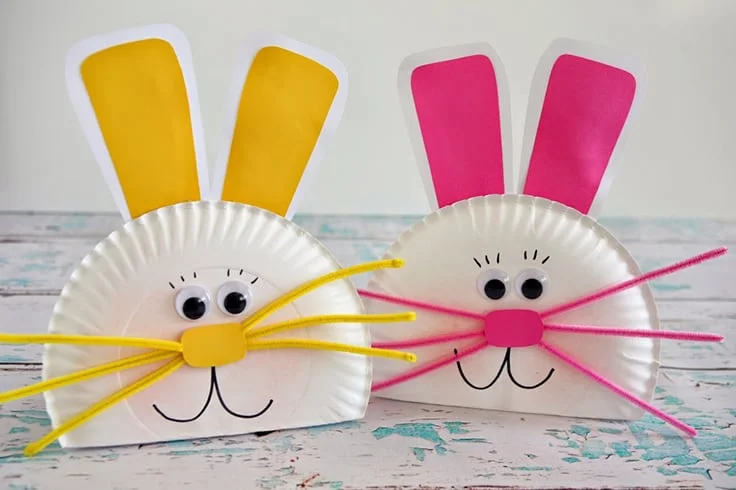 Another Easter craft idea to make with your kids this Easter season is this Paper Plate bunny by Eighteen25. Such a simple craft project that your kids will enjoy creating. Supplies needed are also easy to find and will not cost you much.
You can put this Paper Plate bunny on your living room for some festive decor during Easter, or its the perfect festive Easter craft for your kids to use to decorate their rooms.
Potato Stamped Easter Eggs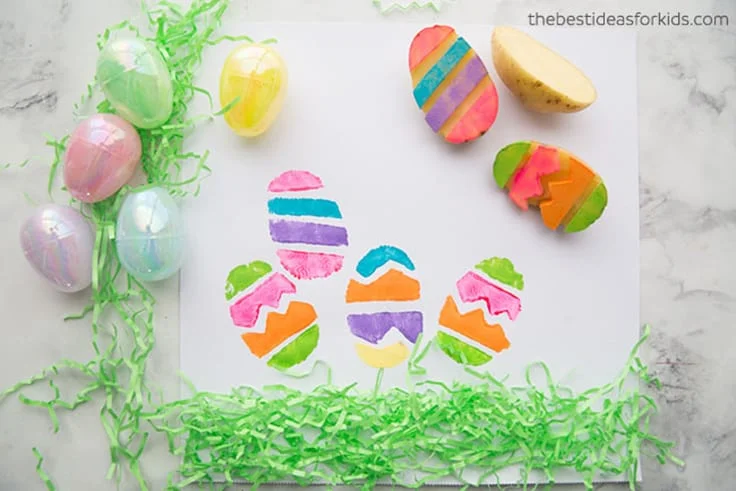 This next Easter craft idea can be a bit messy especially for small children since it involves paint. But who cares? Mess is part of the fun when doing craft activities, right? Go ahead and pull out your potatoes in your kitchen and make this Potato Stamped Easter eggs by The Best Ideas for Kids. Make sure to assist the kids in carving potato stamps so everyone will be safe while doing this Easter craft project. Forget about the paint or any kind of mess the kids may create; it is a beautiful mess after all.
Easter Craft ideas for kids – Printable Easter Bunny Basket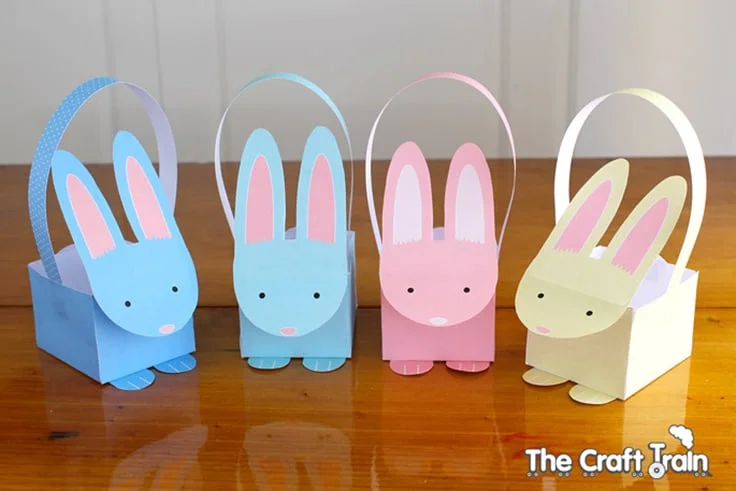 Another super easy Easter craft project that you will love doing is this Printable Easter Bunny Basket by The Craft Train. Look at those cute colors of the bunnies! I love craft projects that have free printables so these cute little bunnies will be making their way into my kid's room this year. That is why you can find a lot of free printables on this blog as well.
Easter Paper Carrot Garland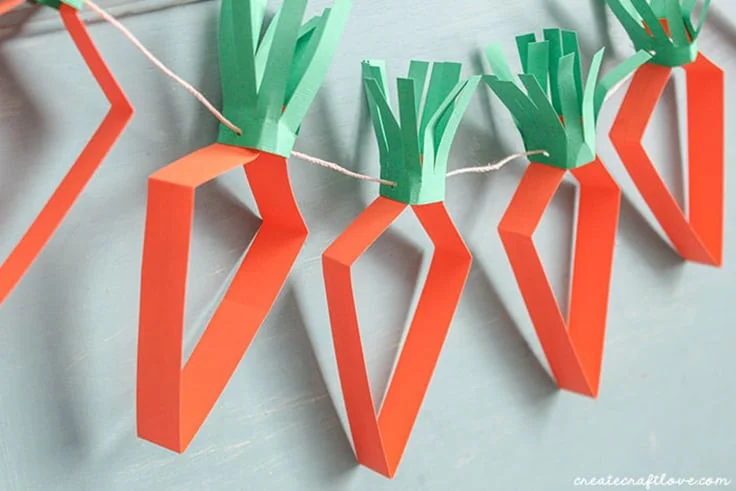 If you need more Easter themed decorations for your home this Easter season, here's another Easter craft idea from Create Craft Love that you and your kids can make. Not to mention that all the materials needed are easy to find in your local craft stores or even at your home. This Easter Paper Carrot Garland can be placed around your house to bring some festive vibe and to put the "Easter touch" you and your kids are looking for.
Easter Craft ideas for Kids – Easter Bunny Puppets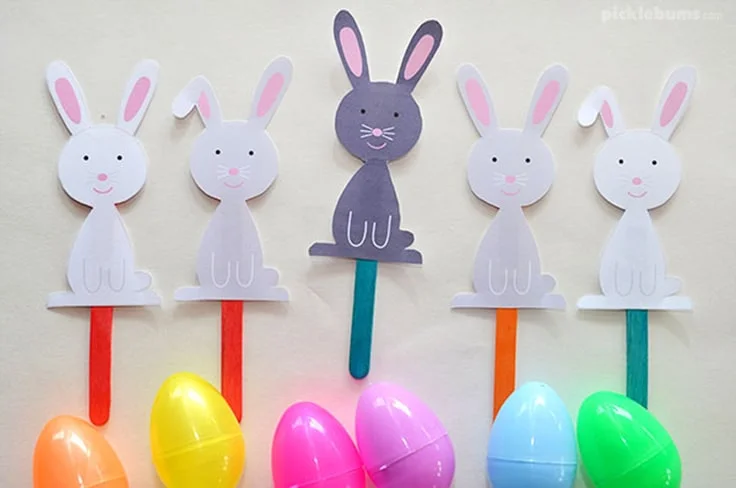 If your kids love doing craft projects that they can play with, these Easter Bunny Puppets are perfect for them. Picklebums created printables that you can use for free to make this Easter Bunny Puppets. It is super easy to make with just three steps (Print, Cut, and Stick to the handle) You can also read Easter stories or sing Easter/Bunny songs to your kids and use the Easter Bunny Puppets as the characters.
Easter Craft Ideas for Kids
There you have it! I hope these crafts will help you celebrate Easter more fun with your kids and family. Remember that you do not need to spend a lot to decorate your home and there is no need to stress about thinking what to do with your kids to spend quality time with them during Easter season. You can always choose to go the creative path and make some crafts with your kids. Also be sure to check out all of our Easter Crafts, printables and clip art for more great ideas. Happy crafting and happy Easter everyone.
Similar Posts: