Easy Preschool Halloween Crafts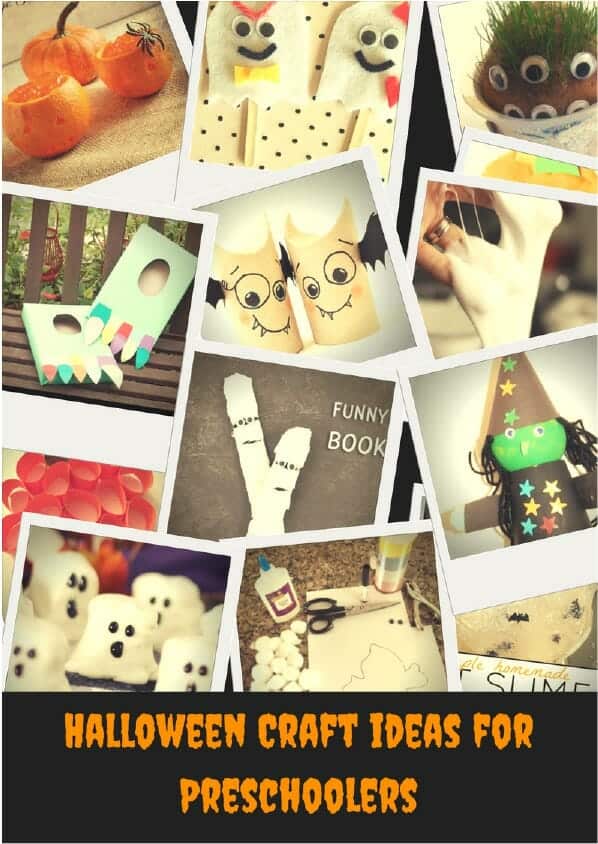 If you are looking for some easy preschool Halloween crafts to get your little one into the spooky spirit, then you have come to the right place. I've compiled a list of a 13 easy to do crafts for you and your little monsters. You can also check out my free Halloween clip art to create some fun Halloween decorations or digital crafts.
Paper Cup Witch
These super cute Halloween decorations are perfect for your little monsters, they will have fun, you will have fun and the best news they are so easy to make. You can check you the full instructions on Activity Village.
Monster Feet Craft
This is a craft that will delight the monster (and dinosaur) lovers in your family. This monster feet craft is perfect for kids that want to dress up for Halloween or that just have a passion for monsters. It can also be used all year round. The kids will love it.
Cotton Ball Ghost
One thing that parents have in abundance is cotton balls and so why not use them in crafting in this super easy and adorable ghost. You can check out the full instructions and download the ghost template on allkidsnetwork.com This is a great craft for toddlers and preschoolers who may not be comfortable with scissors yet.
Toilet Roll Bat
This easy toilet roll craft is perfect for your little monsters as well as older monsters. It is really easy and takes next to no time so keeping the attention of the little ones won't be a nightmare. This is courtesy of Molly Moo Crafts….. too cute!
Ghost Finger Puppets
These cute little ghosts puppets are the perfect way to get your preschooler into the Halloween spirit. They are also perfect for playing, which means they are not a craft that needs to sit on a shelf, which is an added bonus for any preschooler or adult looking to keep little monsters entertained.
3D Pumpkin Craft
Perfect for the crafters that want to make something special at Halloween but don't have a lot of time. The kids will love them, and it is the perfect craft for your preschooler to practice some simple cutting. Check out all the 3D pumpkins instructions on allkidsnetwork.com
Handmade Halloween Trick or Treat Bags
As much as I love crafting everyone knows the real magic behind Halloween is the dressing up, knocking on doors and the …… CANDY. Therefore, these handmade trick or treat bags are great to make, the kids will feel really proud when they are walking around with their unique bags but most importantly they will look AWESOME. There are a few Templates to choose from black cat, ghost, jack o lantern and Frankenstein. Or if you are feeling extra creative you could make your own design up. I think that you could use our witch hat clip art as a template and quickly make a witch bag as well pretty quickly.
Marshmallow Ghosts and Ghouls
These marshmallow treats are incredibly easy and fun to make and they are super delicious to eat, the kids will have fun making them and then enjoy eating them, they can be eaten alone or with melted chocolate, and would be perfect if you were having a Halloween party. Alternatively, they can be handed out as trick or treat candy in cute Halloween bags*…… or you could just eat them …… I vote eat them. *close friends only, don't advocate strangers giving children unwrapped candy.. speak about scary!
Puffy Paint Pumpkin
This cute puffy paint pumpkin craft s from the Growing a Jeweled Rose. This is just one idea but once you master the creation of puffy paint, it is an ideal easy way for your kids to paint anything and everything.
Halloween Mummy Bookmark
These cute little Halloween bookmarks from Makes and Takes are perfect for when you don't have a lot of time to spare but want to do something fun with the monsters in your life. They are super easy to make and will be a joy to any little bookworms for who reading I life (trust me I know about these things) and also perfect to be handed out as cute little trick and treat gifts or as party favors at any Halloween party you have.
Halloween Slime
Slime is really big at the moment with kids and Halloween slime is the perfect mix of festive and fun. Kids love this hands-on crafting experience and it is something that they can keep playing with throughout the year. It is the craft that keeps on giving. Available by themselves or put into a craft jar these are perfect for the kids to play with and as party favors or trick and treat gifts. Little bins for little hands has some great Halloween slime recipes available.
Orange Jelly Pumpkins
These cool and tasty treats are the perfect fun thing to make with your children for Halloween. Whether to have as a Halloween treat or whether to hand out at a party, these simple little jellies will go down a treat with anyone. There are plenty of different orange jelly pumpkin recipes online, but I prefer Vanilla Clouds and Lemon Drops recipe.
Grow A Grass Head Monster
This grass head monster craft is perfect for kids, not only will they have fun doing it, but they will also have the excitement of watching it grows and waiting to see what happens. This is a great craft to do at the beginning of October so you can see how it changes over the month in the lead up to the big day! They are super easy and very cost effective.
Well there you have it some wonderful crafting ideas to do with your preschoolers before the witching hour is upon us. Happy crafting and happy Halloween.