I am so very excited about this post! The amazing Jessica from the OhJaye Etsy store has provided an adorable "Make Your Own Unicorn" as this week's free unicorn party printable This print is a perfect excuse to get crafty with the kids or it could make a great activity at a child's birthday party. I hope you love it as much as I do! If you are not familiar with the OhJaye store, here are some details on Jessica's amazing work.
Jess hails from South Wales, and after many years of drawing she set up her Etsy site the Autumn of 2017. In the OhJaye. shop you can find a range of colorful, quirky and unique gift wrap and cards. All of the wraps and cards are hand designed by Jess. When you are having a browse of OhJaye. be sure to check the beautiful unicorn gift wrap and matching card, which creates a matching set with our free printable. Perfect for a Unicorn Party! Jess also accepts custom orders, so if you want to get something extra special made, send her a note through the OhJaye store and she will get in touch about bring your ideas to life.
When pressed to pick a favorite item in her shop, Jess couldn't go past the Ice Lolly Gift Wrap and I have to agree. It's just so fun, colorful, and reminds you of eating ice lollies on a hot summer's day.
I am so honored to have Jess working with me on this post. She has such a unique style and her quirky designs always put a smile on my face. I mean, where else are you going to find wrapping paper with adorable geese? Be sure to check out Jess on Instagram to stay in the loop with her latest designs or just follow her life as an illustrator.
Download this week's free unicorn printable
[et_bloom_locked optin_id=optin_4]
Click on the image below of the unicorn printable and it will open the file in a new window. In the new window, right click and "Save As" to save the JPEG to your computer.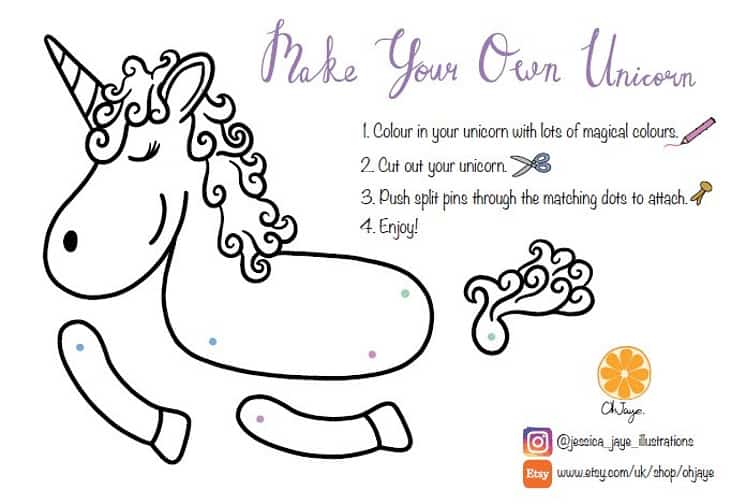 [/et_bloom_locked]
Need more unicorn birthday party supplies?
If you are looking for more party supplies, gifts or ideas, be sure to check out OhJaye!, and my other unicorn post below:
Unicorn Party Supplies
[col1]
[/col1]
[col2]
[/col2]
[col3]
[/col3]
[col1]
][/col1][col2]
[/col2][col3]
[/col3]
[col1]
[/col1][col2]
[/col2][col3]
[/col3]