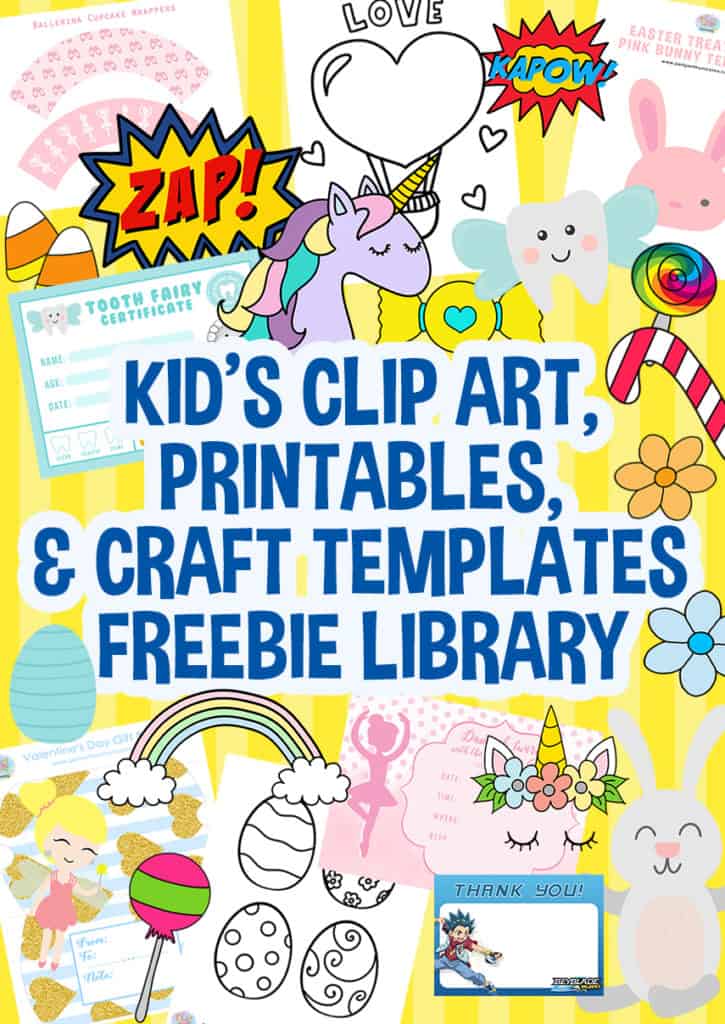 Hello! This is my library for all my free downloadable files, printables, and craft templates, and more! As a thank you to my loyal readers, I update the freebie library every week! Currently, there are over a150 free sets of party printables, craft templates, coloring pages and clip art files available. It's amazing and I hope you enjoy it!
As a reader, you have access to the library for the life of this blog! Files are provided for your personal use; please ask before you use them commercially and under no circumstances can you sell any of these files. Enjoy!
JULY 2020 UPDATE – The Freebie library is slowly being migrated over to the subscriber shop to make downloading easier. Please check for your items below. If they have been moved to the Shop, there will be a link to the Shop page.
Navigating the Freebie Library

To help you find you what you need, this library is divided into several sections. On this first page, everything is organized alphabetically by the topic.
Download help
Please note that most mobile devices such as phones and ipads, do not allow for downloading through a link. Some products are sent using a compressed ZIP file.
Astrology Party Freebies
THESE ITEMS ARE NOW AS FREE DOWNLOADS IN THE SHOP
Here are details on the freebies available:
Among Us
Art Party Freebies
THESE ITEMS ARE NOW AS FREE DOWNLOADS IN THE SHOP
Here are details on the freebies available:
Autumn and Fall Freebies
THESE ITEMS ARE NOW AS FREE DOWNLOADS IN THE SHOP
Here are details on the freebies available:
Bakugan Freebies
THESE ITEMS ARE NOW AS FREE DOWNLOADS IN THE SHOP
Here are details on the freebies available:
Ballerina Freebies
THESE ITEMS ARE NOW AS FREE DOWNLOADS IN THE SHOP
Here are details on the freebies available
Back To School Freebies
Bee-day / Be-Bee Freebies
Bee-Day Set one (Check out Bee-Day Party Printables for details)
Bee-Day Set two (Check out School Milestone Poster for details)
Beyblade Freebies
Candy Freebies
Christmas Freebies
Circus Freebies
Construction Party Freebies
Dinosaur Freebies
Donut Freebies
Easter Freebies
Fairy Freebies
Farm Party Freebies
Father's Day Freebies
Frozen Freebies
Graduation Freebies
Halloween Freebies
Harry Potter Freebies
Hanukkah Freebies
Jungle Party Freebies
Lego Freebies
Lemonade Freebies
Llama Freebies
Mermaid Freebies
Minecraft Freebies
Mother's Day Freebies
My Little Pony Freebies
New Year's Freebies
Nintendo Freebies
Pirate Freebies
Pokemon Freebies
Princess Freebies
Roblox Freebies
Roblox Party Banner and Roblox Party Printables (Check out Roblox Party Printables for details)
Robot Freebies
Spring Freebies
St Patrick's Freebies
Star Wars Freebies
Super Mario Freebies
Summer Freebies
Space Freebies
Sunflower Freebies
Superhero Freebies
Tennis Party Freebies
Thanksgiving Freebies
The Wiggles Freebies
Tooth Fairy Freebies
Toy Story Freebies
Valentines Freebies
Wild One Freebies
Woodland Printables
Woodland Party Printables (check out Woodland party printables for details)
Unicorn Freebies