Halloween Hand Puppets – DIY Templates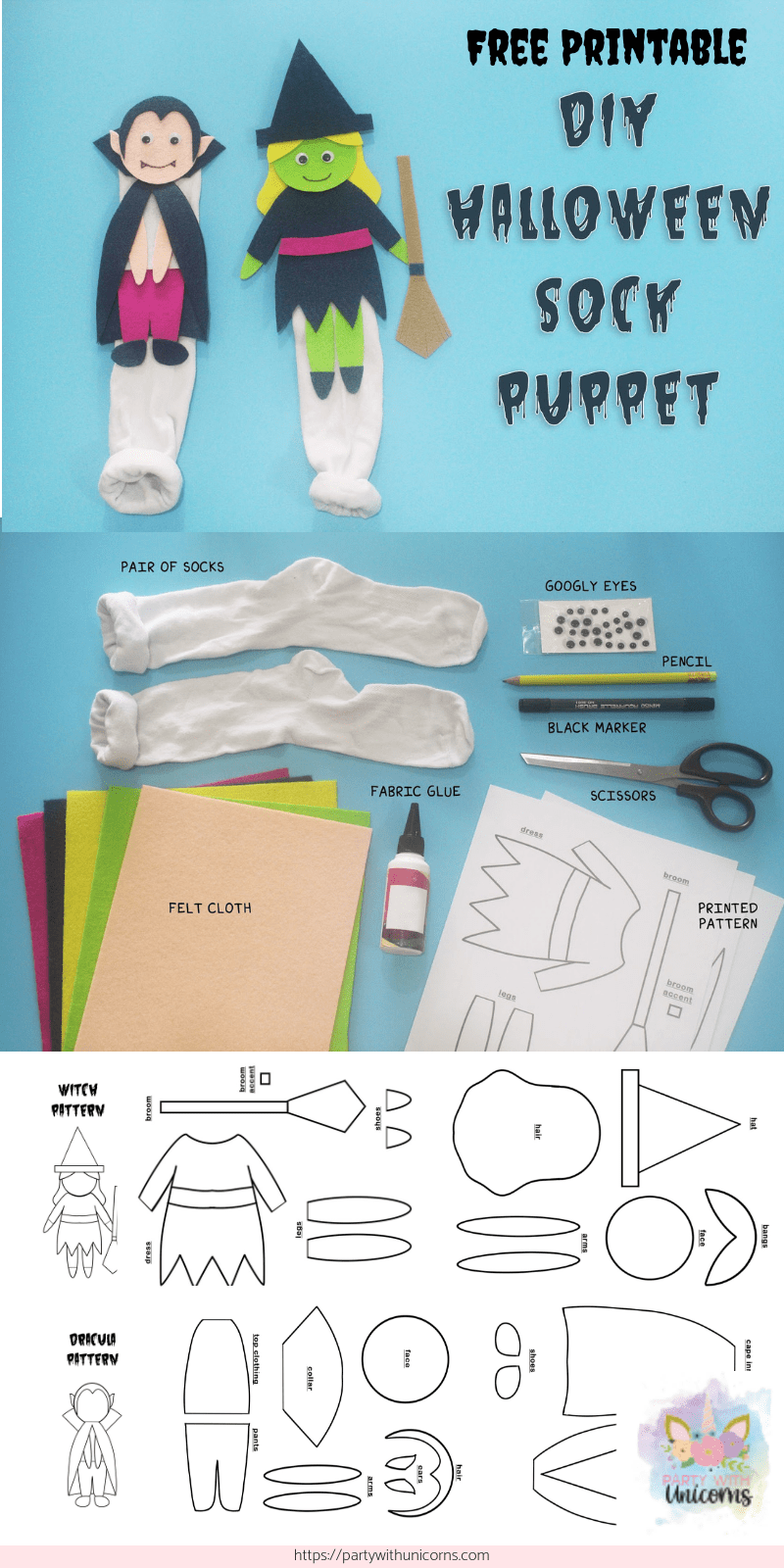 It's that time of the year again that we create fun and spooky projects to celebrate Halloween! From decorating our house with easy DIY spooky decors to have that haunted house vibe down to baking cookies shaped like jack-o-lantern. Kids also love this holiday because they get to wear costumes and of course, get some candies by trick or treating. There are a lot of things and activities to do to celebrate this holiday with your kids and family.
If you want to be extra to spend some creative activity and looking for an easy and cheap Halloween craft that you will enjoy doing with your kids and something they can play with, then these Halloween Hand Puppet is just the thing! Let's start by gathering the supplied needed.
Halloween Hand Puppets – Supplies required


What you will need:
Printed pattern
Pair of socks
Pencil
Scissors
Felt cloth
Black marker
Googly eyes
Fabric glue
Steps to Make your Puppet:
Download and print the free Halloween hand puppet print pattern. Currently, we have a vampire and witch template available. The pattern can be printed onto regular paper, but I find that it is easier to work with the pattern pieces if they are printed onto cardstock.
2. Cut out all of the pattern pieces.
3. Trace the pattern onto a felt cloth. Use different colors of felt cloth for your pattern.
4. Cut it each of the pieces.
5. For the Witch's broom, cut out slits at the bottom to create a fringe-like effect.
6. Glue all the patterns together. We have used just regular craft glue. but if you have a glue gun available. I would recommend using the glue gun to make the puppet extra sturdy.
7. Put some details to your puppet by gluing two googly eyes on the face and draw a mouth using a black marker.
8. Glue your puppet on top of a sock.
9. Do the same step for the Dracula pattern.
Well done! Your puppets are ready to go and your kids can put together their Halloween puppet shows.
Halloween Hand Puppet Templates
Download the Halloween Hand Puppet Patterns by clicking the link and then the file will open in a new window. Once it is open, right click "save as" to save it to your computer.
Halloween Craft Ideas and Halloween Freebies
If you are looking for more great Halloween craft ideas and Freebies, be sure to check out some of our previous Halloween posts:
Free Halloween Printable Letters
Easy Preschool Halloween Crafts