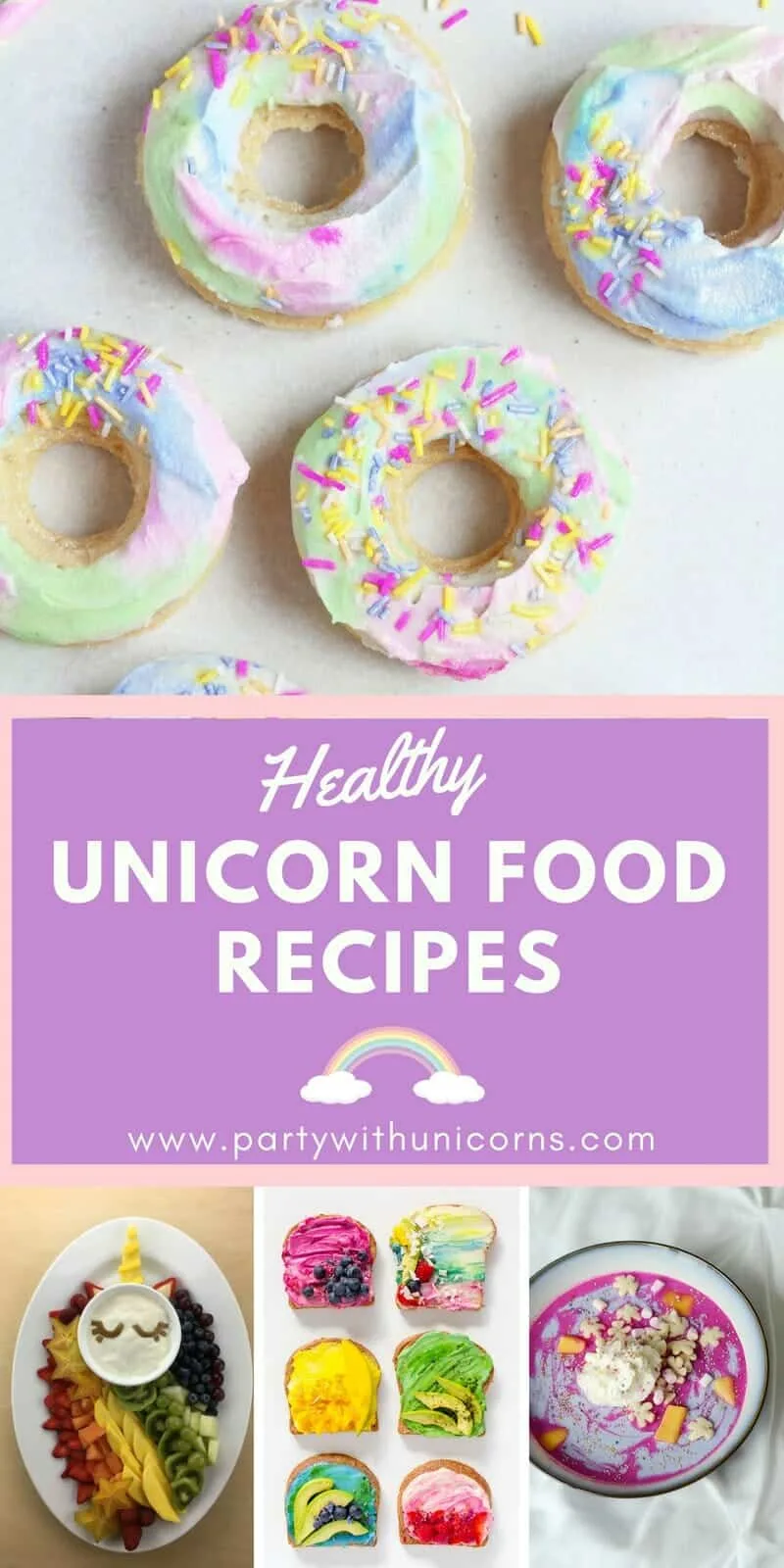 I don't know what came first, unicorn themed food or unicorn parties – but they now go hand and hand. I've read many posts over the last few years that the unicorn food trend will pass, but I think that it is here to stay. I believe this because young girls love unicorns and there are always going to be more young girls coming along. Yes, there will be other trends, but I really love Unicorns especially for young kids as its fun and magical.
One of the many reasons that I love unicorn themed food is it's all about color and fun. It's an excellent opportunity to take something boring and turn it into something fun. With that being said, as a parent, I do worry about my kid's sugar intake and do believe that adding 'fun'should necessarily mean making something unhealthy. There are plenty of great ways to make Healthy Unicorn Food without extra refined sugar and junk.
I have a couple of picky eaters in my household, and I often find that turning something healthy into something fun is a great way to have them try something new. They are too busy enjoying the experience of the food instead of worrying about the fact that they are eating something that they usually wouldn't touch. It won't work for every kid, but healthy unicorn themed food is a great way to encourage kids to try something new. These recipes could also make perfect unicorn birthday party food, and the kids won't even know they are missing all the junk. If you are planning a Unicorn birthday, be sure to scroll to the bottom of this post to grab the link to heaps of free Unicorn Party planning supplies and crafts.
If you want to give it a go, here are some fabulous healthy unicorn food options:
1. Unicorn Toast Recipe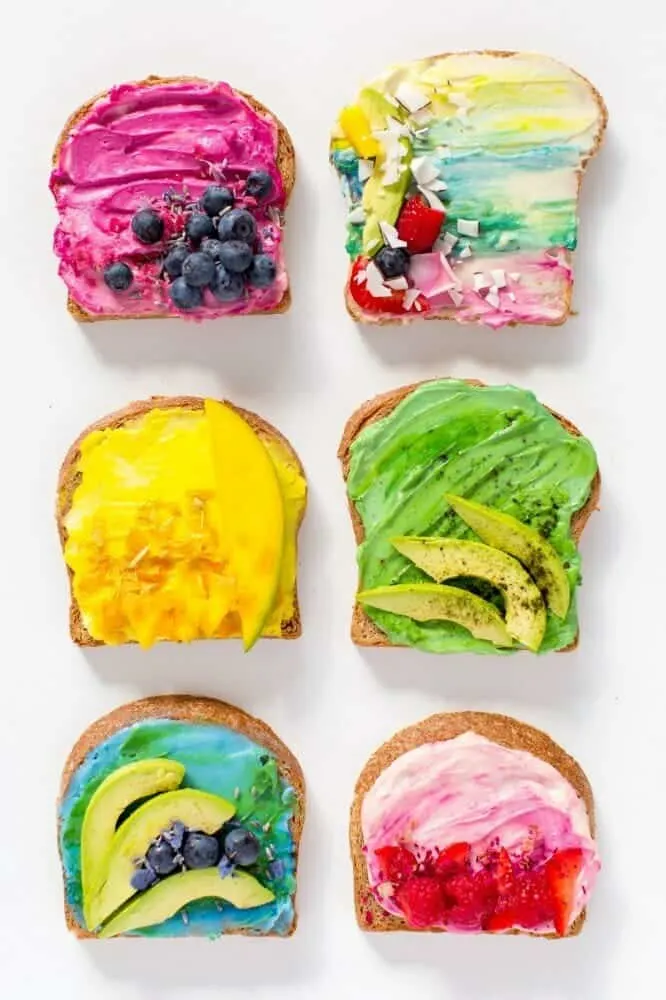 I think this image is simply delicious. The recipe comes from Ashley from Sugar and Cloth. The recipe uses Laughing Cow cheese instead of the marshmallow fluff that many unicorn toast recipes out there use. To get the color Ashley recommends the use of All-natural food coloring or vegetable/fruit powders. You can make this meal extra healthy by making sure you use a nice wholemeal or rye bread. This toast recipe is a great opportunity to try some new bread with you picky eaters, they won't notice the new bread if its painted these beautiful unicorn colors. . For all the details on how to make these amazing looking pieces of art, I mean food, check out Ashley's detailed instructions on Sugar and Cloth.
2. Healthy Unicorn Smoothie Bowl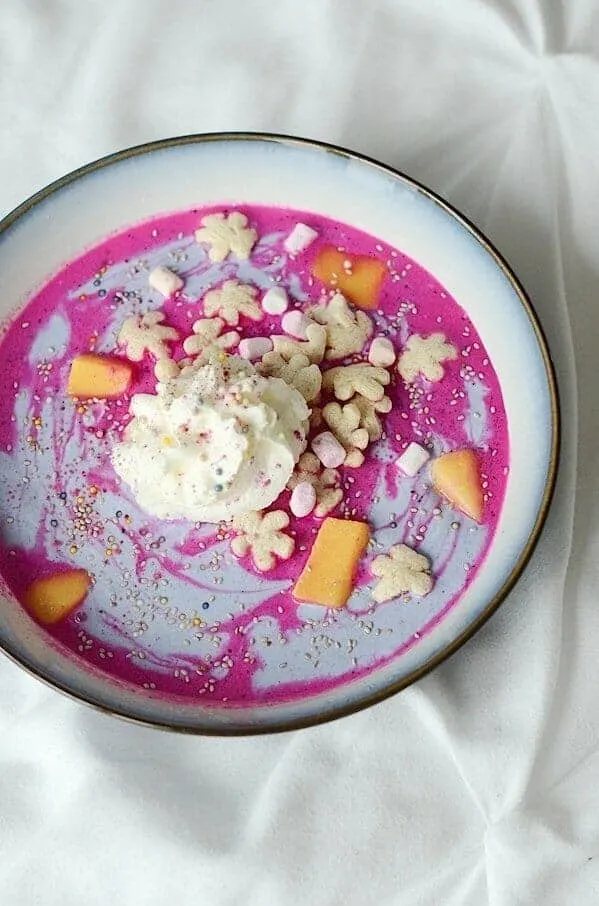 I have a daughter who loves everything pink; this recipe fills her with joy. It's delicious, but even if it wasn't, I am sure she would still eat it just because of the color. The recipe is from Diana at the Chic Life, and it's made with plant-based matcha colors and plenty of fruit!
In her recipe, Diana uses optional toppings of marshmallow cereal or granola, frozen mango, whipped cream, chia seeds, sprinkles. If you are looking to keep the recipe as healthy as possible, you could whip up a batch of this healthy marshmallow fluff made from chickpeas.
3. Unicorn Fruit Tray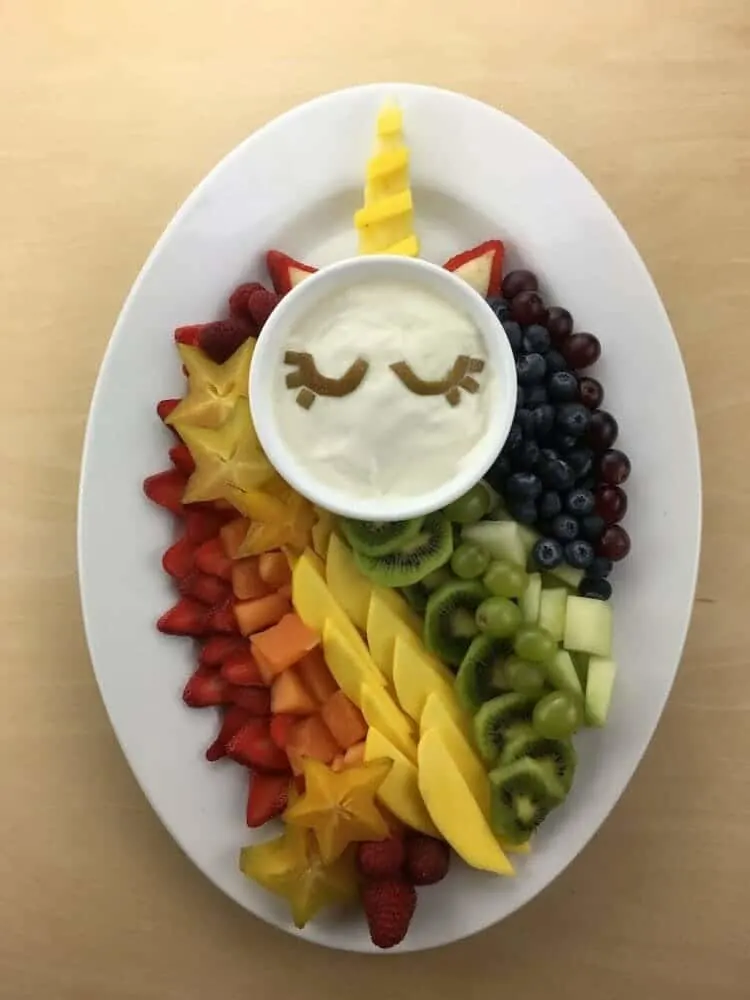 What I love about this idea from the Produce Mum is it's just so simple. By arranging the fruit in the shape of a unicorn, you bring fun to something that is otherwise just a plate of fruit. As long as you have lots of color variety, you can customize the recipe with whatever is in season. I think that you could even switch out the fruit for some rainbow veggies with that delicious ranch dip.
4. Unicorn Yogurt Bark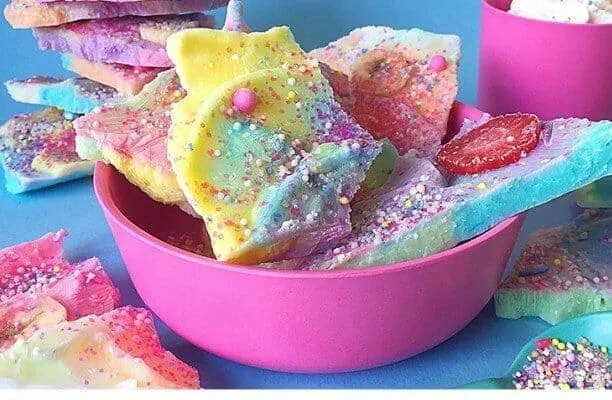 This beautiful, healthy alternative to the traditional white chocolate unicorn bark recipe is from Lunches + Littles. In this healthy version, the white chocolate is replaced with plain Greek Yogurt and sweetened with Honey. There is no way the kids are going to miss the chocolate when they are enjoying this unicorn yogurt bark
5. Unicorn Donuts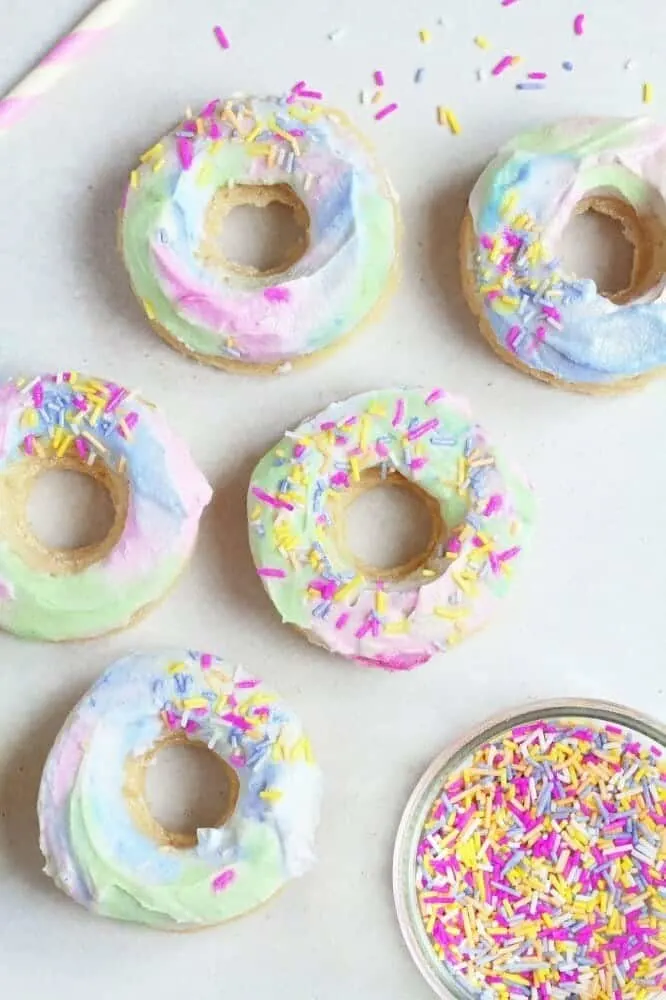 When I started my research for healthy unicorn recipes, there is no way I thought I would come across healthy doughnuts! The thought of a healthy doughnut in itself is impressive, but to have a healthy unicorn doughnut blows my mind. The recipe is from Nadia's Healthy Kitchen. The doughnut is vegan, gluten-free, dairy-free and baked, not fried like traditional doughnuts. This recipe is a total winner so be sure to check it out on Nadia's blog.
Similar Posts: