Find everything you need to put together a magical Princess party. From decorations, cakes, favors, and more we have everything you need to make the day truly special.
In our house this year it was all about Princesses for my daughter's 5th birthday party. After a crazy 2020, it was so nice to get her friends together and celebrate princess style. Instead of picking a specific design princess, we use all of the Disney princesses in our planning. This was especially useful for creating the party favors as I asked each family what their daughter's favorite princess was and I was able to customize the favor for each girl ( I know, it was way over the top, but I had the time and I was having fun with daughter!).
Without further ado, here is anything you need to throw an amazing Princess birthday party for your little princess.
Setting up the Room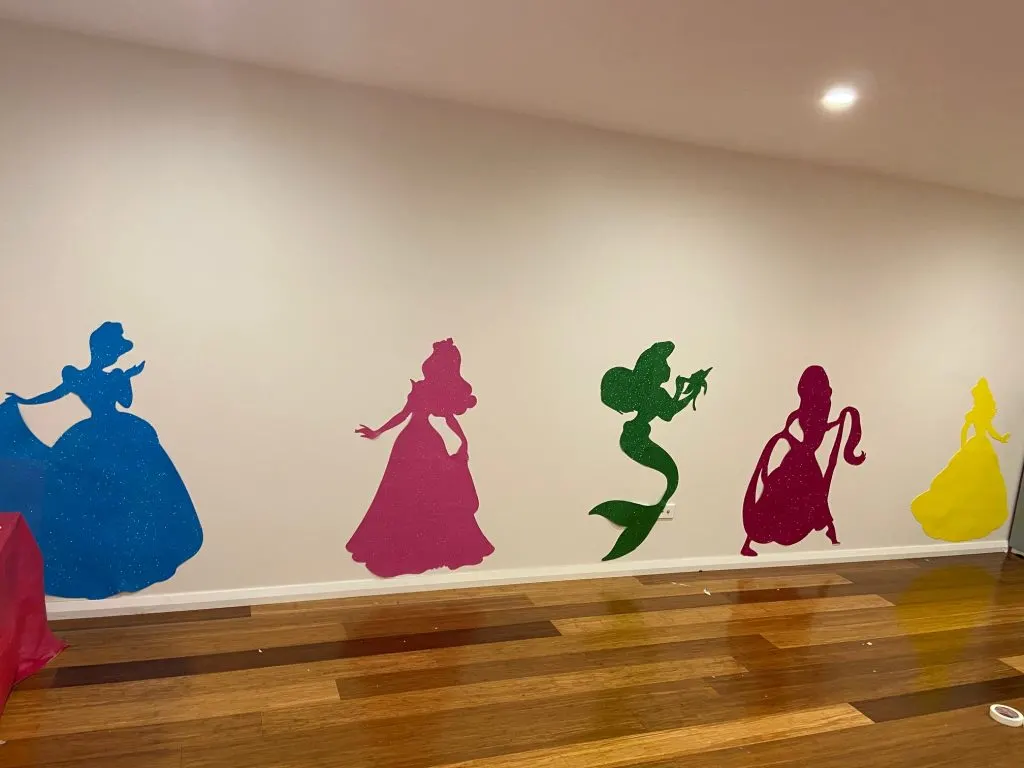 We had the party in our house and moved as much furniture as reasonably possible out of the room to make for the girls to run around. I decorated one wall of the room with Disney Princess Silhouettes, Cinderella, Aurora, Ariel, Snow White, Rapunzel, Moana, Belle, Elsa, and Anna – everyone's favorite made an appearance at the party somewhere!
I cut the silhouettes with my cricut. I used foam paper from the dollar store and SVG files.
Princess Wall Art
I purchased some princess dress clipart and used it to create some art for a wall. I printed to art off on A3 pages. After the party, I put these pictures up in my daughter's room as a keepsake from her princess birthday party.
Princess Party Table with Backdrop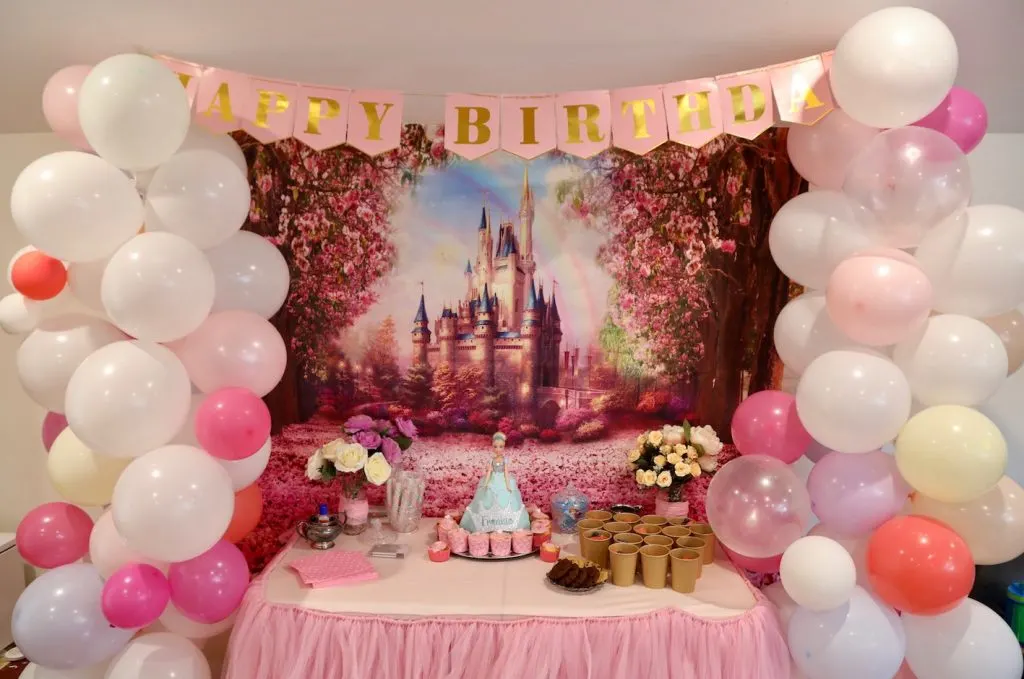 Our party was in the afternoon, so we served snacks and cakes. I set up a Princess party table with a castle backdrop, a birthday banner, and balloons.
The banner we used is currently available on Amazon. If you don't see something you love on Amazon, Etsy has many options for princess backdrops to suit your space. Many of the backdrops on Etsy can be personalized, which is a cite touch.
Party Backdrop Tips
Make sure you check the size of your backdrop before you purchase to make sure it matches your space.
When your banner arrives, make sure it is unfolded and streamed to get the wrinkles out.
The tulle table skirt was also from Amazon. We needed multiple skirts for our tables so again, make sure you check the size before you order. We steamed the skit with iron to straighten the tulle and then attached it with safety pins to a pink table cloth.
The Happy Birthday Banner was a hand-me-down from a friend. But I've created a printable version you can use in our Princess party printables set. Keep reading for details on this.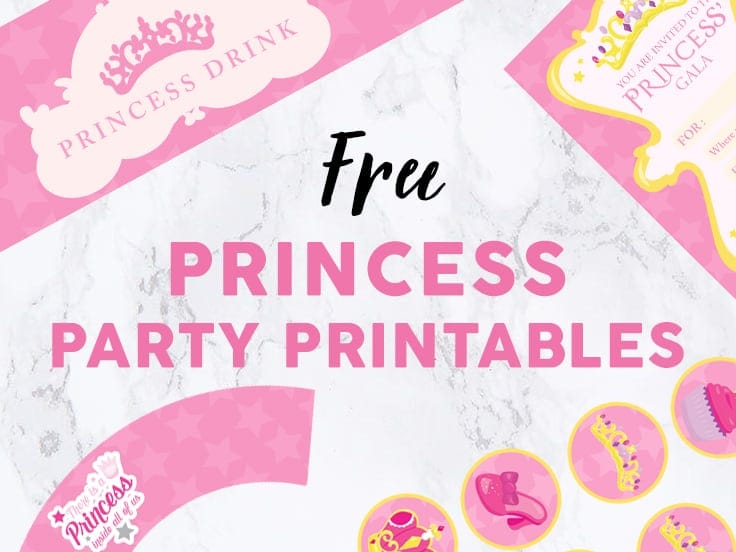 Princess Jewellery Table Activity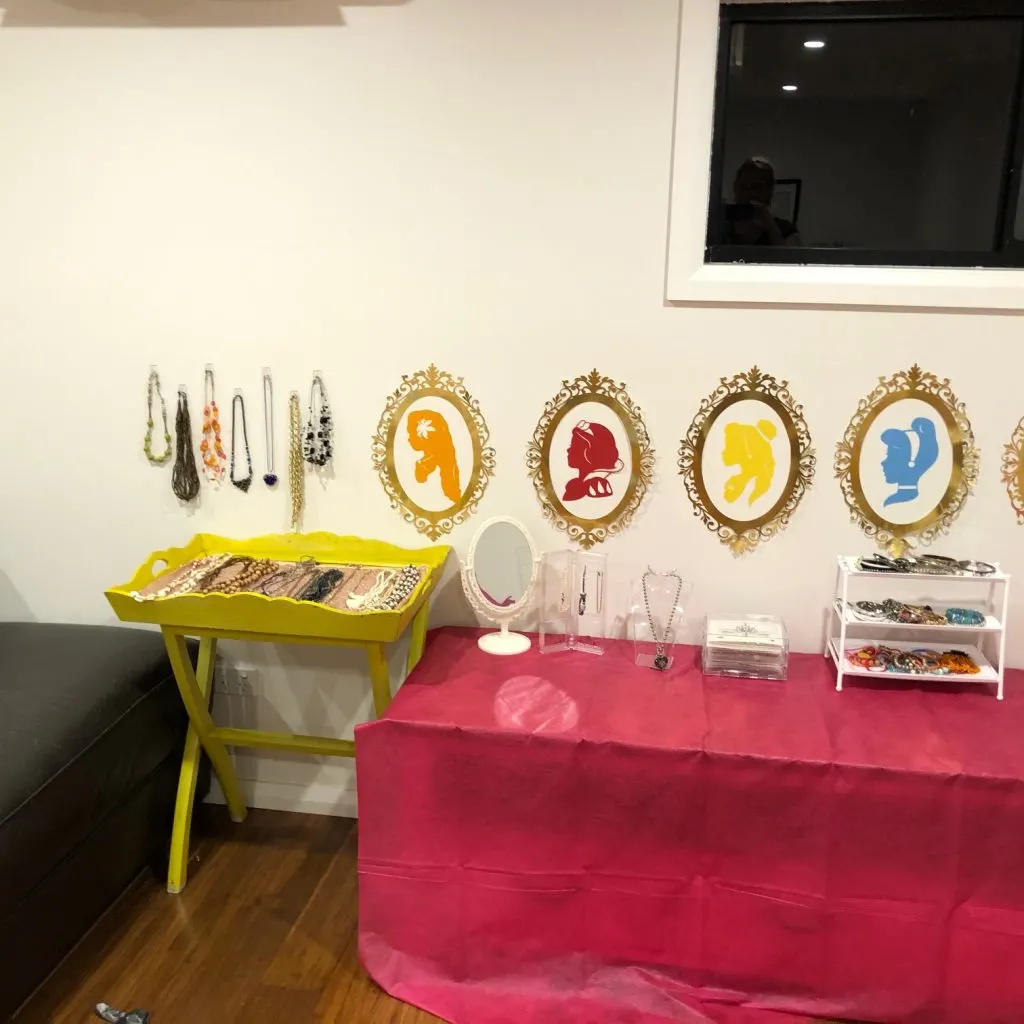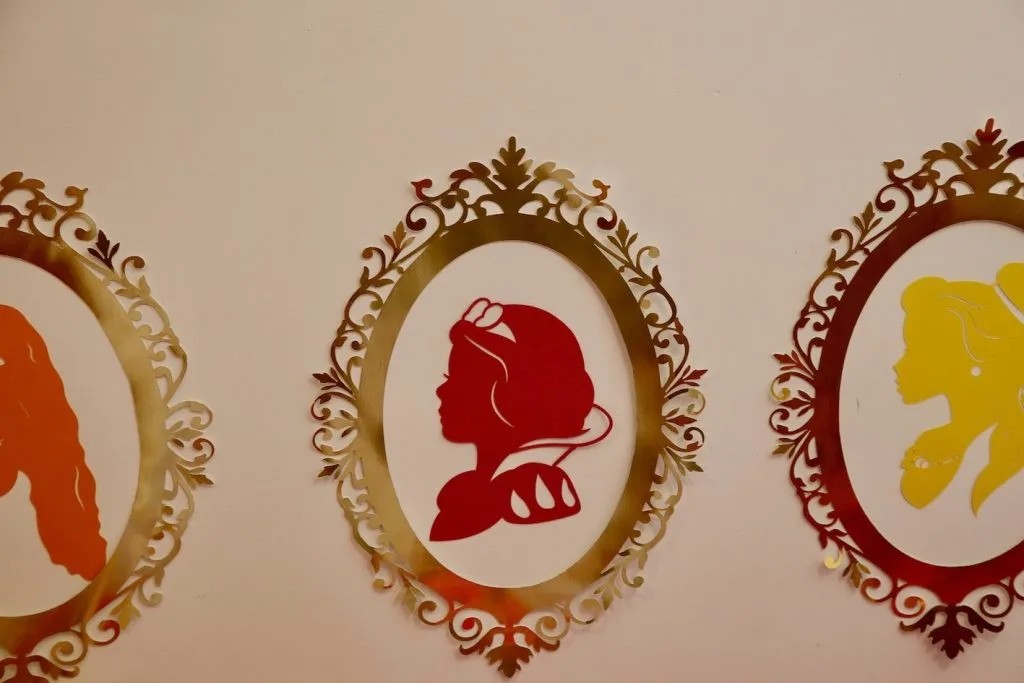 I knew that a few of the kids attending the party would take a while to warm up to the group, so I created a princess dressing table for the girls to use when they arrived. To set up the station, I bought some bulk costume jewelry on eBay for about $10. I then bought some jewelry display stands at the dollar shop. Finally, I cut out more princess silhouettes using my circuit and princess SVG files.
Princess Cake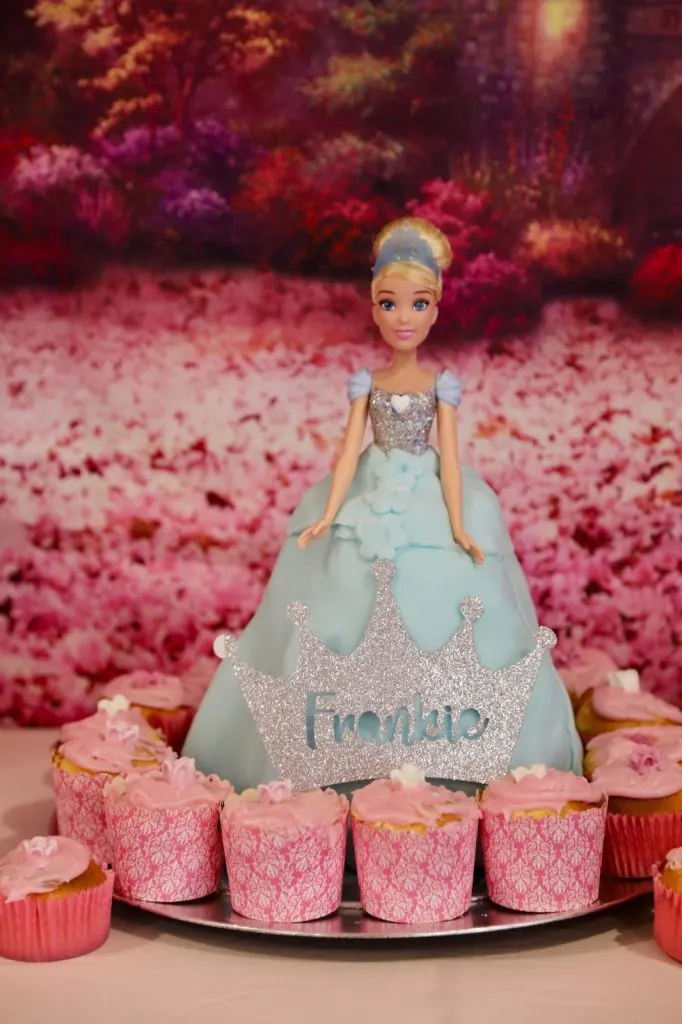 For the princess cake, I bought three plan cakes at the grocery store. I then add a cinderella barbie to the middle of the stacked cakes and cut the cakes to be a cone shape. I then covered the cake with some store bought fondant. It was far from perfect, but it was quick, easy and my daughter loved it.
Princess Dress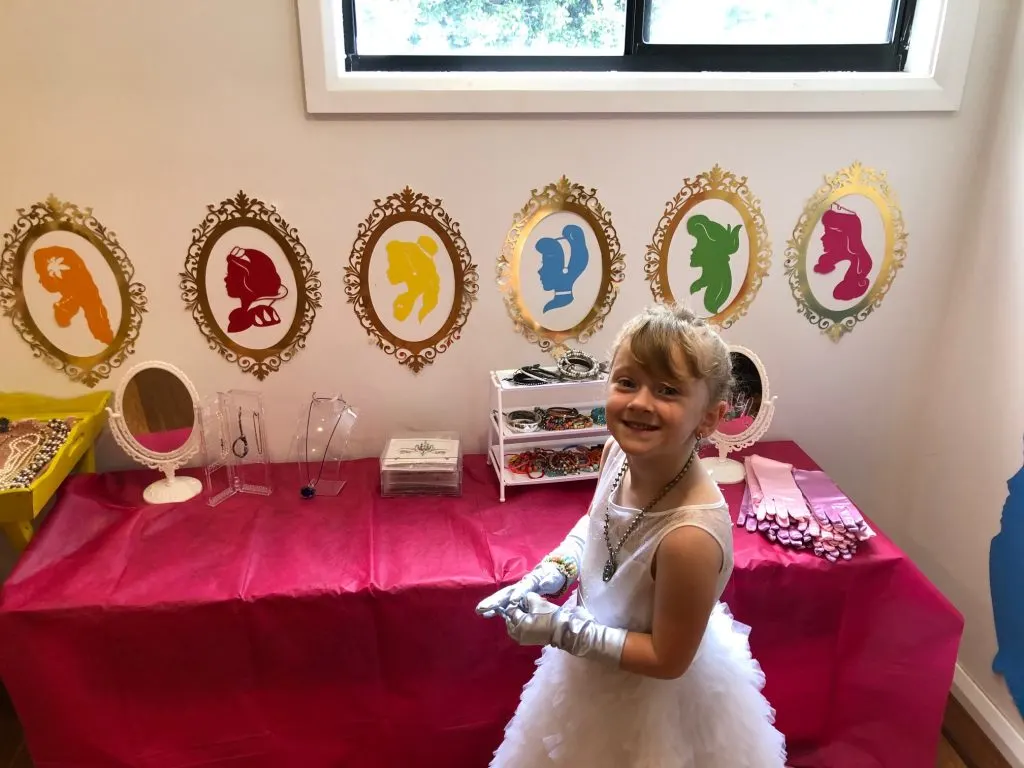 As her birthday gift, my daughter asked for a ballgown. I bought a used flower girl dress from eBay and she loved it. It was completely over the top and only cost $10. Months after her party, she is still wearing it and swaning around the house like a princess.
Princess Drink Bottles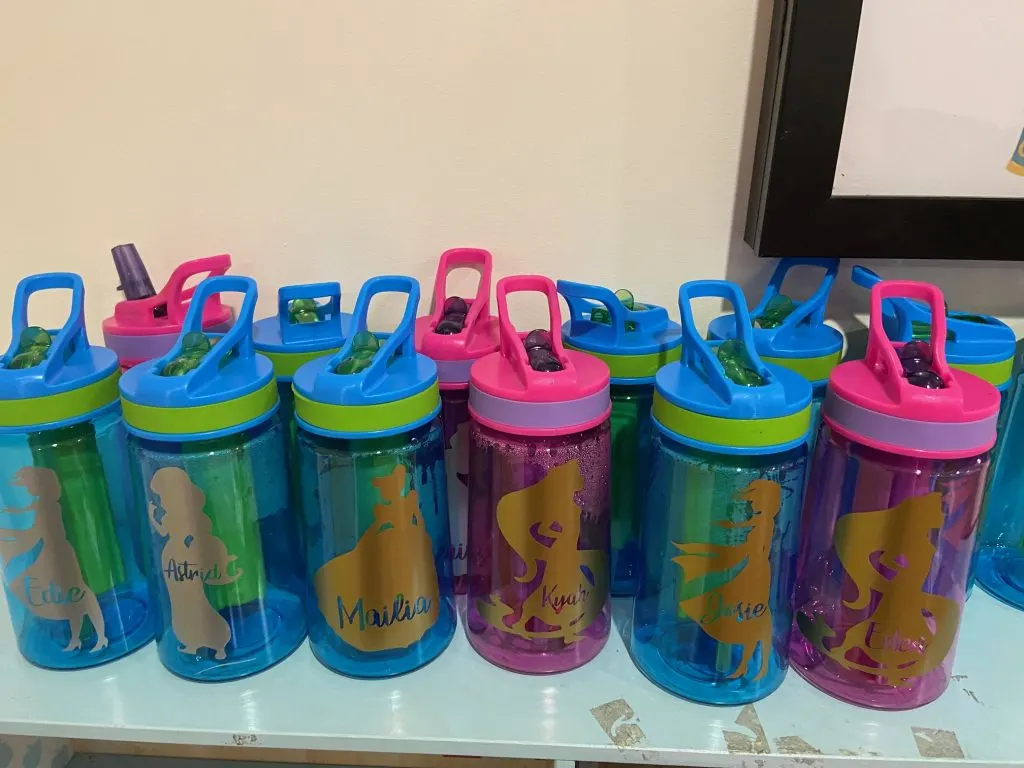 Each princess was given a personalized Princess water bottle during the party to ensure they stayed hydrated as they ran around. Again, this was all done with my Cricut and princess SVG files. Each of the girls got to take their water bottles home with them at the end of the day.
I managed to buy the bottles on clearance at Kmart, so they only cost a couple of dollars each.
Princess Party Entertainment
What can I say, we hired Cinderella. She was amazing and both of my daughters asked if she was the real Cinderella when she left. This was the first time I have hired an entertainer and it won't be the last. She was worth her weight in gold and gave me the time to catch up with all of the parents.
Princess Favor Bags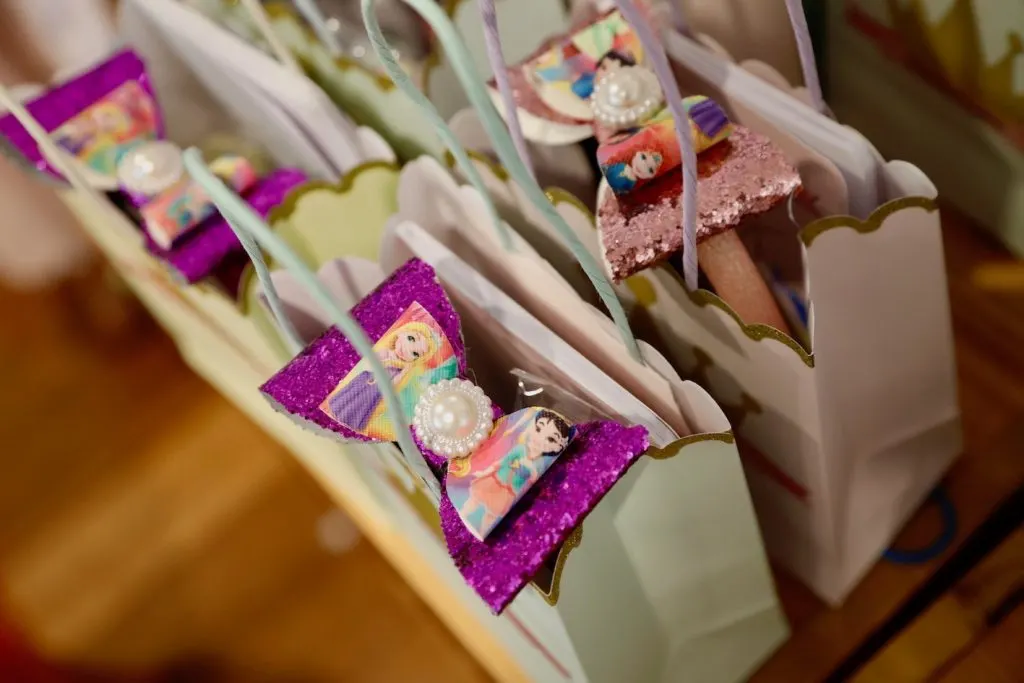 Another one for the Cricuit machine. For the favor bags this year my daughter and I created Princess hair bows for the girls. This was a super fun craft that I could do with my daughter ahead of her party. It was nice for her to get involve and understand that while parties are fun, they are a lot of work too! She had a ball and loved designing a special hairband for each of her friends.
My original intention was to use these cute princess favor boxes but they were not the right size for the bows. If you have a smaller favor, be sure to check them out as the kids will love them!
There you have it all the details of my daughter's super fun Princess party. If you have any questions or need any help, just reach out! I would love to see your parties!