Jack O'Lantern Clip Art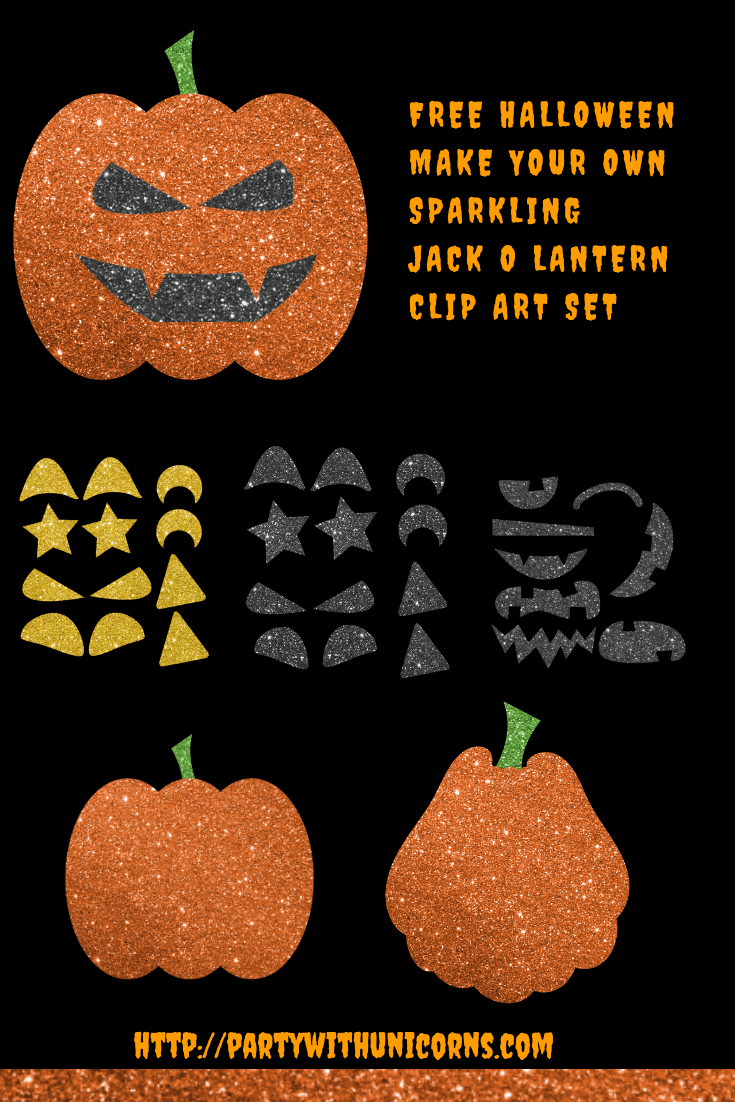 It's Friday Freebie time again, and this week's creation is a sparkling jack o'lantern clip art set (or Jack-o-lantern clip art set depending on where you reside). I have lots of creative ideas of how you can use this set below.
Preschool Halloween Crafts Printables
My first idea for these pumpkins is to make a preschool Halloween craft printable. Just print out each child a pumpkin template and a set of eyes and mouths. The children can then cut out their preferred face and glue it onto the pumpkin. Any classroom would look magical with these sparkling pumpkins up on the wall. I've also included a plain orange pumpkin if you prefer to just have sparkling eyes and mouths.
Another idea for preschoolers is to print off this jack o lantern set and laminate. Then your preschooler can make the faces over and over again to their heart's content. You could also use a marker to draw the faces on the pumpkin templates.
Jack o Lantern Templates
Another great idea for this clip art set is to use the various elements as Jack O Lantern Templates for when you are carving your pumpkins this year. All you have to do is resize the pieces to match the size of your pumpkin. Cut out the various elements you want to use as the face of your Jack o'lantern and use a little sticky tape or blue tac to attach the elements to your pumpkin. Then just trace the outside of the mouth or eye and remove your pattern. Then you are ready to carve!
DIY Halloween decorations ideas
The files are saved as transparent PNG files so you can use them to create your DIY Halloween decorations. You can use this bunting template and place a jack o lantern on each page to create a super cute banner. Or you could print out pumpkins on cardstock and make a cute sign for your entrance.
Jack-o-lantern Clip Art
Without further ado, here are the files for you. To save each file, simply click on the image and the full-size image will open in a new window. Right clip "save as" to save to your computer.
Halloween craft ideas preschoolers I Free Halloween Clip Art
If you are looking for more Halloween crafts ideas for Preschooler or free Haloween clip art check out these posts and resources.
Free Halloween Letters Jack-o-latern faces
Easy Preschool Halloween Crafts
Free Halloween Font (External Link to Creative Fabrica)
Free "BOO" Graphic (External Link to Design bundles)
Free Floral Pumpkin Graphics (External link to the Hungry Jpg)
I hope you love this week's Friday Freebie. Be sure to tag me on Pinterest or Instagram so I can see all of your amazing creations!