Affiliate links may be sprinkled throughout the awesome, free content you see below. I'll receive a small commission if you purchase from my links (at no extra cost to you), which I'll totally blow on awesome things like adding more free content to this website. :)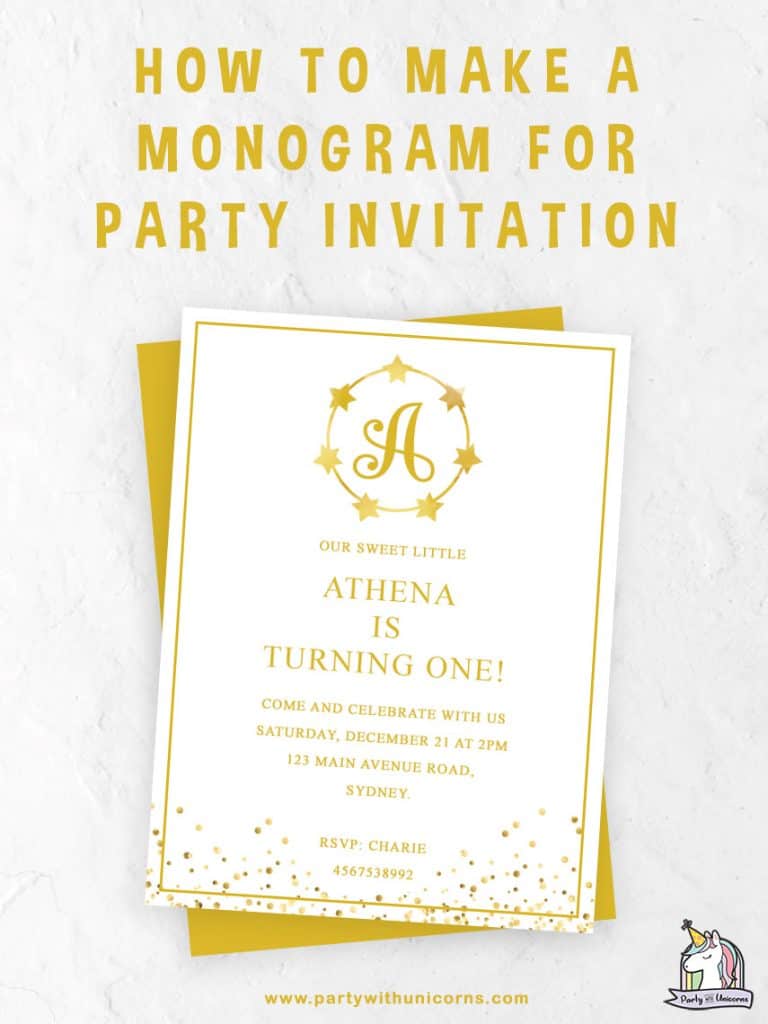 Hello, everyone! We cover a lot of different party themes here are Party at Unicorns, but some time a party does not need a big theme. Sometimes a simple, elegant invitation is the perfect way to let people know about your event.
Today I have partnered with Monogram Maker to show you how you can make a monogram to use on your invitations… for FREE! The tool is super easy to navigate and you don't need graphic designing skills to make an amazing looking monogram.
For this example, I have created a simple sparkly first birthday invitation with a monogram as an accent. I think this invitation would also be perfect for a baby shower or maybe a New Year's eve party. If you would like to recreate this invitation, I have added the background template to our freebie library. Once you have the background downloaded, head over to Monogram Maker and follow the instructions below to make your own sparkling monogram.
Let's start.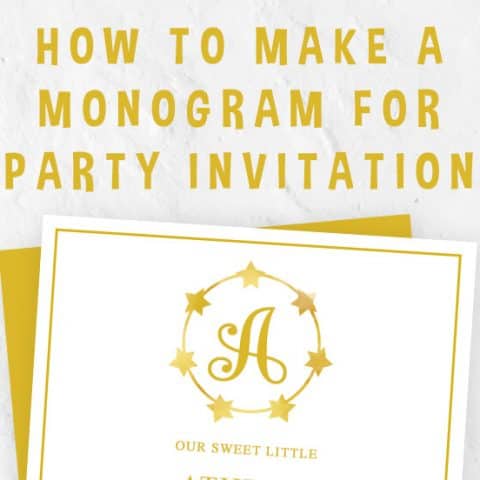 How to Make a Monogram for Party Invitation
Step by step instructions to create your own monogram party invitations.
Tools
Monogram Maker
Photo Editing Software
Instructions
Open the Monogram Maker website.
Start by typing the letters you want in your monogram inside the text box.
Select a font by clicking the font sample.
Next, select a frame from the frame gallery. You can choose whatever frame you want as long as it matches your party invitation theme. You can also add a background on your monogram, but I chose not to for this tutorial.
Change the text color and resize the text if you want by using the "Color" and "Scale" buttons.
If you're happy with your monogram, click the "Save" button.
Add a file name and choose a file type to save on your desktop. Then click download.
Before the download start, you need to type in your email address first. Then the download will now begin.
Open your monogram file to any third-party software. I use photoshop for this. Make sure that your software can open the saved file format of your monogram. Then add your monogram in your party invitation design.
Print out the party invitation and give it to your guests!
There you have it! I can't wait to see what you create with the monogram maker free tool and our free template. Be sure to tag us on social media with your results!