Affiliate links may be sprinkled throughout the awesome, free content you see below. I'll receive a small commission if you purchase from my links (at no extra cost to you), which I'll totally blow on awesome things like adding more free content to this website. :)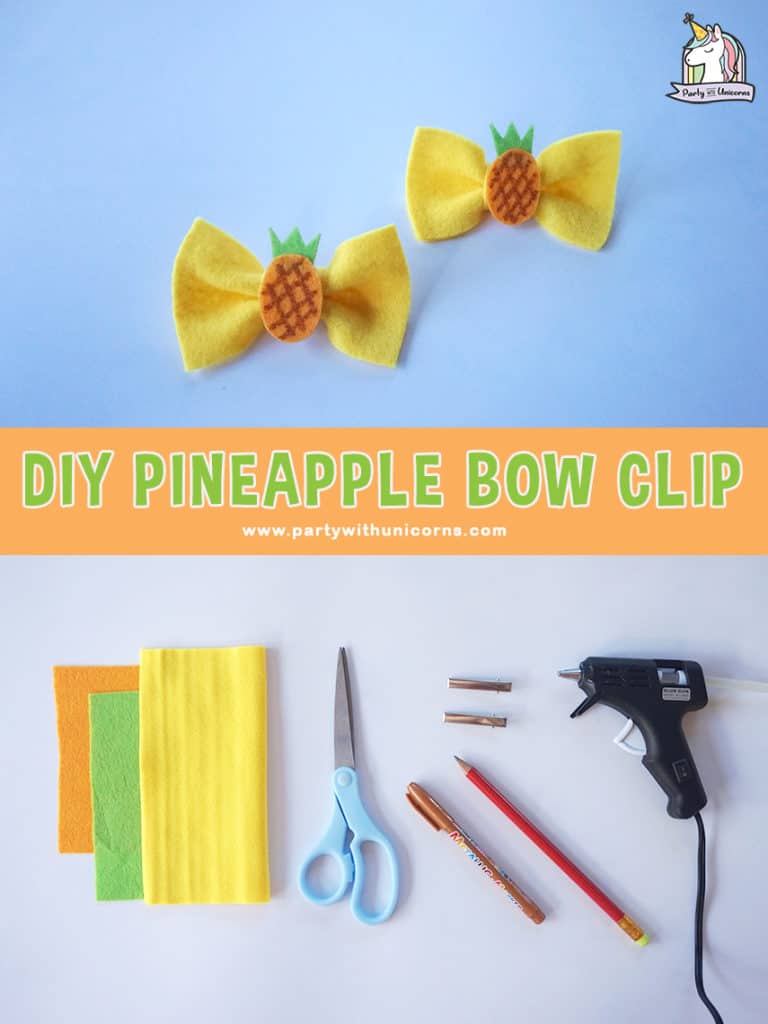 Summer is rolling along, and I am back to share another fun summer craft we have been having some fun with. Today's tutorial is for these fun pineapple hair bows. We've had a few fruit-themed crafts of late, and pineapples are a great addition to the summer fruit salad mix. Once you get the hang of putting together the bows, you will easily be able to make all sorts of fun themed hairclips.
Summer Crafts for Kids
Before we get started with the craft, I quickly wanted to quickly catch all of our new readers up. To celebrate the end of school, we are running a series of Summer crafts and printables to help keep the kids busy. While I encourage you to check out the entire series, here are some of the most popular posts.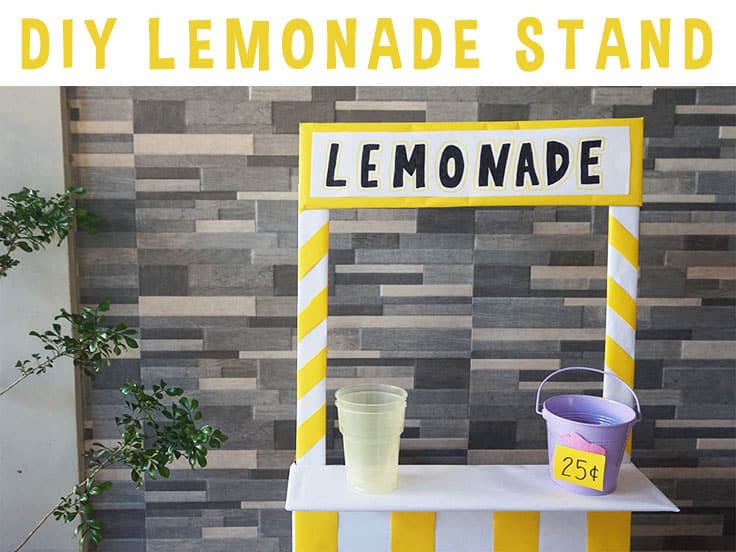 DIY Lemonade Stand . An easy step-by-step tutorial to create a fun Lemonade stand for reused household materials.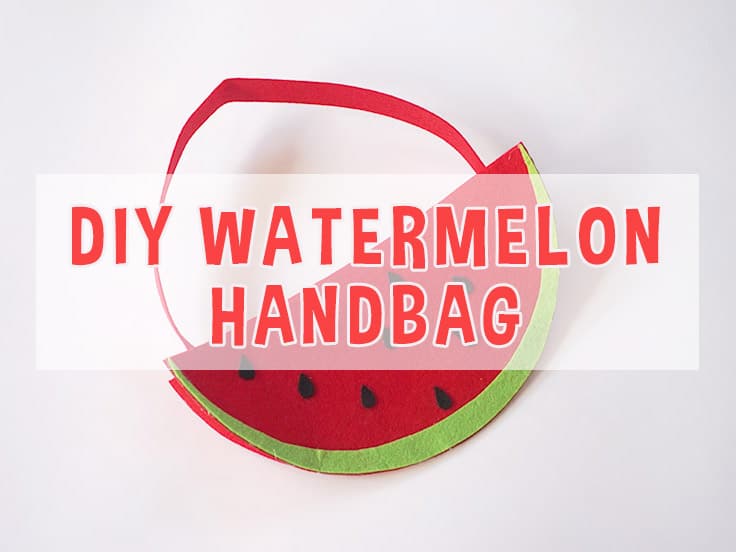 Watermelon Handbag Craft. This cute craft provides the perfect summer accessory for any watermelon fan. It would also look great with today's pineapple bows!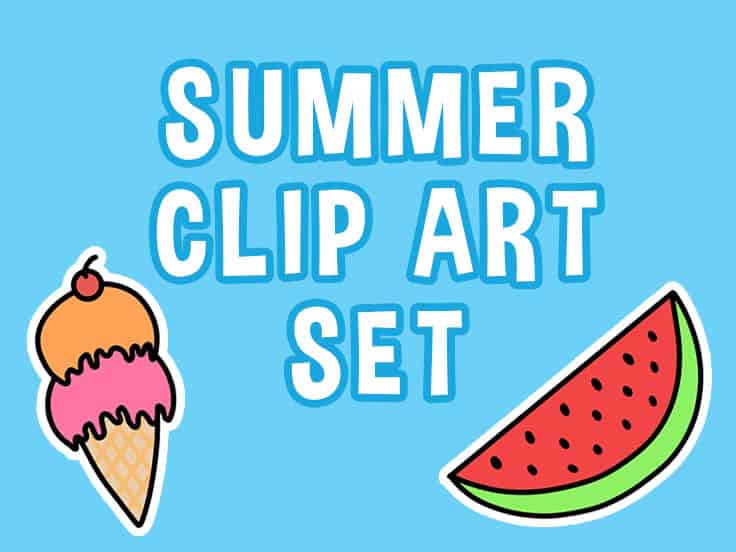 Summer Clip art. If you have any DIY projects or scrapbooking to do, download these free set of Summer Clip art to use in your project. Perfect for a summer birthday or tutti-frutti themed party.
Pineapple Hair Bows Supplies.
If you're like me who have felt scraps at home, then this will be a perfect DIY project for you too. Remember that you can always change the colors. Don't think you need to stick with the colors I recommend, be creative! Most importantly have fun. Let's start!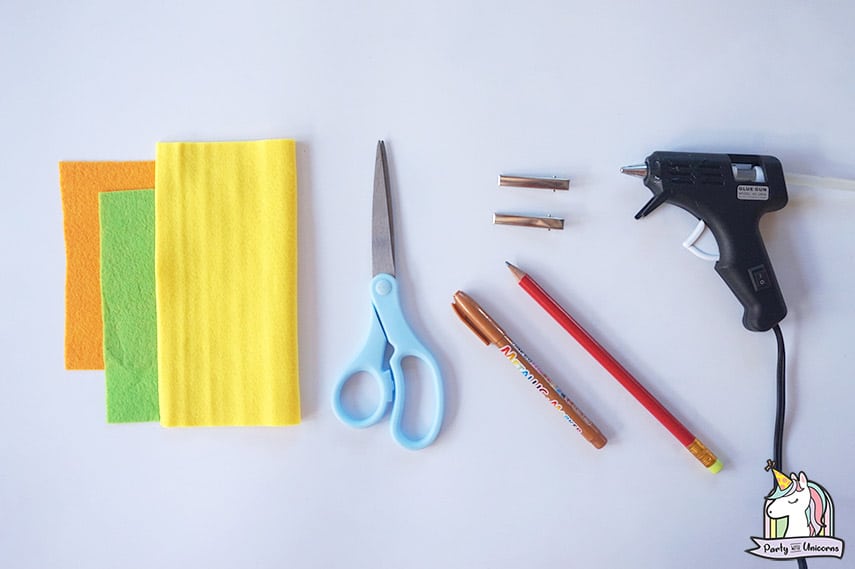 Here are the supplies needed to make the Pineapple Hair Bow:
Felt cloth (Yellow, Green, Yellow-Orange)
Scissors
Pencil
Brown Marker
Hot Glue
Alligator Hair clips (you can use other hair clips if you want)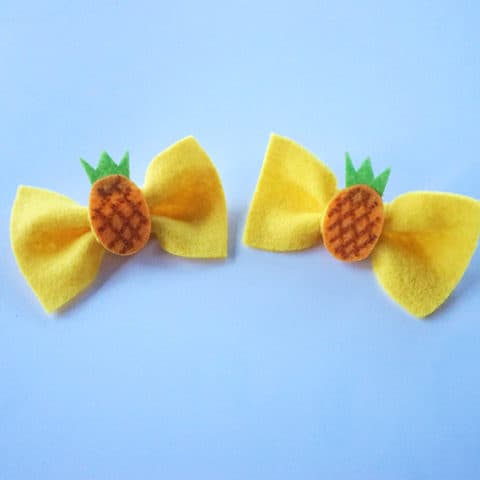 Pineapple Bows
Materials
Felt cloth (Yellow, Green, Yellow-Orange)
Pencil
Brown Marker
Hot Glue
Alligator Hair clips (you can use other hair clips if you want)
Instructions
Cut two rectangular shape from your yellow felt cloth. Cut two short strip as well.
Pinch the center part (from tip to bottom) of the rectangular shape felt cloth to create the bow.
Wrap the small strip around the bow. Apply glue at the back to secure.
Glue the alligator hair clip at the back of the bow.
Draw two oblongs into the yellow-orange felt cloth and two grass crown into the green felt.
Cut it out
Draw diagonal lines that intersects into the two oblong shape using your brown marker.
Glue the grass crown on top of the oblong shape. Your pineapple is now done!
Glue your pineapple on top of the bow to decorate.
And you're done! Let your little girl (or boy) wear this cute hairpiece for this summer! My daughters also love making these little pineapple hair bows for their dolls. I also think these little bows would be great party favors for a summer party.
I hope you enjoyed today's tutorial. Please follow along with us on Facebook, Pinterest, and Instagram to be kept up to date with what is new. If you have any questions about this craft of or suggestion for our next kid's theme, please let me know in the comments below.