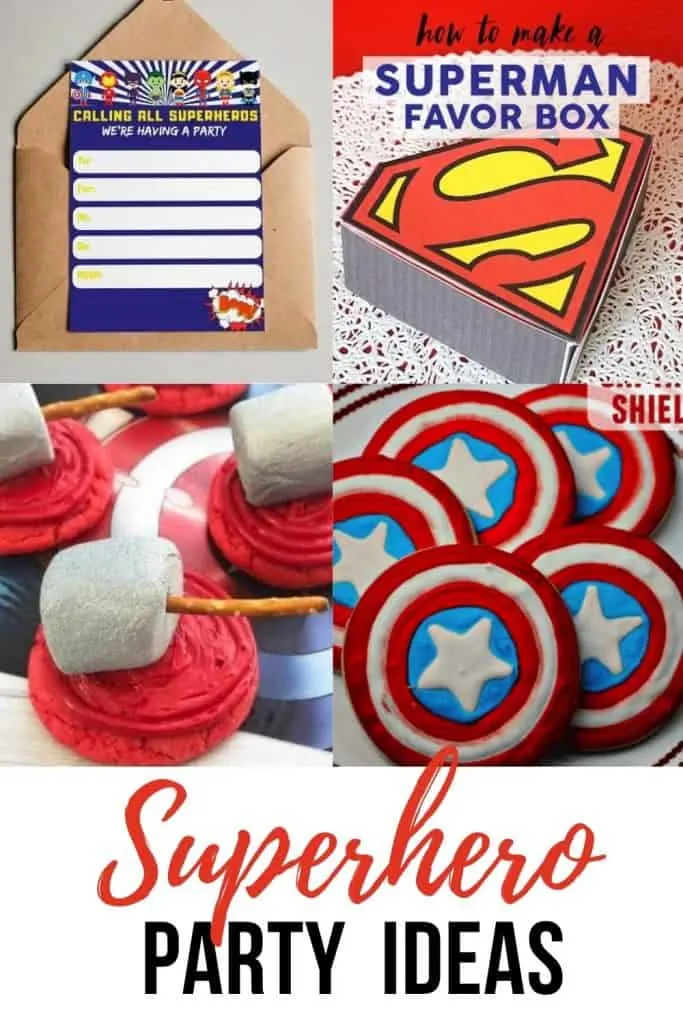 KAPOW! BOOM! ZAP! Calling all Superheroes, it's time to party!
Superhero parties are one of the funniest kids party themes around. They are fun, full of energy and it's all about the good guys and heroines against the villains. Whether your child is into the Avengers, the Justice League, The Incredibles, or PJ Masks, there is a caped crusader for everyone!
This post may contain affiliate links. See our disclosure policy for more details.
Superhero Party Theme
While I have never really kept track of what superheroes fit into which groups, my kids sure do! If your party is for a younger child with a specific character in mind, just keep scrolling as this detail won't be relevant for you. But, if your celebration is for an older child, you may want to ensure you find out whose the favorite superhero of the moment and pick one group for your party theme! Here are the groups as I know them:
Marvel Comics
Marvel comics are the creators of the Avengers (and many of the popular superhero films). Some of Marvel's most popular heroes are Spider-Man, Hulk, Thor, Captain America, Ant-Man, the Wasp, Black Widow, Wolverine, Captain Marvel, Black Panther, Doctor Strange, Ghost Rider, Blade, Daredevil, the Punisher, Guardians of the Galaxy and Deadpool.
The Marvel villains include Thanos, Doctor Doom, Loki. Magneto, Green Goblin, Ultron and Doctor Octopus.
DC Comics
DC comics are the creators of the Justice League and some of their most popular characters include Superman, Batman, The Flash, Wonder Woman, The Green Lantern, Teen Titans, Fantastic Four, and Aqua Man.
The DC villains include Lex Luthor, Joker, Darkseid, Sinestro and Penguin.
Superhero Party Ideas
Without further ado, here is our collection of Superhero party ideas to use when planning your next birthday party or celebration.
Superhero Party Ideas
A list of awesome Superhero party ideas including Free party printables, decorations, food ideas, games, activities, crafts, favors, and more.