Affiliate links may be sprinkled throughout the awesome, free content you see below. I'll receive a small commission if you purchase from my links (at no extra cost to you), which I'll totally blow on awesome things like adding more free content to this website. :)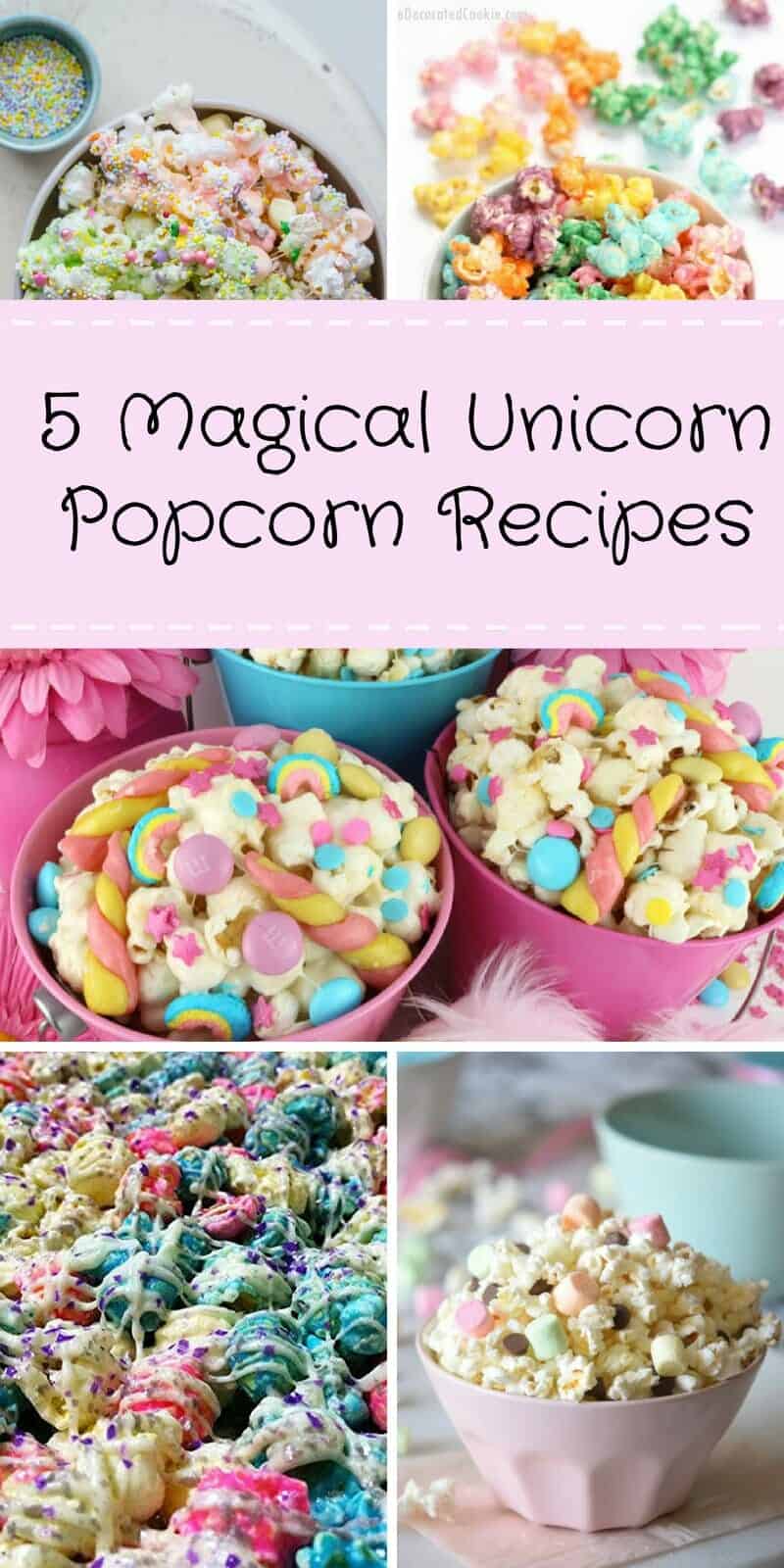 If you are having a unicorn party then you should definitely consider making some unicorn themed food. Unicorn food is any food or drink that has been making super colorful. It is usually  rainbow and pastel. While there are a few bloggers who have been making these colorful food creations for a while, it was Starbucks that brought this colorful food to the masses. Starbucks put a Rainbow Unicorn Frappuccino on its menu and it made the unicorn food craze a global sensation.  While this colorful food looks amazing, it can be tricky to make and some recipes are dreadfully unhealthy. If you are looking for something simple to make then unicorn popcorn might be the perfect treat. It's tasty, it looks magical and it's super easy to make.  Here are some great options to get your creative ideas popping
Magical Unicorn Popcorn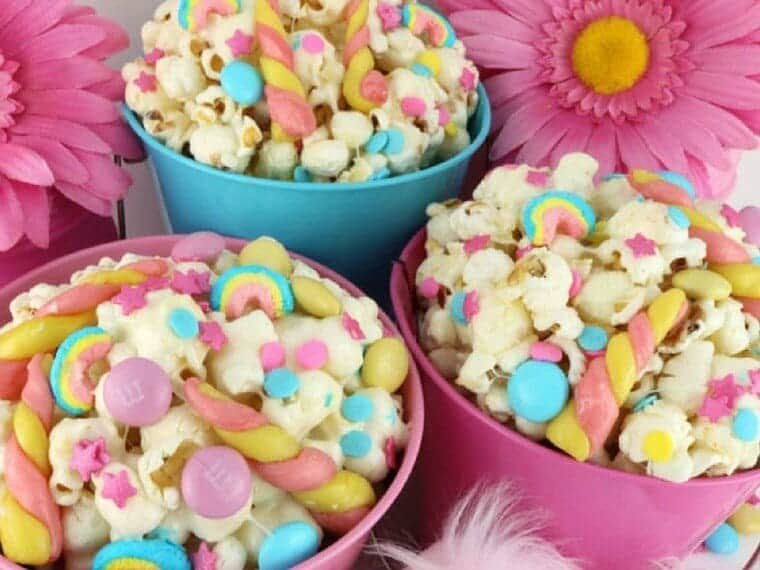 Two Sisters Crafting have put together a magical unicorn popcorn recipe that incorporates everything from M & M's, starburst, lucky charm cereal and sprinkles. This recipe looks amazing but it takes a bit of effort. The cute horns are crafted from Starburst candies, so be prepared to get your craft on to make this one happen.
Rainbow Unicorn Popcorn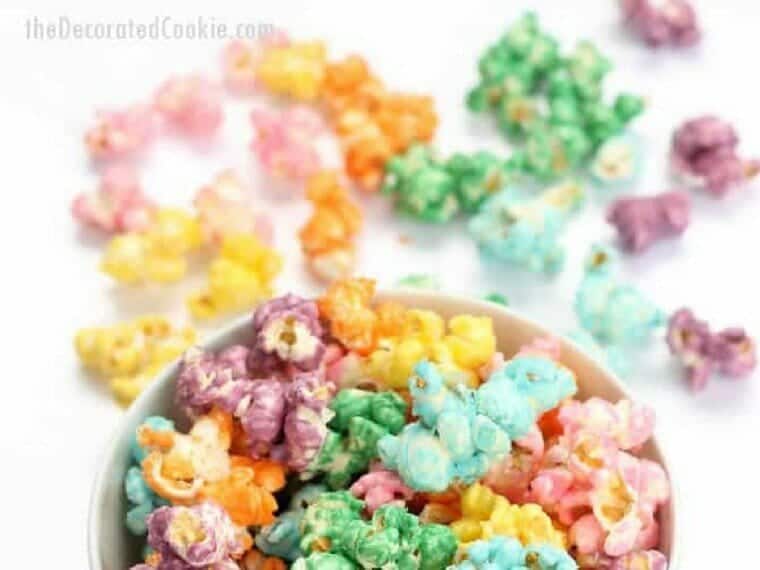 If you are looking for something a little less hands-on, but still magical and delicious, then check out this colorful recipe from The Decorated Cookie. This recipe is really quick and only requires popcorn and candy melts. Check out the Decorated Cookie to get the full Rainbow Unicorn Popcorn recipe.
Marshmallow Unicorn Popcorn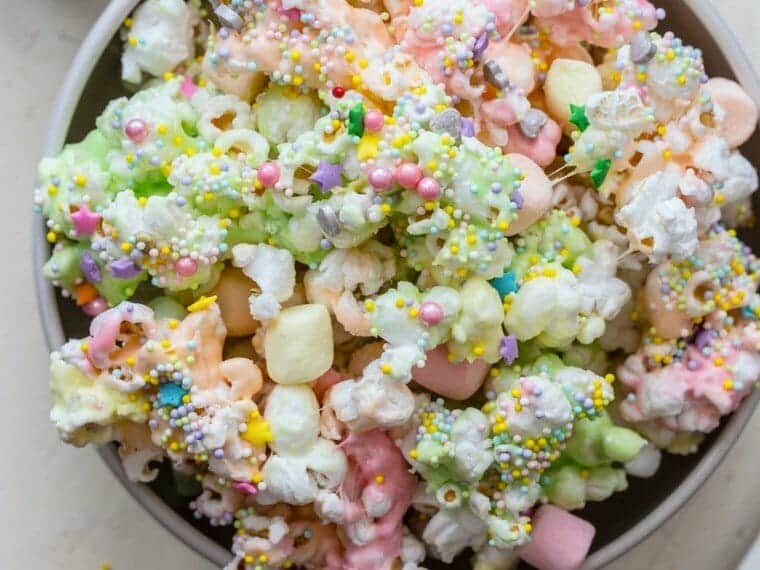 Jelly Toast has come up with an amazing colorful marshmallow popcorn that uses pearlescent sprinkles and small colorful marshmallows. The pastel color mixed with the sprinkles looks amazing. The recipe is sure to be a hit, and all it takes is the time to melt a few mellows on the stove.
Simple Unicorn Popcorn
If you are short on time and need to get your popping done in a couple of minutes, then there is an even simpler solution. You can throw your kernels, chocolate chips and sprinkles in a bowl and you're done! Carmela Pop has the details of her Unicorn Smore Popcorn available on her website. I like this recipe because you can keep it relatively healthy by using plain popcorn and keeping the toppings simple.
 Outsourcing Unicorn Popcorn
If you are short on time but are looking to add some magical popcorn to your menu, Amazon offers some Premade Popcorn
that you can have delivered to your door.
Unicorn Party Supplies
If you are planning a party, we have plenty of themed supplies to help make it a bit easier. Here are links to the recent crafts, templates, and printables that we have published.