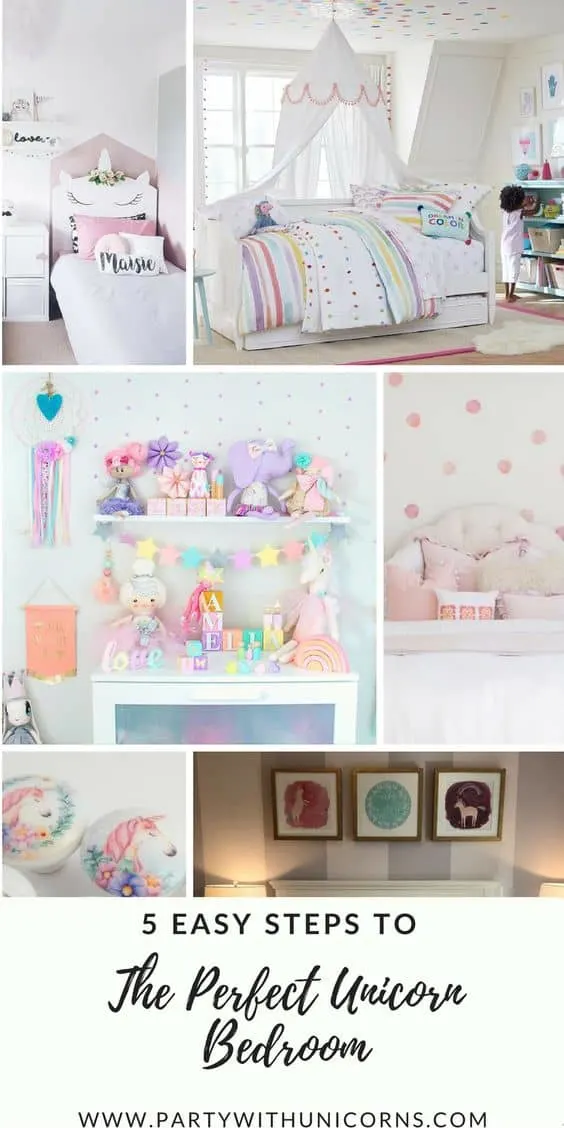 Have you been seeing unicorns everywhere? If you've noticed the name of this website, you'd know, I have! They have been trending since 2017 and are still going strong. Unicorns create the perfect magical and whimsical space for your little one to enjoy. If you are looking for some Unicorn Bedroom ideas, here are 5 easy steps to help you get started on their fairytale bedroom.
1. Unicorn Bedroom Color Pallet
Pastels are the perfect unicorn color pallet. They are calming, inviting and add that touch of unicorn flair you are looking for. When used in a small room, the use of a muted pastel color can help to open up space and make it look bigger. Another benefit of pastel color pallet is when your little one is ready for a change, it can be easily adapted into another theme with minimal effort. Ideas to Try and FAB MOOD have some great color pallets if you are looking for some inspiration.
[left][/left]
[right][/right]This amazing bedroom from rhapsodyandthread is a perfect example of pastels done to perfection.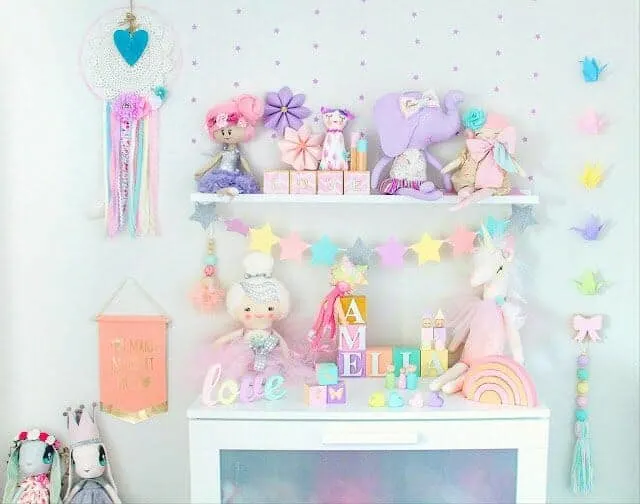 2. Unicorn Bedroom Focal Wall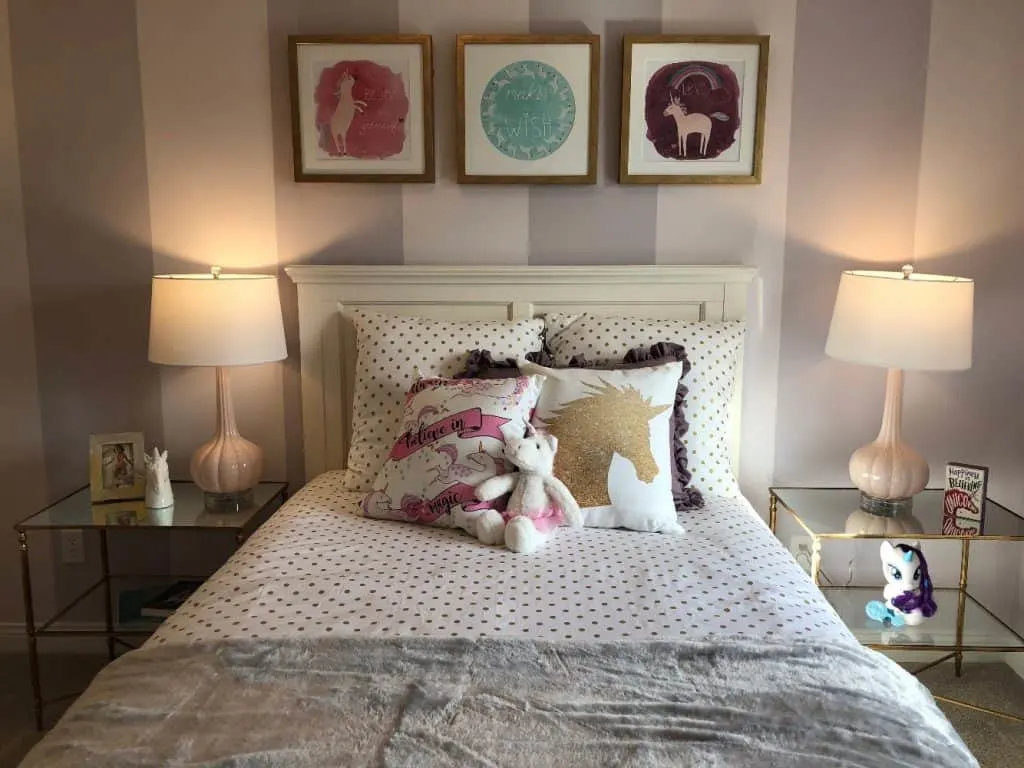 There are many ways you can create a Unicorn Bedroom focal wall in your little one's room. Typically, the focal wall will be where the headboard is placed. Add a stripe detail, wall decals or even a drastic headboard. For wall decals, there are some affor­dable options available on Amazon. I really like this simple Gold Unicorn decal pattern (image below) that you can apply across the feature wall.
If you are looking for something a bit bigger, Urban Walls have some great decals to make an amazing feature wall.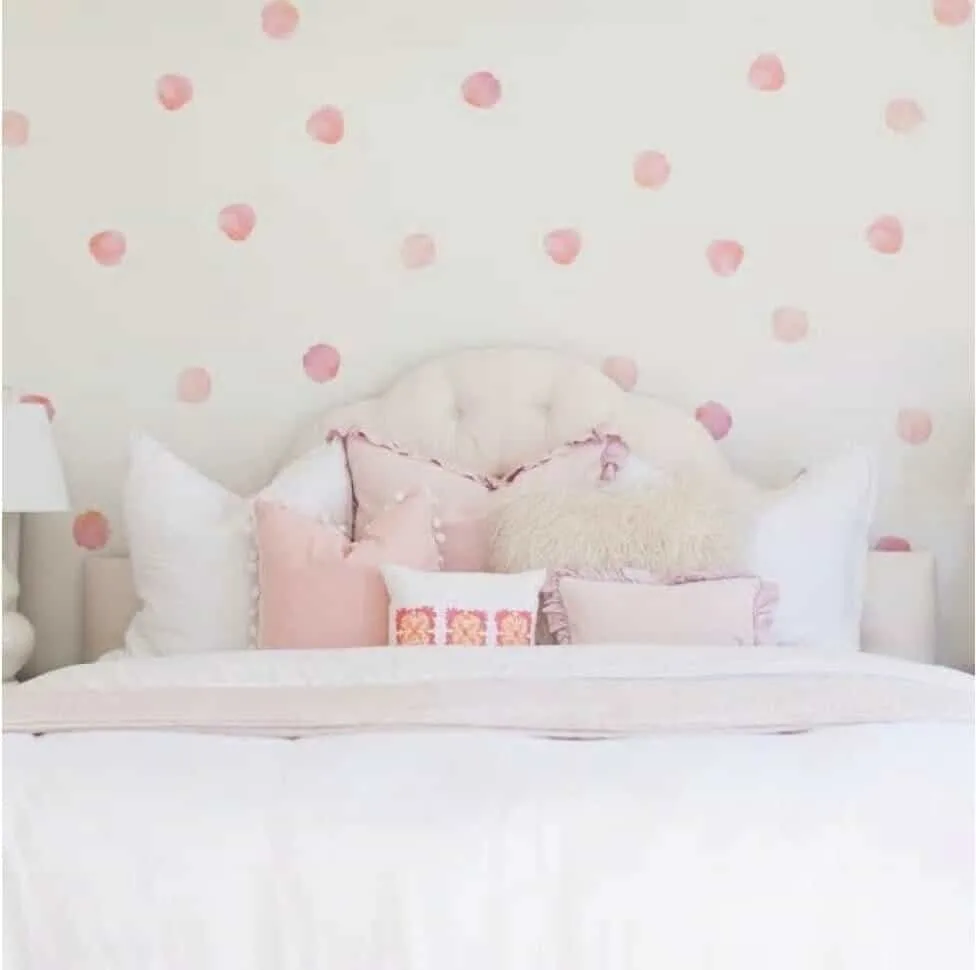 This Hanging Unicorn Plush from Chill & Slay would make a great feature wall.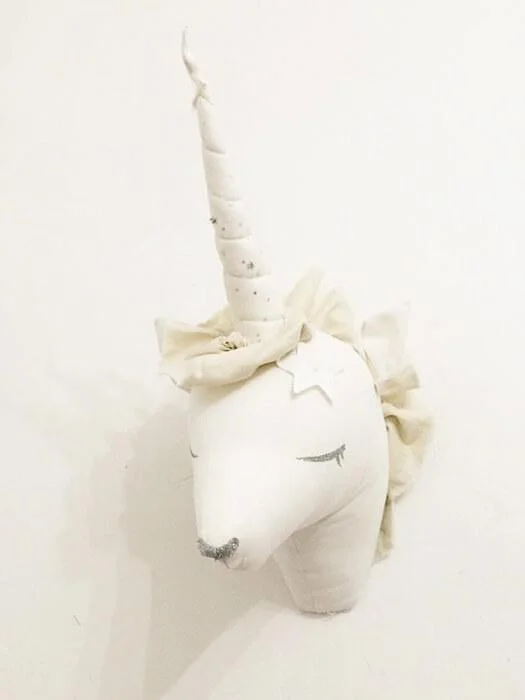 If you decide to use a headboard for your feature inspiration, then this bespoke Unicorn headboard from CraftedPineCo is a gorgeous option. If you have someone handy in your life, they might even be able to craft one up for you!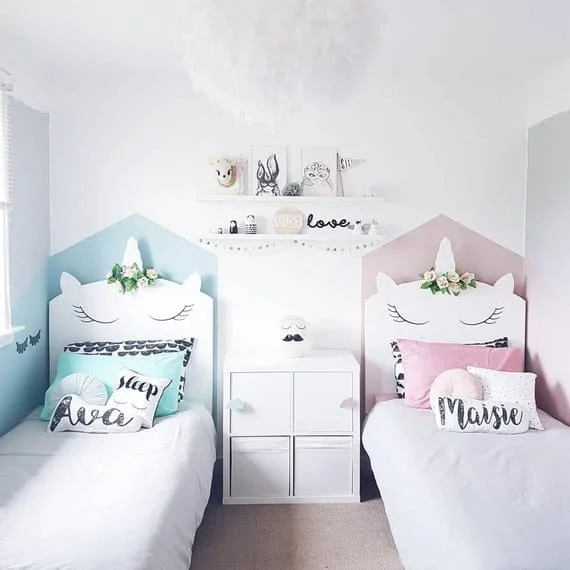 3. Unicorn Bedroom Ideas- Unicorn Bedroom Furniture
Now for the fun part! Selecting funky and unique furniture pieces to make a statement in the room. I love the fun desk chair Sami Says Ag used in her little girl's room. Amazon have some great affordable options to get this look.
If you want to repurpose an existing dresser for your room – The LeilasLoft etsy store has some super cute Unicorn Themed knobs that could be added to your existing piece to give it that extra special unicorn magic.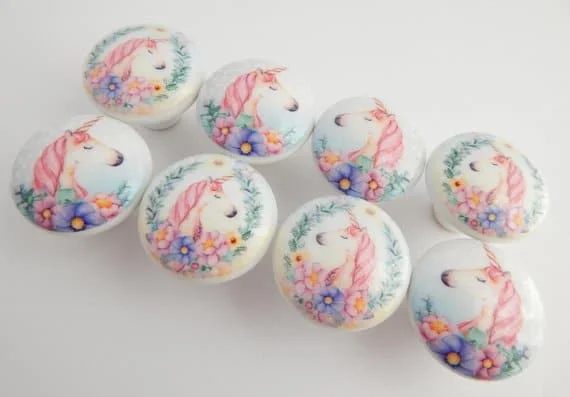 4. Unicorn Bedding Set
Selecting bedding is one of my favourite parts! Adding patterns and textures to the room gives the space another dimension. I will shamelessly put in here that the Party with Unicorns Etsy store has a great unicorn duvet option and throw pillows that you can customise. You can pair this duvet with fun pattern sheets from any bedding store!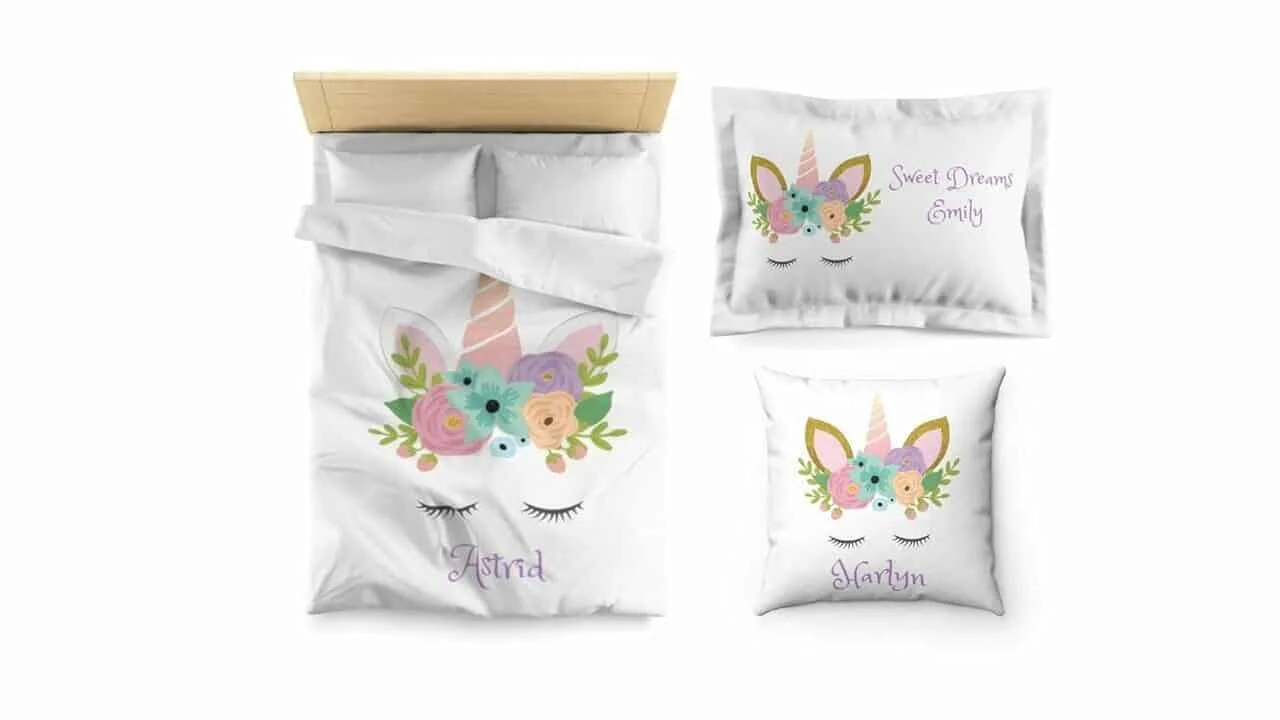 Now that I am done with the self-promotion – I can also recommend that Pottery Barn has some cute Unicorn Duvet options as well. Depending on how dramatic your feature wall is, you may just decide to keep the bedding simple.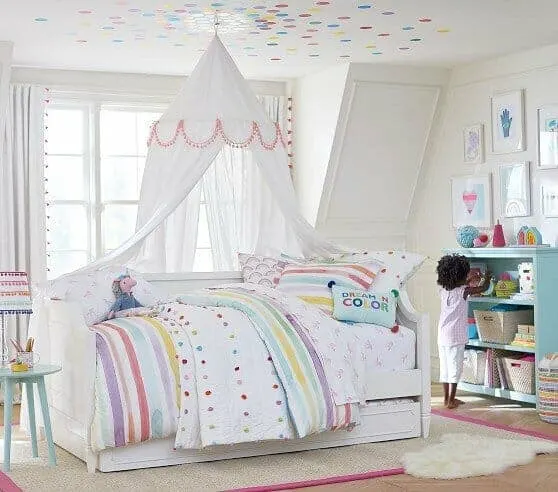 5. Unicorn Bedroom Decorations
Last but not least it's time to select your Unicorn bedroom decorations, accessories and art! This will add the finishing touch to the room.There are so many options in this space its hard to pick my favourites! Here are three great options:
Bunting – who says bunting is only for parties? This cute bunting would bring a touch of sweetness to any room.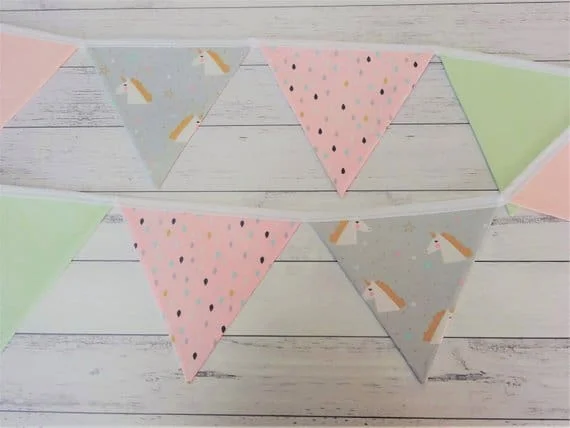 If you are feeling crafty, you could give my DIY Unicorn shelf a try.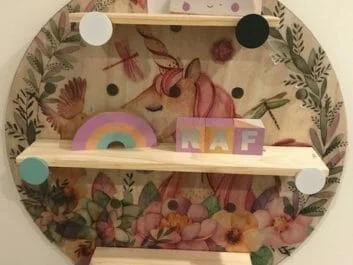 I hope this helped you get started on your little one's fairytale bedroom!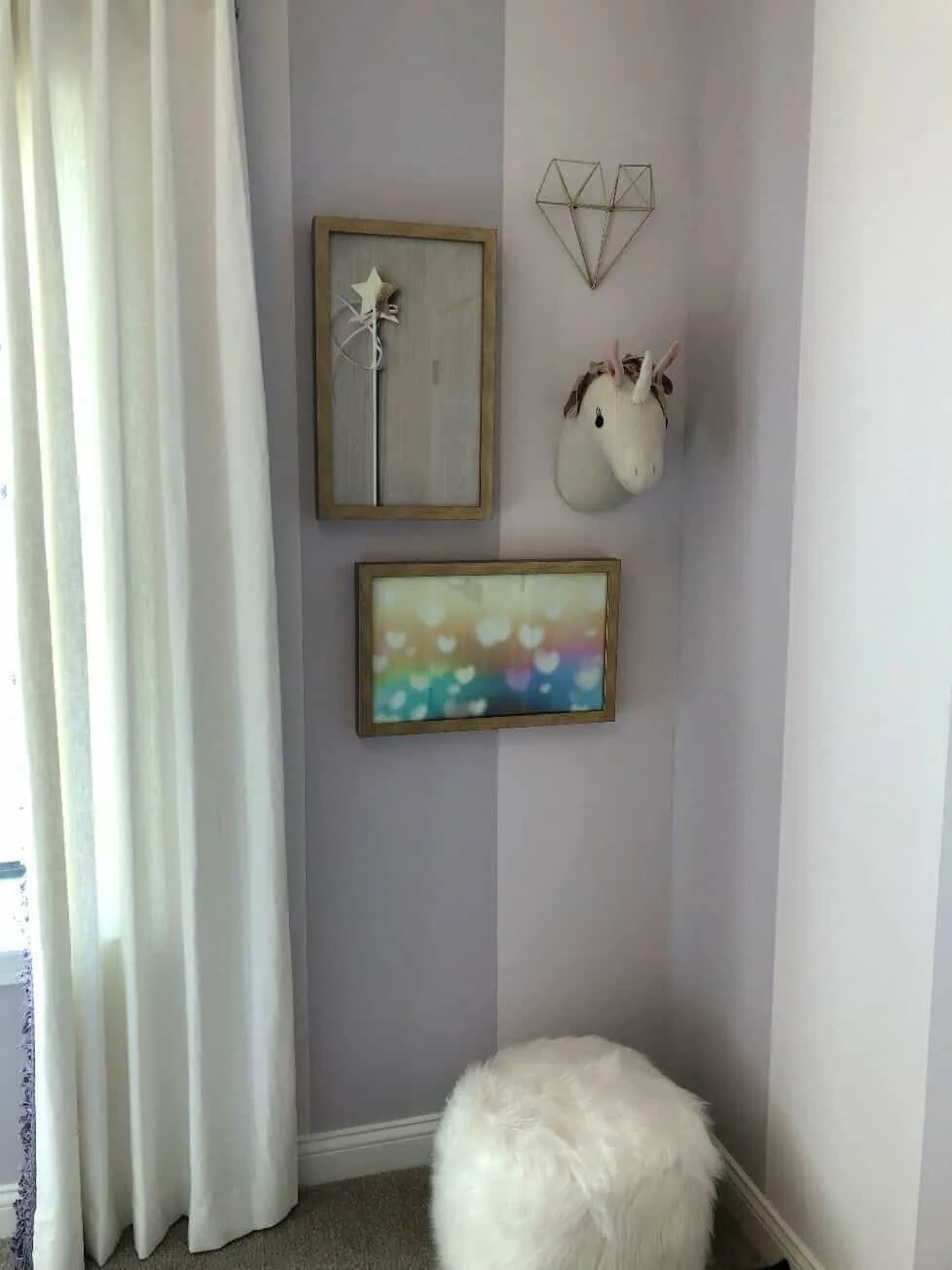 Have fun being creative and creating a unique room for your little one.
Similar Posts: