Planning a birthday party for your little witch or wizard? Throw the most magical Harry Potter themed party with these Best Harry Potter Party Ideas.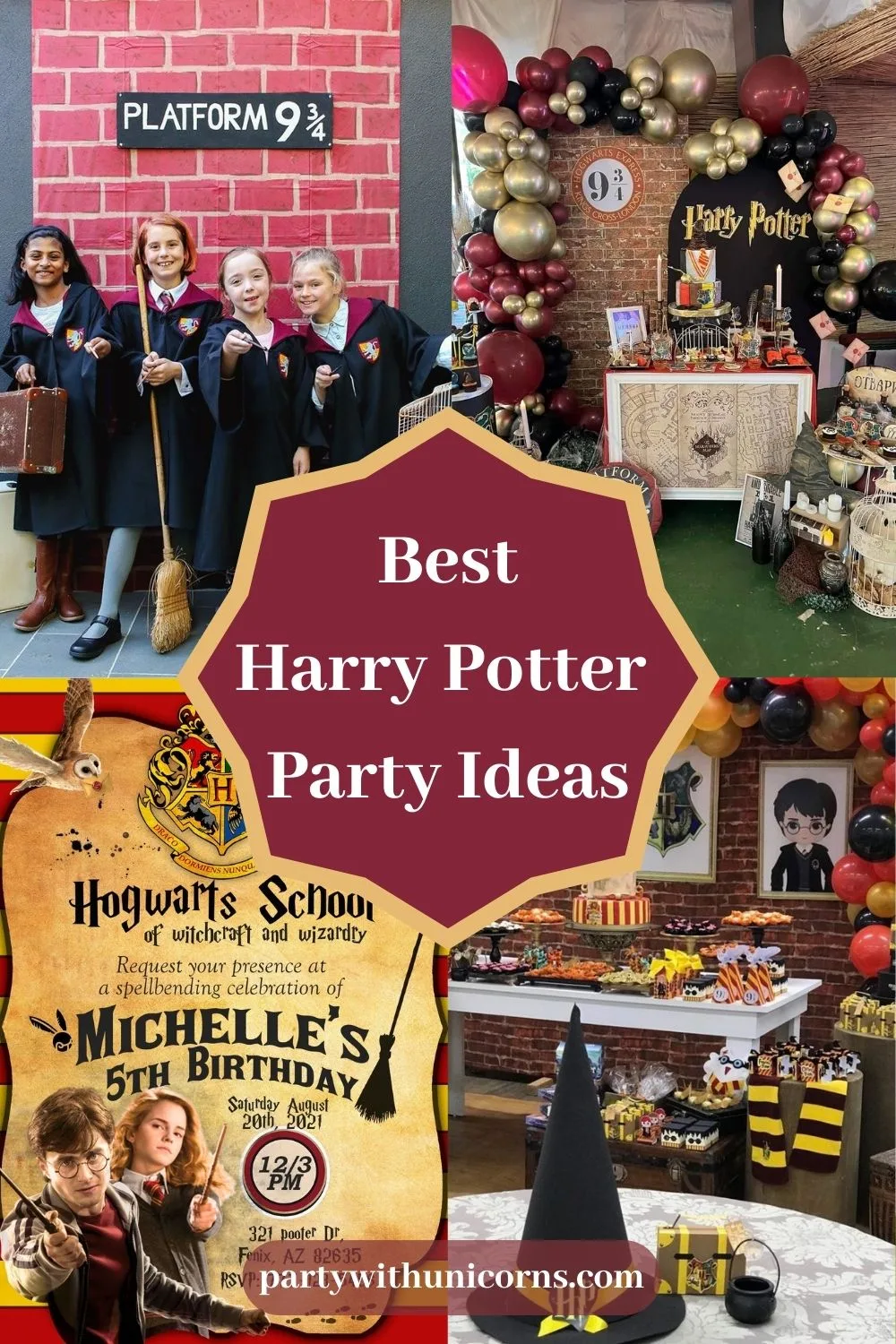 Have you started planning an amazing Harry Potter party for your little one and need a little help? With these Best Harry Potter Party Ideas you will create a world of wizards, witches and magic in no time.
Harry Potter parties are very popular amongst kids and grown-ups alike and there are many amazing props available to buy and DIY to help you to create that wizardly magic.
Some elements to consider when building your theme are a brick wall backdrop with a Platform 9¾ sign, Hogwarts house crests, a balloon arch, hanging Hogwarts letters, suitcase trunks, antique books, Harry's glasses and scarf, Hedwig and a bird cage, candles and the all-important Nimbus broom.
Harry Potter printables are an easy and inexpensive way to add details to your theme and we have an amazing selection ready for you. Plus get inspired with the fun party food, party favors, activities and games to organize a Harry Potter party everyone remembers.
Table of Contents
Harry Potter Party Decorations
Harry Potter Sweet Table and Backdrop Decorations
Be inspired by these sensational Harry Potter party decorations with a wall backdrop, balloon arch and Harry Potter themed treats.
Harry Potter Birthday Party Props
This party set-up looks like it's been taken straight from a Harry Potter movie set. Lots of inspiration to choose from here.
Harry Potter Backdrop and Costumes
The must-have brick wall backdrop with Platform 9¾ sign and witch and wizard costumes are a must for your Harry Potter party.
Harry Potter Party Decorations
This neat immaculate Harry Potter party set-up with all the props like the Hogwarts house crests, candlesticks and suitcase trunks would be perfect for an older boy's birthday party.
Harry Potter Party Props
This simple setting makes the perfect background to take some great photos. Platform 9¾ backdrop, balloons, hanging Hogwarts letters, a few brown paper wrapped boxes, candles and the Nimbus broom all create an enchanting scene.
Harry Potter Party Decorations
Perfect for a little girl is this sweet pink-themed party setting. The little witches and wizards will adore it.
Harry Potter Balloon Garland
Learn how to make this magical wizard balloon garland by Riles & Bash. It will transform any backdrop or dessert table and add that extra magic.
Easy DIY Letters from Hogwarts
Have fun crafting your very own Harry Potter Letters from Hogwarts with a little help from My Crafty Life. Hang them as part of your decorations or use them as a party invitation.
Gringotts's Bank
Gringotts's Bank full of chocolate coins is a great party prop. It could be used as a party favor or turned into a party game too.
Harry Potter Party Food
Harry Potter Party Food Ideas
We love these magical Harry Potter inspired food ideas. The labels and the names add so much wizardly magic.
Golden Snitches
These Golden Snitches made with Ferrero Rocher and simple paper wings are the perfect addition to your sweet table.
Edible Harry Potter Wands
Make these delicious Edible Harry Potter Wands with pretzel rods, chocolate melts, black gel icing, caramel apple wraps and gold dust. For this easy fun recipe visit Nerdy Mamma.
Wizard Hat Cupcakes
These Wizard Hat Cupcakes are so much fun. Make some for your party using chocolate cupcakes, vanilla frosting and chocolate-covered ice cream cones.
Nimbus 2000 Brooms
These yummy chocolate Nimbus 2000 broomsticks are made with peanut butter cups, stick pretzels and chocolate melts. Make this easy fun recipe by Ruffles and Rain Boots for your sweet menu.
Harry Potter Chocolate Frogs
Making Harry Potter chocolate frogs at home couldn't be easier. All you need is good quality chocolate and frog mould.
Olivander's Chocolate Wands
Here's another fun take on edible chocolate wands made with pretzels dipped in melted chocolate and sprinkles.
Harry Potter Butterbeer
With just four ingredients this Harry Potter Butterbeer by Fun Money Mom is the ultimate treat for little witches and wizards.
Pretzel and Cheese Broomsticks
Here's a fun savory treat for your party table. These Pretzel and Cheese Broomsticks made with pretzel sticks, string cheese and chives will be popular with your little party guests.
Professor Sprout's Vegetable Garden
Add Professor Sprout's Vegetable Garden to your party food menu. Kids will love digging into some fresh veggies and a dip.
Harry Potter Monster Book Treat
These Harry Potter Monster Book Treats by Crafting in the Rain are so much fun. Make them ahead and store them in the freezer or turn them into a fun activity and let your party guests create their own.
Owl Cupcakes
Have a go at baking these adorable Owl Cupcakes by Bakerella. These cinnamon sugar cupcakes are decorated with plumes of buttercream and Oreo eyes.
Harry Potter Party Favors
Make Your Own Harry Potter Goodie Bag
You will love the Make Your Own Harry Potter Goodie Bag idea for your party favor. Head over to Fun Money Mom if you need a little help picking the goodies.
Adopt Hedwig Party Favor
Adopt Hedwig party favor is a very sweet idea that younger kids will adore.
Quidditch Treat Bags
Watch this fun video on how to make fun Quidditch Treat Bags and have your party favors sorted.
Broomstick Suckers Party Favor
Your Harry Potter party favors can be as simple as this Broomstick Suckers idea by The Keepers of the Cheerios.
Mandrake Party Favor
This Mandrake party favor doubles as a Herbology Class party activity. Your guests will have fun making theirs with some owl pots, mini succulents and potting soil. Remember to use a medicine dropper for watering.
Harry Potter Party Printables
Free Harry Potter Party Printables and Fonts
These free Harry Potter printables and fonts are an easy way to add that perfect touch of wizardry magic to your party.
Free Harry Potter Party Printables
Bring magic to your party with these amazing free Harry Potter Party Printables we created for you.
Harry Potter Treat Boxes
These free printable Harry Potter treat boxes by Crafting Cheerfully are perfect for sweets and small gifts. Create six character boxes in the perfect party favor size with this easy tutorial.
Harry Potter Birthday Banner
Make your party even more fun with this Harry Potter Birthday Banner in Gryffindor colors by Fun Money Mom.
Free Printable Wizard School Letters
Decorate your party with this free printable wizard school acceptance letter by Nina Hendrick. Hang them on the walls or your mantle.
Harry Potter Party Invitations
Hogwarts School Invitation
Enter the Hogwarts School of Witchcraft and Wizardry with this fun invitation template.
DIY Harry Potter Invitation
Customize and print this magical Harry Potter invitation and ask Hedwig to deliver it to all your guests.
Hogwarts School Invitation
Get the magic started with this Hogwarts school of witchcraft and wizardry invitation.
Free Printable Harry Potter Invitation
This free printable Harry Potter invitation template will have everyone excited for your party.
Harry Potter Party Activities
Harry Potter Horcrux Hunt Party Activity
Head over to Amy Latta Creations and see how easy it is to put together this fun Harry Potter Horcrux Hunt party activity. It comes with a free printable too.
Wingardium Leviosa Science Experiment
Have your party guests tackle the infamous spell Wingardium Leviosa with this fun charms class. For instructions head over to Steam Powered Family blog.
Divination Class Trick
Magically transform any clear liquid into a colored one to tell each child's fortune in this fun party activity. Visit Tikkido for this simple tutorial.
How to Make Wizard Wands
All the Harry Potter fans will have so much fun crafting their very own wizard wands. If you need a little help setting everything up visit Fun Money Mom.
Harry Potter Party Games
Hagrid's Ball Toss Game
Create this easy Hagrid's Ball Toss Game for your Harry Potter themed party. Younger kids will have as much fun playing this one as the older ones.
Harry Potter Scavenger Hunt
This amazing collection of projects by More Than Thursdays will help you create the ultimate Harry Potter Scavenger Hunt for your party.
Pin the Scar on Harry Potter Game
This classic party game with a Harry Potter twist is so easy to set up and always a popular one with little kids.
Next: Wizardly Harry Potter Cake Ideas
Similar Posts: