Find your way to Sesame Street with our Best Sesame Street Party Ideas round-up. Scroll below and get planning now!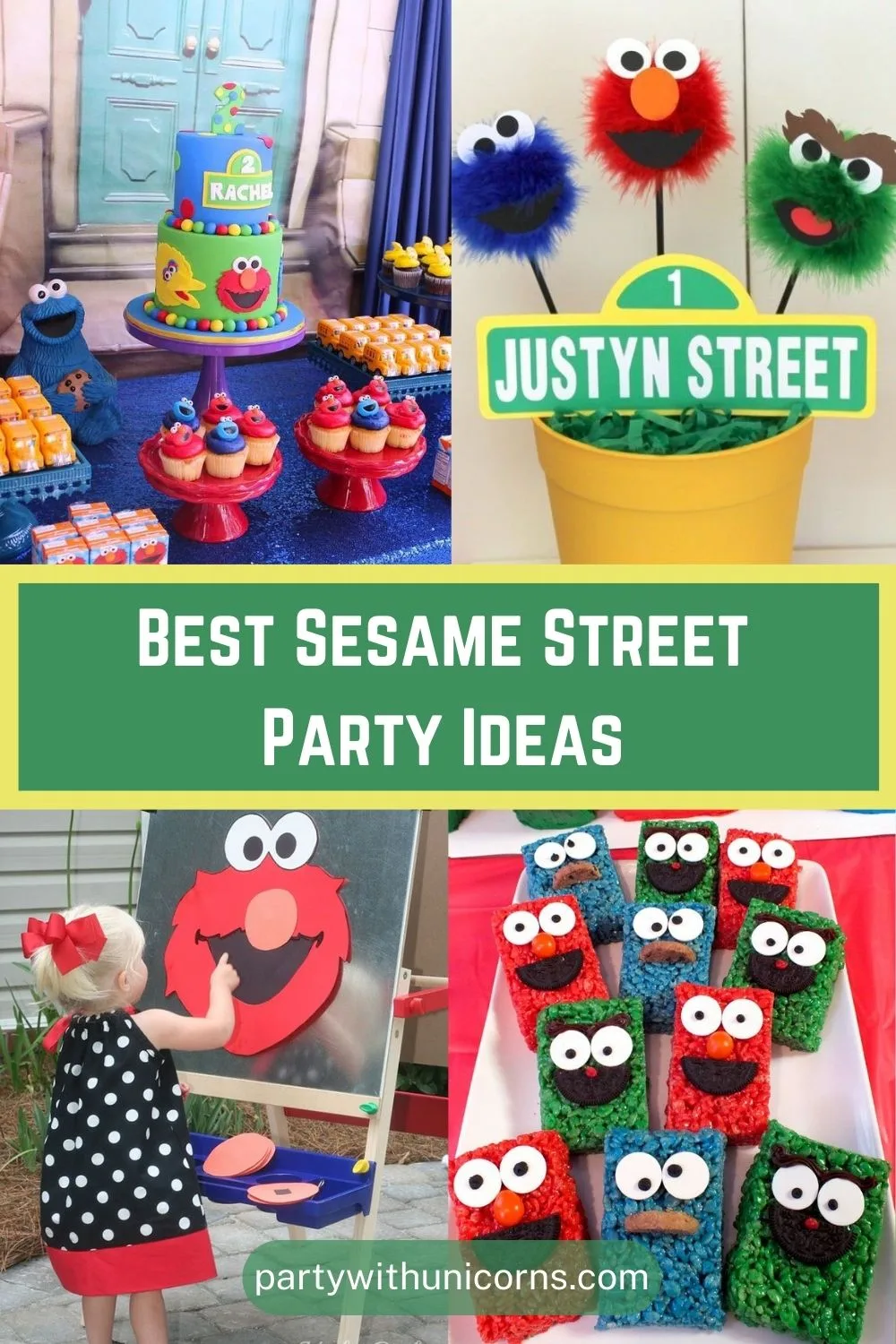 Can you tell me how to get, how to get to Sesame Street? Excited to throw the most colorful and fun Sesame Street party for your child? You came to the right place.
In our Best Sesame Street Party Ideas round-up, we have everything you will need to get started. Find Sesame Street-inspired colorful decoration ideas, amazing party food, party favors, free printables, invitations and fun games and activities.
With these ideas, we can guarantee everyone will have so much fun at your party! And if you're after a delicious fun birthday cake check out our Fun Sesame Street Cake Ideas here. Happy planning.
Table of Contents
Sesame Street Party Decorations
Sesame Street Party Backdrop and Sweet Table Setting
The Sesame Street party should be bright, colorful and fun! Just what this fabulous brick wall backdrop with Elmo, Big Bird and Cookie Monster decorations and a sweet table setting are all about.
Large Sesame Street Backdrop
We love this large Sesame Street backdrop and the name base for the sweet table. Your guests will feel like they've entered the real Sesame Street.
Sesame Street Party Decorations
This party set-up has so much Sesame Street flair that your little guests will be enchanted.
Sesame Street Party Decorations
Get inspired with this fun Sesame Street colorful party decorations with a wall backdrop, balloons and party treats.
Sesame Street Party Paper Wall Decorations
Create your own beautiful colorful backdrop with some crepe paper, paper decorative fans and Sesame Street 'Happy Birthday' sign.
Sesame Street Elmo Wreath
Welcome your guests with this beautiful Elmo wreath. This one is an easy decoration to craft on your own.
Sesame Street Center Piece Idea
This a wonderful idea for a centerpiece with a yellow pot filled with green tissue paper, Sesame Street printable sign and your favorite characters.
Sesame Street Sweet Table Setting
Make your party special with this blue and red color theme with a blue glittery tablecloth and colorful party food.
Sesame Street Sweet Table Setting
Jars full of sweets and cookies are what we love! Guaranteed to get everyone excited.
Sesame Street Center Piece Idea
These cute Elmo chocolates mounted inside a sweets-filled bucket can pass as a fun centerpiece, what do you think? You could have a few of them dotted around the table.
Sesame Street Party Food
Sesame Street Cookies
Don't let the Cookie Monster get your cookies! These adorable cookies are perfect for your sweet table or to use as a party favor.
Cookie Monster Cupcakes
Bake these adorable Cookie Monster Cupcakes by Sugar Hero. Decorated with bright blue fur, big candy eyes and a chocolate chip cookie these cupcakes can satisfy even the most monstrous cravings.
Sesame Street Cupcakes
Learn to make these fun Elmo, Oscar the Grouch, Big Bird and Cookie Monster Sesame Street Cupcakes decorated with frosting and fondant. Visit Java Cupcake for the full tutorial.
Cookies and Milk
These adorable milk bottles with cookies are such cute idea to add to your party food table.
Cookie Monster Fudge
This easy-to-make Cookie Monster Fudge by How To Make Easy Fudge is the perfect Sesame Street party treat. This simple delicious recipe is made with sweetened condensed milk, blue candy melts, broken cookies, mini Oreos and candy eyes.
Sesame Street Rice Krispie Treats
Kids will love these easy yummy Sesame Street Rice Krispie Treats by Two Sisters. These fun treats with Elmo, Oscar the Grouch and Cookie Monster faces will be very popular at your party.
Cookie Monster Oreos
These fantastic Cookie Monster Oreos by Delish couldn't be simpler to make. Made with a handful of ingredients you need these at your party!
Sesame Street Food Platters
Balance all the party treats with these fun and healthy Sesame Street-inspired food platters.
Veggie Sticks
Tempt your party guests with these cute veggie sticks cups. They are as adorable as they are healthy.
Abby's Magic Fruit Wands
These vibrant Abby's magic fruit wands with watermelon and raspberries will make another healthy addition to your party food menu.
Oscar's Trash Cans
Just what would you put into these amazing Oscar's trash cans? Excited to create your own secret recipe?
Skittles Shot
Skittles shot anyone? Maybe the adult guests would enjoy this one.
Sesame Street Cake Pops
Whether you make your own or have them custom made Sesame Street cake pops are an absolute must for your party!
Sesame Street Party Favors
Favors Street
Make no mistake where the party favors are.
Thank you Cookies
Keep it simple with a print-out 'Thank you' label and custom-baked cookies.
Sesame Street Party Goodie Buckets
Use these fun Sesame Street Party Goodie Buckets to put together your favorite favor goodies.
Sesame Street Party Favors
We love these super simple party favors. All you need is food cellophane bags, ribbon, simple 'Thank you' label and fill it with sweets, chocolates, cookies or crayons.
Thank You Crayons
Because crayons are simply the best Sesame Street party favor!
Sesame Street Party Printables
Sesame Street Centerpiece Printables
These cute free Sesame Street centerpiece printables come with step-by-step instructions on how to make and assemble them.
Sesame Street Party Printables
Make these adorable Sesame Street characters party decorations using a rainbow set of mini paper decorative fans and free printables.
Elmo Birthday Printables
Download and print this activity packet for a fun-filled Sesame Street birthday party.
Sesame Street Favor Bag Tags
These handy party favor tags are all done for you. Simply download, print and use them for your Sesame Street goodie bags.
Sesame Street Party Invitations
Sesame Street Printable Party Invitation
Download this adorable Sesame Street party invitation. This free download also includes a cupcake topper, water bottle label and hat templates.
Editable Sesame Street Party Invitation
Get your guests excited with these free super cute Sesame Street birthday invitation templates.
Sesame Street Chalkboard Birthday Invitation
Party in style with this stylish fully customizable Sesame Street chalkboard birthday invitation.
Sesame Street Elmo Invitation Template
Pick your favorite design from these free Sesame Street Elmo invitation templates.
Sesame Street Party Activities
Cookie Decorating Station
Create a Cookie Decorating Station as a fun activity for your party guests. You know they will love it.
DIY Sesame Street Softies
Get your guests to create their very own Sesame Street character softies. Find out everything you need from this easy-to-follow tutorial by Gluesticks.
Sesame Street Party Games
Pin The Nose on Elmo
Pin The Nose on Elmo is a fun game that all your little guests will enjoy.
Sesame Street Bean Bag Toss Game
Because Cookie Monster loves his cookies kids will love this party game.
Count with Cookie Monster
Guess how many cookies are in the jar and it's yours!
Feed Cookie Monster
If you already have a cornhole set this Cookie Monster game is very easy to set up. And if not, use a brown cardboard box, cardboard, blue colored paper and magic marker to make the cookies and the Cookie Monster.
Elmo Target Game
For adventure-loving kids, this simple DIY stack of cans with Elmo's face can be turned into a fun target game.
Next: Fun Sesame Street Party Cake Ideas
Similar Posts: