Looking for a showstopping jungle-themed birthday cake for your little one? Explore the most Amazing Jungle Cake Ideas below.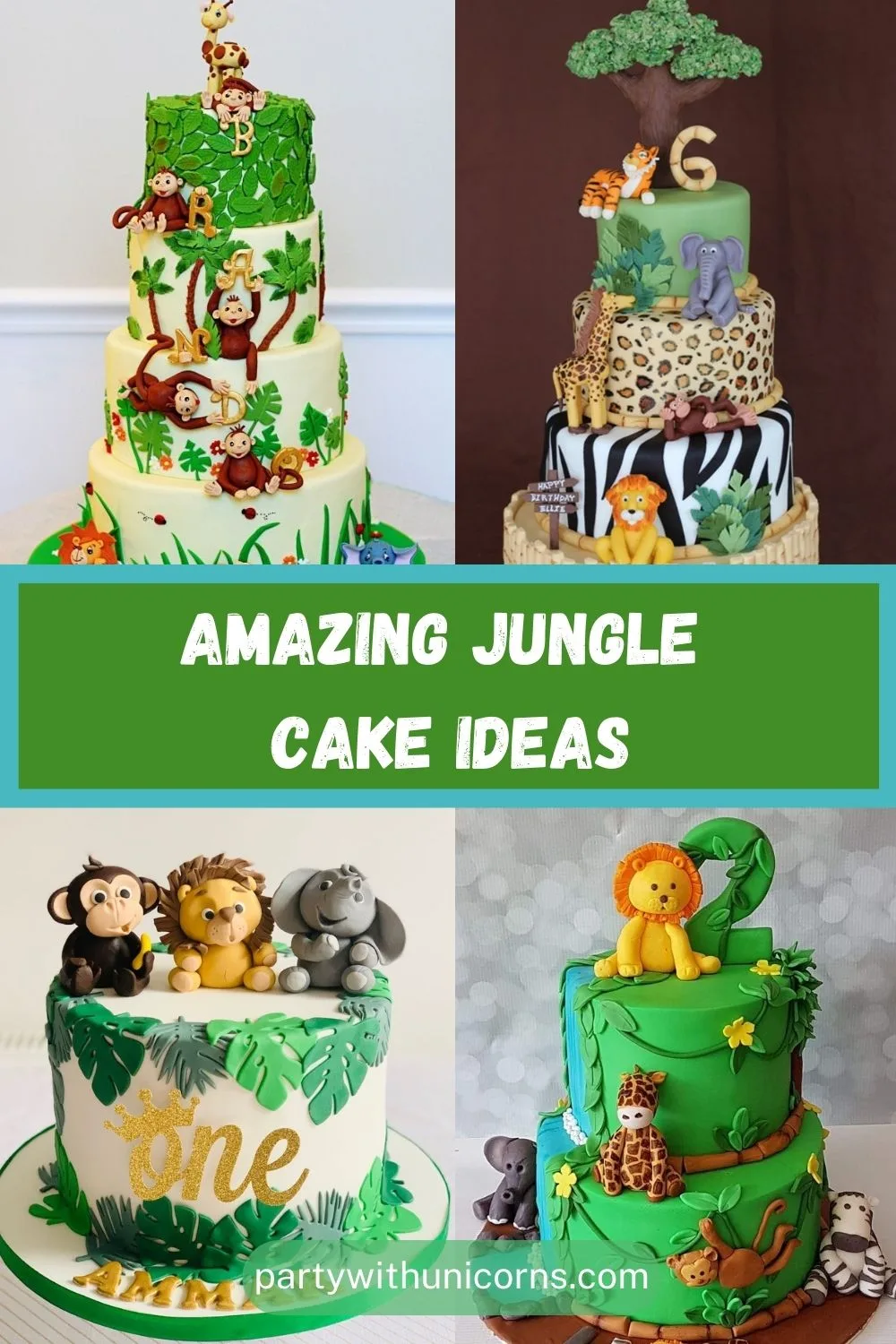 Ready to get wild in the jungle? With these Amazing Jungle Cake Ideas you're all set to celebrate in jungle style. Jungle-themed birthday parties will always be popular with little kids and there are so many fun cake designs to choose from.
The jungle theme, safari theme and 'wild one' theme are closely linked and many cake designs draw on all these themes for inspiration. The jungle cakes are colorful, fun and simply amazing often decorated with beautiful fondant jungle trees, vines, leaves, animal patterns and gumpaste-modelled animals.
The animals that are typically used for decoration are the most popular ones by little kids like tigers, monkeys, elephants, lions, giraffes and zebras. Not all of these are typical jungle animals, nevertheless, kids adore them and they will make your party wild!
Four-Tier Jungle Birthday Cake
This spectacular four-tier jungle birthday cake with the flavors of white almond sour cream, swiss meringue buttercream and homemade raspberry filling is a real showstopper. The cheeky monkeys holding the letters, the giraffe, elephant, lion and leaves are all modelled from fondant.
Jungle Birthday Cake
This delicious Belgian chocolate cake is covered in homemade fondant jungle-themed decorations. Your little party guests will adore this one.
Jungle Waterfall Cake
We love the waterfall design on this cute three-tier jungle waterfall cake. The sweetest animals are all ready to celebrate with you.
Safari Jungle Birthday Cake
This square-shaped three-tier safari jungle birthday cake is covered by striking animal print fondant and gumpaste animal decorations.
Jungle Waterfall Cake
Who's ready to party with this sweet jungle waterfall cake? With bright colorful decorations, this two-tier cake is ready to do its magic.
Jungle Birthday Cake
This sweet jungle birthday cake design with a lion cake topper is perfect for a little boy's birthday party.
Two-Tier Jungle Birthday Cake
Celebrate your little one with this sweetest two-tier jungle birthday cake in soft pastel colors.
1st Birthday Jungle Cake
This delicious-looking number birthday layer cake is filled with buttercream and decorated with beautifully modelled jungle animals. Bet those little fingers can't wait to dive into this one.
Jungle Animals Cake
This stylish jungle animal cake with a simple design and an adorable animal topper fits the jungle theme beautifully.
Jungle Fun Birthday Cake
Get the fun started with this jungle fun birthday cake. This small one-tier cake is perfect for a smaller party.
Jungle Sun Birthday Cake
This sweet artistic jungle-inspired cake design with a mixture of hand-painted and hand-modelled decorations portrays beautifully the jungle magic.
Jungle Themed Birthday Cake
This sweet jungle cake design with more subtle colors would be lovely for a little girl.
Lion Birthday Cake
Get ready to roar with this lion birthday cake. Perfect for your little king of the jungle.
Jungle 1st Birthday Cake
Be inspired by this homemade jungle 1st birthday cake. This delicious vanilla cake is covered and decorated with homemade marshmallow fondant and the animals, letters and leaves are all made using cookie cutters.
Jungle Cake Decorating Video Tutorial
Learn how to make your very own jungle cake. In this video tutorial by My Cake School you will learn how to model several jungle animals as well as create simple accents to bring your jungle cake design to life.
Jungle Birthday Cake
This cute jungle birthday cake with hand-crafted and hand-painted animals and the sweetest monkey topper will set you up for a fun jungle birthday party.
Safari Themed Jungle Birthday Cake
And finally, this incredible safari-themed jungle birthday cake is the perfect centerpiece for your party. This cake design has hand-painted animal print elements with the tree, sign and animals all made from modelling chocolate and the bamboo pieces from gum paste.
See more Jungle Party Ideas.
Similar Posts: