Enter the enchanted forest with our Best Enchanted Forest Party Ideas round-up.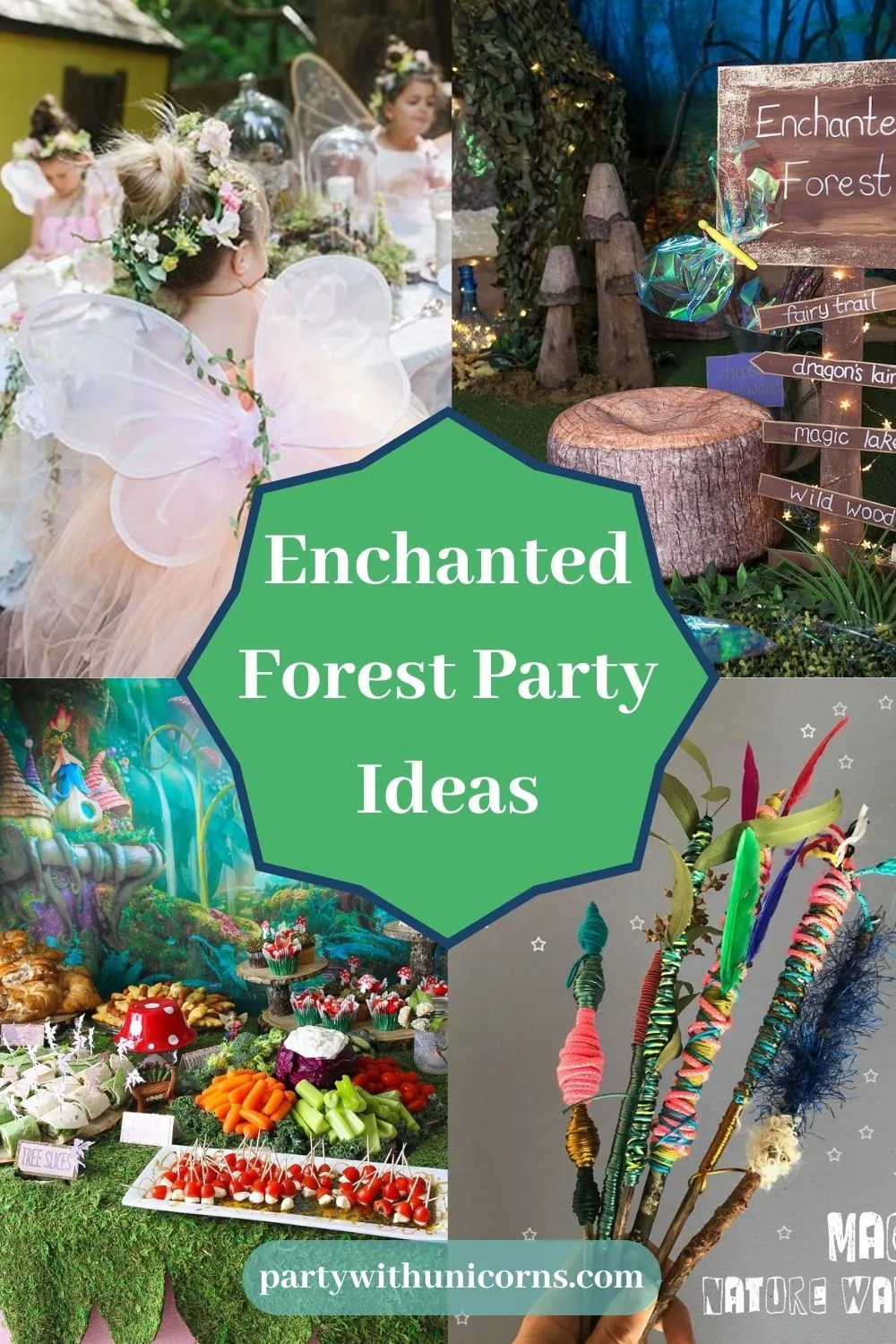 The enchanted forest party theme is a wonderful choice for nature-loving children that is especially popular with little girls. You can get so creative with this theme. Think trees, moss, flowers, butterflies, mushrooms, pixies, fairies, elves and fairy lights as your inspiration.
Grass placemats are the perfect decoration idea for an enchanted forest party and can be used as a display for your party food and party favors. Also, remember little girls will love some fairy wings and magical fairy wands. And if you're looking for cake inspiration check out our Enchanted Forest Cake Ideas for that special birthday cake.
Get enchanted below and start planning that magical forest party.
Table of Contents
Enchanted Forest Party Decoration Ideas
Enchanted Forest Party Sign
Set the perfect scene with these beautiful enchanted forest signs. These can be made with wood or more simply with painted foam board.
Enchanted Forest Party Decorations
Be swept away to the enchanted forest by this beautiful woodland backdrop and magical party food setting fit for a fairy.
Enchanted Forest Party Sweet Table Decorations
A grass placemat is wonderful for your enchanted forest themed birthday party decoration. Complete the look with fairy lights, flowers and green foliage.
Enchanted Forest Wooden Sign
Welcome your guests with a beautiful handmade wooden sign. All you need is some old planks, a wooden pole, a few nails and white paint.
Fairy Wings and Fairy Crowns
Fairy wings and fairy crowns are a must for your enchanted forest birthday party to bring out that forest fairy magic.
Enchanted Forest Birthday Party Numbers
This enchanted forest birthday party number will make a perfect centerpiece for your party. The number is made of paper-mâché and decorated with moss, flowers and butterflies. You can order these from Etsy or have a go at making your own DIY version.
Enchanted Forest Party Mushroom Decorations
We adore this beautiful arrangement of green branches, flowers, painted mushrooms and bunnies.
Enchanted Forest Party Food Table Decorations
This enchanted forest party food table layout is so incredible we want to go to this party!
Enchanted Forest Party Sweet Table Decorations
This whimsical enchanted forest party setting with stunning woodland and fairy elements has all the magic.
Enchanted Forest Party Food Table Decorations
This incredible enchanted forest party set-up has the perfect decor. Filled with adorable little animals, mushrooms and delicious food this party style is impeccable.
Enchanted Forest Party Sweet Table Decorations
Just imagine a forest swing decorated with ivy as a cake stand for your enchanted forest birthday cake. Is there anything more magical?
Enchanted Forest Party Food
Moss Cupcakes
Bake the cutest cupcakes decorated with 'moss' frosting and sugar flowers and mushrooms. You can also make mushrooms with white marshmallows and strawberries.
Strawberry Mushrooms
Another way to create cute mushroom treats is with chocolate-dipped strawberries decorated with dots of white icing.
Fairy Cupcakes
Be enchanted with these fairy cupcakes with gorgeous butterfly cupcake toppers.
Mushroom and Moss Cupcakes
Here is another cute cupcake design. Bake chocolate cupcakes and use green topping to resemble moss and vanilla cupcakes with red and white icing resembling mushrooms.
Enchanting Desserts
We love this 'Enchanting Desserts' sign which will be perfect for your dessert table.
Squirrel Snacks
Squirrel snacks anyone? What a cutest idea. Just be mindful of any guest's potential nut allergy.
Mossy Branches
These chocolate-covered pretzels are simply delicious and look just like the thing fairies and elves would enjoy.
Moss Cookies
To make these lovely moss cookies start by making sugar cookie dough tinted with edible dark green color. After baking the cookies, break a few of them into crumbs and sprinkle the crumbs onto the cookies to resemble a moss-like texture.
Acorns Sweets
These chocolate waffle acorn sweets are adorable. Just what you imagine to find at an enchanted forest party dessert table.
Woodland Cake Pops
Kids will love these custom-made adorable forest animals and mushroom cake pops.
Enchanted Forest Cake Pops
And what about these gorgeous enchanted forest cake pops? We imagine fairies will be very happy with these.
Owl Platter
If you're looking for healthy ideas for your party then this owl platter is such an incredibly creative idea to get kids to eat their veggies.
Snail Sandwiches
These snail sandwiches in a spinach wrap are another delicious savory idea to add to your party menu.
Pixie Dust Popcorn
You need a little bit of magical pixie dust sprinkled here and there at your enchanted forest birthday party.
Enchanted Cutlery
This beautiful cutlery display is another enchanted idea to make your party ever so magical.
Enchanted Forest Party Favors
Plant a Forest Party Favors
Giving flowers away as favors is one of the most beautiful eco-friendly ideas. The flowers were potted in decorative cupcake cases with the thank you tag attached with mini pegs.
Enchanted Forest Party Favor Idea
Put together fairy-inspired party favors for your little guests.
Enchanted Forest Party Favor Bags
These cute little bags are a beautiful idea to pack your favorite enchanted favors.
Fairy Dust Party Favors
Keep your party favors as magical as your enchanted forest party with these fairy dust favors.
Bird Seed Party Favors
For nature and birds loving kids, these birdseed party favors are such a wonderful idea.
Twig Pencils
These hand-carved colored twig pencils are a lovely nature-inspired favor idea for those creative little hands.
DIY Fairy Crowns
If you love DIY why not make fairy crowns for your little party guests? Visit Flour on my Face to learn exactly how.
Enchanted Forest Party Invitations
Enchanted Forest Birthday Party Invitation
This beautiful enchanted forest party invitation is fully customizable with a choice of size, paper and texture finish.
Enchanted Forest Invitation
Customize this stunning enchanted forest party invitation and get your little guests excited.
Enchanted Forest Unicorn Invitation
Get the magic started with this adorable enchanted forest unicorn invitation.
Enchanted Forest Party Printables
Enchanted Forest Party Package
This magical enchanted forest party printable package features a fairy, toadstools, an owl, a wooden welcome sign, bottle labels, a banner and tiny leaf bunting.
Fairy Drink Labels
Add an extra touch of magic to your enchanted forest party with these beautiful 'Morning Dew' and 'Flower Nectar' drink labels.
Printable Scavenger Hunt Sheets
This whimsical woodland fairy scavenger hunt could be just an activity to entertain your party guests.
Enchanted Forest Party Activities
Moss Covered Fairy House Craft
These delightful little fairy houses by Bit & Bauble are a wonderful activity for your enchanted forest party theme. They're made from simple craft birdhouses and decorated with moss, flowers and other embellishments to make magical fairy homes.
Magic Nature Wands
Kids will absolutely love creating these magic nature wands with twigs, yarn, leaves, feathers and seed pods. Learn how at Mini Mad Things.
How to Make Pixie Dust
Follow this simple video tutorial to make pixie dust. You could either make this into an activity for your guests, use as decoration or make it into a party favor.
Fairy Treasure
Fairies love anything that sparkles. Create a simple activity for kids by having them paint pinecones with colorful paint and glitter. Then ask them to leave them in a sacred place for the fairies.
Next: Magical Enchanted Forest Party Cake Ideas
Similar Posts: