Planning that perfect butterfly-themed party for your little one? We've put together the Best Butterfly Theme Party Ideas for you to get started!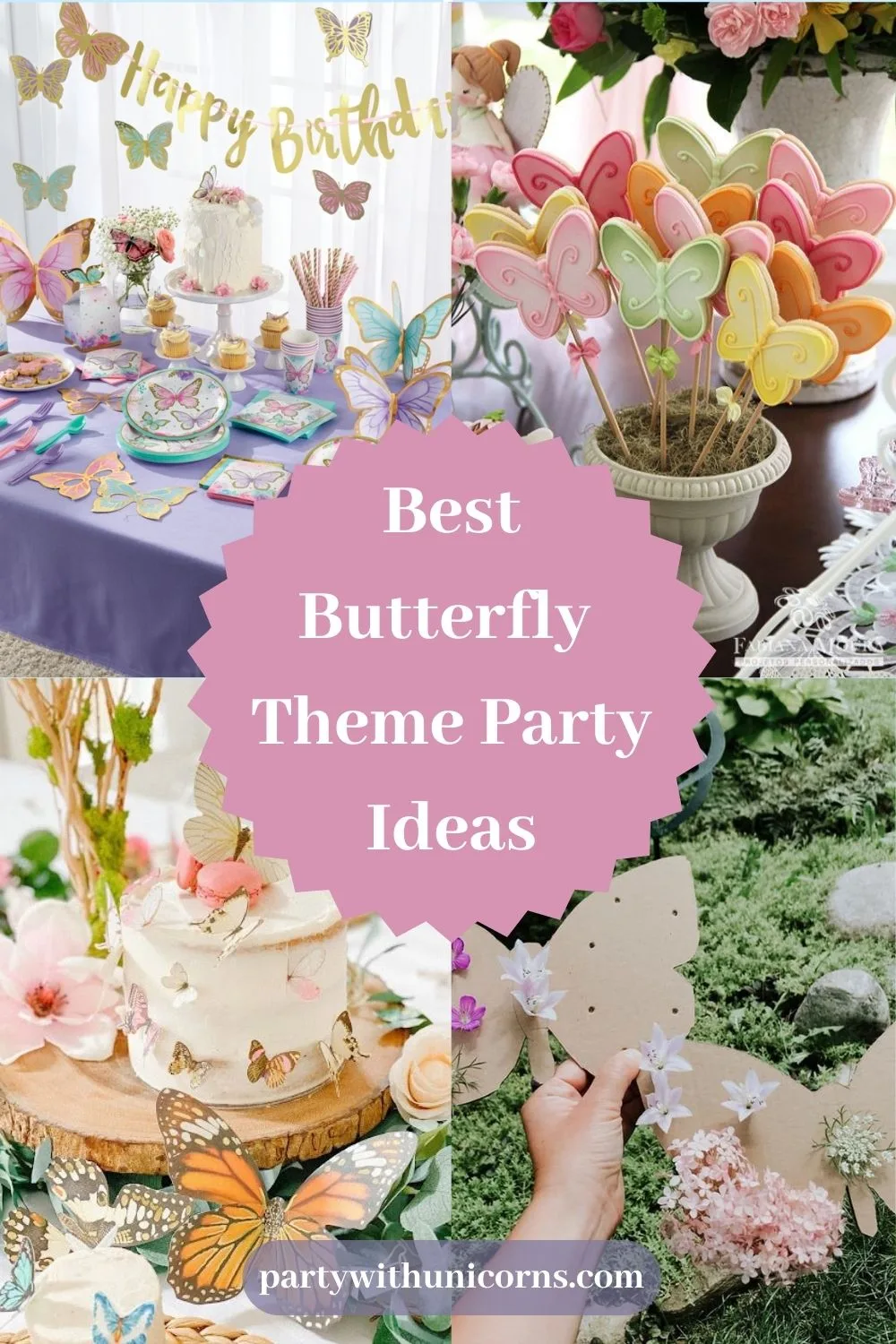 Get inspired with this collection of Best Butterfly Theme Party Ideas and throw an unforgettable and magical party for your little one. In this round-up, I have included everything you could possibly need to get started.
Explore beautiful butterfly-themed party decorations and table settings ideas. Make your own DIY butterflies and use them to decorate your wall, party table, make a gorgeous backdrop and make your own butterfly cupcake toppers.
Find inspiration for that showstopping butterfly birthday cake in the Best Butterfly Cake Ideas post. Get creative and prepare the most delicious and fun butterfly-themed party food. Explore a selection of beautiful party favors, printable party invitations, fun activities and games. Happy planning!
Table of Contents
Butterfly Party Decoration Ideas
Butterfly Garden Birthday Party Dessert Table Setting
Get inspired with this beautiful butterfly garden party dessert table setting with flowers and butterflies' green backdrop and the most delicious butterfly-themed desserts.
Butterfly Birthday Party Dreamy Table Setting
And how about this dreamy table set up for your little one's butterfly birthday party with all the butterfly props you will need to weave in that butterfly magic?
Butterfly Birthday Party Pink Decorations
Perhaps these stylish pink butterfly party decorations will tempt you. With pink balloons, butterflies and a dessert table this set-up is fit for a princess.
Butterfly Birthday Party Natural Table Set Up
If you prefer something more natural then this beautiful butterfly party set-up is for you. With flowers, green foliage and butterflies this is a very elegant and balanced nature-inspired butterfly party decoration.
Butterfly Wings Chair Decoration
Decorating your chairs with butterfly wings is just so magical, it straight away adds that element of magic to your butterfly party.
Pink Butterfly Crown Birthday Circle Backdrop
This gorgeous pink butterfly crown birthday circle backdrop is made from washable fabric and is fully customisable.
Butterfly Birthday Cake Nature Inspired Table Setting
This is another gorgeous inspiration to bring that nature flare and magic into your party with a simple cake, green foliage, flowers and lots of butterflies.
DIY Butterfly Cupcake Toppers
Learn how to make these pretty DIY butterfly cupcake toppers by Pure Sweet Joy. Use them to decorate your party cupcakes or your birthday cake.
3D Butterfly Cupcake Toppers
And if you don't feel like crafting your own then you can buy these gorgeous butterfly cupcake toppers on Etsy.
Butterfly Paper Straws
Another gorgeous idea for your birthday party table are these cute butterfly paper straws. They will add a little butterfly flair to your party drinks.
Butterfly Template
Use this free butterfly template by The Best Ideas for Kids to make paper butterflies and create a stunning butterfly wall decoration for your party.
3D Paper Butterflies for Wall Decoration
Or how about this gorgeous purple and pink cut-out paper butterfly set already done for you? Absolutely stunning to create a beautiful backdrop for your butterfly theme party.
Paper Butterfly Garland
Here's another tutorial on how to make this pretty paper butterfly garland by Torie Jane. This lovely garland is made with butterfly multi-detail craft punch and pastel colored card and then machine stitched into a garland.
Butterfly Party Food
Butterfly Garden Cookies and Cakecicles
These butterfly garden cookies and cakecicles are almost too pretty to eat. With pretty pastel colors and a little touch of gold, these will look beautiful on your party table.
Colorful Butterfly Decorated Doughnuts
Keep it pretty and girly with these colorful butterfly-decorated doughnuts in rays of pastel colors.
Pretzel Butterfly Cupcakes
Top your party cupcakes with pink frosting and pretty pretzel butterflies. This is such a simple idea yet so effective and absolutely gorgeous.
Cupcakes with Pink Butterfly Toppers
Bring a little sparkle to your party with these pretty pink cupcake toppers. They will sure transform your cupcakes into that butterfly magic.
Colorful Iced Butterfly Cookies
These colorful iced butterfly cookies will bring lots of color to your party table and will be gone in a flash. Also beautiful as a party favor.
Butterfly Drink Stirrers
Transform the party drinks with these pretty butterfly drink stirrers or even better why not create your own?
Candy Melts Butterfly Cupcakes
Or why don't you make your own butterfly cupcake toppers using colorful candy melts? These pretty cupcakes will make a lovely addition to your party food.
Sweet Butterflies Fruit Skewers
Make these Sweet Butterflies Fruit Skewers recipe from Kiddie Foodies. These pretty butterfly-shaped fruit skewers are perfect if you're looking for a healthy food option.
Butterfly Sandwiches
These cute butterfly-shaped sandwiches are just the perfect finger party food for the little ones. They look very pretty served on a green salad resembling grass.
Celery Pretzel Butterflies
Another cutest idea for your butterfly-inspired birthday party food are these simple effective celery pretzel butterflies. Simply made with celery, cream cheese, raisins and pretzel twists.
Colorful Butterfly Pretzels
Follow the tutorial at Butter with a Side of Bread to make these gorgeous fun butterfly pretzels. This is another fun thing to do with pretzels and you could even make these into a fun activity for your party guests.
Butterfly Snack Bags
These butterfly snack bags by Hunny I'm Home will make fun party snacks or it could be another craft activity idea to entertain your guests.
Butterfly Lollipops
You can't go wrong with these adorable butterfly lollipops. Beautiful for your butterfly birthday party table or to use as a party favor.
Butterfly Party Invitations
Magical Butterfly Birthday Invitation
Looking for the perfect invitation design? Download this free template and create beautiful magical butterfly birthday party invitations.
Butterfly Birthday Invitation Template
And this free template is another beautiful free downloadable that you can use to invite guests to your birthday party.
Butterfly Party Favors
Butterfly Favors
You will love this simple gorgeous idea for butterfly favors. A simple organza gift bag is filled with sweets and decorated with sweet butterflies.
Easy Butterfly Party Favors
These easy butterfly party favors are perfect for anyone throwing a party on a budget. All you need is to download the free printables from Party Delights and put the finishing touches.
Butterfly HairClip Party Favors
Little girls will love these very sweet butterfly hair clips party favor. DIY your own with a simple hair clip, butterflies and thank you card.
DIY Paper Butterfly Favor Bag
Make pretty customised butterfly favor bags for your party guests with simple white paper bags, cut-out grass and butterflies and colorful tissue paper.
Organza DIY Butterfly Favor Bag
Or how about these girly organza butterfly favor bags with pink ribbons and gold glittery butterflies?
Butterfly Party Games
How to Make Butterfly Piñata
Butterfly piñata is the perfect activity for your butterfly party. Follow the instructions by A Shade of Teal on how to make your very own butterfly piñata. You'd be surprised how easy and fun it is.
Tissue Paper Butterfly Hunt
What about doing a butterfly hunt as a fun game at your party? Cut out simple tissue paper butterflies and go butterfly hunting.
Butterfly Balloon Burst
This Butterfly Balloon Burst game is sure to be a hit at your party! Follow the instructions on how to make this fun game at Carnival Savers.
Butterfly Party Activities
Butterfly Nature Craft
If you're having more nature-inspired garden butterfly party then this butterfly nature craft is the perfect activity for your party guests. Grab the free template and instructions on Crafts on Sea.
Butterfly Wings
Get your guests to make their very own butterfly wings using pre-cut poster board wings and get them to decorate them with markers and sparkly stickers. For a tutorial visit Sew Fearless.
A Simple Butterfly Symmetry Activity
Another wonderful activity idea is this simple butterfly symmetry activity by Little Pine Learners that is teaching children about symmetry. Plus your little guests will end up with gorgeous nature-inspired art.
Next: Beautiful Butterfly Party Cake Ideas
Similar Posts: