Planning a Bee-themed party for a girl or boy? This list of cute Bee party ideas will surely help you in getting inspiration while planning your event!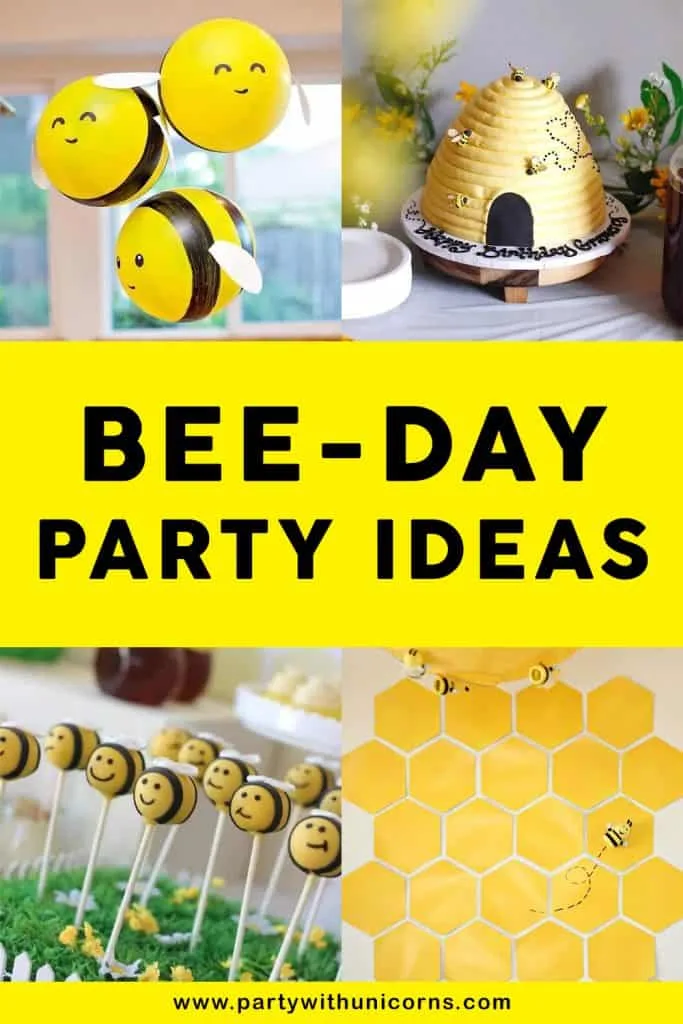 Bee-themed parties are one of my favorite party themes of all time. It's a theme you can use at any kind of party like birthdays, gender reveal, and baby showers. We recently created freebies for Bee-day parties: a party printable set and a beehive favor box! Today, we decided to create a list of cute bee-themed party ideas to help you out if you plan to throw one!
To start off the list, here's our FREE Bee-day party printable set that comes with 2 designs. You can use our printable for your party and it's totally free!
Photo Credit: thehousethatlarsbuilt.com
If you plan to throw a Bee-themed party, a cute backdrop is a must. I found this DIY tutorial on how to create a Paper Daisy Backdrop and I can't help but to share it with all of you. This would be a perfect backdrop for a Bee-day party since bees and flowers are the perfect match.
Photo Credit: www.fun365.orientaltrading.com
If you got little time to prepare but still want a cute Bee-themed party backdrop, I found an equally cute alternative! A honeycomb inspired backdrop made of yellow hexagon papers are easy to make and will still give a pop of color and happy vibes to your party.
Photo Credit: www.hwtm.com
Another cute Bee-themed party decoration you can make at home is this DIY Bumble Bee Balloons. A full tutorial on how to create this adorable balloon is available at HWTM blog.
Photo Credit: www.pinterest.com
If you opt not to create the adorable balloons listed above, an alternative party decor is this yellow paper lanterns glued with bee icons to create a beehive effect. This is an easy DIY to create and will make a cute party decoration for a Bee-day party!
Another way to spice up your party is to set up a party tableware that match your theme. I found this set of tableware supplies on Amazon that are perfect for a Bee-themed party. This tableware set will look super cute matched with a yellow table cloth.
Photo Credit: karaspartyideas.com
Moving on to Bee-day party food ideas, a bee cake pop is a must-have in your dessert table! It's super cute and kids will definitely love it.
Photo Credit: kitchenfunwithmy3sons.com
Another bee inspired treat for the kids is this Bumble Bee Oreos. Follow this recipe to make this yummy treats at home for your bee-day party.
Photo Credit: hungryhappenings.com
Another recipe tutorial to follow and try at home is this Honeycomb and bee cookies. This will be a perfect addition to your dessert table. Kids love cookies so you will never go wrong with cookies as party treats!
Photo Credit: karaspartyideas.com
There are a lot of bee-inspired cake designs I found over the internet but this Beehive Party Cake stands out for me! It's a unique design but still looks classy and cute at the same time.
Photo Credit: www.pinterest.com
For your party drink idea, you can create a sweet lemonade drink for the kids and call it your pollen punch drink!
If you are throwing a baby shower or gender reveal party with a bee theme, then these Bumble Bee Baby Bingo Game Cards are perfect for you! Entertain your guests with a little bingo game during your bee-themed party using bee-themed bingo cards.
Photo Credit: www.creativegreenliving.com
A fun activity for the kids that you can organize on a Bee-themed party is a Bee Hunt Game. Create these bee-like eggs by following this tutorial. Make sure to fill your bees with tiny prizes inside!
Photo Credit: www.etsy.com
Another game idea you can try is this Pin the Bee in the Hive game. It is super easy and kids will enjoy playing this game with a blindfold. You can create your own bees and beehive or you can purchase this cute set on Etsy.
Last on our list is our FREE Beehive Favor Box template. Our honeycomb inspired beehive favor box is perfect for any Bee-day party. It can fit small tokens or treats for your guests.
And there you have it! I hope you enjoy this list of Bee-day party ideas as much as I enjoyed curating it for all of you.
Similar Posts: