Race to the finish line with our Best Race Car Party Ideas and throw a birthday party of a lifetime.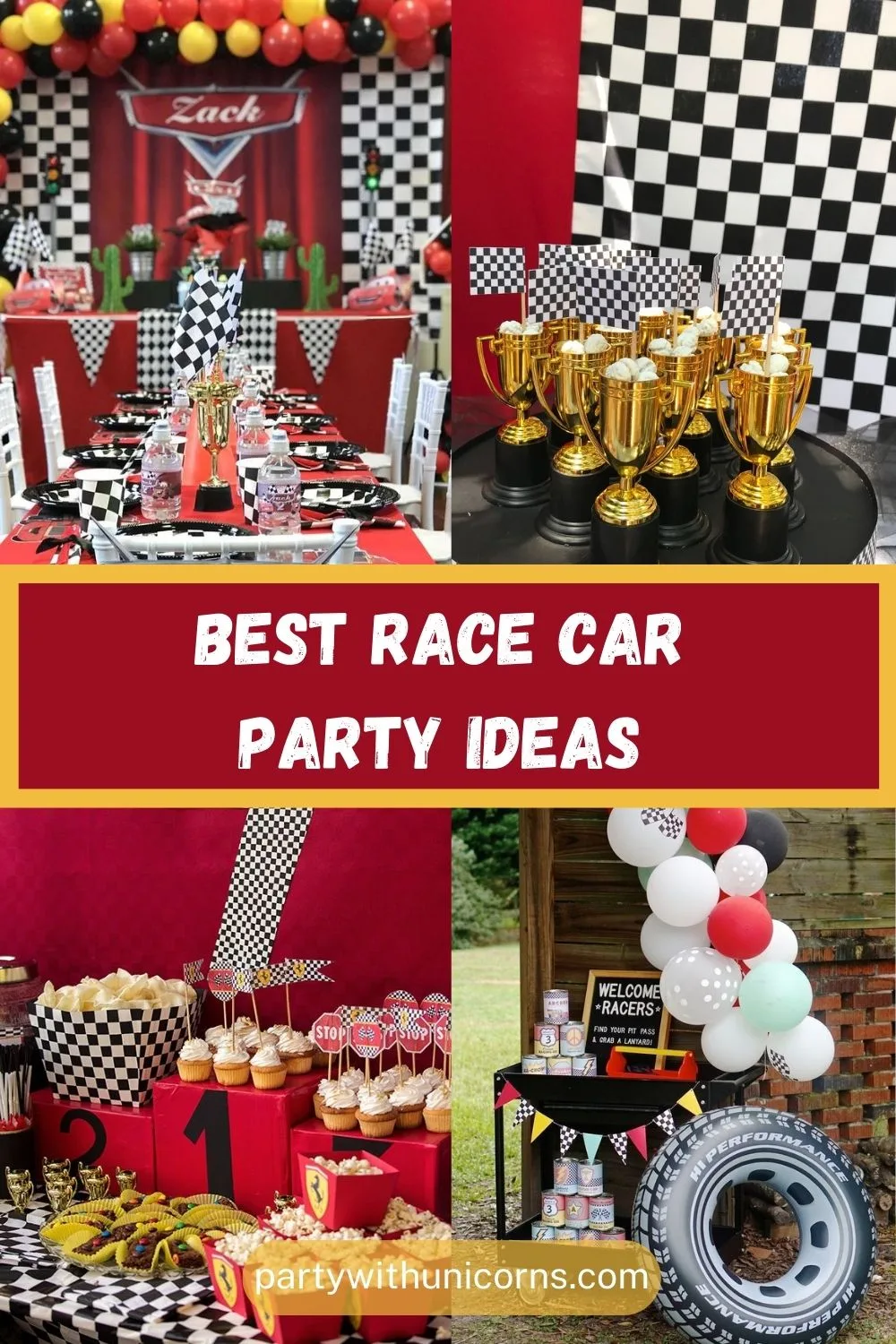 Are you excited to plan a race car birthday party for your race car loving child? Start your engines and get inspired with these Best Race Car Party Ideas round-up.
The race car party theme is cool, fun and fast. The color theme is often red, black and white, but orange, yellow and blue colors can also be incorporated depending on your inspiration. The must decorations are racing flags, checkered backdrops, balloon arches, tire inflatables, racetrack runners, podium stands and trophies.
There are also more specific themes you can explore when planning your race car birthday party, some of which are Ferrari, Pixar Cars and Hot Wheels. Scroll down below and get inspired with our best selection of race car party decorations, party food, favors, printables, invitations and fun activities. And if you're after an amazing race car birthday cake to complete the look check out our Cool Race Car Cakes Ideas round-up. Race you there!
Table of Contents
Race Car Party Decorations
Welcome Station
Welcome your guests with a 'Welcome Racers' sign and have their pit passes and lanyards ready for the race.
Race Car Party Food Table Setting
Create a race car birthday party themed display with a checkered backdrop, balloon arch, tire inflatables, racing flags and a podium stand to set the scene and display your party food.
Fueling Station
Set up a fueling station for all those thirsty car racers. This one is just so cool.
Race Car Party Decorations
Your guests will feel like they won the race with this amazing racetrack runner and podium stand display.
DIY Traffic Light Box
This DIY traffic light box is such a great decoration idea. You can simply make one with a tall cardboard box, paper plates and some paint.
Race Car Party Food Table Setting
This is a fun simple race car party decoration with a red and orange tablecloth, a name banner, a tire and a backdrop with racing flags.
Race Car Party Food Table Setting
Get inspired with this striking race car party decorations with a checkered tablecloth, red podium stand, and checkered seven number. Complete the theme with trophies and race car cupcake toppers.
Race Car Party Food Table Setting
This Ferrari-inspired display will take you straight to the finish line. It's immaculate.
Race Car Party Table Setting
You might love this blue, red, black and white colored themed table setting. Start your engines now!
Race Car Party Table Setting
This Cars-inspired party set up looks the part. At this party, your guests will feel like real race car drivers.
Race Car Party Food
Racer Burgers
Fuel your party guests with some 'racer burgers'. The racing flag toppers perfectly complete the look.
Pizza Tires
Mini 'pizza tires' anyone? Perfect for those race drivers to satiate their hunger.
Steering Wheels
These 'steering wheel' wraps are such a great savory food idea for your race car party. Fill them with some veggies and a healthy spread and cut them small for an easy grab.
Fruit Cups
Keep it healthy with these fun fruit cups made with ice cream cones and a selection of fruits.
Fruit Racers
These fruit racers made with apples and grapes are such lovely party food idea. Especially amazing for younger kids.
Dipsticks
Make these delicious dipsticks with some pretzels and melted dark and white chocolate.
Spare Tires Doughnuts
Don't these chocolate-covered doughnuts look just the part? You know you need these at your sweet table.
Race Car Cupcakes
Bake your own or have them custom made these race car cupcakes are a must at your party.
Race Car Cake Pops
These race car cake pops with gearbox decorations are a simple yet very cool idea.
Hot Wheels Cupcakes
Learn how to make these fun Hot Wheels Cupcakes by Mom vs The Boys. This easy recipe will be the hit by your little speedsters.
Fueling Station
Quench the thirst of your race drivers with these fun race car themed water bottles.
Race Car Party Favors
Trophy Party Favors
Trophies are one of the best party favor for your race car themed party. Fill them with chocolate or sweets and top them with racing flag kids will love them.
Sweets Party Favors
All you need for this simple party favor are cellophane bags, a selection of sweets and these fun printable thank-you tags.
Trophy Party Favors
Here's another inspiration for a trophy party favor filled with gold chocolate coins and thank you tag.
Racing Flag Cookie Favors
These delicious-looking racing flag cookie favors made such sweet race car party favor.
Race Car Party Favors
If you're still unsure about the party favor, these customizable race car party favors from Etsy are all done for you.
Race Car Party Printables
Race Car Party Signs
Get all set for your party with these downloadable race car party signs.
Race Car VIP Pass
Create cool race car birthday party VIP Passes with these printable personalized templates.
Race Car Party Favor Tags
Your party favors are sorted with this fun instantly downloadable race car party favor tags template.
Race Car Party Printables
Use these fun race car party printables as centerpieces, cupcake toppers or hang them on walls for decoration.
Race Car Birthday Party Printables
This instant download collection of printable templates has everything you could possibly need and you can personalize it at home using Adobe Reader.
Race Car Party Invitations
Race Car Party Ticket
Race everyone to your party with these cool race car party ticket invites.
Car Racing Birthday Invitation
Start your engines and shift into gear with this fun invite for your race car birthday party.
Race Car Party Invitation
Set the mood with this modern boys' race car party birthday invitation.
Race Car Birthday Party Invitation
Ready, set, go! Get everyone excited for your party with this fast party invite.
Race Car Party Activities
Race Track
Get ready for the race by building your own DIY race track. It's the best activity to offer your race car loving guests.
DIY Pull String Car Pinata
Learn how to make this pull-string piñata for your party guests. This fun alternative to a traditional pinata is great for younger kids because it has a trap door on the bottom to release the candy when the right string is pulled. For instructions on how to make it visit Vicky Barone blog.
Cardboard Box Race Car
Get your party guests to make their very own race car from a cardboard box with the help of Red Kite Days.
Painting with Wheels
If you're not afraid of things getting messy set up a Painting with Wheels art activity for your party guests. If you need little help visit Artful Parent for instructions.
Race Day Craft Activity
Take race day to the next level with this race day craft activity. These super easy and fun-to-make paper roll race cars by Mommy Bunch will make a fun activity for your race car party.
Next: Cool Race Car Cake Ideas
Similar Posts: