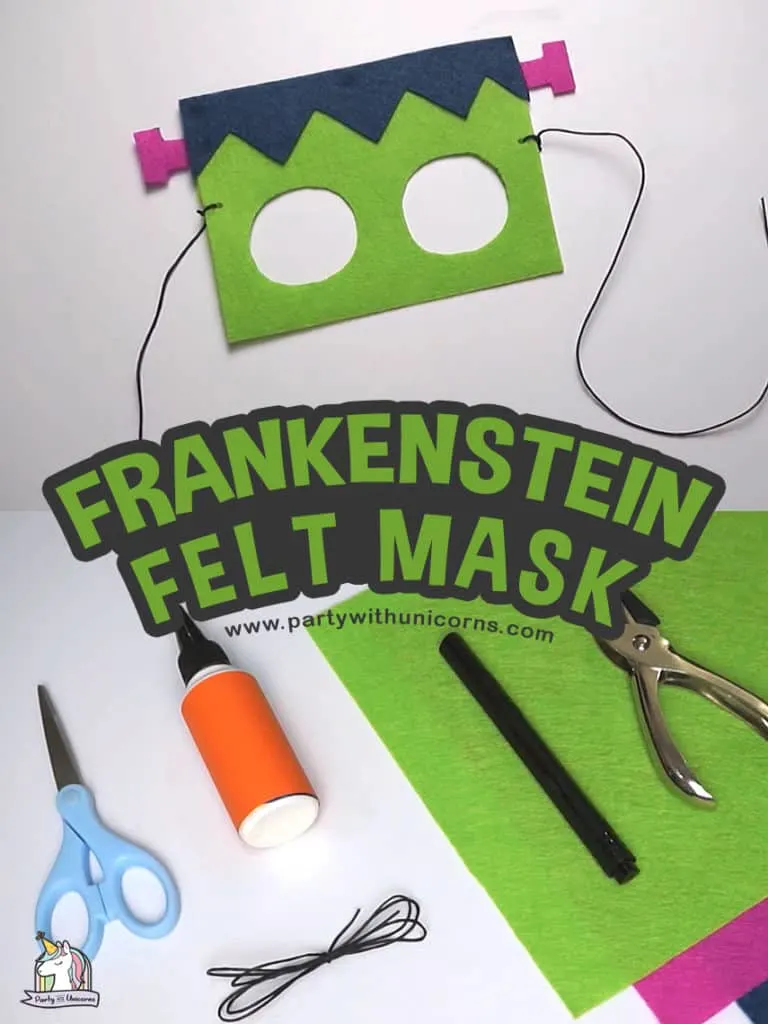 Hello! I am back again with another Halloween craft project for the kids. This time, it's a DIY Felt Frankenstein Mask. As I mentioned in my recent Halloween Word Search blog post, Halloween is one of my favorite days of the year. Despite my best intentions, over the last few years, I always run out of time with my planning, so I am getting in early this year. My goal is that by the time October rolls around, my planning will be done and I can simply just enjoy the fun with the kids.
While Frankenstein has always been popular around Halloween, he is also a character in the new Netflix series Little Monsters. Little Monsters is one of my kids' favorite shows at the moment and the Frankenstein character "Frankie" is on their favorites.
This simple craft is a great one to get the kids away from the TV. It only takes a few minutes to create and is perfect for pretend play or as a simple Halloween costume for kids that are not keen to get dressed up from head to toe for school.
If you want to get a little creative and out of the box, you can also make some mini-masks to use on your kid's soft toys and dolls. Get everyone into the Halloween spirit. They are quick, easy and cheap to make. Your kids will love the opportunity to get their favorite toys dressed up!
DIY Frankenstein Mask Supplies
To start with the craft project, let's gather the supplies needed first.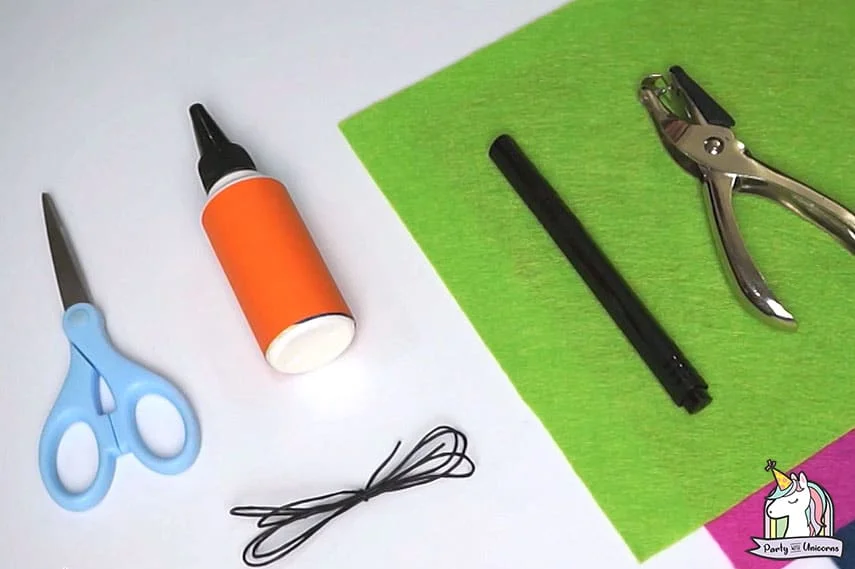 Felt cloth (green, purple, dark blue/black)
String
Fabric glue or hot glue
Scissors
Hole Punch
Marker or pencil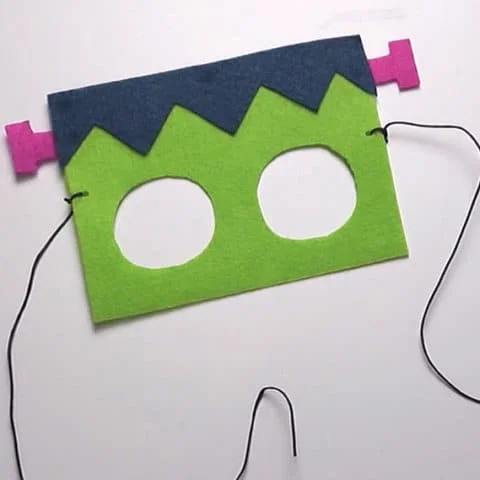 Frankenstein Felt Mask for Kids
Easy and fun DIY Frankenstein Felt Mask for Kids. Cute and perfect for Halloween costume.
Materials
Felt cloth (green, purple, dark blue/black)
String
Tools
Fabric glue or hot glue
Scissors
Hole Punch
Marker or pencil
Instructions
Cut a rectangular shape from the green felt cloth. This will be your mask base.
Measure 1/4 of the mask base height to create another rectangular shape from the dark blue felt cloth.
Cut it out.
Cut multiple triangles at the bottom part of it. This will serve as Frankenstein's hair.
Glue it on top of the mask base.
Draw two identical circles on the mask. You can measure your child's eyes so that the hole will fit perfectly into the eyes.
Cut it out.
Cut a strip from the purple felt cloth and fold it in half.
Draw a T-shaped screw.
Cut it out.
Open the folded part and cut at the middle to have two 'T' screws.
Glue the screws at the back part of the mask.
Punch a hole on both sides of the mask.
Cut two strings and tie it through both holes.
And there you have it, your very own DIY Frankenstein Mask for Halloween. If you have a little girl or boy who wants to express their individual size, consider adding felt bows or spikes to let them really stand out and add some personality. Just be creative and have fun!
Similar Posts: