Are you planning a Halloween party and looking for some fun party DIY party decorations to make for your event? These colorful Halloween Rosettes are an easy DIY that will have your party looking great in no time!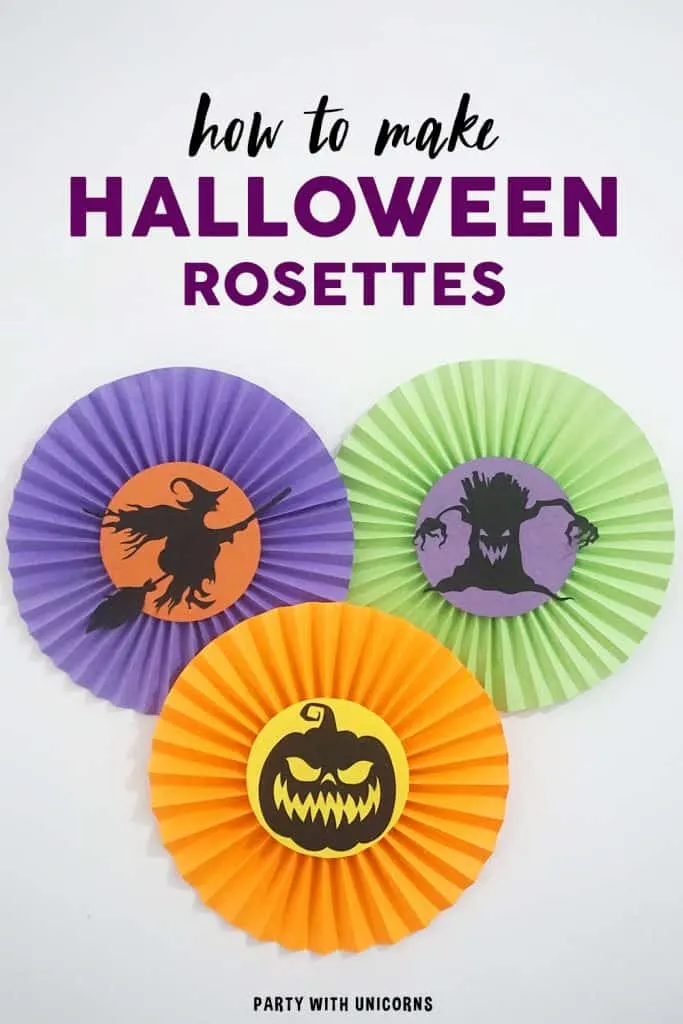 Do you want to bring a little color and fun into your Halloween party decor? Most Halloween parties are decked out in the traditional black and orange, but we are throwing all of those rules away with this fun set of Halloween rosettes.
For this project, I have used my Cricut cutting machine. If you don't own a Cricut or another type of cutting machine you can still follow this tutorial by cutting the SVG files by hand.
Halloween Rosette Craft Supplies
To begin with our DIY Halloween Rosette craft project we have to gather our supplies. Here is what you are going to need: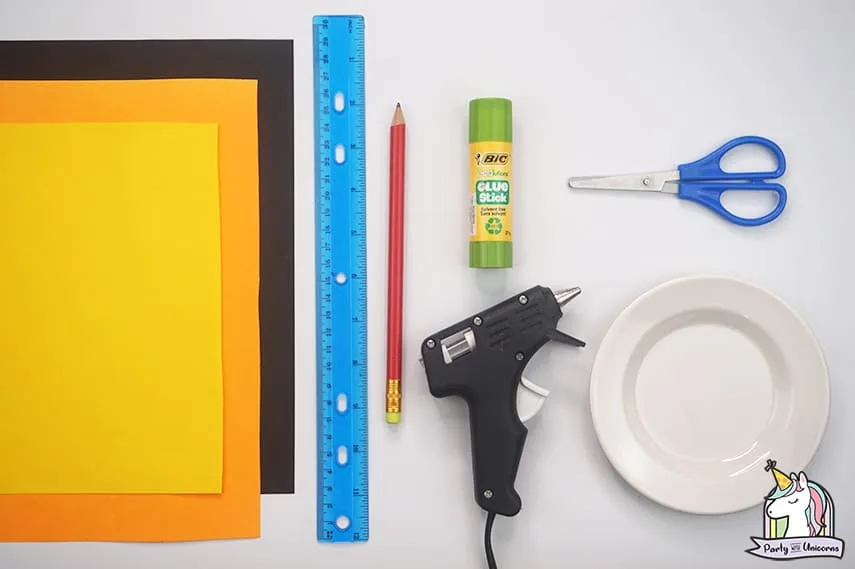 2 pcs 12x12in colored paper
Black paper / colored paper
Ruler
Pencil
Glue
Hot glue
Small plate
Cricut Machine or scissors
Halloween Rosette Video Tutorial
Watch this step by step tutorial on how to create your Halloween Rosettes, or follow the written instructions below for all the details.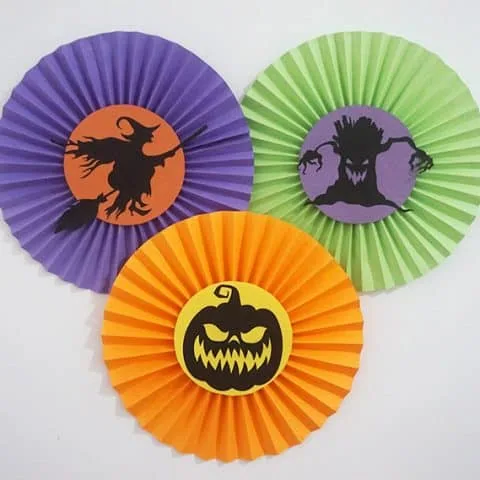 DIY Halloween Rosettes
Easy DIY Halloween Rosette Party Decoration. A step by step tutorial to create some fun DIY Halloween party decorations.
Materials
Halloween SVG file
2 pcs 12x12in colored paper
Black paper / colored paper
Small Plate
Tools
Scissors
Glue
Hot Glue
Ruler
Pencil
Cricut Machine
Instructions
Download any Halloween SVG file from Design Bundles then cut it using a Cricut machine or by hand. If you are just starting out using a cutting machine, I've included a step by step tutorial on how to upload your SVG file in Cricut Design Space in our video tutorial. If you are cutting the graphics by hand, consider printing the black graphic directly onto some colored craftstock. Then you can simply cut out the circle shape and get the same result!
After cutting, remove your Halloween images from the Cricut mat.
Get your 12x12in paper and fold it in half.
Cut it in half.
Make an accordion fold using one half of the paper.
Repeat steps to create 4 of these.
Glue all 4 folded papers together. Make sure the accordion fold will still be followed.
Glue both ends of the paper.
Press it inward to create a paper fan.
Hot glue both sides to secure.
Get another colored paper and trace the small plate.
Cut it out.
Glue the Halloween image on top of the round paper.
Hot glue the round paper on top of the rosette
Create different Rosette using different Halloween images from your SVG bundles!
More Fun DIY Halloween Party Ideas
Make any space look amazing with this DIY Halloween Lantern craft. This craft is super fun and looks fantastic when complete. You could even reuse your rosette graphics and make a matching lantern to decorate your space. Check out the post for a full step by step tutorial and the lantern template.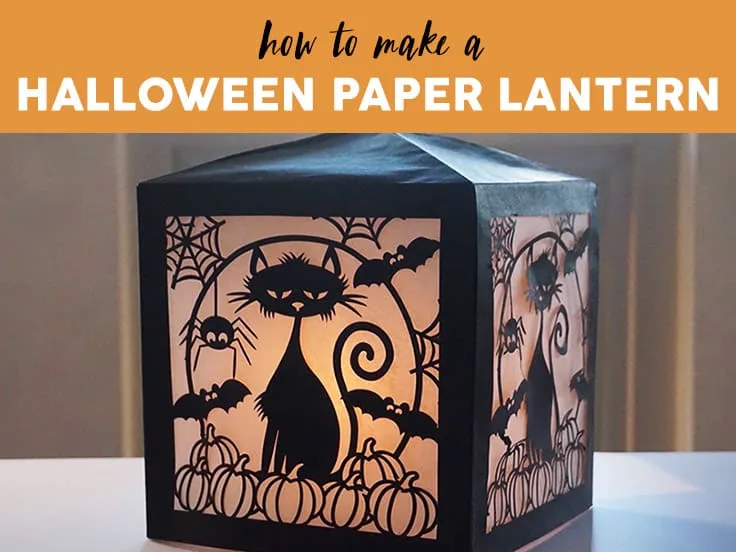 Send the kids home with a fun treat with these DIY Halloween Favor bags. These bags are easy to make, come in three fun designs, and the kids love them! With COVID-19 and the need for social distancing, these bags are also an excellent option for distributing treats this year instead of a bowl of candy. Check out the post for all the details and to download the free templates.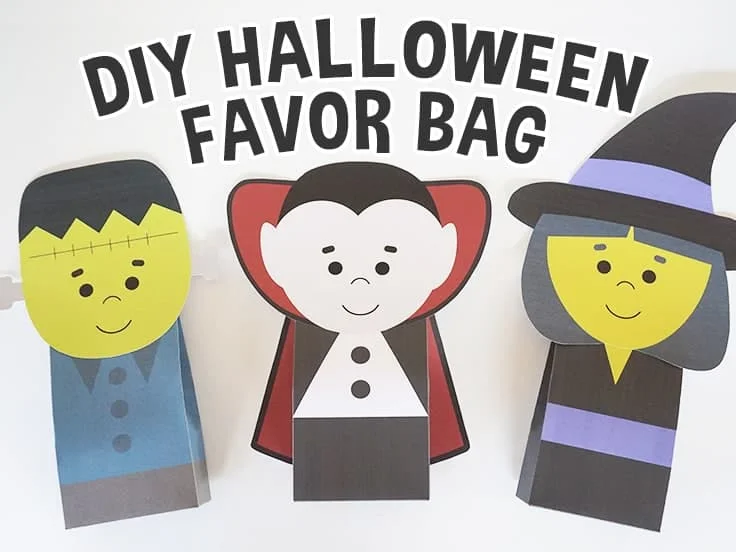 If your guests are looking for a slightly spookier favor, then try these DIY Coffin gift boxes. They are perfect for Halloween table decorations or a fun way to send your guests home with a deadly Halloween treat! Check out the post for a tutorial on how to put these boxes together and details on the free Halloween Coffin template.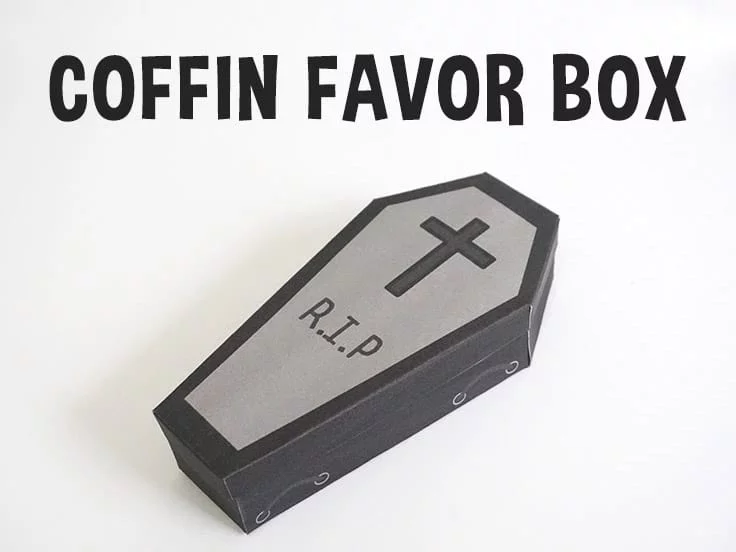 I hope you enjoy this tutorial as much as we enjoyed creating it. This simple craft will definitely look awesome as Halloween decorations.
Similar Posts: