Excited to throw the coolest Spongebob-themed party the world has yet seen? Find the very Best Spongebob Party Ideas right here!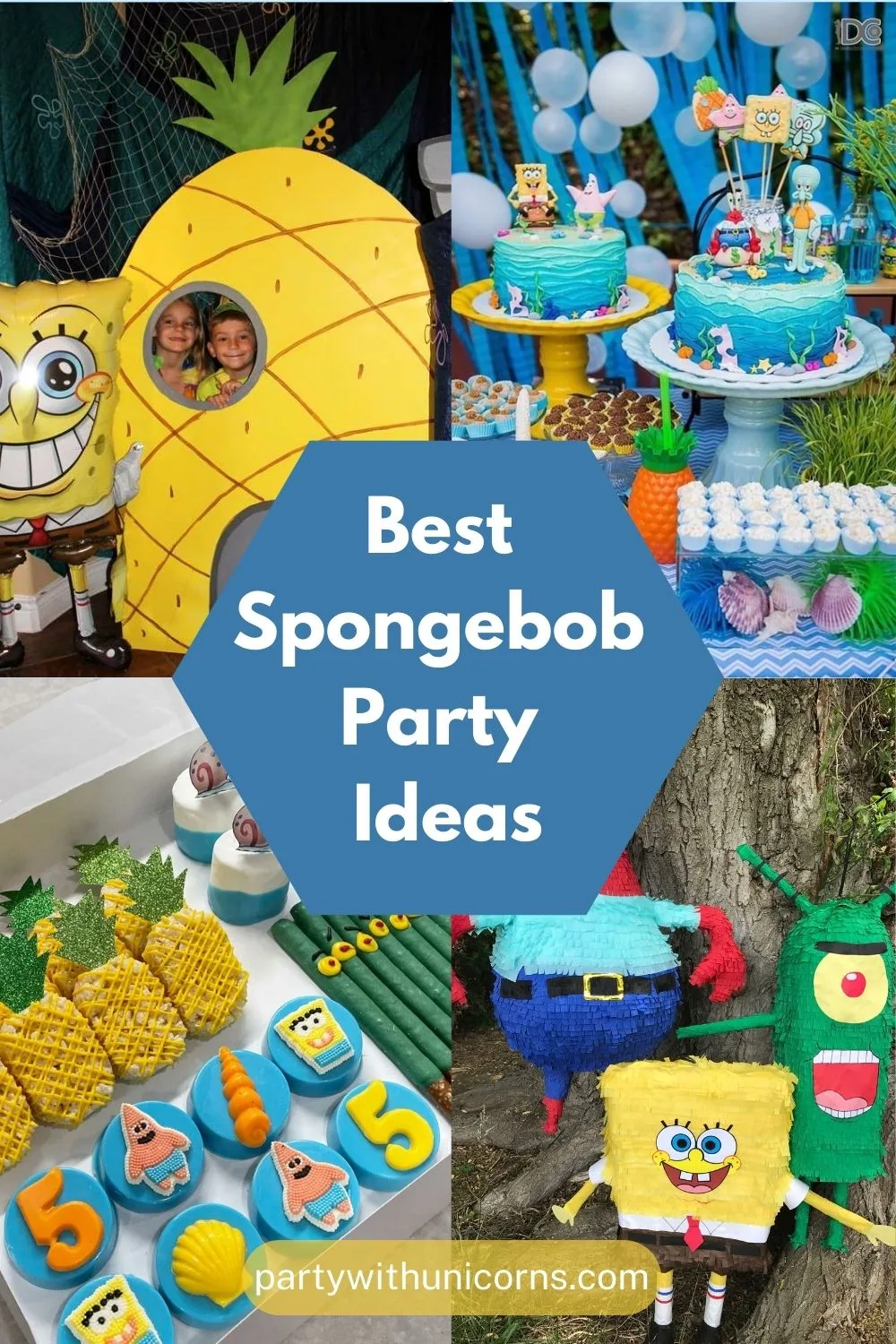 "Who lives in a pineapple under the sea? Spongebob Squarepants!" Are you ready to create the most colorful fun Spongebob-themed party for your little one? We have the most fantastic inspiration ready for you in our Best Spongebob Party Ideas round-up.
Explore fantastic decoration ideas and party table settings. Make the coolest fun delicious Spongebob-inspired party food. Get inspired by amazing Spongebob party favors, free printables and party invitation templates.
Prepare fun party activities and games. And if you're looking for that showstopping Spongebob Squarepants birthday cake check out our Amazing Spongebob Cake Ideas post. Time to turn your house into Bikini Bottom!
Table of Contents
Spongebob Party Decoration Ideas
The Krusty Krab
Time to enter The Krusty Krab. Get inspired with this cool Spongebob party table set-up with a net backdrop and Spongebob decorations and party food.
Spongebob Pineapple House Decoration
Make your own DIY Spongebob pineapple house. Not only will this be an amazing decoration for your party but will also act as a prop to take some fantastic photos.
Pink Jellyfish Decoration
These pink jellyfish and blue and yellow balloons are very simple ways to add color, fun and the perfect vibe to your Spongebob party.
Spongebob Party Table Setting
Excite your guests with this creative blue and yellow party set-up with net filled with balloons, custom printed backdrop, blue and yellow balloons and Spongebob party food.
Spongebob DIY Party Coral Decorations
These incredible DIY sea party decorations are made from pool noodles and some wire. This could be an amazing craft project to make with your kids in preparation for your Spongebob party.
Spongebob Party Dessert Table Setting
This dessert table setting is bright, cheerful and fun. With so many Spongebob props and delicious food, little Spongebob fans will be very excited.
The Flying Dutchman's Gold Doubloons
The Flying Dutchman's Gold Doubloons is the perfect prop for your Spongebob party. And why not make a game of it?
Spongebob Squarepants Party Board
Re-create this incredible and creative Spongebob Squarepants party board. Kids will absolutely adore this one!
Spongebob Party Food
The Krusty Krab Burgers
Grab burgers from Spongebob's favorite place, The Krusty Krab. The must-have food at your Spongebob party.
Plankton Pretzel Rods
Make your own delicious plankton pretzel rods by simply dipping pretzel rods in melted green chocolate and decorating them with yellow and red chocolate or a candy eye.
Spongebob Party Cakes
These Spongebob party cakes will look incredible on your dessert table. Re-create these at home or have them custom-made for your party.
Spongebob Seaweed
This clever party treat would make a great addition to your Spongebob treats. All you need is some green sour straws, a jar and a label and you have instant seaweed.
Chum Bucket
Create your own secret formula chum bucket! What would be in your recipe?
Jellyfish Cake Pops
These cute jellyfish cake pops look just like the whimsical pink creatures from Bikini Bottom. Don't you just adore them?
Kelp Shake
How about some kelp shake everybody? You can make yummy Spongebob kelp shake with a mix of any of the following ingredients – apple juice, apples, pineapple, spinach, avocado and vanilla ice cream.
Kelp Soda
You absolutely have to have some kelp soda for your party guests! See our printables section to print your own kelp soda labels.
Pet Worms
How about some squiggly gummy pet worms for your sweet treats? You can be sure that kids will love these!
Mr Krabs' Money Dip
What a fun Spongebob party food idea. Make this Mr Krabs' money dip with your favorite dip, red pepper, tomatoes and crisps. And don't forget olives for Mr Krabs' eyes.
Hamburger Cupcakes and Cookie Fries
These delicious and amazingly looking Hamburger Cupcakes and Cookie Fries are bound to be popular at your Spongebob party. Find this easy-to-make yummy recipe at Haniela's.
Easy Crushed Pineapple Cupcakes
Bake these Easy Crushed Pineapple Cupcakes by Mama Cheaps. This recipe includes free printable cupcake toppers for that perfect finish.
Pineapple Cake Pops
You can never have enough cake pops at your party and these bright yellow pineapple cake pops are just the thing to find in Bikini Bottom.
Spongebob Party Cakes
Strawberries dipped in blue and yellow chocolate anyone? Keep it bright and yellow with these fun party treats.
Spongebob Party Favors
Spongebob Pretzel Rods
Looking for the perfect Spongebob party favor ideas? Get inspired with these chocolate-covered hand-decorated pretzel rods. They have just the right Spongebob vibe.
Spongebob Candy Apples
Or how about these Spongebob candy apples for a party favor? Make your own packaging with some cellophane paper, yellow ribbon and print-out Spongebob toppers.
Pineapple Popcorn Favor
These pineapple popcorn bags are wonderful budget-friendly and easy idea for a Spongebob party favor. With simple packaging and printed pineapple tops, it can't get easier.
Pineapple Favor Bags
How cute are these Pineapple Favor Bags? Craft your own by following a simple tutorial by Lars. All you need is some brown lunch bags, paint and twine.
Spongebob Party Printables
Free Printable Spongebob Squarepants Birthday Banner
If you'd love a Spongebob party banner then this free "Happy Birthday" Spongebob banner printable is ready for you to download.
Spongebob Printable Masks
Make your party fun with these Spongebob printable masks from Etsy. This digital download package includes Spongebob, Squid, Squirrel, Starfish, Plankton and Crab masks.
Kelp Soda Bottle Labels
You will definitely need these Spongebob kelp soda bottle labels for the coolest party drinks. Get these as a printable instant download at Etsy.
Spongebob Squarepants Cupcake Toppers
Bake fun delicious cupcakes with the help of these Spongebob Squarepants cupcake toppers. This free download from Musings of an Average Mom includes 4 different pages of cupcake toppers with 11 different characters and the logo.
Printable Pineapple Tops Cupcake Toppers
Transform your pineapple cupcakes with these printable pineapple tops cupcake toppers. They will blend beautifully with all your Spongebob party food.
Spongebob Party Invitations
Spongebob "Are you ready kids?' Invitation Template
Get your guests all excited for your party with this adorable printable Spongebob party invitation template.
Spongebob Squarepants Free Birthday Invitation
Or how about this bright fun Spongebob Squarepants free printable birthday party invite? All done for you, all you need is a date.
Free Spongebob Birthday Invitation Template
This free Spongebob birthday invitation template is a simple, sweet and classic design. Lovely invite for younger children.
Spongebob Party Activities
Spongebob DIY Kitchen Sponge Craft
Get your party guests busy crafting their very own favorite Spongebob characters with some kitchen sponge, felt and markers.
Spongebob Plankton Craft
Your party guests will love getting all creative making this cute and easy Plankton Paper Roll Craft. For the instructions visit Mom Endeavors.
Spongebob Pineapple Pine Cone
Everyone can make their very own Spongebob pineapple home with some pine cones, paper and markers. This could be another wonderful craft activity for your little guests.
Spongebob Party Games
Spongebob Piñata
Make your own DIY Spongebob Piñata! These are easy and fun to DIY your own and make a great party game. Just which Spongebob character would you choose?
Spongebob Squarepants Bean Bag Toss Game
Get ready for some serious fun with this DIY Spongebob Squarepants bean bag toss game. All you need is an empty cardboard box, some paint, yellow fabric, markers and dry beans. Learn how to at Walk in the Sunshine blog.
Coconut Bowling Game
Go coconut bowling! Kids will love this fun outside game! And why not make it even more Spongebob-themed by making the water bottle pins into Spongebob characters?
Next: Amazing Spongebob Party Cake Ideas
Similar Posts: