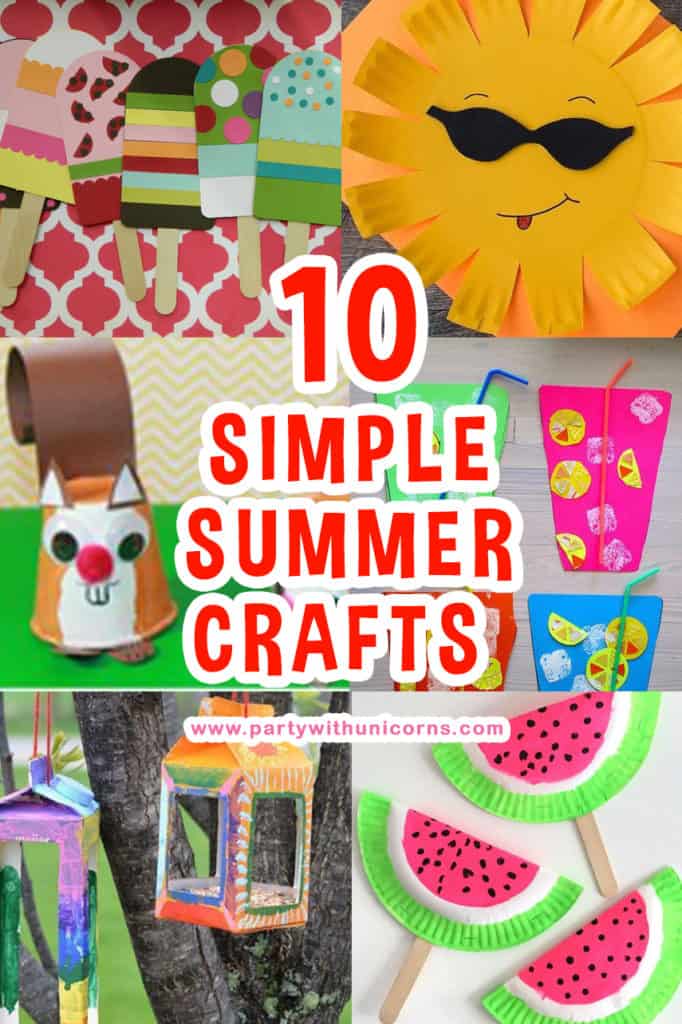 Well, it's getting colder in Australia, but warmer in North America. We are going to taking the kids to Canada this winter to enjoy some Canadian summer sunshine and so they can get to know my family and my home town. To get the kids excited about our trip and looking forward to some summer sunshine I've collected some of my favorite Summer Craft ideas that we can work our way through in the lead up to the trip.
I love doing summer crafts with the kids in winter here as its a great way to talk about their family in Canada and how the seasons are different on different sides of the world.
If you want to get more details about any of these craft ideas, click on the Pinterest image for each design and it will take you to the pin with all the details.
Before we dive into the list, I want to let you know about our freebie library. We have over 100 free kids crafts templates, printables and clip art for you to download and enjoy with the little people in your life.
Watermelon Paper Fan Craft
Watermelon is the fruit of summer for me! It screams summer BBQs and nights at the beach or park.
This cute Watermelon Craft for kids is super cute and one that even the youngest kids can get participate. The supplies are super simple, and the results are excellent. .
The craft is from the Alex at The Kindergarten Connection. It's worth checking out her profile and website as she always has great ideas for kids.
Thumbprint Pineapple
Staying with the summer fruit theme, this fingerprint pineapple craft is just so sweet. I think that this one that could be done and framed as a gift for a grandparent.
I have three kids, so I am super keen to do print set with each of the kids using a different color. I think it will be a great set with the different size of fingerprints from the kids. The youngest is going to have to do a whole lot of prints to fill this space.
Cactus Pet Rocks
My kids are always coming home with stones in their pockets; I have no idea why. Until now we have been creating a small rock pile outside our front door, but no more! These rocks are soon to be new cactus pets!
I love this summer craft from the Best Ideas for Kids. I also think that my kids are going to love setting up their little pets. I can already see them all set up on each of their window sills. Although, I'm sure this is not going to do anything positive for our rock collecting issues.
Paper Lemonade
There is no way that you can look at this paper lemonade craft from Pitter Patter Art and not think of summer.
You can reuse plastics straws when you make this craft. It's a great way to reuse a single use product. If you don't have any plastic straws, you can always roll up some paper and make your own.
Click on the image to get all the details from the pin.
DIY Birdhouse
These DIY Birdhouses are another summer craft that you can do and reuse some old household materials. The original plan uses old milk containers, but I think you could get pretty creative with this idea. I can think of a few old toys that would make fantastic, and the hard plastic means that they will last a lot longer too.
If you do get creative with this idea, just make sure you are mindful of the weight and only pick items that will be safe for the birds!
Dixie Cup Squirrel
How cute are these dixie these little squirrels? I'm adding this craft to bookmark for our trip as we don't have dixie cups in Australia and we don't have squirrels. I'm looking forward to introducing squirrels to the kids in Canada. I'm not sure what they are going to make of them.
This is another craft that I think you can make all your own. You could add a cotton ball tall and make a bunny or little curled pipe-cleaner tail and make a cute pink pig. The possibilities are endless.
Summer Craft Idea – Paper Plate Sun
This sun craft idea is another great idea that can be used with even the youngest of kids. Cut the plate and let them decorate their sun. These paper suns would look great hanging on a bedroom wall. For us in Australia, it's nice to see the sun when its cold outside (and yes, I acknowledge that cold in Australia is not cold anywhere else in the world).
Popsicle Garland
This craft pin is one that I have been seeing on Pinterest for years. I love these cute ice pops. If you click through to the original post on Jenni Can Knit you can get the details on where to buy a kit to make them.
Personally, I think this is something you could do without buying a kit. You could go pick up some free paint sample chips from the hardware store and cut them into the shapes you want and add sticks. If you are a popsicle loving family, you can even clean and reuse actual popsicle sticks.
Hanging Jelly Fish Craft
I'm adding this craft from Glue Sticks and Gumdrops because I did this one with my kids and they loved it. The only difference is that when I did it with my kids, we strung fruit-loops on a string for the legs. This was a great fine motor skills activity for the kids and looked great.
We made this craft over a year ago, and the jellyfish is still proudly hanging up in my daughter's room. Strangely the fruit-loops don't look a day older. I do slightly worry that I am going to enter the room one day to see my kids eating these year-old fruit-loops.
Hanging Jelly Fish Craft
We sure are making good use of paper plates in today's post. These paper plate butterflies from Whimsyroo are another simple summer craft that is sure to delight.
Depending on the age of your child, you can make the butterflies as complicated or straightforward as you like. Our family enjoys these crafts that span age-groups, and it means that everyone gets to play along.
So that's my collection of summer crafts to get you thinking of some creative ideas for summer. If you have other summer crafts that you can recommend please let me know if the comments below. I would love to add some new ideas to the list. Happy Crafting Everyone.