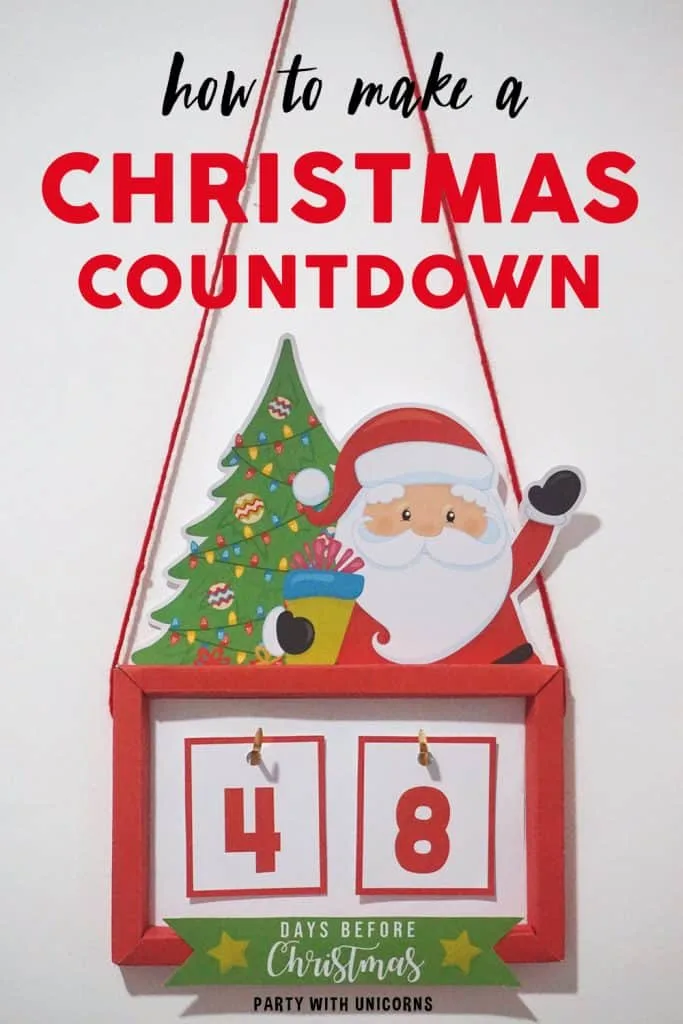 How many days 'til Christmas? Sometimes it feels like my kids start asking this question on Boxing Day! By the time November rolls around, the kids are well and truly ready to start the Christmas countdown! Today's craft has been inspired by these non-stop questions. I'm hanging this cute Christmas countdown in our house, so my kids can answer their own questions about how many days it is until Christmas.
The great thing about this craft is not only will it answer your kids non-stop questions about when Christmas is, but it is also a super fun Christmas craft that you can do together. This tutorial comes with a free printable template, which makes this an achievable project for crafts of all abilities.
For today's template, I am using some super-cute Christmas graphics from Design Bundles. I've recently become a brand ambassador for Design Bundles as I absolutely love their site. Design Bundles is full of thousands of graphics and crafting files. So if you love crafting or graphic designing, make sure to check them out. You can even purchase the same graphics I have used for this template to create some goodies for your home. These graphics would also make some super cute DIY wrapping paper.
Christmas Countdown Craft Supplies
Going back with our craft today, let's begin by gathering the supplies needed: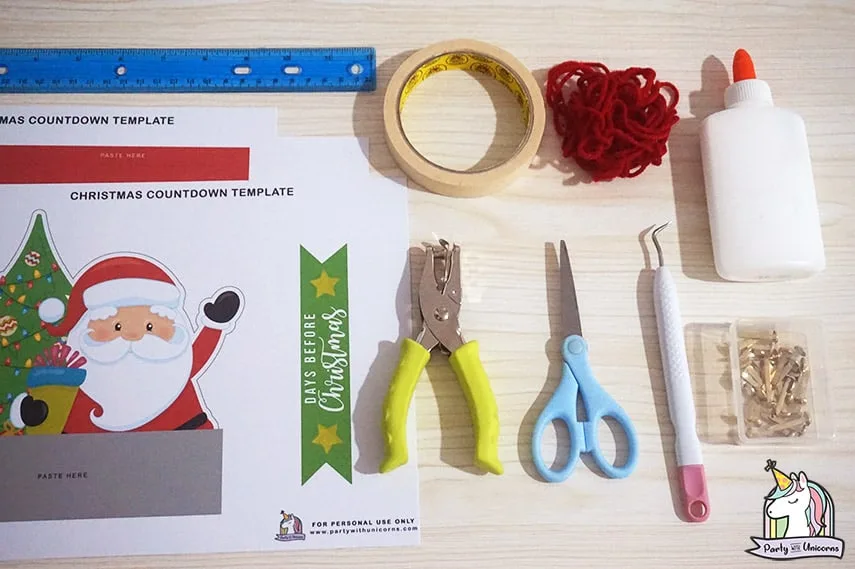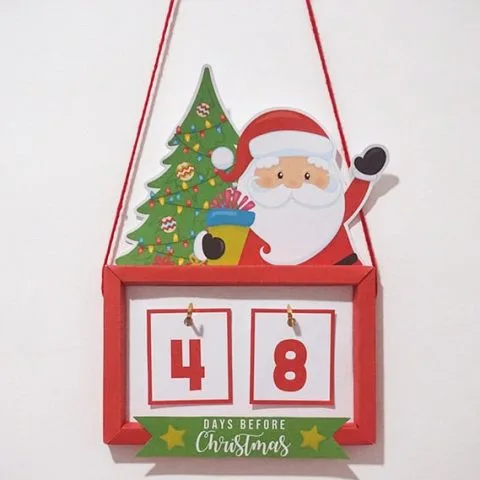 DIY Christmas Countdown Craft
Waiting for Christmas day will be more fun with our Christmas countdown craft that you can make this holiday season with your kids. This post includes a step by step tutorial on how to make this cute Christmas countdown craft and a free printable template.
Materials
Tape
Yarn or any string
2 Metal Brads
Tools
Scissors
Ruler
Hole Punch
Glue
Pin or any sharp object
Instructions
Download our FREE Christmas Countdown printable template. Then print it out on cardstock paper to make sure the craft won't be flimsy.
Cut out the template.
Using a ruler, fold the solid and broken lines seen on the shadow box frame template.
Poke holes where the x mark is seen using a pin or any sharp object.
Insert a yarn (or any string) into the side holes. Tie the yarn.
Secure the knot by adding tape on the top.
Assemble the shadow box frame by gluing the side flaps together. Then bring all the sides up and around along the creases. Apply glue where "paste here" is seen.
Insert 2 metal brads in the middle holes and split it by bending down one leg to secure its place.
Bend the end part of the straight brad leg to make an L shape. This will prevent the number cards to slide down.
Glue the embellish templates on the box.
Punch holes on the number cards where the x mark is seen.
Now it's time to hang the Christmas countdown craft and insert the number cards accordingly on how many days till Christmas day!
And there you have it! Your very own Christmas countdown craft that will make your Christmas day "waiting game" a little bit more self-service for the kids. I hope you enjoy making this simple but cute Christmas craft. Be sure to check some of our other fun Christmas themed crafts below for more ideas on what to do this Holiday season.
More Christmas Crafts for Kids
Here are some of our most popular Christmas Craft projects for kids. Each post comes with step by step directions and free templates.
Christmas Mailbox
Get your letters to the North Pole easier this year with this fun DIY Santa Mailbox. This fun printable template is great for pretend play with the kids and makes some cute Christmas decor.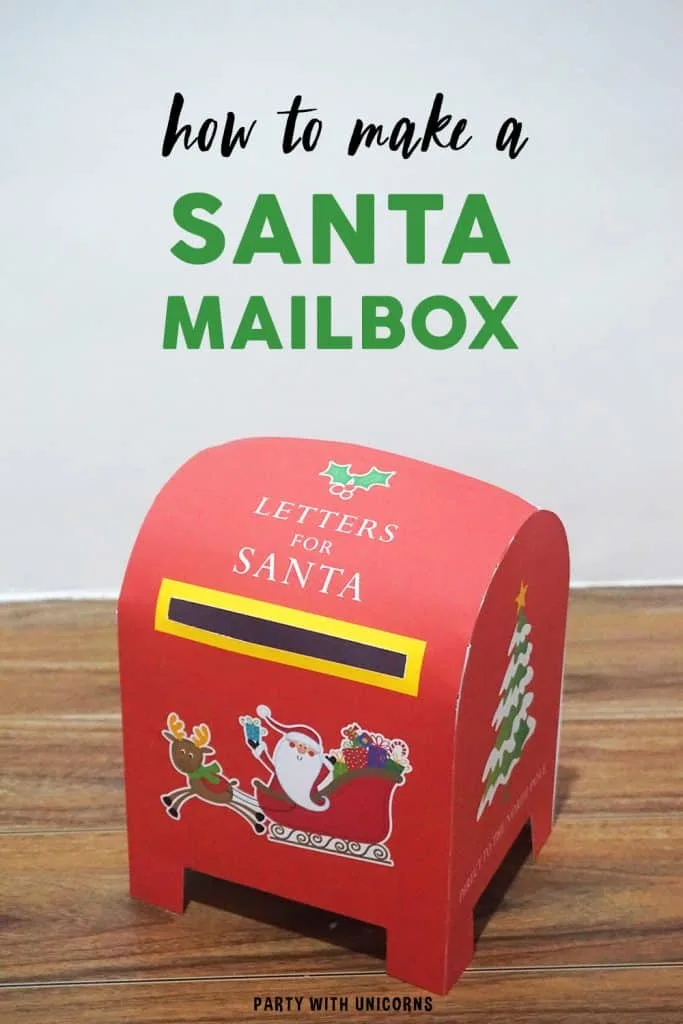 Christmas Favor Bags
If you are looking for a cute way to wrap up some gifts this holiday season then download these Christmas Favor bag templates. These bags are a great way to put together a goodie bag for a Christmas Party or to distribute some COVID safe class gifts.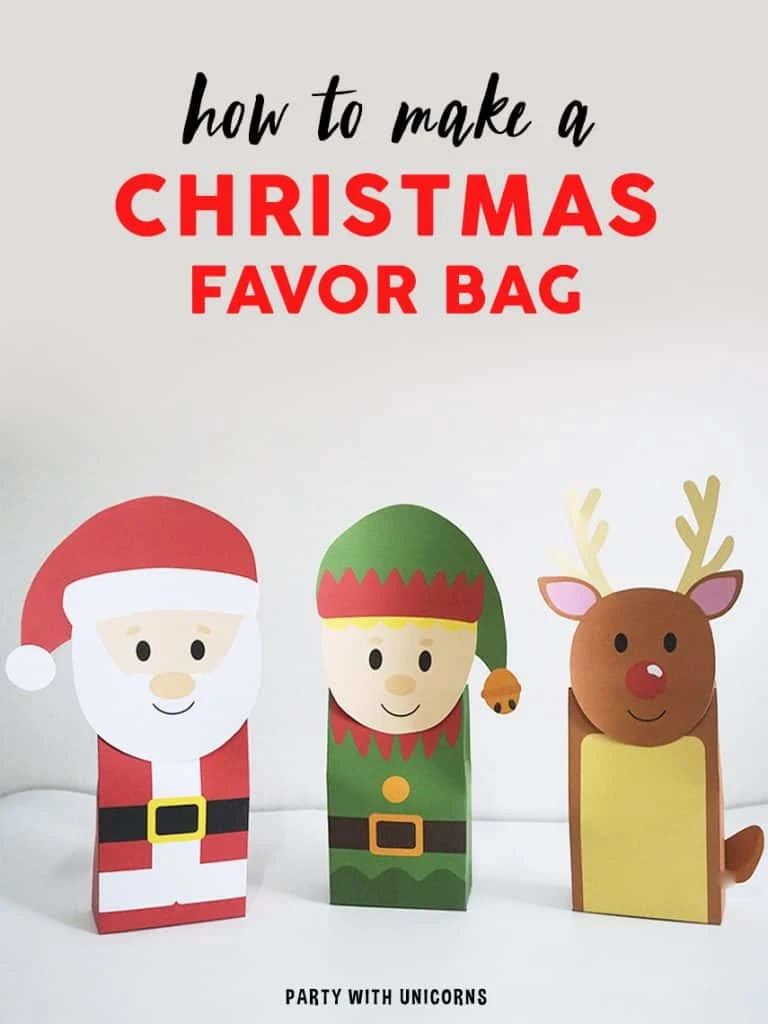 DIY Felt Christmas Tree for Kids
This felt Christmas Tree was one of the first crafts we ever did on this blog and it is still one of my favorites. Download our free template to make your own Felt Christmas tree and a set of fun character ornaments.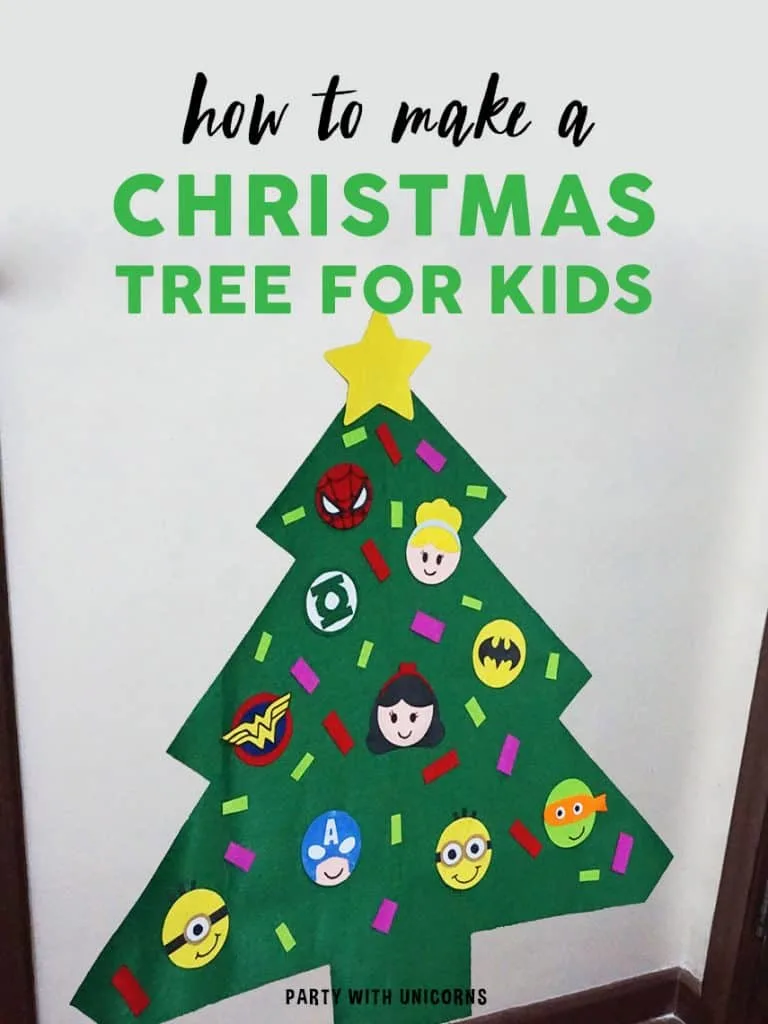 Christmas Pop-up Cards
Getting the kids involved in making Christmas gifts is a great way to get them into the holiday spirit and to teach them that Christmas is not just about getting gifts from Santa. These fun Christmas Pop-Up cards are a fun craft for the kids and a great gift for someone special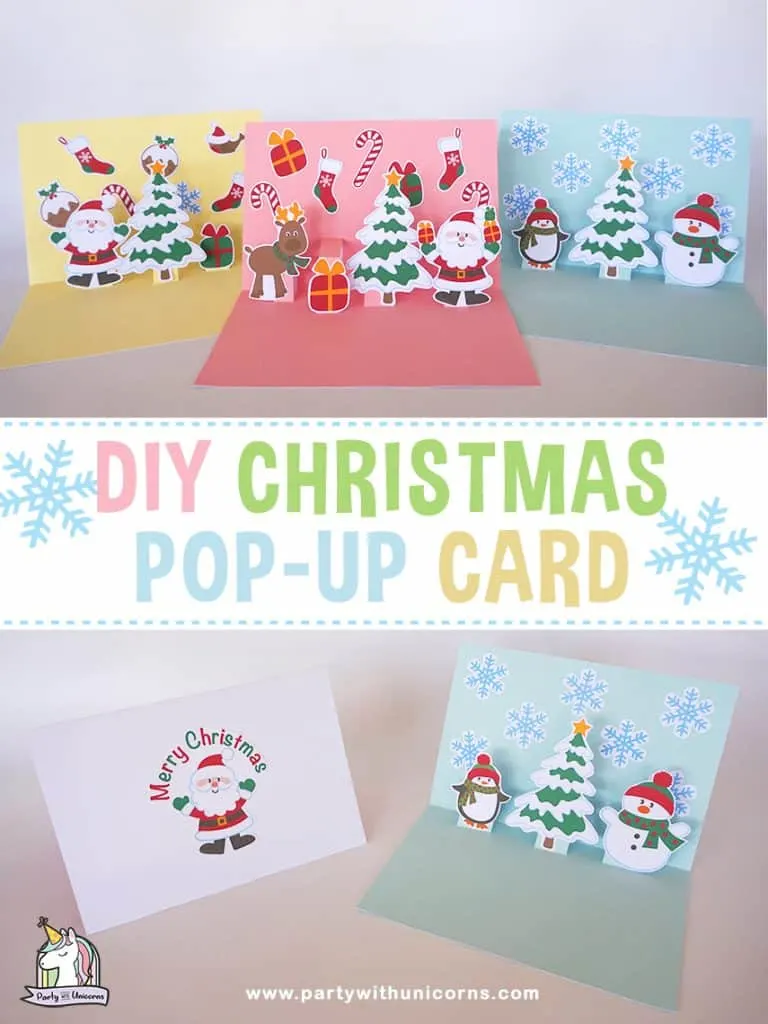 DIY Felt Christmas Ornaments
These cute felt Christmas photo ornaments are a great gift to go along with your pop-up cards! Check out this post to get step by step instructions and free templates to make your ornaments. The kids are always so proud to see their creations on the tree, and the grandparents love to receive DIY gifts from the kids.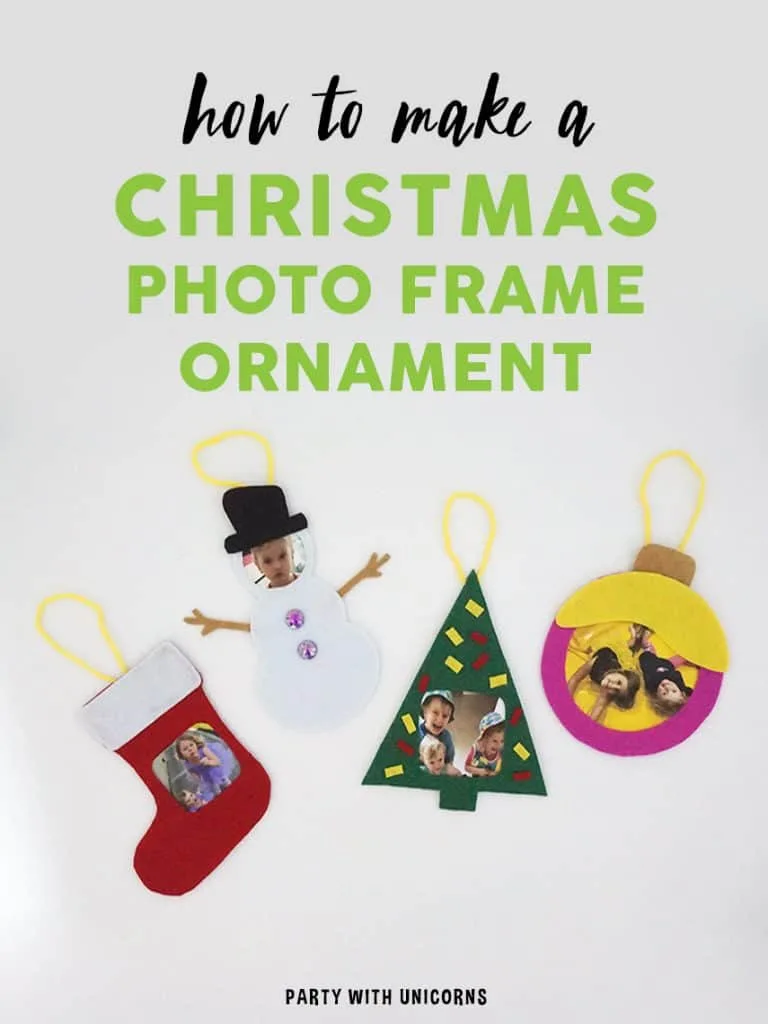 Similar Posts: