Affiliate links may be sprinkled throughout the awesome, free content you see below. I'll receive a small commission if you purchase from my links (at no extra cost to you), which I'll totally blow on awesome things like adding more free content to this website. :)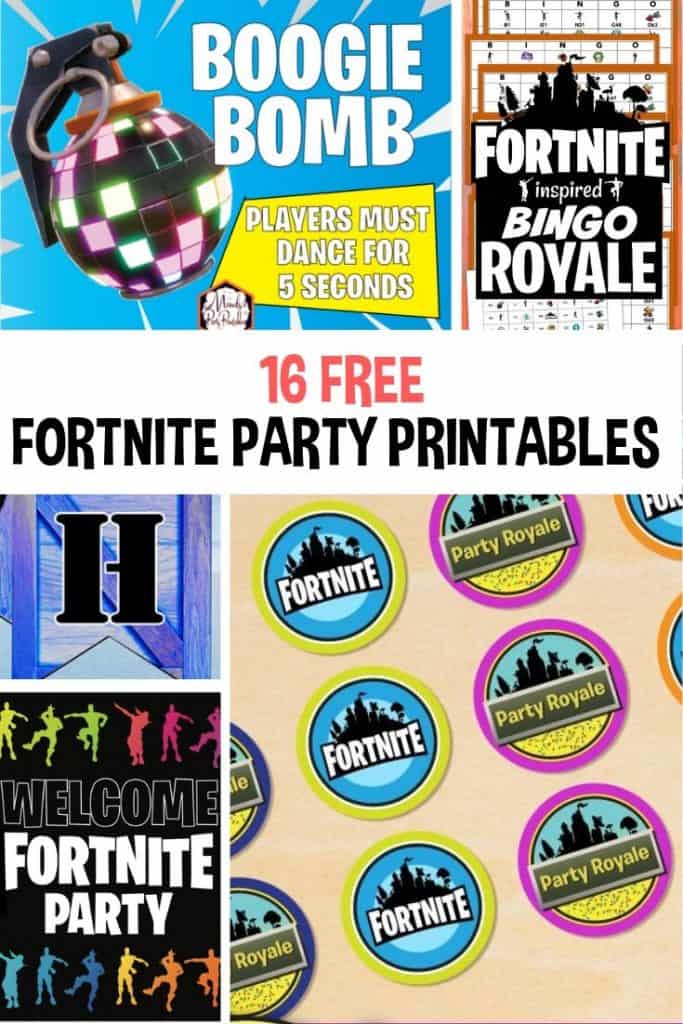 I might actually be the last person on the planet to learn about Fortnite. Until my son started school a few months ago, I had no idea what it was. Now that I have heard of it, it's amazing how I see it everywhere! I had heard the phrases, seen the dance moves, and heard of loot llamas, but never put it together that it was from a videogame.
If your child is Fortnite mad, then this list is for you. Below is a collection of 16 Free Fortnite Party Printables. In the list below, you will find lots of great Fortnite themed birthday party supplies; best of all, they are all free and available as instant downloads!
What is Fortnite?
If you've been under the same rock I have for the last couple of years, here is the basic info on Fortnite. It is multi-player survival games where players fight each other to be the last person standing. It is made by Epic Games and was released in 2017. From what I can tell, most of my son's friends are quickly becoming Fortnite obsessed gamers.
What is V-Bucks?
Unlike traditional videogames, Fortnite is actually free to play. Within the game, Fortnite has its own currency called V-Bucks. (This is how the developer makes money off a free game).
Fortnite V Bucks can be used to purchase all sorts of items within the game including emotes, character models, Fortnite skins, weapons and backpacks. You cannot buy anything that will give you a competitive advantage, so it all cosmetic.
Players have an option of purchasing V-Bucks with real currency or earning free V–Bucks in the game by doing things like completing daily quests.
Fortnite Birthday Party Ideas
So you are probably wondering why I am going on about V-Bucks and explaining how it all works. I think that the items you buy using V-Backs are a great idea to include in your party. Here are some fun Fortnite party ideas:
Create some battle pass challenges that your guests need to complete
Dancing competition based on your child's favorite Fortnite emote. (Emotes are the way Fortnite Characters express themselves on the battlefield.)
Create some boogie bombs to make the kids start dancing throughout the party
Set up an Items store where your guests can get dressed up
Set up some battles or quests where you guests can earn Fortnite V-Bucks and spend them on loot in your Fortnite store
Have a Loot Llama filled with supplies during the party, including some v bucks
Print out a fortnite map of challenges and activities. You could set up some nerf gun targets and a supply drop craft area. Guest could earn v bucks by completing the activities
Free Fortnite Party Printables
Okay, onto the main event. Below is my list of the top party printables around. Everything you need to put on an amazing Fortnite party on any budget.
Fortnite Party Printables
A collection of over 16 Free Fortnite Party Printables,. The set includes party signs, boogie bomb tags, chug jug labels, medkit labels, poster prints and art, games, crafts, party invitations, coloring pages, and more!
There you have, my top free Fortnite party printables. I hope that you have found something great to use at your epic Fortnite birthday. If you think I missed anything off the list, leave a link in the comments below.
More Fortnite Party Ideas
If you need some more inspiration for your Fortnite celebration, be sure to check out our list of Fortnite Party Food Ideas and Fortnite Cake ideas. These post will give you all the ideas you need to put together a delicious event!