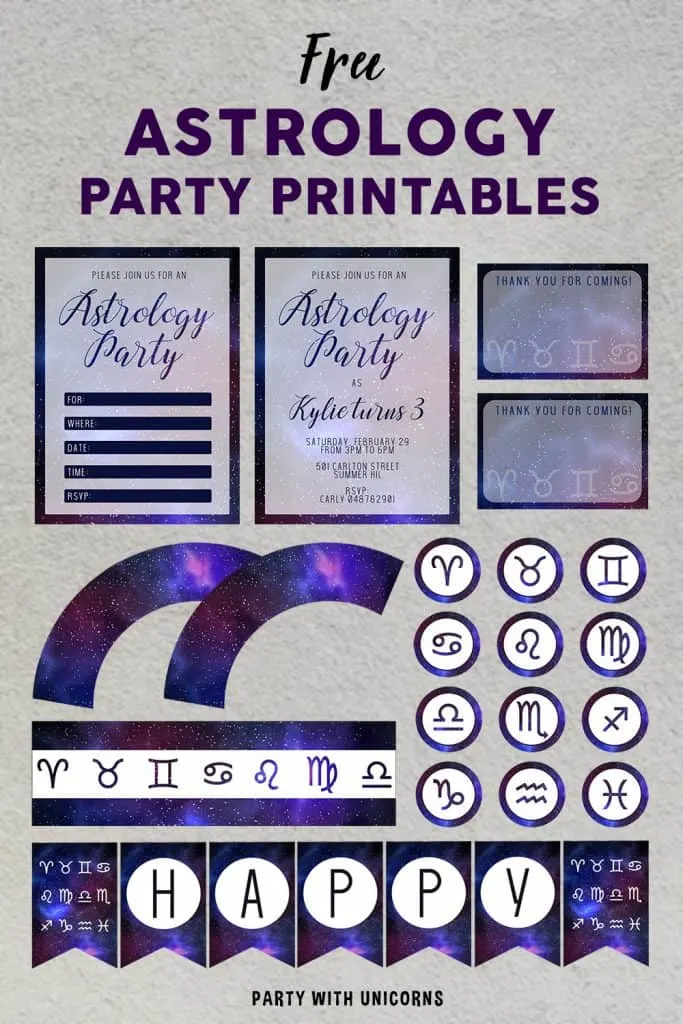 Today I am adding a set of Astrology Party Printables to our collection. This set is perfect for a Horoscope Party, an Astrology Party or a Zodiac Party. Whatever the theme, this set is all about the stars.
What's Included in the Astrology Party Printables Set?
Today's set of party printables includes:
Astrology Party Invitations
Astrology Waterbottle Labels
Astrology Birthday Banners
Astrology Thank-you Cards
Astrology Cupcake Toppers and Wrappers
The set can be downloaded using the download button below.
What is the Zodiac?
If you've been asked by your teen to put together a horoscope birthday, here are some of the basics for you. This is my very basic understanding of it all if you want to get some more information check out this detailed post from Earth Sky.
The zodiac is made up of 12 signs, which are derived constellations. These signs include Aries, Taurus, Gemini, Cancer, Leo, Virgo, Libra, Scorpio, Sagittarius, Capricorn, Aquarius, and Pisces.
Throughout the year, the sun appears to travels across the constellation in the sky. Your astrological signs or horoscope tells you which constellation the sun was in at the time of our birth.
Astrology Party Symbols
If you are planning an Astrology party, you may want to know everyone's astrological signs or horoscope. Here is a quick breakdown of the dates for your reference:
Symbol
Sign
Dates
Meaning
♈︎
Aries
Mar 21 – Apr 19
The Aries symbol is meant to
represent the face and
horns of a ram
♉︎
Taurus
Apr 20 – May 20
The Taurus symbol is meant to illustrate the face and horns of a bull
♊︎
Gemini
May 21 – Jun 20
The Gemini symbol is meant to represent a pair of twins
♋︎
Cancer
Jun 21 – July 22
The Cancer symbol is a crab
♌︎
Leo
Jul 23 – Aug 22
The Leo symbol represents a lion,
♍︎
Virgo
Aug 23 – Sept 22
The Virgo symbol represents a virgin woman
♎︎
Libra
Sept 23 – Oct 22
The Libra symbol represents scales
♏︎
Scorpio
Oct23 –
Nov 21
The Scorpio symbol is associated with a scorpion
♐︎
Sagittarius
Nov 22–
Dec 21
The Sagittarius symbol represents an archer
♑︎
Capricorn
Dec 22–
Jan 19
The Capricorn symbol is the body and head of a goat with the tail of a fish
♒︎
Aquarius
Jan 20–
Feb 18
The Aquarius symbol is water
♓︎
Pisces
Feb 19 –
Mar 20
The Pisces symbol represents fish
Similar Posts: