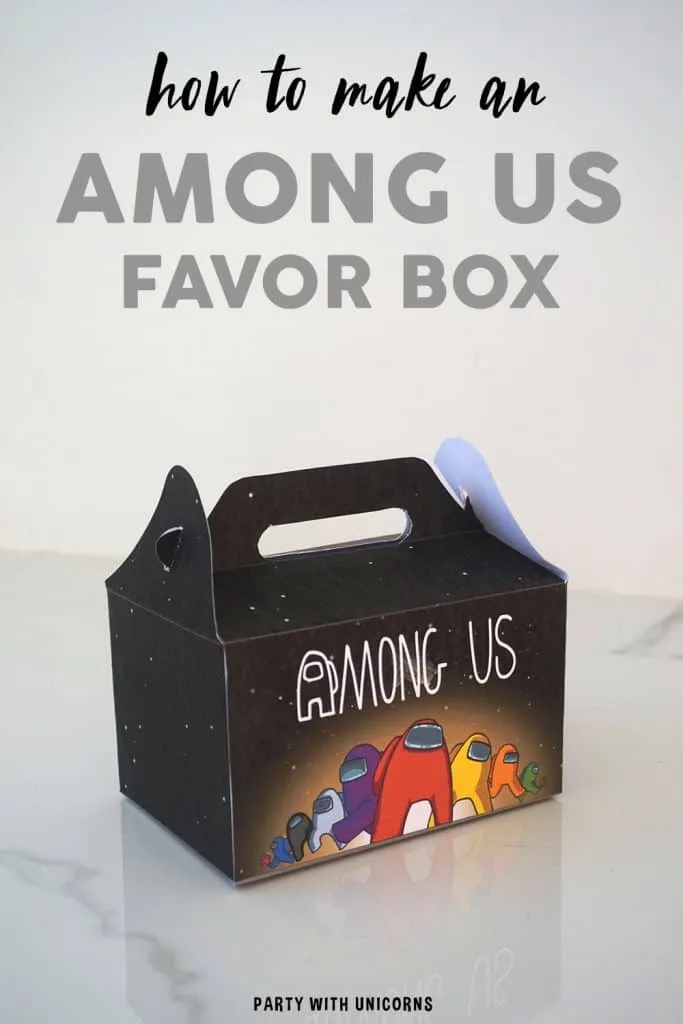 Has Among Us taken over your house yet? My son has just discovered it and it's definitely becoming a favorite in our house. My son's birthday is coming up and we will be celebrating at the local trade. While the kids will not get to play Among us as the arcade, I have decided to use Among Us for the party decorations. Unfortunately, I have not found any Among Us Supplies in stores, so I have had to create my own. I am posting this Among Us Favor Box so you can use them at your event too!
If you are planning a party, be sure to check out all of our Among Us Party ideas and Among Us cake ideas.
What is Among Us?
If you have not heard of it, Among Us is a multiplayer game by InnerSloth. At the beginning of each game, each player is randomly assigned the role of an Imposter (aka. The bad guys) or a Crewmate (a.k.a The good guys). During the game, the players all work together to fix their crumbling spaceship while trying to figuring out who the imposters are.
The Imposters win if they can kill all the Crewmates without getting caught and the Crewmates win by discovering the Imposters and voting them off the ship before the Imposters are able to kill everyone.
If you are a parent wondering if Among Us is okay for your child, check out this review by Today's Parent.
Among Us Favor Box Supplies
To start with this project, let's gather the supplies needed: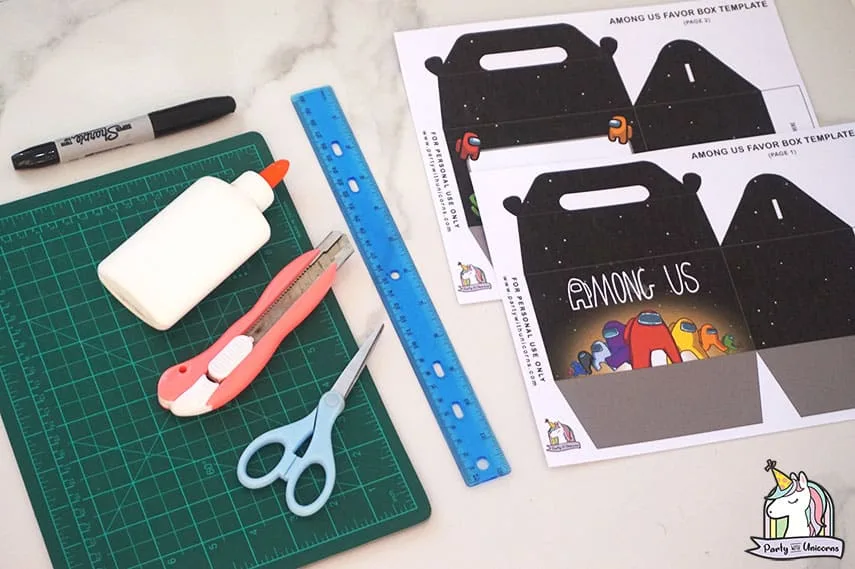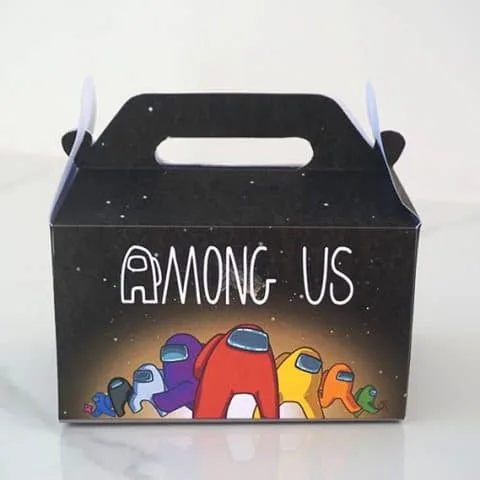 DIY Among Us Party Favor Box
If you are planning to throw an Among Us themed birthday party for your child, this cute Among Us inspired favor box is perfect for you. This post comes with a step-by-step tutorial and a Among Us favor box printable template.
Materials
Tools
Glue
Scissors
Craft Knife
Cutting Mat
Ruler
Instructions
Download our free Among Us favor box template and print it out.
Cut out the template.
Using your craft knife and cutting mat, cut out the holes from the template.
Fold the template along the solid lines. Use a ruler to create perfect creases.
Attach both templates together by gluing the side flap of one template to another.
Do the same step on the remaining side flap.
Glue the bottom flaps to secure.
Assemble the top handle.
Get your marker and write the name of your party guest in the "Crewmate Name" section.
Your Among Us favor box is now ready!
And there you have it. I hope you enjoy this simple tutorial to create an Among Us Favor Box! If you use our template at your party or try it at home with your kids, make sure to tag us on your social media posts as we would love to see the results.
Similar Posts: