Affiliate links may be sprinkled throughout the awesome, free content you see below. I'll receive a small commission if you purchase from my links (at no extra cost to you), which I'll totally blow on awesome things like adding more free content to this website. :)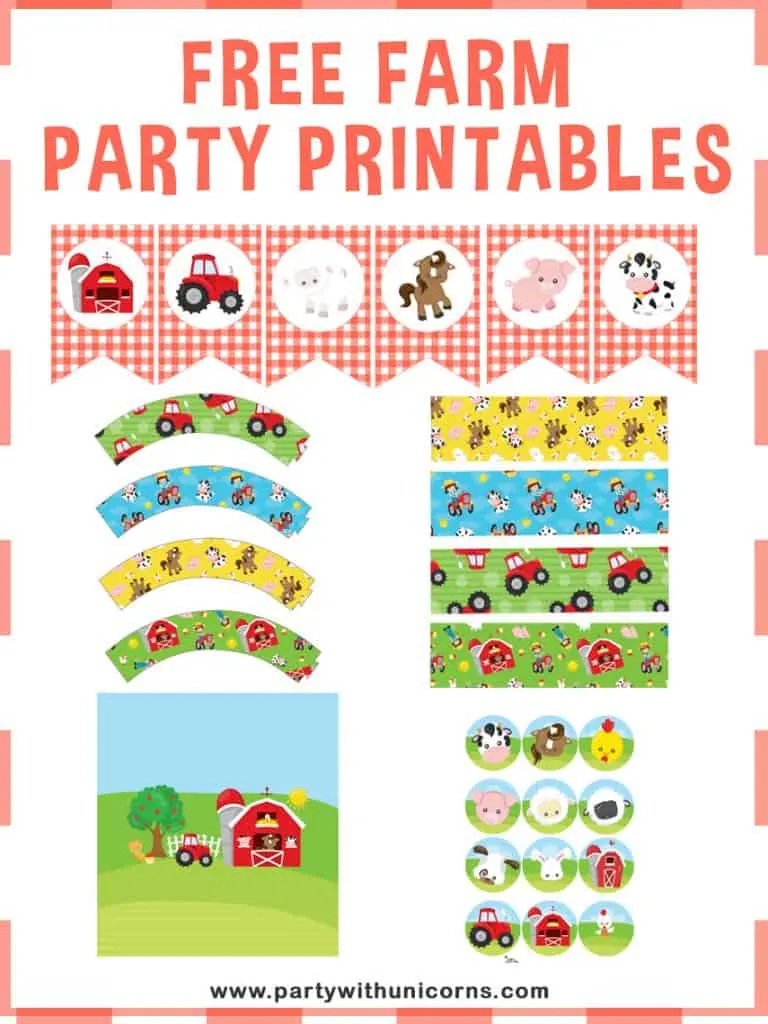 Hello, I am back today with some Farm Party Printables. Whether you are planning to get everyone dressed up as a farmer and sing Old McDonald, or going all out with a petting zoo, the Farm theme is super fun for kids.
What's Included in the Farm Party Printables Set?
Today's set of party printables includes:
Farm Waterbottle Labels / Farm Napkin Labels
Farm Banner
Farm Cupcake Toppers
Farm Cupcake Wrappers
Farm Chocolate Bar Wrappers
The set can be downloaded from the Freebie Library. By joining our mailing list you will be access to our freebie library and over 150 different party printables and craft templates.
Personalized Farm Party Supplies
Check out the Party with Unicorns Shop to download some affordable Farm Party Supplies that can easily be personalized online using Canva.
Farm Chocolate Bar Wrappers
In today's set, there is a Farm Chocolate Bar Wrapper. There are many chocolate bars that you can use with these templates. I recommend the following varieties.
Aldi Choceur minibars
HERSHEY'S ® 1.55oz chocolate bar
HERSHEY'S ® 1.55oz Cookies 'n' Creme
NESTLES Crunch ® 1.55oz chocolate
If you need any instructions on how to work with these files, check this info on Customised Chocolate Bar Wrappers FAQs.
More Farm Party Supplies
If DIY is not your thing, or you are looking for some additional party supplies, I have included a list of great Farm Party Supplies below. Follow this list and your party planning will be done in no time at all.
Farm Party Shopping List
A quick and Easy shopping list of all your Farm Party Supplies