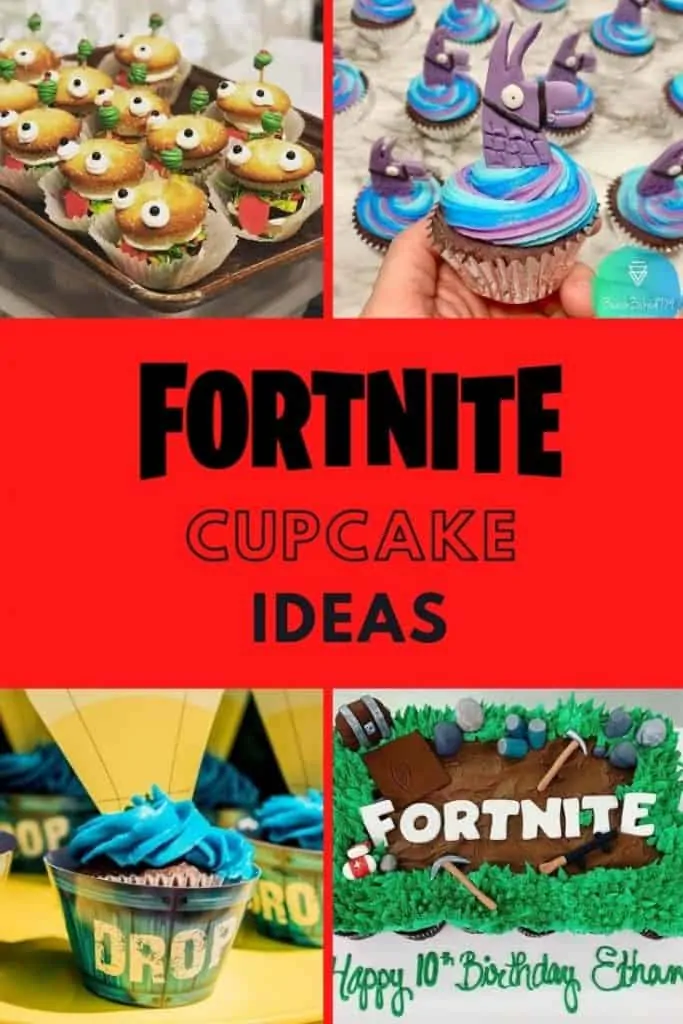 If you are putting together a Fornite Birthday day, then Fortnite cupcakes will make the perfect addition to the celebration. Read on to find out how to make amazing DIY Fortnite cupcakes for a kids birthday party and find some easy to use Fortnite cake supplies.
Personally, I love cupcakes for birthday parties they are tasty, easy to distribute and allow you to easily accommodate different dietary requirements. For my son's party, I plan on making a very small Fortnite Cake to use for singing Happy Birthday and then have Fornite cupcakes to hand out to all the guests. No one is our house will complain about having leftover cake to enjoy!
What is Fortnite?
Before we to the cupcake, a quick recap for any parents that have been thrown into the deep end on this theme and are wondering what it is all about. Fortnite is a video game by Epic Games. Its a survival game where 100 players fight against each other be the last one standing.
24 Fabulous Pre-Cut Edible Wafer Fornite Cake Toppers: Battle Royale
If you want to find out more about the game check out the Fortnite Fandom Wiki. I've also provided a summary of everything I have learned about the game in our Fortnite Party Ideas.
Without further ado, where here our list of Fortnite Cupcake ideas.
Fortnite Cupcake Ideas
A list of Fortnite cupcake ideas and Fornite cupcake supplies.
Photo Credit: www.catchmyparty.com
These safety drop cupcakes have been done with a simple cupcake and some paper Fortnite printables.
Photo Credit: www.facebook.com
Instagram and Facebook are full of amazing #fortnitecupcake designs. This amazing fondant cupcake set includes pickaxes, loot llamas, V-bucks, and Boogie bombs. Some of the most popular Fortnite items. Amazing!
Photo Credit: www.savingyoudinero.com
V-bucks are the currency in Fortnite and make great cupcake toppers. This Vbuck cupcake has been made with icing, but you could also do this cupcake with fondant or edible paper toppers.
Photo Credit: sonia_love_cakedesign
DJ Marshmello is one of the most popular Fortnite Characters. These Marshmello cupcakes are easy to do with an edible Ink pen.
Photo Credit: sugar from the heart bakeshop
Its hard to believe these little beauties are cupcakes! These Durr Burger cupcakes are sure to please any Fortnite fan.
Be sure to check out our list of Fortnite printables, there free printable Fortnite cupcake toppers, and Fortnite Cupcake wrappers available for download.
Photo Credit: thecraftymamablog.wordpress.com
Fortnite is all all about the battlefield so they camo cupcakes would be a great fit. Check out the original post for a step by step tutorial on how to make these cupcakes.
Photo Credit: cambridgesprinkles
This creative pull apart battlefield is the perfect mix between cupcakes and cake!
Photo Credit: beachbaked904
Everyone loves a Loot llama and they will love these cupcakes too!
These cupcake toppers from Amazon are an easy way to turn any cupcake into a Fortnite cupcake!
Another simple cupcake topper is these pre-cut Edible wafers
Photo Credit: lailas.bakery
This is another great Fortnite Battlefield pull apart. I love the way Lailas has made the battlefield in a number shape for the birthday boy or girl. Super clever!
Photo Credit: Cupcake Queen
Another pull apart this one is a giant Loot Llama.
If you are up for a little DIY, grab yourself one of these Fortnite logo cookie cutters and make your own cupcakes toppers. They will look great at the fraction of the cost.
Dancing is a big deal in Fortnite. Your party guests will love these Fortnite dance cupcake toppers. A simple, affordable solution that is sure to please!
Similar Posts: