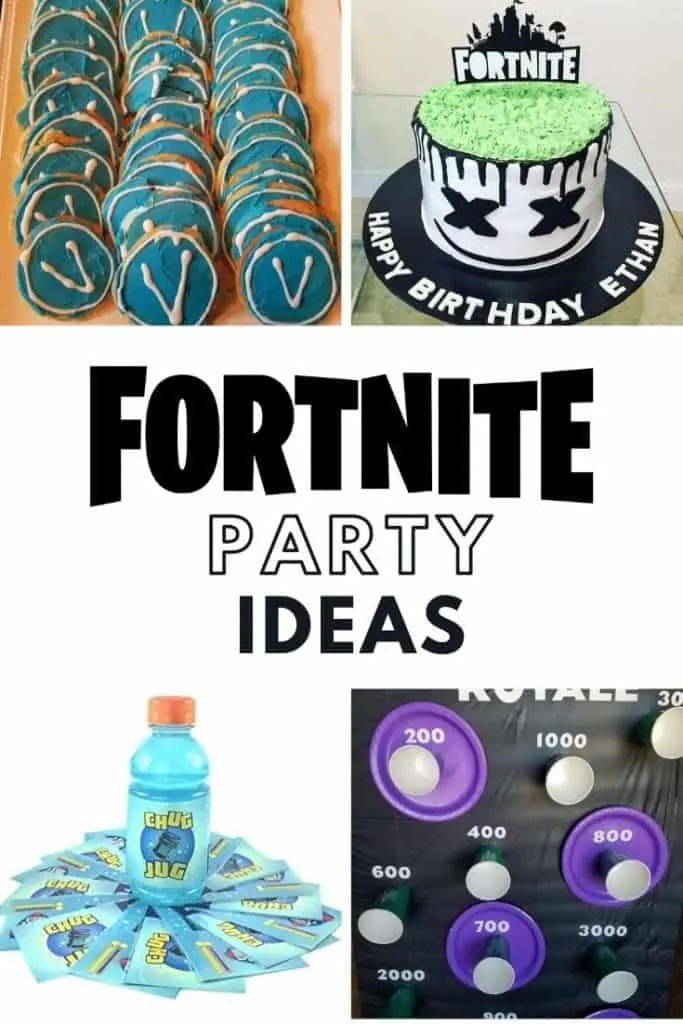 Is your child a Fortnite fan? Are you getting ready to host a Fortnite party? Are you wondering what a boogie bomb is, and why are all these crazy Fortnite dances about?
You've come to the right as we have lots of Fortnite Party Ideas and Fortnite party supplies to get your party planning started. Check out all of the posts below to find everything you need for your party, including free party printables, cake ideas, fun food ideas, party decorations, fortnite birthday cake and games.
What is Fornite?
In case you were hiding under the same rock I found my self under just a little while ago, there are lots of great resources around to find out all about Fortnite. A few of the resources I would recommend are the Epic Games Website, The Fortnite Wikipedia page, Fortnite Fandom Wiki, and Fortnite Dances and Emotes list. (hint an emote is a dance that will allow users to express themselves uniquely on the battlefield).
Here are a few other key phrases that you will come across in your party planning journey:
V-bucks – V-bucks (short for VinderTech bucks). V-bucks are the currency used in the game.
Loot Llama – A loot Llama is a pinata that is hidden in the game and filled with supplies, like Shield Potions, healing items, Ammo, Traps, and Materials. (Apparently, they are very rare)
Boogie Bomb – A boogie bomb is a grenade in the Battle Royale version of the games. When someone throws a boogie bomb, any players inside the blast radius are forced to dance for 5 seconds or until damage is taken
Battle Royale – In Fortnite Battle Royale 100 different players battle to be the last person standing. Every match is started on a battle bus.
Chapters and Seasons – Fortnite is run in chapters with a number of seasons, each season lasting about 10 weeks each. Every season introduces an exclusive set of cosmetic items that can be obtained or purchased. ( I assume this is how Fortnite makes all their money!).
Fortnite Party Ideas
If you are planning a Fortnite birthday party, check out our ideas for Fortnite party supplies , birthday cakes, party decor, party games, decorations, and party favors. Everything you need to create an amazing Fortnite event!
I can't wait to see what amazing events you put together with these Fortnite Birthday party ideas. Be sure to tag us on your social pages so we can see the results!
If you have any additional Fortnite ideas that we should add to our lists, let me know in the comments below or send me a message on social media.