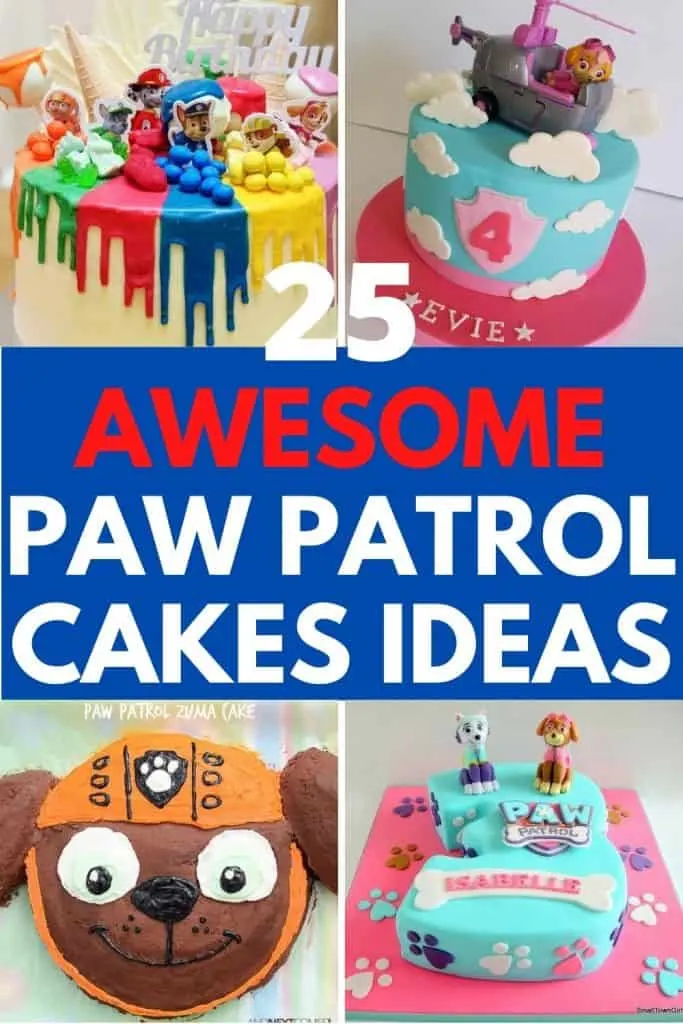 Do you kids love Paw Patrol? Are you planning a Paw Patrol Birthday party? Boy and girls love the mighty pups in Paw Patrol and that makes it a great birthday party theme for kids. If you are looking for Paw Patrol birthday cake inspiration, then you've come to the right place! Check out these fun Paw Patrol cake ideas and tutorials to get ready for your event. Whether you're looking for a paw patrol cake for a boy or girl, there's something on this list that will make sure your mighty pups are ready to go, go, go.
As you look at all of these amazing cake options, remember "no job is too big, no pup is too small".
Paw Patrol Cake Ideas
Do your kids love Paw Patrol? Are you planning a Paw Patrol Party? Get ideas for your Paw Patrol cake with recipes and tutorials to make Paw Patrol cake for girls and boys.
Photo Credit: countryandvictoriantimes.com
This dog bone-shaped cake is made by using three eight-inch circle cakes and one 9 by 13-inch cake. The cake is covered with buttercream and decorated with the Pawpatrol logo. If you are not confident in your cake decorating, you could use a could print the Pawpatrol logo on cardstock on top of the car and peel it off when it is time to eat.
Photo Credit: cookiescupcakesandcardio.com
Photo Credit: www.pinterest.com
This simple paw print cake is done with a combination of a single round cake and cupcakes all covered in buttercream frosting. A simple design that is perfect for beginners!
Photo Credit: frogprincepaperie.com
If you are short on time then this cake is for you. Simply add some smartie paw prints around the outside of a grocery store cake and add a paper cake topper. You could also just place one of your child's paw patrol cakes on the top and it would look amazing.
Photo Credit: www.pinterest.com
A colorful collection of pups in this drip cake.
Photo Credit: lifeasageorgiabell.wordpress.com
PAW Patrol, to the Lookout! This fun pull-apart cake used the Paw Patrol Tower Toy and cupcakes covered in buttercream to make up the play area in front of the tower.
Paw Patrol Character Cakes
If your child has a favorite Paw Patrol Character, then these ideas are for you. These are some of cake ideas for each of the characters.
Note - many of these ideas can be easily replicated for other characters by changing the colors or stencil etc.
Photo Credit: jessbakes.net
This cute Skye cake is done with a Fondant icing for the sky and clouds and placing a Skye figurine on the top of the cake. Using a toy on the top of the cake can be a great option as the birthday boy or girl can keep it as a special keepsake from the big day.
Photo Credit: www.pinterest.com
I'm fired up with this Marshall cake. The figure on the top can be handmade or done with a Marshall toy or alternatively, you can purchase a premade Marshall Figure. I'm fired up! If this cake is too large for your party, just make one tier, they would both look great on their own.
Photo Credit: www.pinterest.com
Rubble cakes are by far the easiest to do, perfection is in the imperfection with this Paw Patrol construction cake! All you need to do to achieve this look is to get a cake (store-bought, bakery, cake mix or homemade will do), frost the top with chocolate buttercream for the dirt and cover the sides with kit kat bars. Using a large cake board is recommended to make room for all the candy rubble is pushing.
Photo Credit: www.pinterest.com
Another great example of an under-construction rubble cake.
Photo Credit: www.pinterest.com
An Everest cake is perfect for a winter celebration.
Photo Credit: www.andnextcomesl.com
This buttercream Zuma Face Cake is sure to please any Zuma fans.
Photo Credit: www.pinterest.com
This cute green rocky cake includes some fun tools for the mighty pup to use on his next rescue mission. "Green means go!", "Don't lose it, reuse it!"
Photo Credit: www.flickr.com
Number cakes are always popular and this fondant topped cake is a great example of how your can use a number with your Paw Patrol theme.
Paw Patrol Cake Supplies
If you are ready to take on a Paw Patrol cake, check out this list for all of your Paw Patrol Cake Making Supplies.
The easiest way to decorate your cake is to use a toy or pre-made cake topper. This set of 13 gives you all of the pups, Ryder and the Mayor!
Photo Credit: www.etsy.com
This Pawprint cutter set will help enable you to easily create fondant pup prints for the top or the side of your cake.
Photo Credit: www.etsy.com
Many of the cakes we looked at today used the Paw Patrol logo as a centerpiece. This cookie cutter will allow you to easily achieve this look!
Photo Credit: www.etsy.com
This sparkling Skye cake topper is perfect a homemade or store-bought cake.
Photo Credit: www.etsy.com
Another Edible image, this one of Skye and Everest, looks great on the side of a stacked cake. Alternatively, it could also be used to the top of the cake.
This Wilton cake pan is a simple option for creating a paw print cake.
Photo Credit: www.etsy.com
If you want the look of a fondant cake topper but don't have the time or skill to make it yourself, considering purchasing one premade from Etsy.
Photo Credit: www.etsy.com
Another option for creating your cake toppers is to use this silicone mold.
Easy Paw Patrol Cake Tutorials
Watch this tutorial for any easy Paw Patrol cake for beginner bakers.
Paw Patrol Fondant Cake Tutorial
Watch this tutorial to see how you can make this amazing cake including how you can create each of the mighty pups in fondant.
More Paw Patrol Party Ideas
There's tons of fun Paw Patrol inspiration out there for games, Cupcakes, party favors, decorations, puppy inspired food, and more!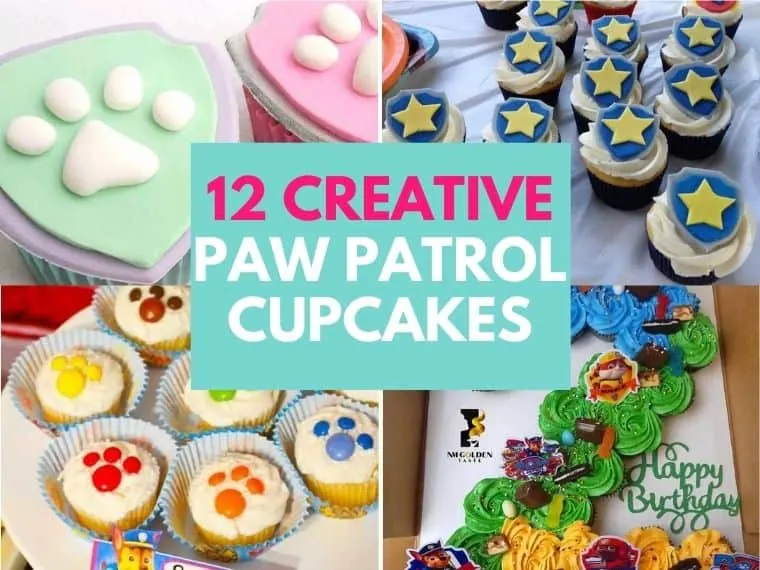 Yelp for Help
Good luck with your cake creating. If you run into any trouble, just yelp for help!
Similar Posts: