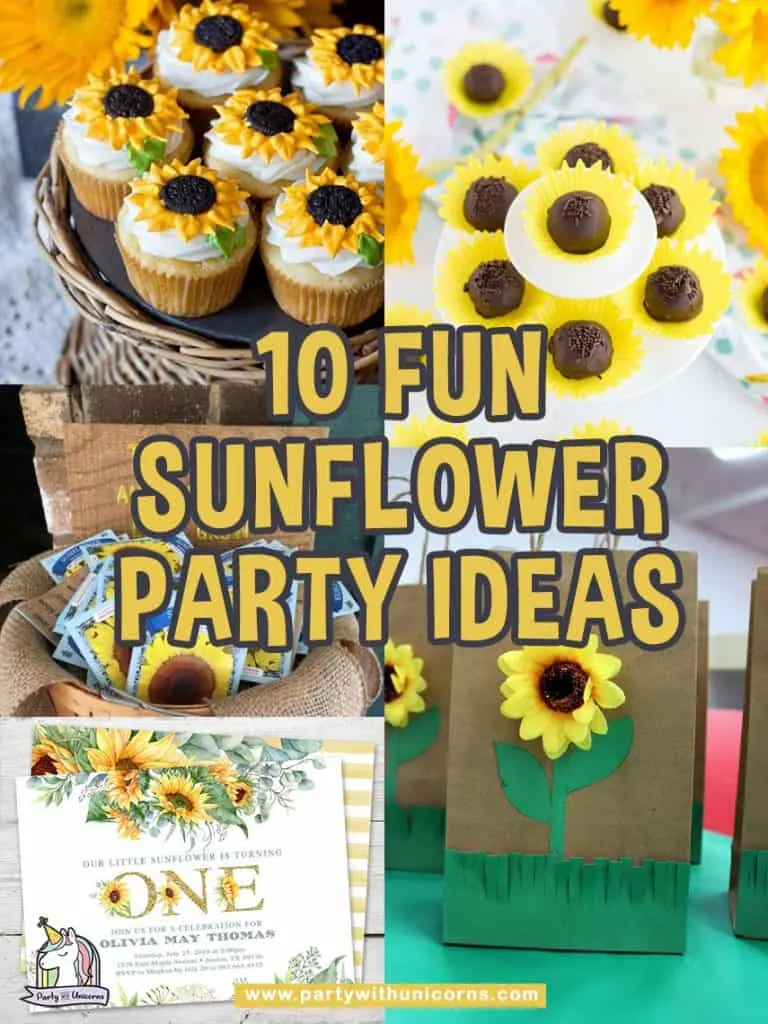 Sunflowers are among the most wonderful flowers. They are bright and cheerful to look at. If you are a regular reader of this blog then you will already know, I love Sunflowers. Today I have a list of 10 fun Sunflower party ideas to share with you.
Free Sunflower Party Supplies
Before we get to the list, I wanted to let you know that I have recently created some free Sunflower party supplies that you can use at your event. Download our free Sunflower Party Printables and Sunflower Favor Box template to get your party planning started.
Sunflower is such a wonderful party theme. It's full of color, life, and simple beauty. If you are considering a sunflower party then check out these fun ideas to get your planning started.
10 Fun Sunflower Party Ideas
Fun Sunflower Party Ideas to do for your little girl's party
Photo Credit: www.etsy.com
Start your Sunflower party planning by picking a perfect party invitation. This Sunflower themed party invitation from Etsy has a stunning design that I personally love!
Photo Credit: ginaccreates.com
Another decoration idea is this DIY Paper Sunflower. If you love crafting and still have a lot of time to do DIY party decors, then this free paper sunflower template is perfect for you. You can put this decor anywhere you want.
Photo Credit: www.madetobeamomma.com
Let's go to the party dessert ideas. These Sunflower bonbons are top of my list! Besides the fact that bonbons are super easy to make, it looks super cute! So this dessert is a must-have if you want a sunflower themed party.
Photo Credit: myrecipetreasures.com
Forget about the regular cake. This Sunflower Twinkie Cake will do its thing! Look how huge and classy this cake is. Your guests will surely love it as much as you do.
Photo Credit: www.pinterest.ph
If you have a cake, don't forget about the cupcakes! This sunflower cupcakes are the perfect addition to your sunflower themed party table.
Photo Credit: www.pinterest.ph
Drinks, anyone? This Sunshine Juice drink is just a jar of lemonade dressed up like a sunflower and it looks so fabulous. Don't forget to make this during your Sunflower themed party for your guests to enjoy.
Photo Credit: www.instagram.com
Kids love chocolate fudge cup! If you want to add this to your food menu, you can print out a sunflower topper and put it on top of the cup to have a pot of sunflower dessert. Such a witty idea.
Photo Credit: http://makeitmine.ru
If you want to give a party favor that your guests will enjoy for a long time, why not give them a pack of sunflower seeds that they can plant in their own garden? Let your guest watch a real sunflower grow and it will remind them how wonderful the sunflower party you have thrown.
Photo Credit: www.pinterest.ph
For a party favor bag, you can make this cute sunflower favor bag. It's just a regular kraft paper bag decorated with cut out grass and leaves, and a faux sunflower.
And there you have it! 10 fun Sunflower party ideas that will definitely help you out in planning your sunflower party for your little one.
Similar Posts: