Planning a Galaxy party for a birthday celebration for a girl or boy? This list of fun galaxy party ideas will surely help you in party planning your upcoming event.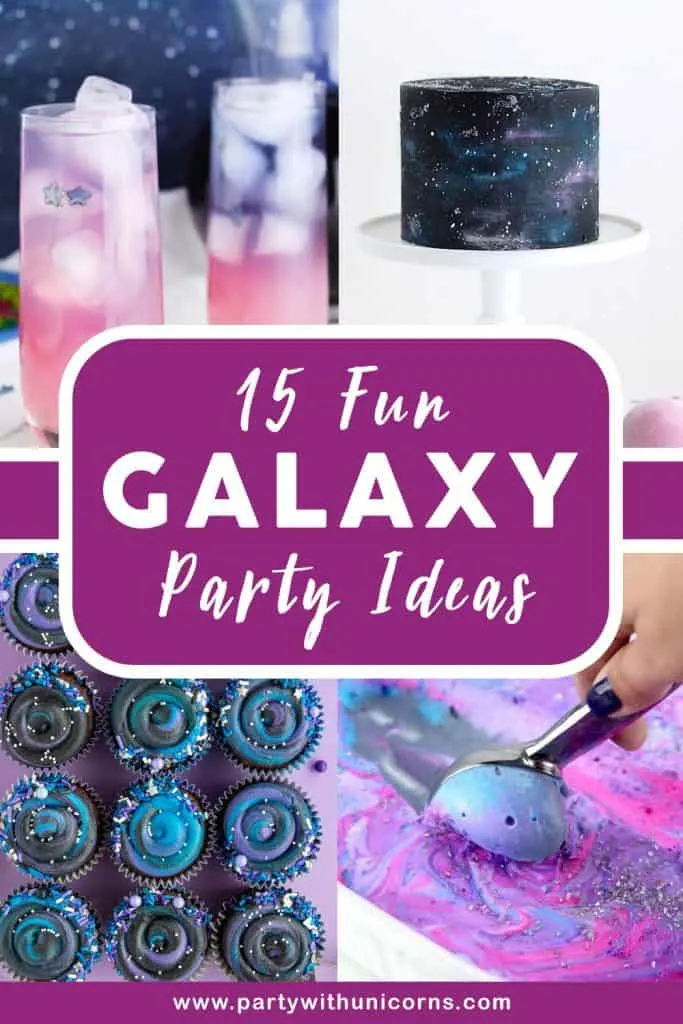 Today, I want to share a list of Galaxy party ideas for you to get inspiration from if you are planning to use this theme at a birthday party for your kid. Galaxy-themed birthday parties are just cool that even if you have a teenager in the family, they will love to use it as a party theme!
15 Fun Galaxy Party Ideas
Party ideas if you wish to throw a Galaxy-themed birthday bash!
Other party decors that you may need are this set of Galaxy themed balloons I saw on Amazon. Decorate your space with these and it will surely scream GALACTIC!
For your party tableware, I saw this Galaxy themed party tableware set on Amazon which is super cute and perfect! It includes plates, paper cups, utensils, and table napkins. It will surely match your theme and your party set-up will look more awesome!
Photo Credit: themondaybox.com
Let's now proceed to food ideas that you can prepare for a Galaxy-themed party. First on the list is this Galaxy Brownies. You can make one of these yummy Galaxy brownies by following The Monday Box's recipe!
Photo Credit: someofthisandthat.com
Another Galaxy inspired recipe you can make at home is this Galaxy Ice Cream! Who doesn't like ice cream at a party? No one! Your kids will love this and the guests will surely do, too. Follow 'Some of This & That' recipe to achieve this Galaxy ice cream.
Photo Credit: blog.shopsweetsandtreats.com
If you like baking too, why not just make your own party cupcakes? Another tutorial I found is this Chocolate Swirl Galaxy Cupcakes by Sweets & Treats. It's an out of this world tutorial that you should try!
Photo Credit: kidsactivitiesblog.com
Another out of this world recipe we have on the list is this Galaxy Sugar Cookies by Kids Activities Blog. It's a fun way to let your kids help you out in the kitchen while preparing for your Galaxy party!
Photo Credit: amagicalmess.com
Next on the list is this magical snack which is very easy to prepare – galaxy popcorn. It's a recipe by A Magical Mess that I found and would love to try out with my kids. I'm pretty sure it will be a fantastic addition to a Galaxy party. The guests will love this candied popcorn so much.
Photo Credit: thesoccermomblog.com
Our last galaxy-themed food idea on this list is this Galaxy Cake Pops recipe by The Soccer Mom. Did I mention it's a no-bake recipe? Well, yes it is! Which means it makes this recipe easier to prepare. I personally love creating cake pops at birthday parties since it's delicious and looks classy.
Photo Credit: www.inthekidskitchen.com
Now let's move to our party drinks, shall we? Here's a perfect drink to prepare for a Galaxy-themed party. This Galaxy lemonade recipe by In the Kids Kitchen is an easy go-to drink to prepare that will be a hit to your guests during the party. Not only does it will taste delicious, but it looks absolutely amazing!
Photo Credit: sugarandsparrow.com
Since I've been listing food and drink ideas for a Galaxy party that you can make at home using their respective recipes, why not go and make a homemade cake as well? I found this Galaxy Cake recipe by Sugar and Sparrow and I'm super into it! Since it includes beautifying a boring regular cake, no need to worry if you're not a baker like me!
Photo Credit: diy.buycontentnow.com
While thinking of a good Galaxy Party activity idea, I stumbled upon this cute and easy Elmer's Galaxy Slime tutorial. I can't believe that you can actually make an amazing-looking slime with just simple supplies. Supplies that you can find at your local school/craft supplies store! So I think for a Galaxy party, why not let the kids create their own slime to make them entertained. They will totally enjoy it!
If you want to give away stuff beside edible goodies, this Galaxy Space Slap Bracelet I found on Amazon is a perfect idea.
And that's it! I hope this list somehow helps you prepare and be equipped with planning a Galaxy-themed birthday party for your kiddo. If you have any other themed parties in mind, don't hesitate to leave us a comment and we would love to cover it for you! Happy party planning everyone.
Similar Posts: