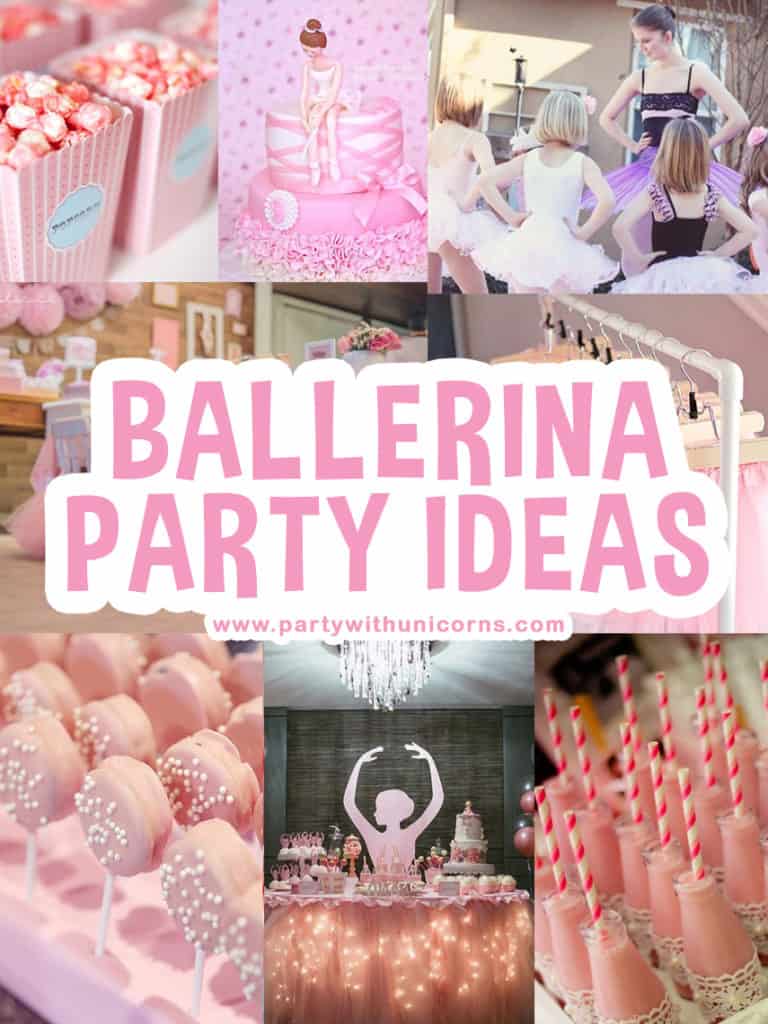 We are back with another Ballerina-themed party post today! Today we are looking at Ballerina Party ideas. This post is a follow up to our recent Ballerina Invitations, Printables, and Ballerina Favor Boxes posts. If you are new to Party with Unicorns, be sure to check those post out and get some great Ballerina Party freebies!

If your child loves pink and loves to twirl, then a Ballerina party is a perfect choice. Here are some of the ideas I've come across planning my daughter's upcoming ballerina party.

Ballerina Party Invitations
One of the best things about a ballerina party is just how very cute it is for girls. If you are looking for some adorable invitation options, check these out: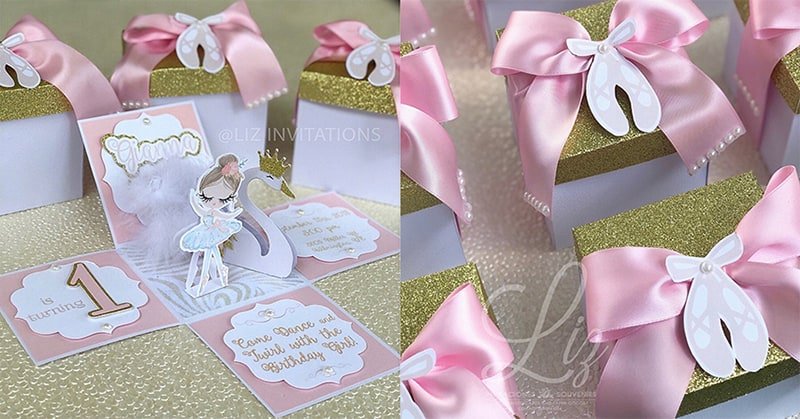 I personally love this Swan Lake Ballerina Invitation Exploding Box. It is so unique that your guests will get excited once they receive one!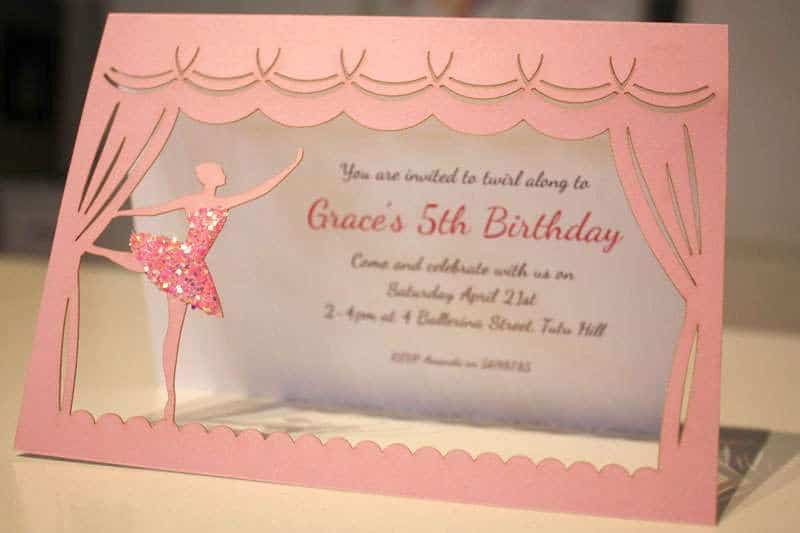 This Pink Ballerina Invitation with a die-cut cover is simple but looks stunning as a party invitation. It has the perfect touch of the Ballerina theme.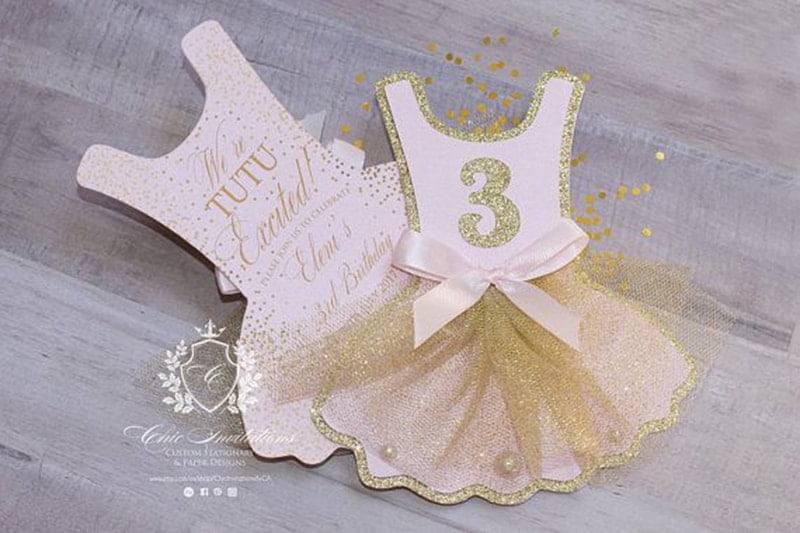 Another party invitation idea is this Pink & Gold Tutu Ballerina Invitation. A perfect design combination of pink and sparkle gold!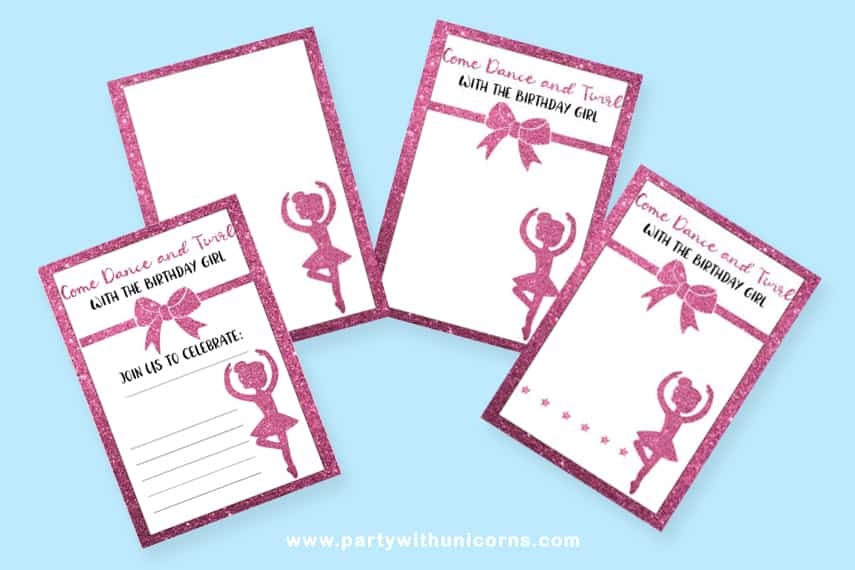 The list above are all elegant looking, but if you prefer a simple but stylish invitation to give to your guests, then you can always use our Free Ballerina Invitations!

Ballerina Party Decorations
To throw a magnificent Ballerina party, choosing the right party decorations is a must! Here are some Ballerina Party decoration ideas that you can get inspiration from and use it in your own Ballerina party:

Table Center Piece

A fun way to decorate your party tables is to add some cute centerpiece that fits the Ballerina theme. I found these two decorative Ballerina centerpiece that you can purchase on Etsy.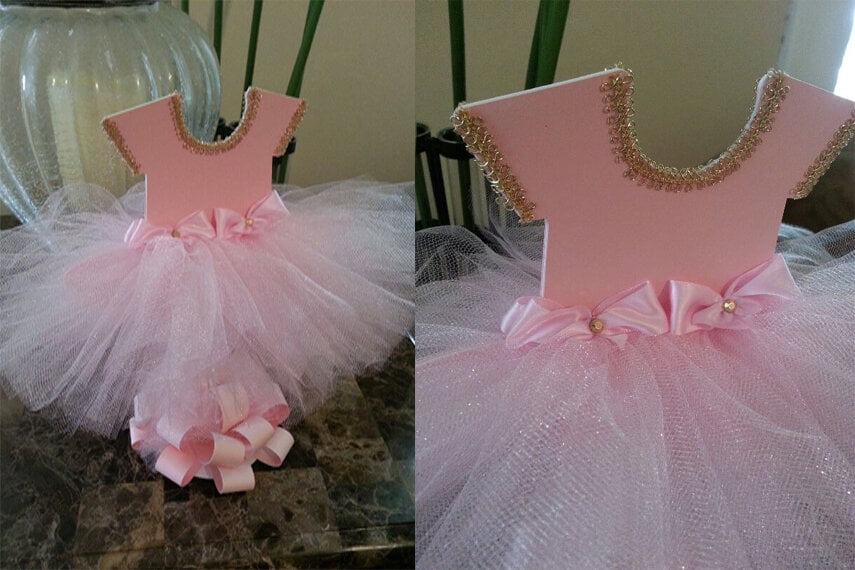 This Double-Sided Pink Tutu Dress Centerpiece will definitely add a beautiful accent to any Ballerina themed party tables. It's made of high-quality cardstock and pink tulle with some pink bows on top.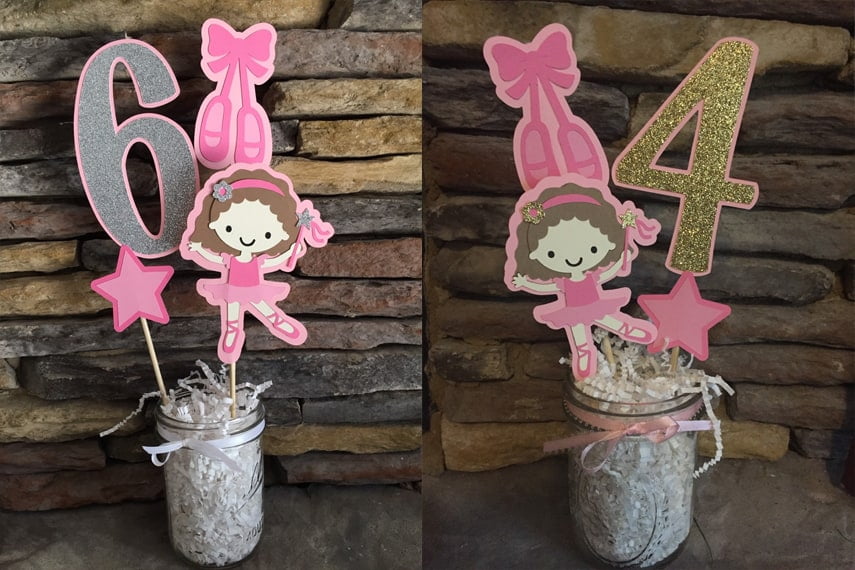 This cute Ballerina icon with number centerpiece will also give a fancy touch on your party tables. It's made of 65lb cardstock and you can even customize the colors if you wish to.
Table Skirting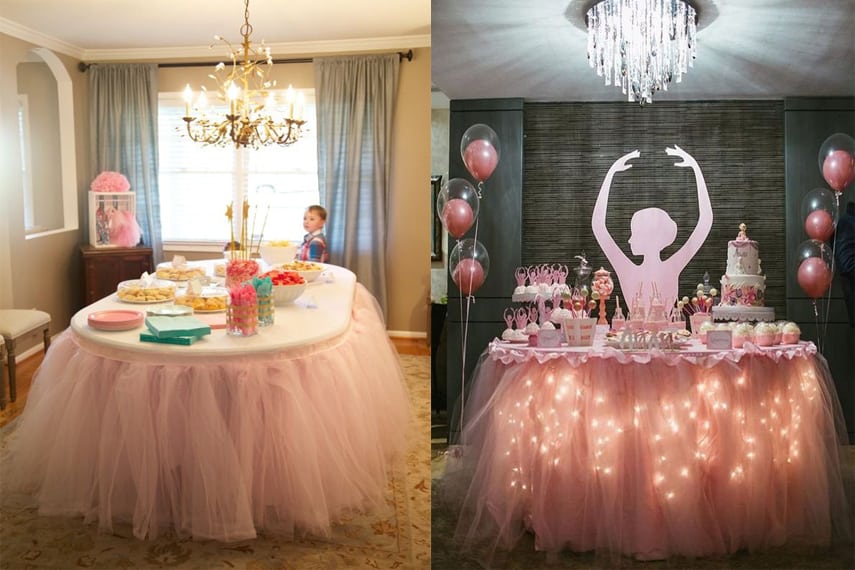 Another way to make your party table look amazing is to add some tulle skirting. Hide those table legs with pink tulle or cloth and you can also add some fairy lights underneath the tulle to create a stunning effect. I know my daughter will absolutely love this one. Although there is the risk she might spend most of the party hiding in the tulle!
Chair Skirting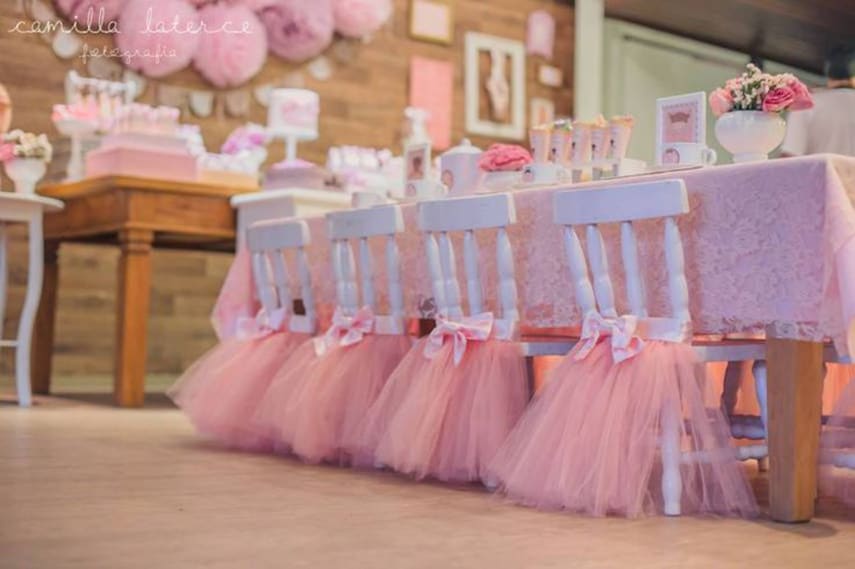 If you want to be extra with all the tulle going on in your Ballerina party, why not put a tutu skirting on each chair for your little ballerina guest? It's a nice touch to your party and it's also easy to create one! You can watch this tutorial video for reference.
Party Buntings

Besides decorating your party venue with pink balloons, you can also add some party buntings to give a more festive look to your party. I have found these party buntings on Etsy that looks elegant and will perfectly fit for a Ballerina themed party.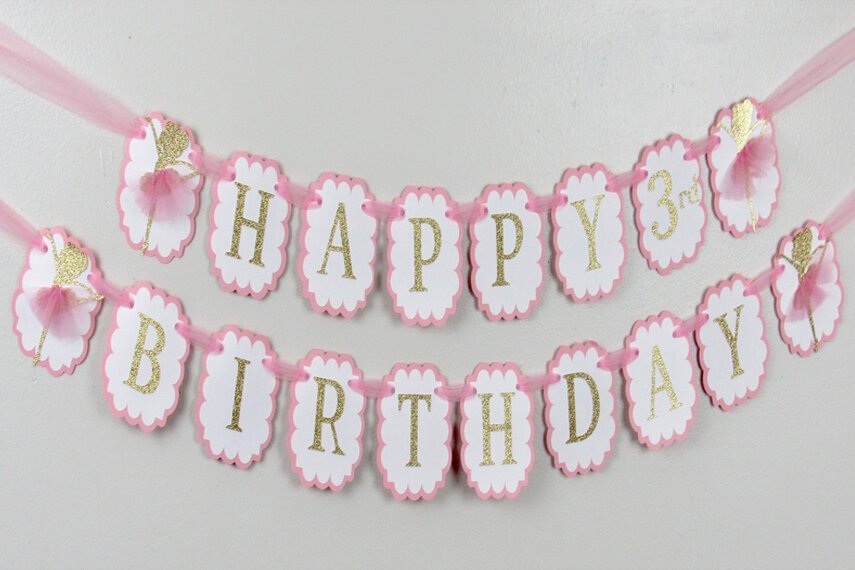 If you are throwing a birthday party for your child, then this Ballerina Birthday Buntings will be a good fit. It has sparkling letters with pink accent and a ribbon to serve as the bunting lace. How cute!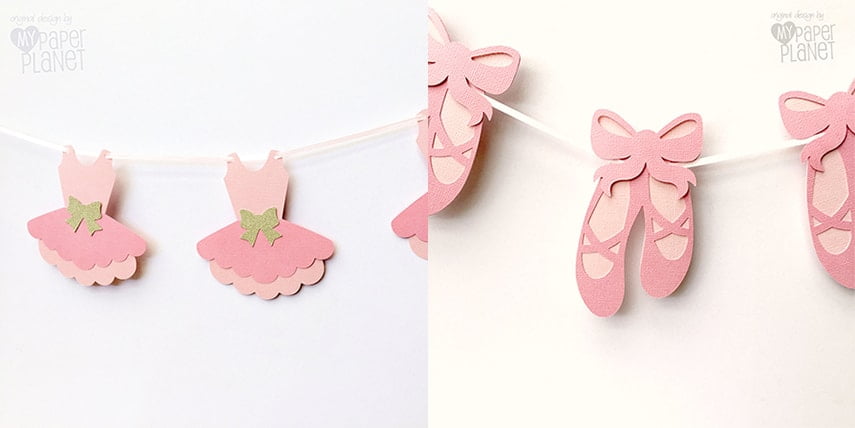 This cute set of Ballerina Tutu and Ballerina Shoe icon bunting will also be a good addition to a Ballerina party. You can also use this set of buntings even if you plan to throw a Christening party and a baby shower with a Ballerina theme.
Paper Rosette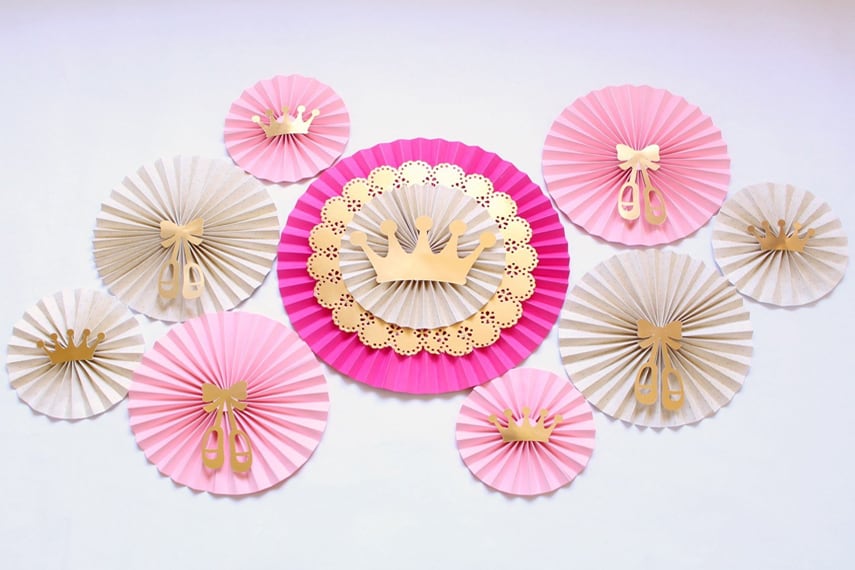 Another Ballerina party decor idea to add to your place is a paper rosette. It is a perfect accent for plain and boring walls! You can purchase this classy set of Ballerina themed Paper Rosette or you can make your own paper rosette by following this tutorial video.
Ballerina Party Cake
A party will not be complete without a cake on the table! Since you are throwing a Ballerina themed party, make sure the cake is pink and has a ballerina touch on it as well. Here are some cake design ideas to get inspiration from: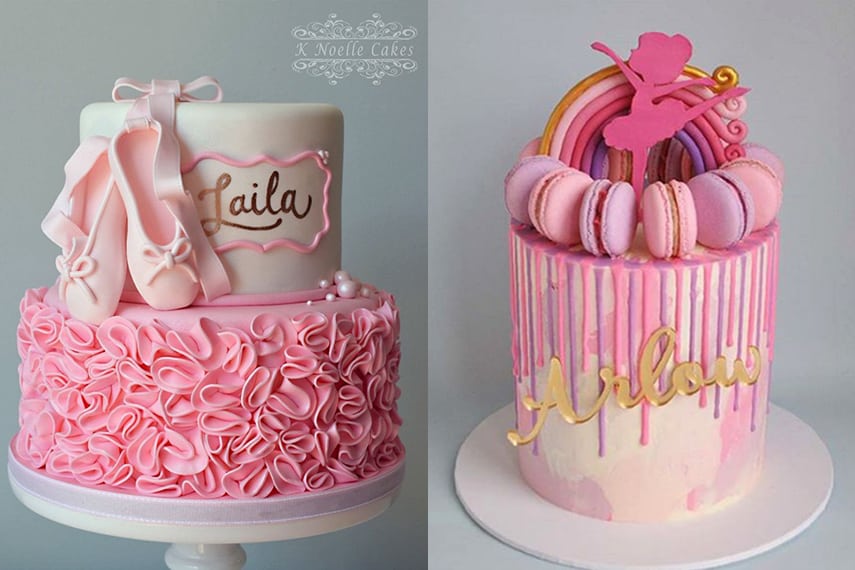 You can choose a cake design with a color combination of pink and white with a touch of Ballet shoe fondant and a ruffled accent. You can also opt to a drip cake design with some gold accent and macaroons on top!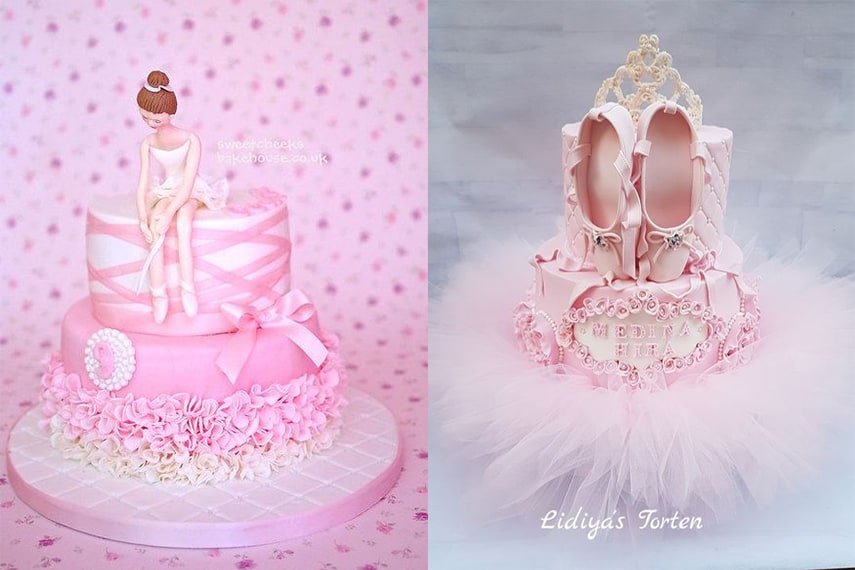 If you want to be a little bit fancier, then you can get inspiration from these cake designs from CakesDecor.
Ballerina Party Dessert Table
If you decide to put together a dessert table for your guests to grab some yummy treats then here are some party treats ideas that are a perfect match for Ballerina themed party:
Pink Oreo Pops & Pink Popcorn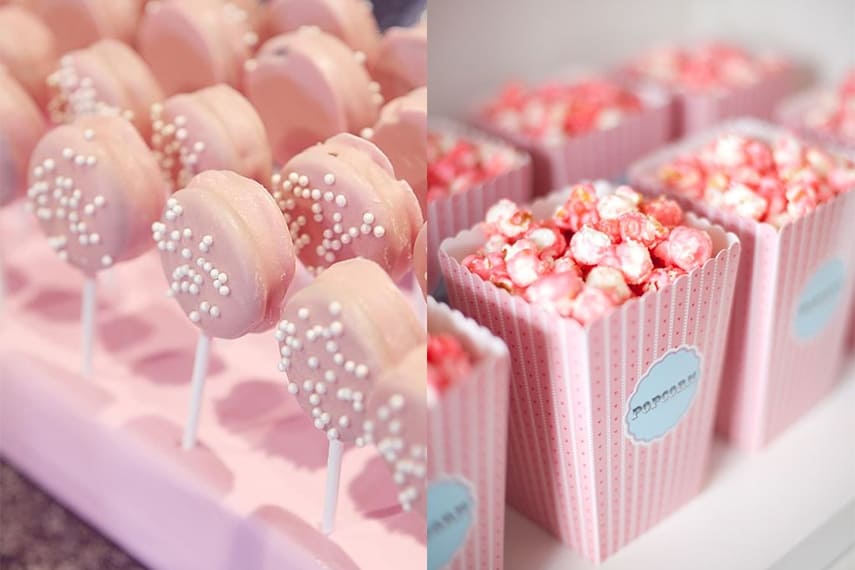 Pretzel Sticks Dipped in Pink Chocolate with Sprinkles & Pink Panna Cotta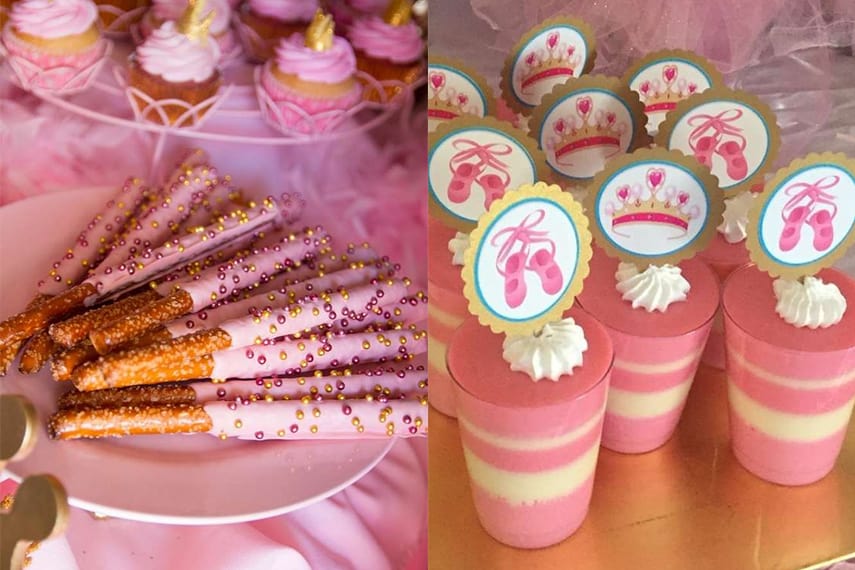 Pink Lollipop & Pink Cake Pops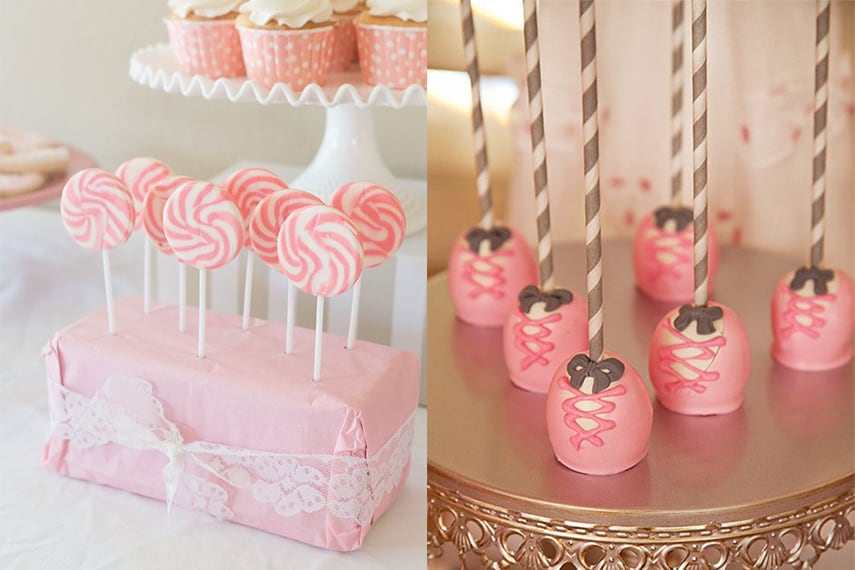 Pink Ballerina Cookies & Marshmallow Pops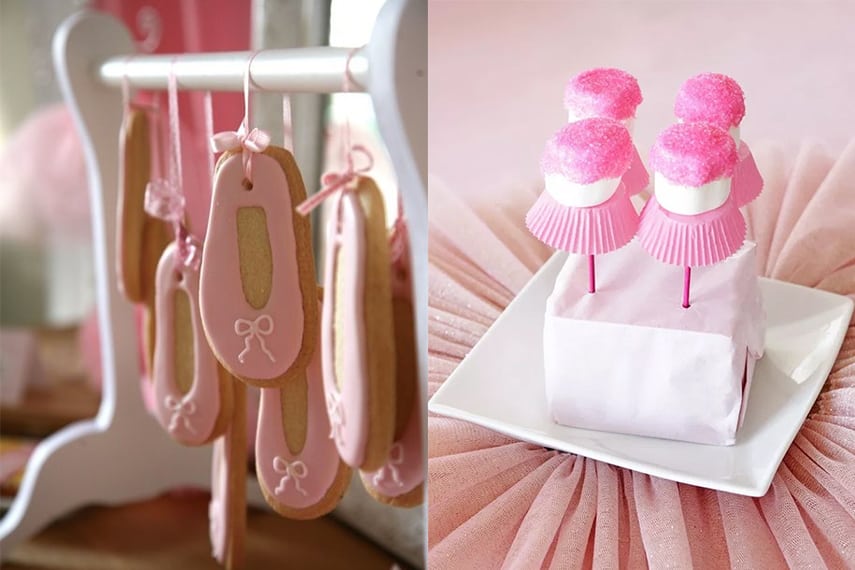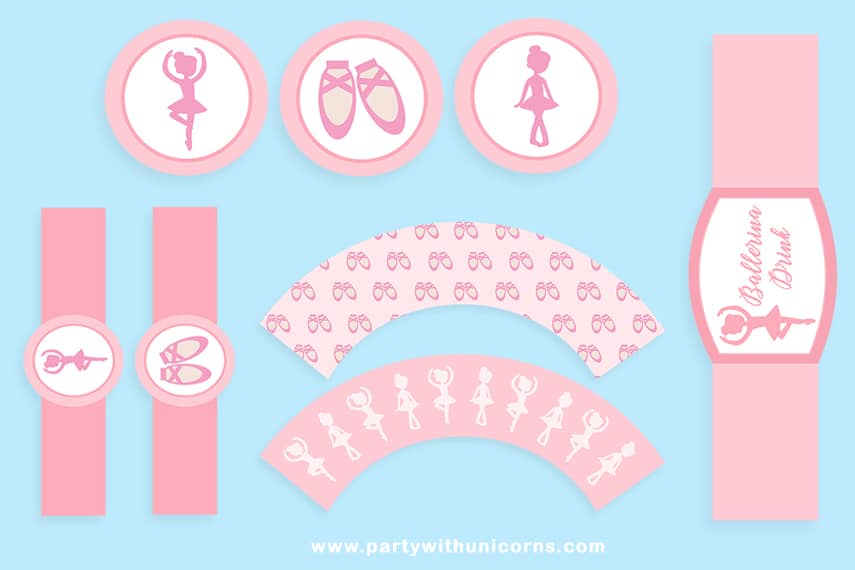 You can also use our free Ballerina Party Printable set for your cupcake toppers, wrappers, bottle labels, and more!
Ballerina Party Drinks
Since we are done with the treats ideas to serve, let's go with what drinks to prepare on a Ballerina themed party. Since Ballerina party is filled with pink, you can make some Pink lemonade and pink milk!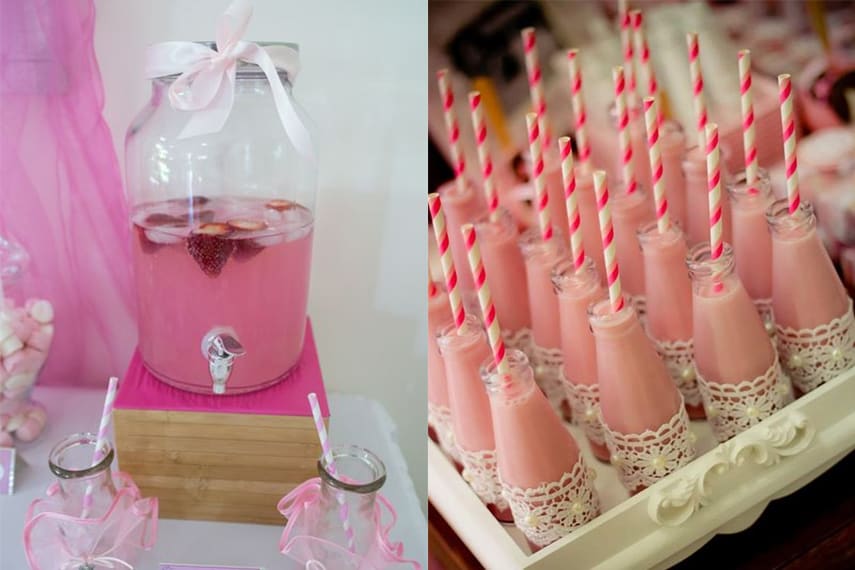 Ballerina Party Activities
To make sure your Ballerina party will be filled with fun and enjoyment, organize some party activities that your little ballerinas will enjoy. Here are some party activities ideas that are perfect for a Ballerina party:

Ballet Dance Tutorial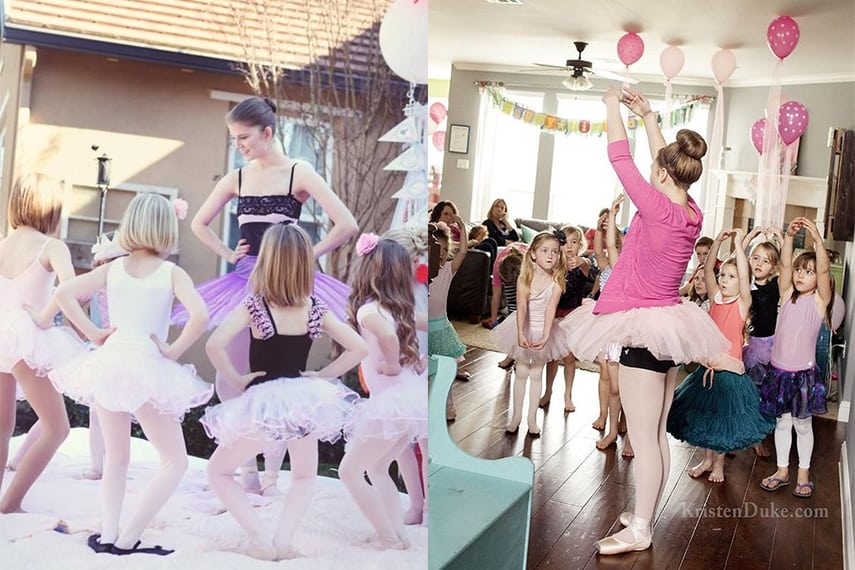 Invite someone who knows the basic of Ballet dance and let them teach your little guests how to properly spin like a Ballerina. You can also have a Ballet dance showdown if you want!

Ballerina Craft Activity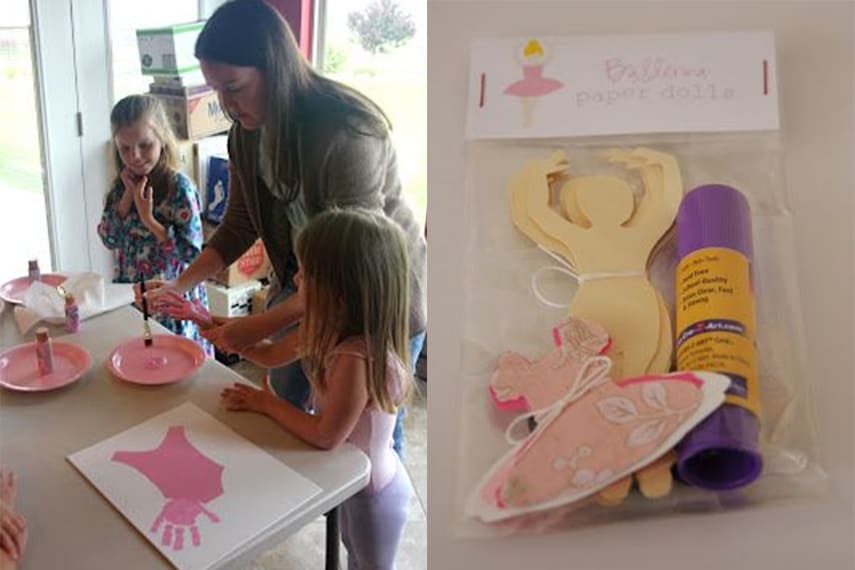 Next party activity that will surely be a hit to your little ballerina guests is to prepare some craft materials and let them design their own paper tutus or paper doll Ballerinas.
Ballerina Party Games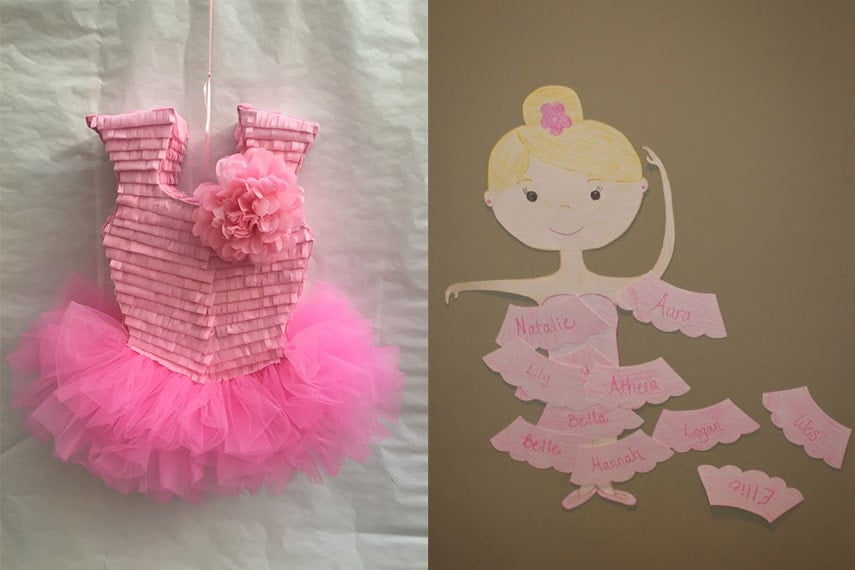 Every children's party has games to make the little guests build some confidence and teamwork (if it's a group game). Since we are having a Ballerina party, a perfect game are "Pin the Tutu" and the classic Piñata Game with a stunning Ballerina inspired piñata.
Party Photo Booth
To make the party even more fun, set up a mini photo booth for your guests! This Ballerina Face in the Hole photobooth is such a cute prop for a Ballerina party.

Ballerina Party Giveaways
As we are about to end this Ballerina party list idea, we will not forget about the party takeaway for your guests. There are a lot of Ballerina party favors that you can choose from. Some ideas are the following:

Tutu Skirts & Ballerina Bubble Bottles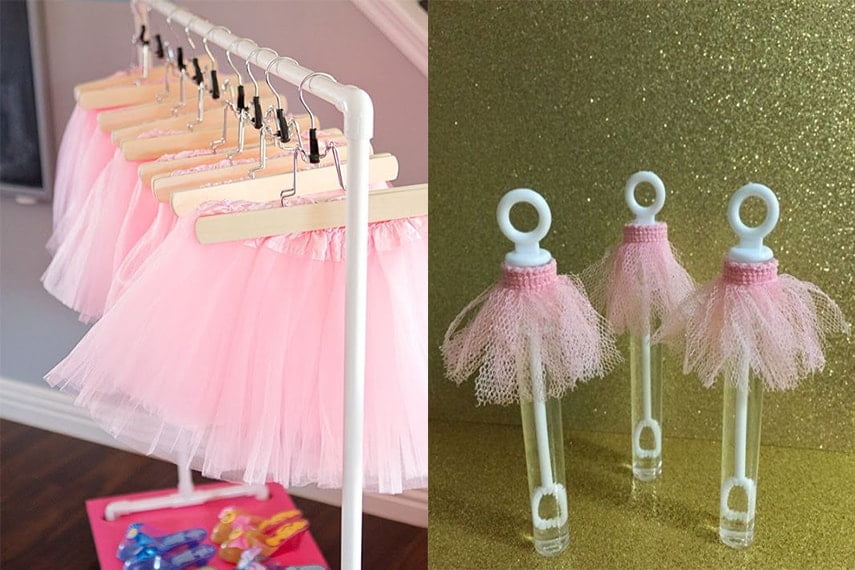 If you have enough time to DIY some tutus for all your little Ballerina guests, then it would be an amazing party giveaway for them to use at the party and take home. You can watch this tutorial on how to make an easy no-sew tutu for little girls. You can also add some tulle on each bubble bottles to make it like a standing Ballerinas. How cute!
If you are like me and don't have the capacity to be crafting multiple tutus while planning a party and trying to raise kids. Then fear not, you can get a set of 6 tutus from Amazon for a few dollars each. If you type in "Ballet Party" in an Amazon search you get over 5000 products!
Ballerina Party Favor Box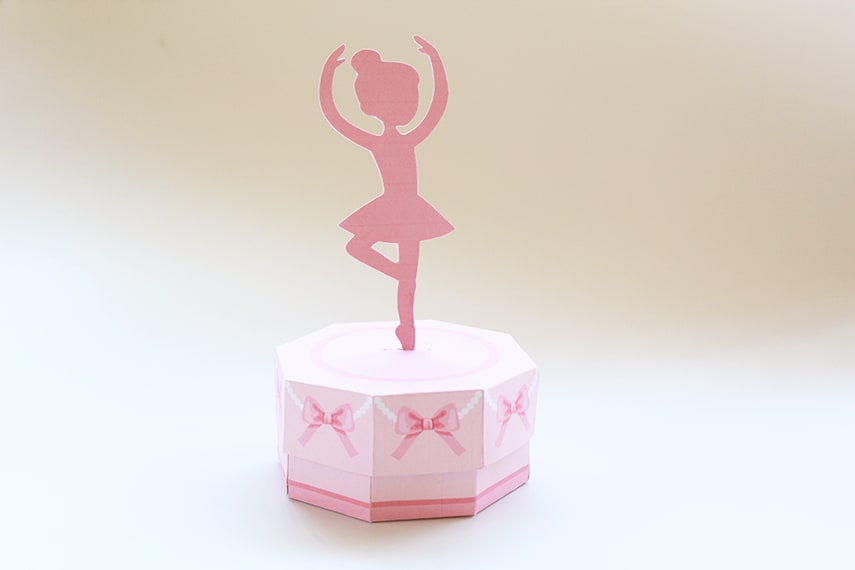 If you want to give away some sweet treats or small Ballerina toys, then you can make our very own Ballerina Party Favor Box. It will be a wonderful addition to the party!

Ballerina Thank You Cards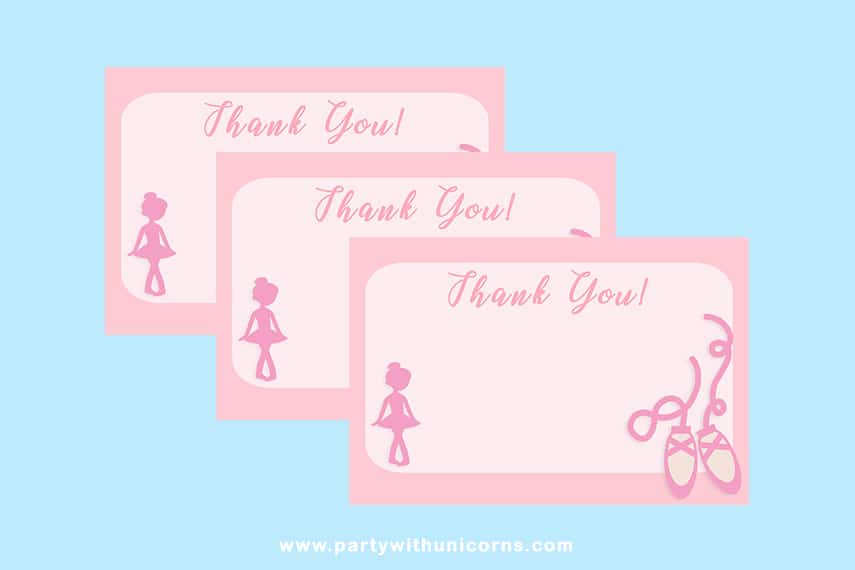 You can also download our free Ballerina Thank You Cards to give to your guests.

And that's it! I hope this Ballerina Party Ideas list will help you out in planning and making your Ballerina Party a success.
Let me know what other party theme ideas you want to see in this blog by leaving a comment.