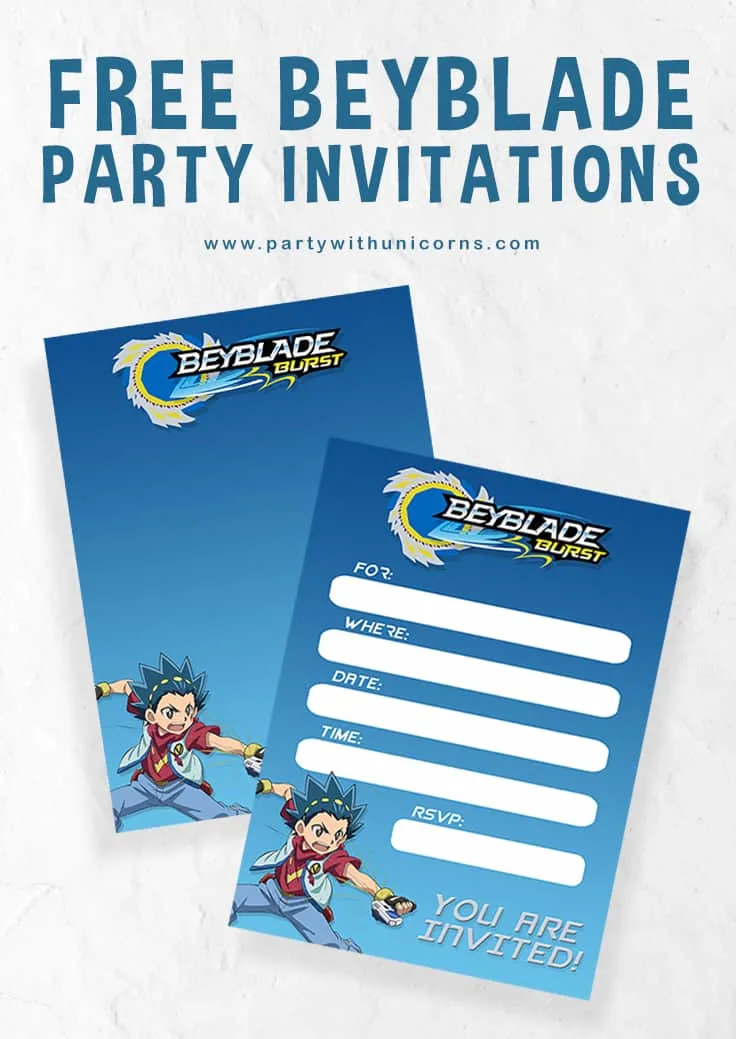 Volt Aoi and Valtryek win with a burst finish! As promised a couple of days ago, I am back today with some Beyblade birthday invitations. These invitations are perfect for anyone looking through Beyblade birthday party. There are 2 invitations available one that you can just print and then handwrite the details of the party and the other is one that you can customize online. If you like the ideas of customizing the invitation online, check out my details for how to customize your party invitation templates. Personally, I like to customize my invitation online as I have horrible handwriting and as I get older and spend more time online, it's only getting worse!
Download the Beyblade Invitations
To download the invitations, simply click the button below.
Beyblade Party Supplies
If you are planning a Beybl8tade party for your son or daughter you should also check out our recent post with some free Beyblade birthday printables. In that post, you can grab yourself a birthday banner and some thank you cards. Both items are free to download and you can print them from your home printer. I like sharing party printables because a great way to save a little cash when planning your party. It also gives the party a bit of a homemade feel with minimal effort required. It's also worth noting the party printables also match today's invitations and feature Volt, as he is my son's favorite character on Beyblades
Beyblade Party Ideas
I'm not quite done with my Beyblade party planning as I am still considering what we should do the party. I am thinking of maybe having a Beyblade tournament. I'm a bit torn on the idea of a party tournament as I know my son would love it, But, I fear it will just end in a bunch of tears for various guests and maybe the birthday boy himself? Maybe I'm wrong? I think I might put together a printable bracket and do a practice run at home with the kids to gauge the tears level. If it's over a 3 out of 10, then there is no way I am adding it to a crazy party environment.
What are you planning on doing to entertain the kids at your Beyblade party? I'd love to hear your party ideas and inspiration. Let me know in the comments below what your plans include.
Similar Posts: