Affiliate links may be sprinkled throughout the awesome, free content you see below. I'll receive a small commission if you purchase from my links (at no extra cost to you), which I'll totally blow on awesome things like adding more free content to this website. :)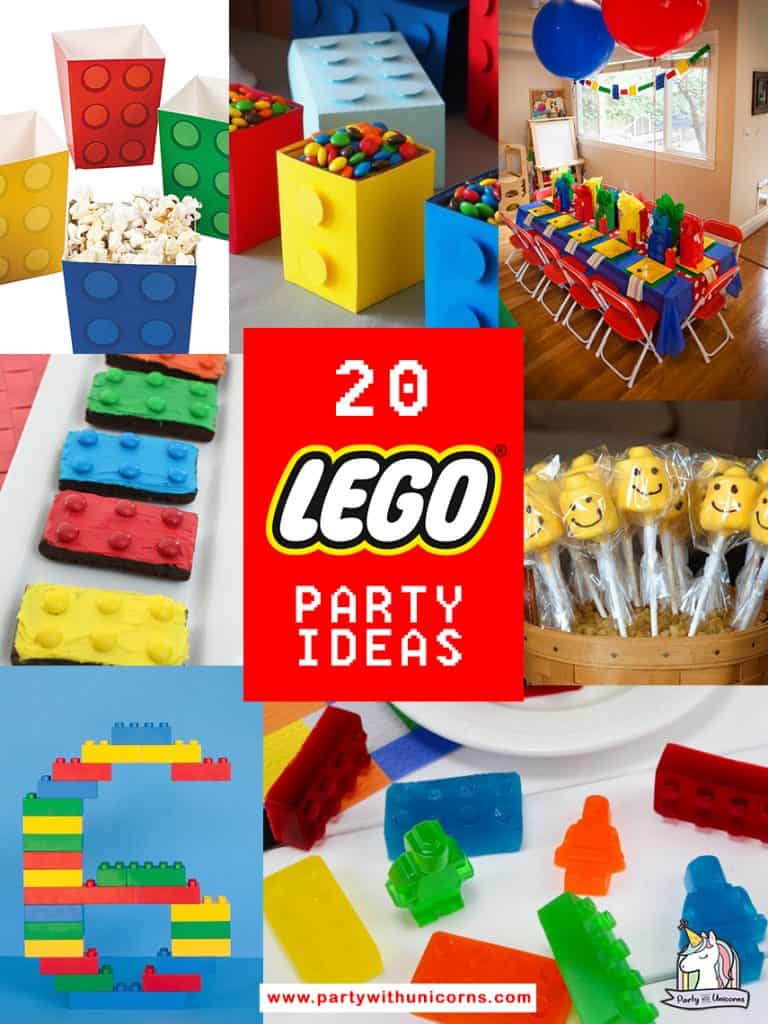 Lego parties never go out of style. My son and daughter have both been to a few over the years and they are always a hit. Lego-themed parties work for boys and girls and with the recent Lego movies, it is more popular than ever. To help you with your Lego Party planning, I have come up with a list of 20 fun Lego party ideas to share!
More Fun Lego Party Ideas
Before I get to the list, I just wanted to let you know that you can also download some free Lego Party Supplies that I have created. I have created a set of Free Lego Party Printables and some Free Lego Party Favor bags.
The Lego Party Printables set includes:
Lego Party invitations
Lego Party Chocolate Wrappers
Lego Birthday Banner
Lego Cupcake Toppers
Lego Cupcake Wrappers
Lego Water Bottle Wrappers
Lego Napkin Wrappers
Yes, you can get all of that completely free for being a reader of Party with Unicorns. Just head over to the Lego Party Printables post and check it out!
Okay, now here is my list of great Lego Party ideas.
20 Fun Lego Party Ideas
Fun party ideas to get inspiration from when throwing a Lego-themed party for your child,
And that's my list of 20 fun Lego party ideas. I hope you find some fun ideas to put into action at your event.