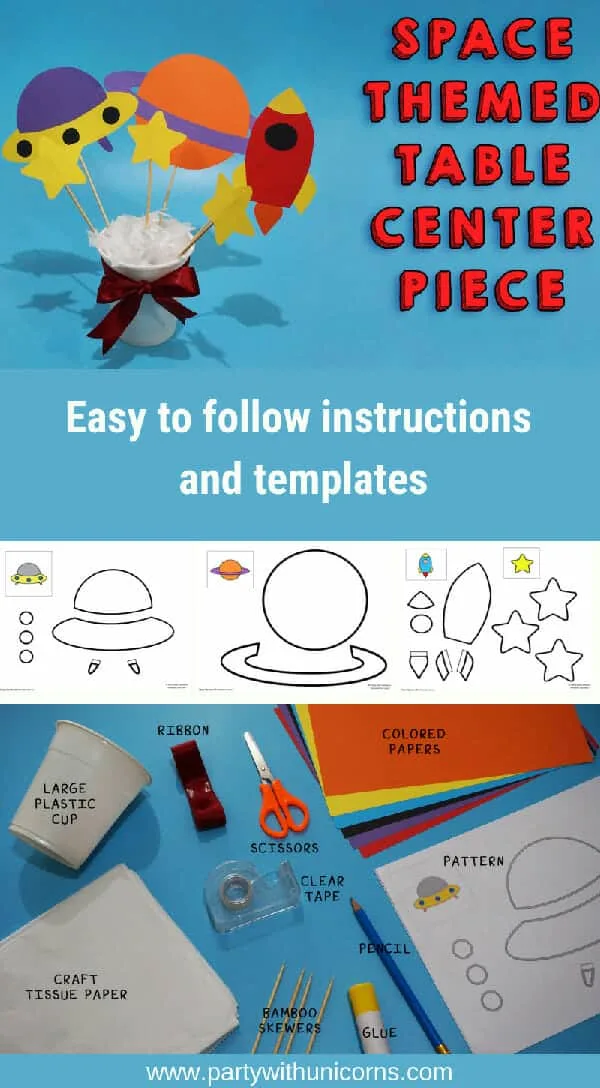 Are you planning to launch an out of this world space party for your kid? Today we are making a space-themed DIY project that will make your space party a more little more outta this world! For the purpose of this post, I have given the detailed instructions for creating space table decorations in the form of a centerpiece. I've picked this specific craft as getting all the figures to stand up straight can be a bit tricky without instructions.
Below the detailed centerpiece instructions, I have also provided a whole list of how the space-themed rocket ship, planet, UFO and star patterns can be used as space party decorations for the big day. Like most of our crafts, this is a kid-friendly one that can help to get the kids involved in crafting or planning for their party. Just be mindful of the bamboo skewers are they can be a bit dangerous until the pointy ends are removed.
Okay, are you Ready?
Space Party Decorations

The first thing we need to do is gather all our supplies, For this project, you are going to need: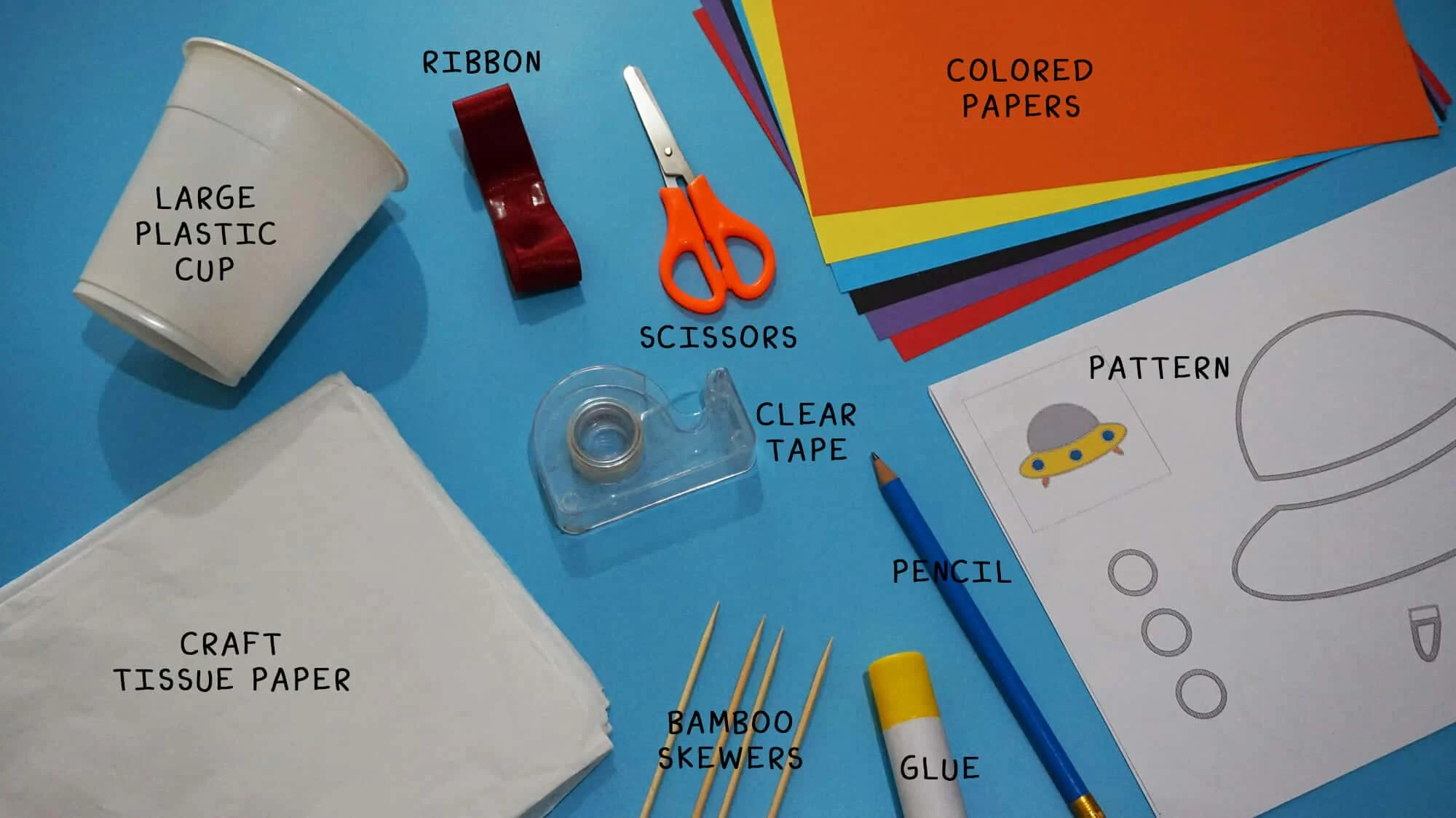 Colored paper
Printed pattern
Large plastic cup
Ribbon
Scissors
Clear tape
Pencil
Glue
Bamboo skewers
Craft tissue paper
For this project, I used colored paper, but some craft form would also work really well. If your local craft store has the lovely sparkling or glitter foam sheets, it would look super cute.
Steps
1. Download the free patterns and print them out.

2. Cut the pattern.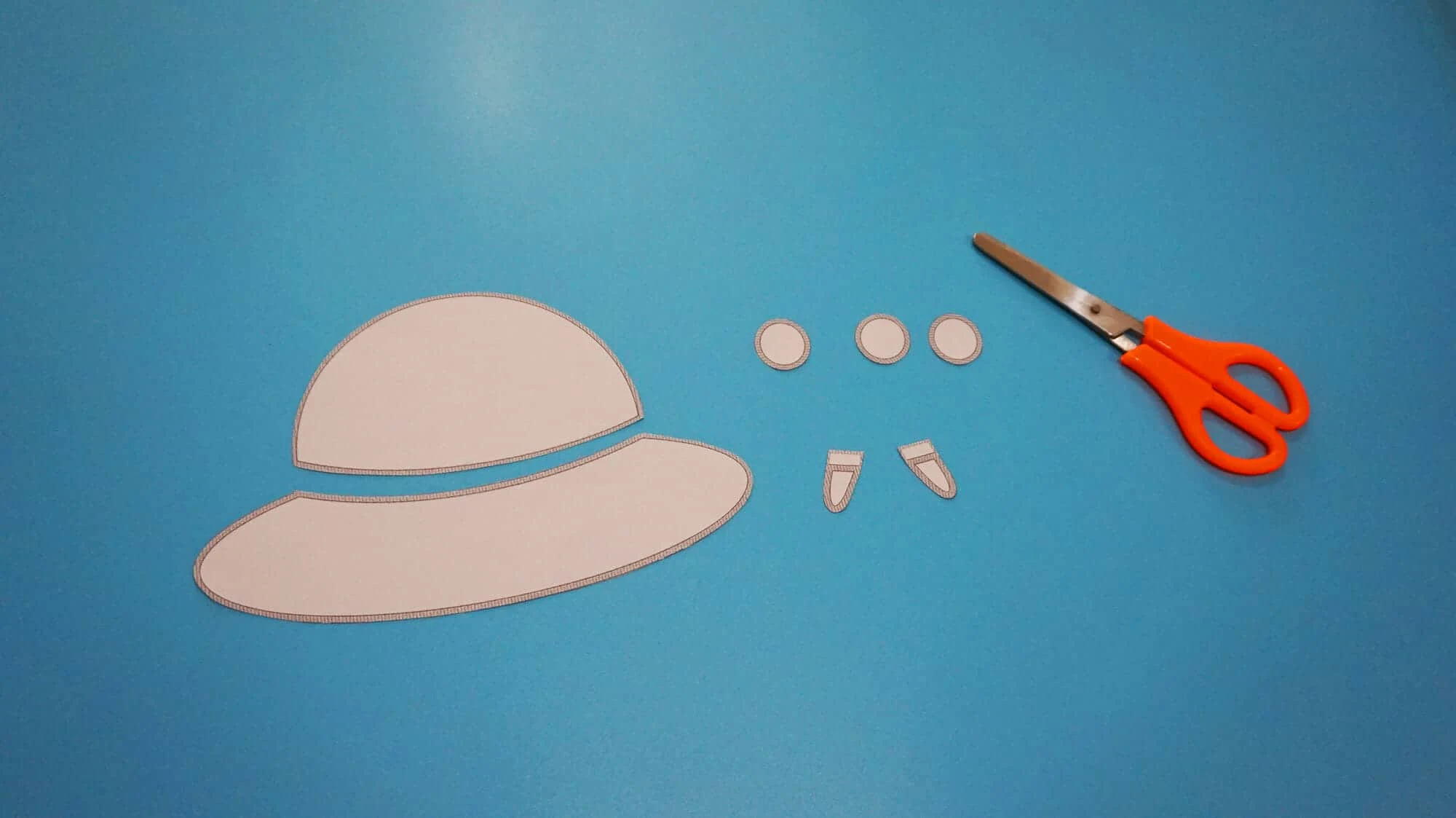 3. Trace the pattern into a colored paper. You can use different colors for each element to make the patterns more colorful.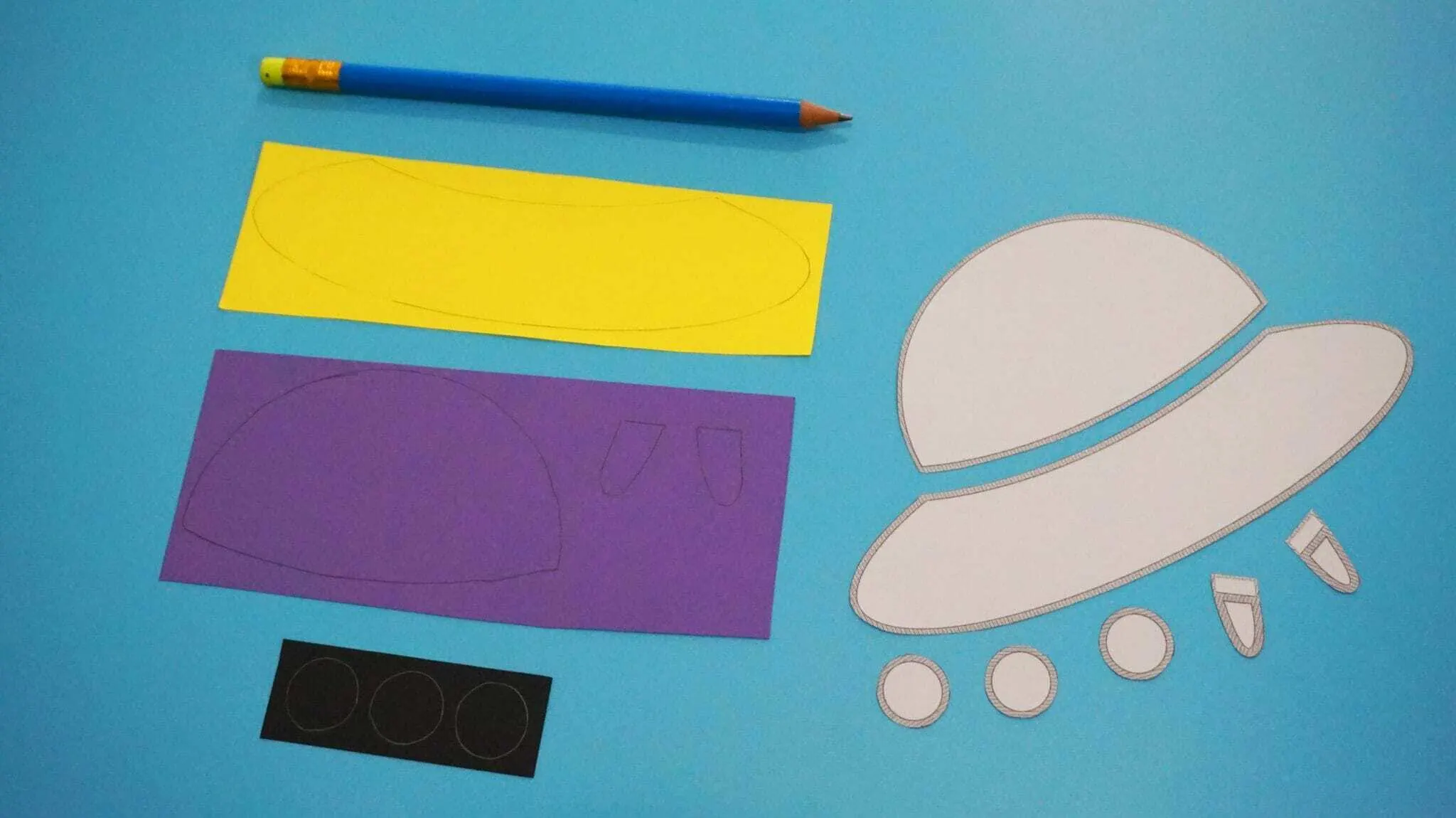 4. Cut it out.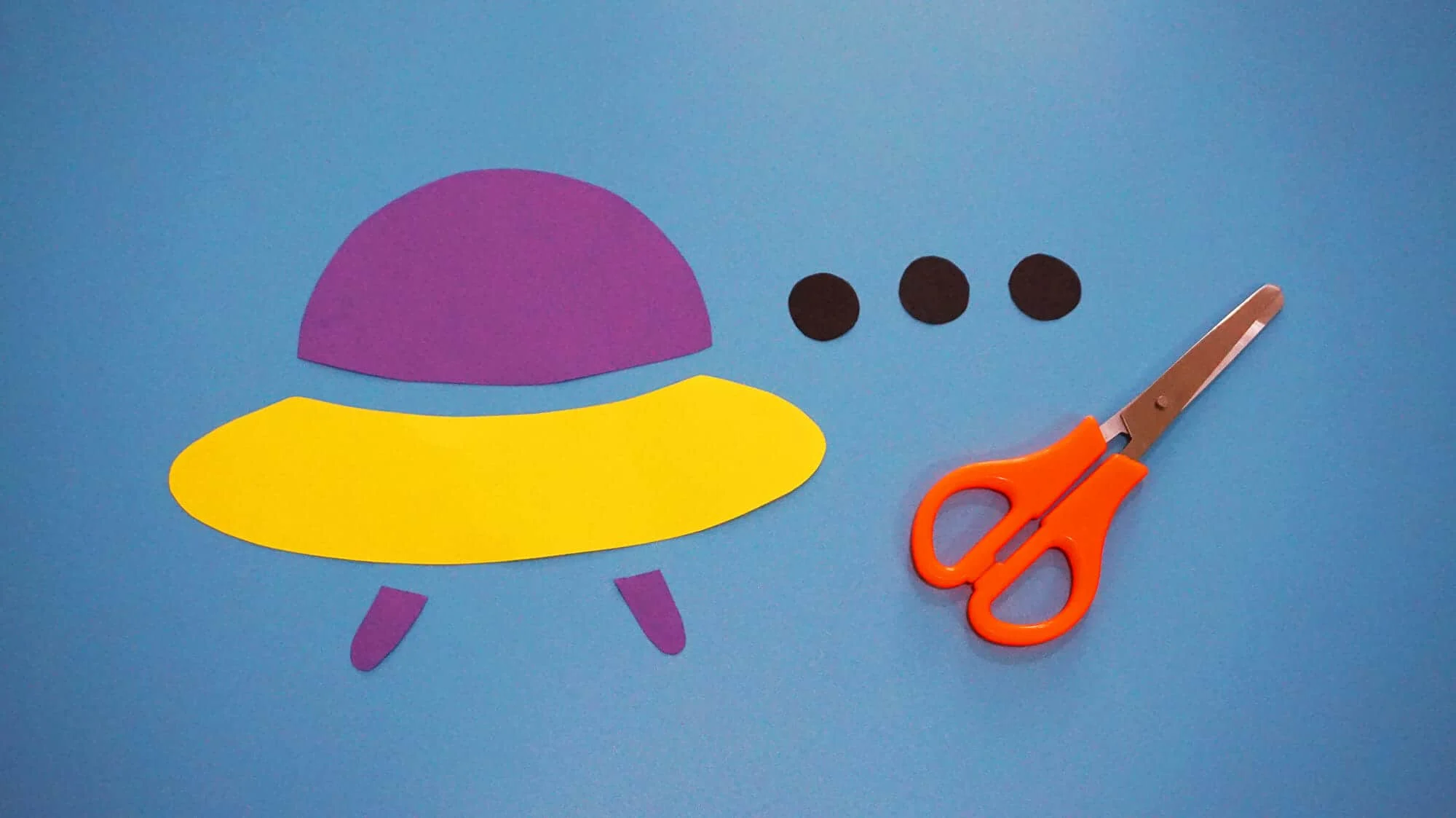 5. Glue the patterns altogether and do the same step to the other patterns to create different space-themed shapes.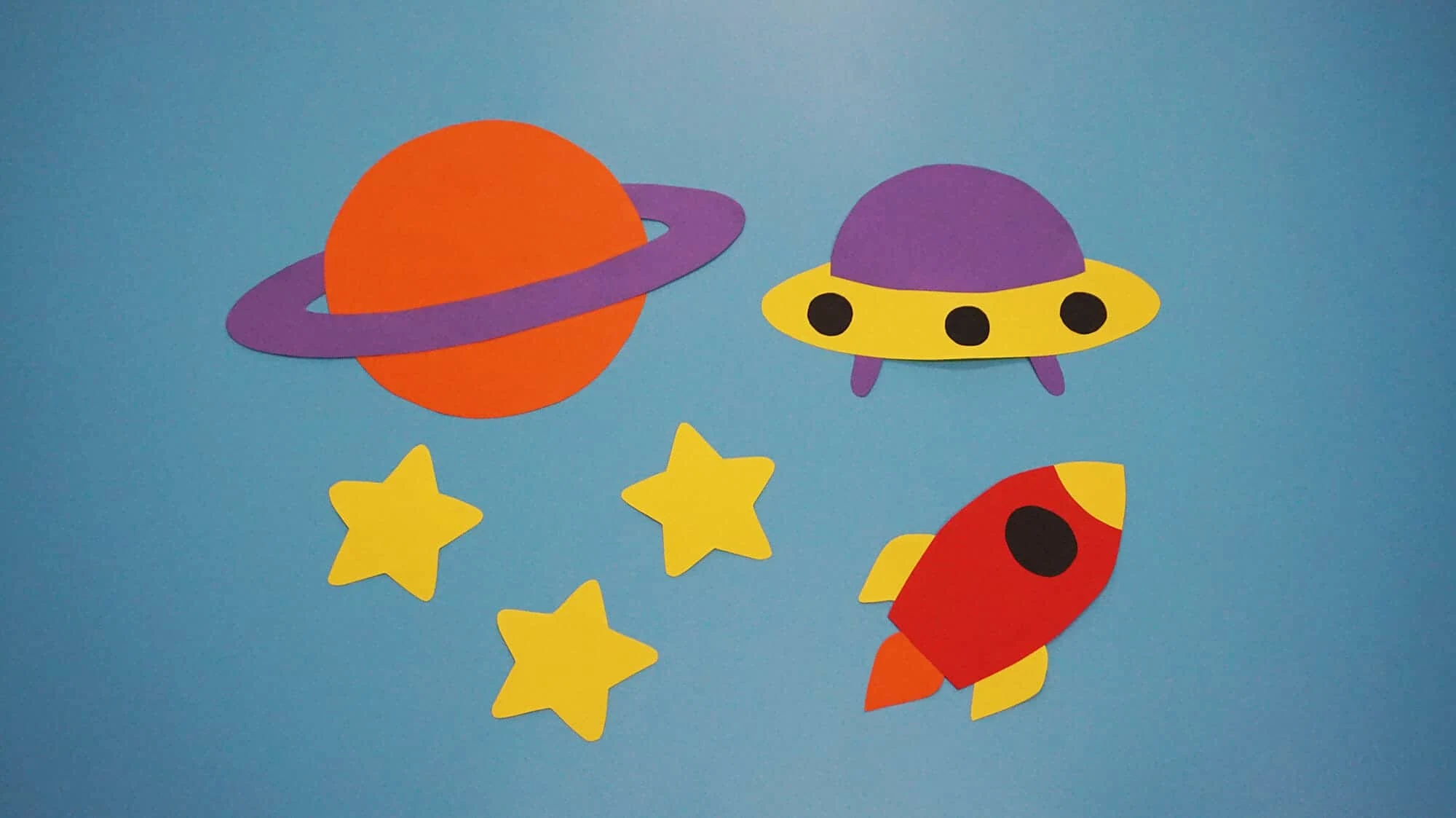 6. Attach a bamboo skewer at the back of the shapes and put a clear tape to secure it.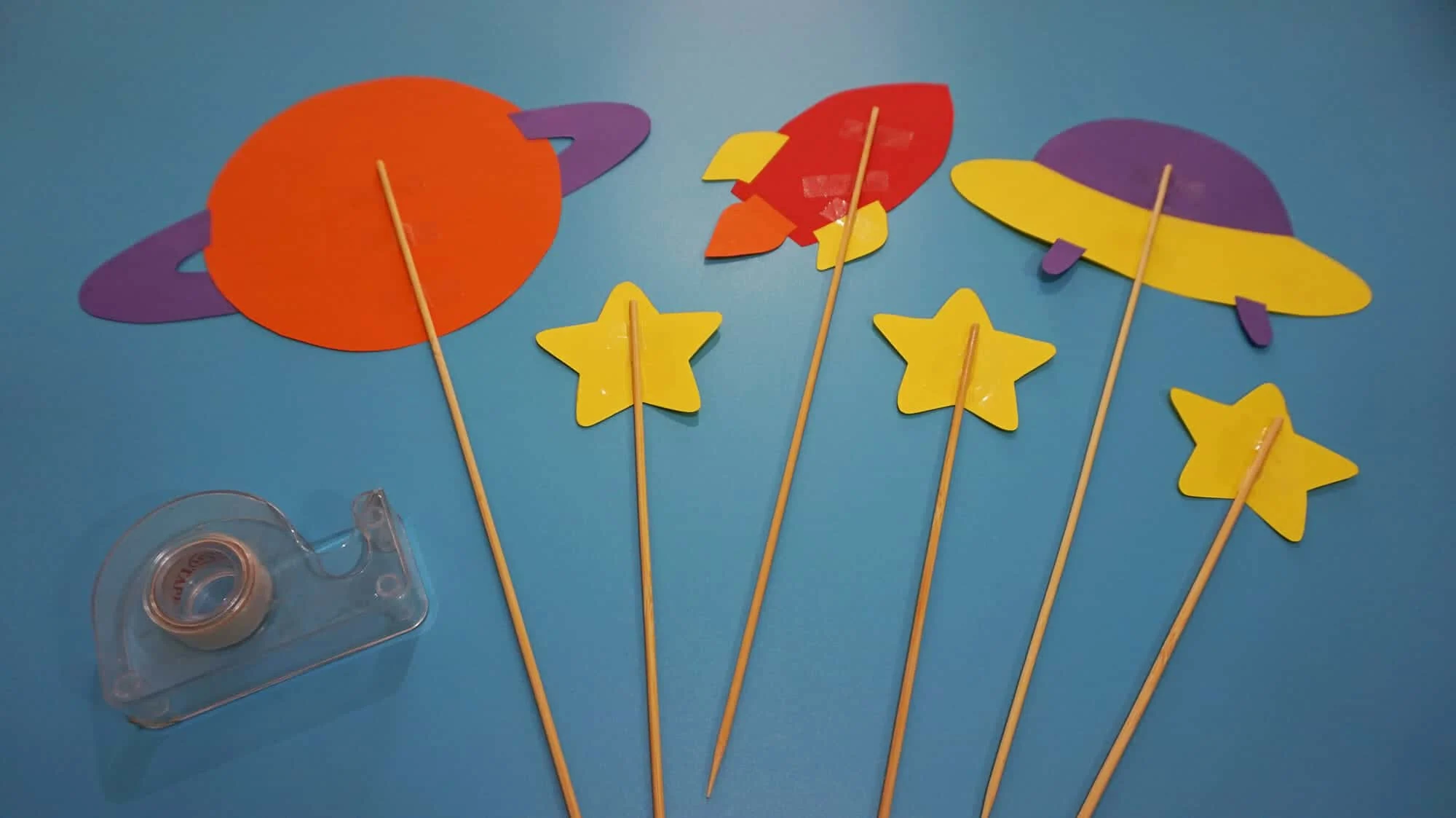 7. For the star shapes, cut the bottom part of the bamboo skewer to make it shorter.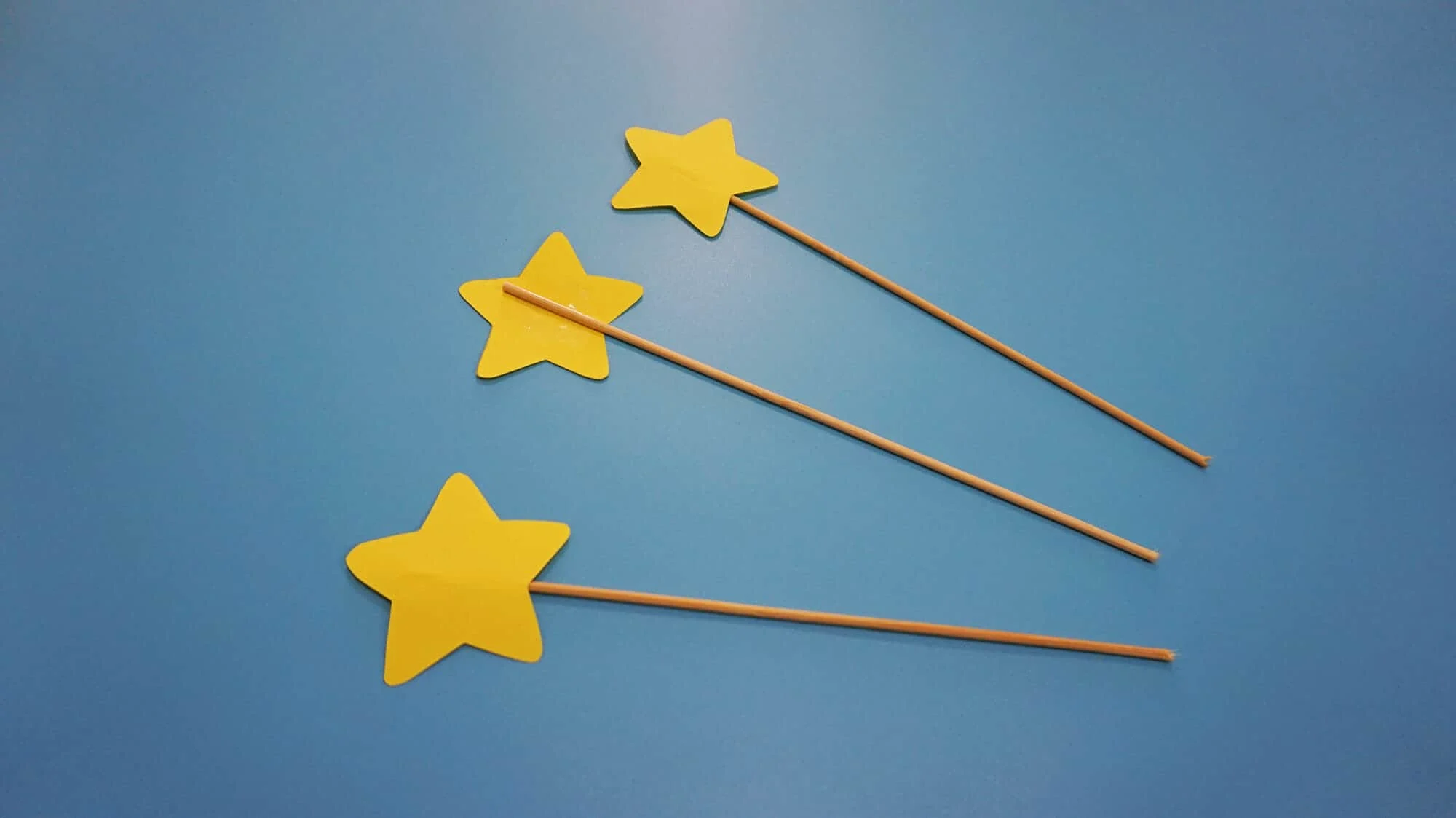 8. Cut a round shape. Make sure it is smaller than the mouth of the large plastic cup.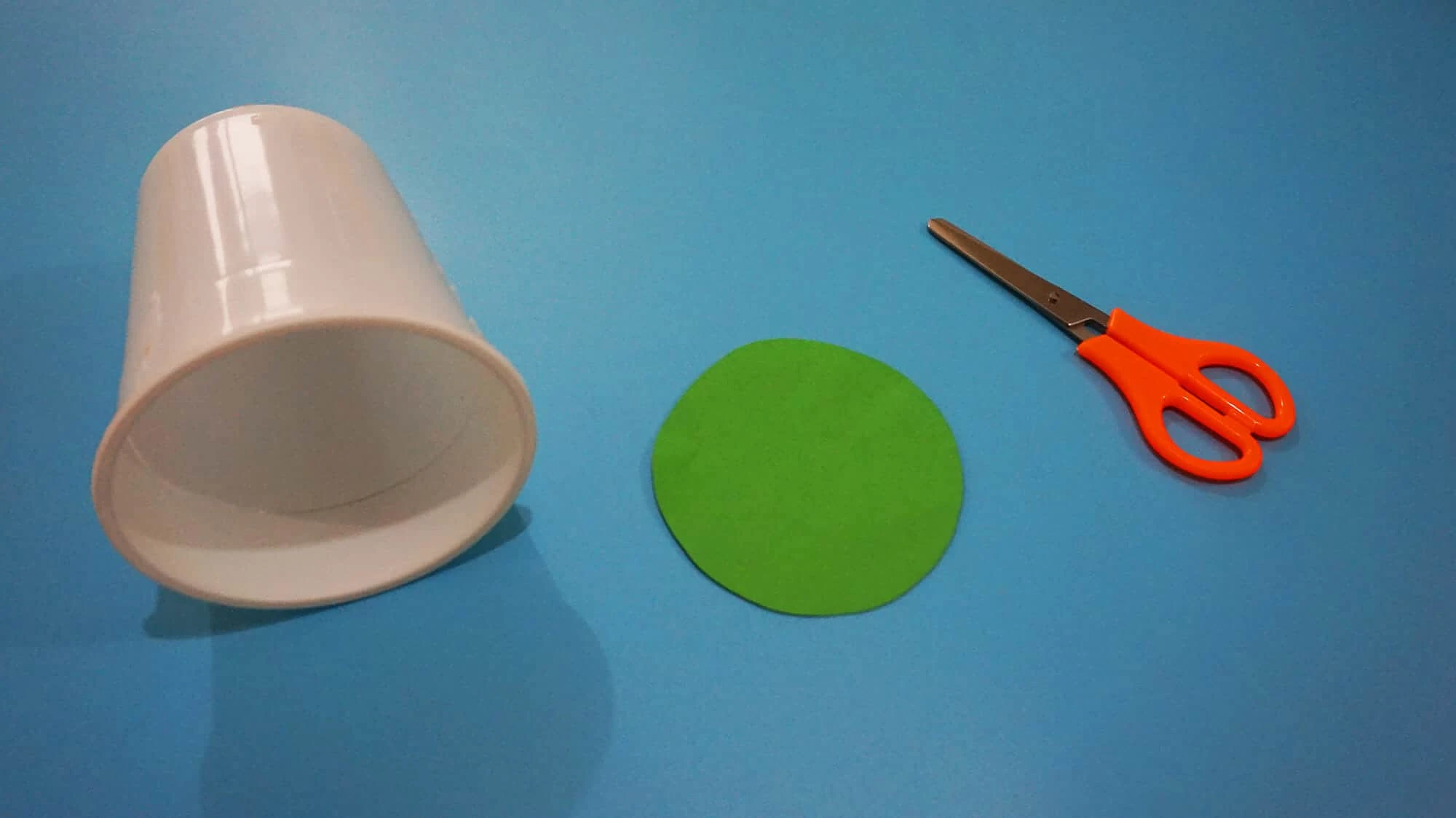 9. Tape the round shape inside the cup and poke holes on it.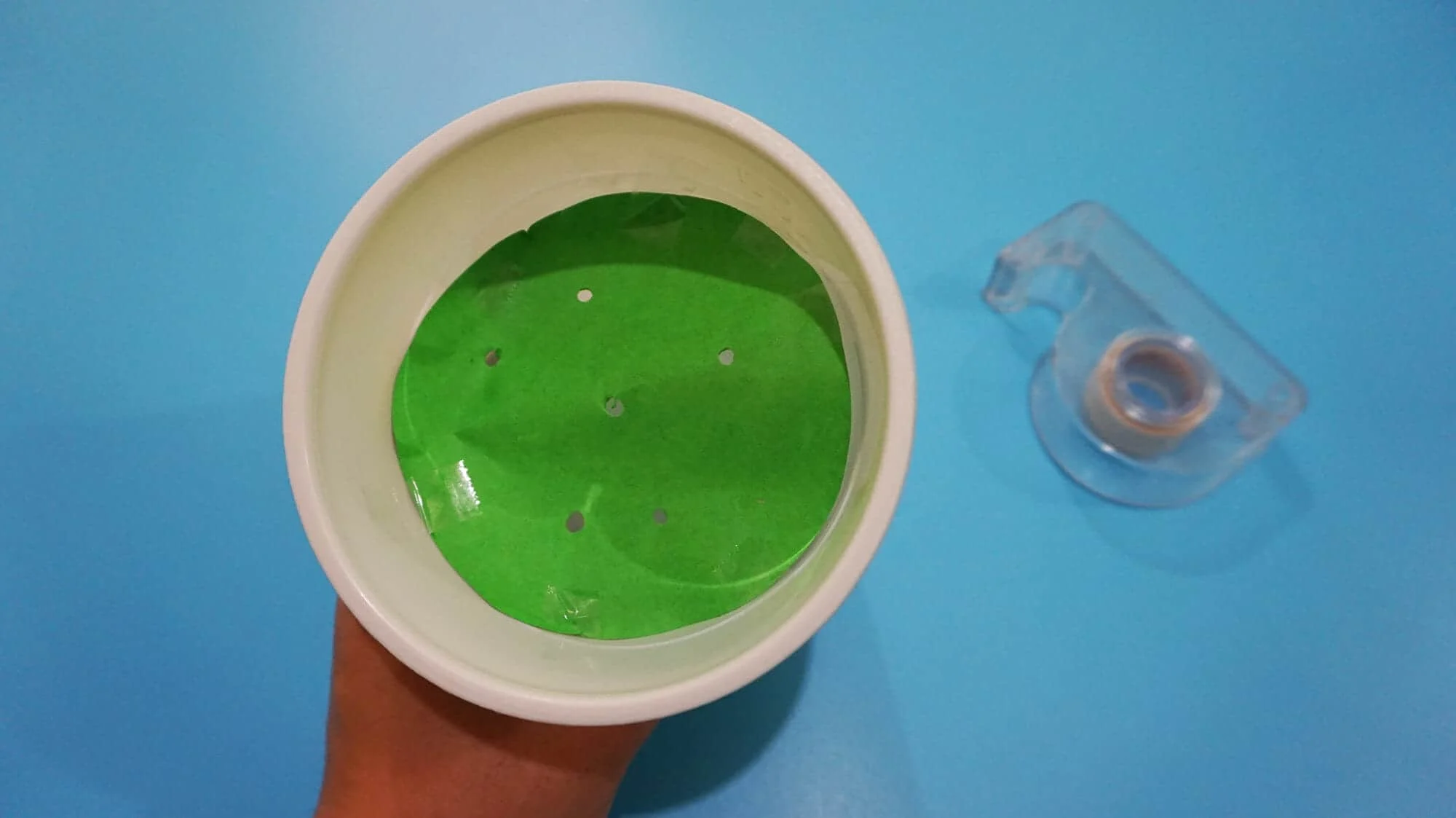 10. Insert the shapes with bamboo skewers in the holes.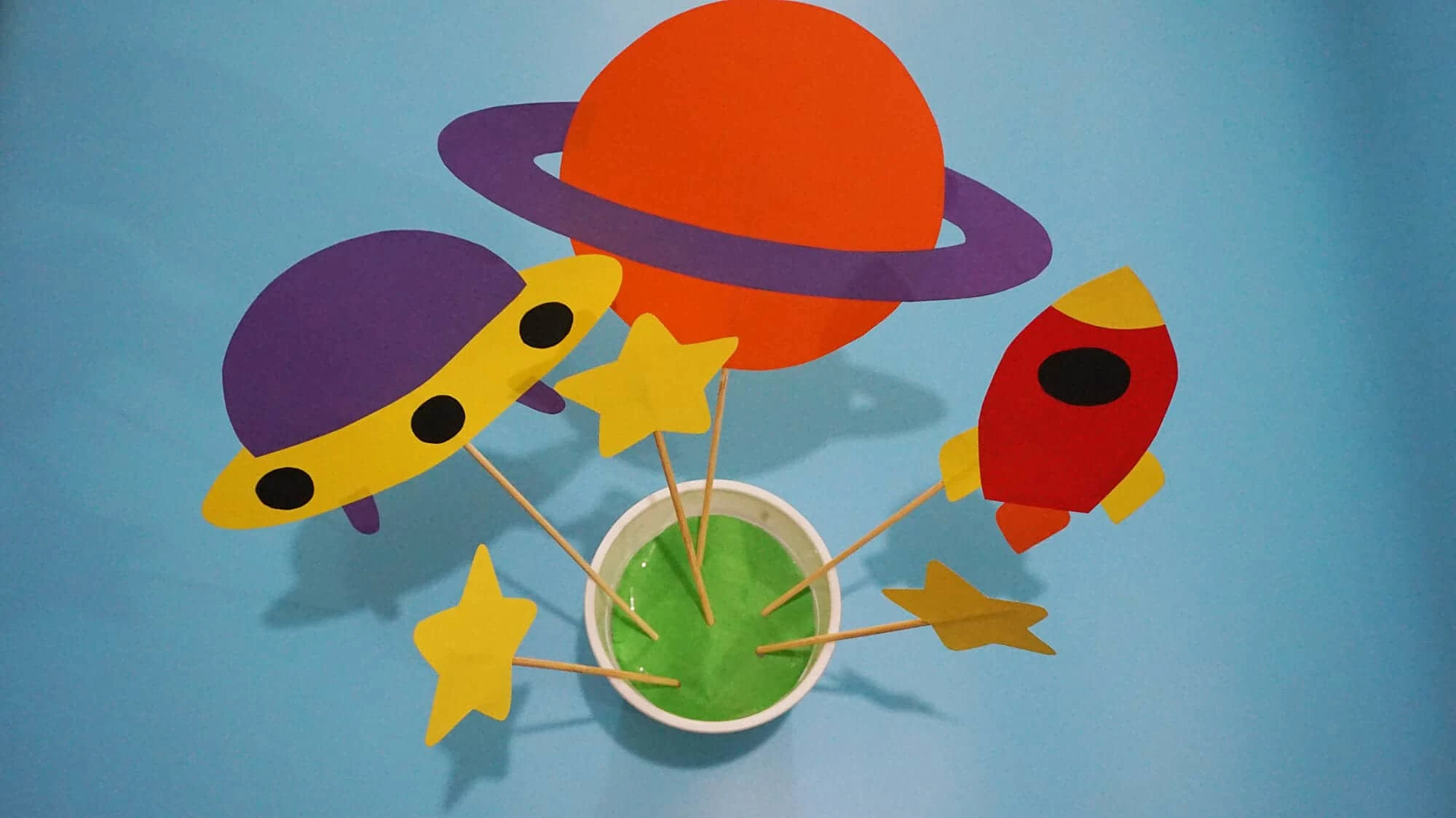 11. Cut small strips of craft tissue paper.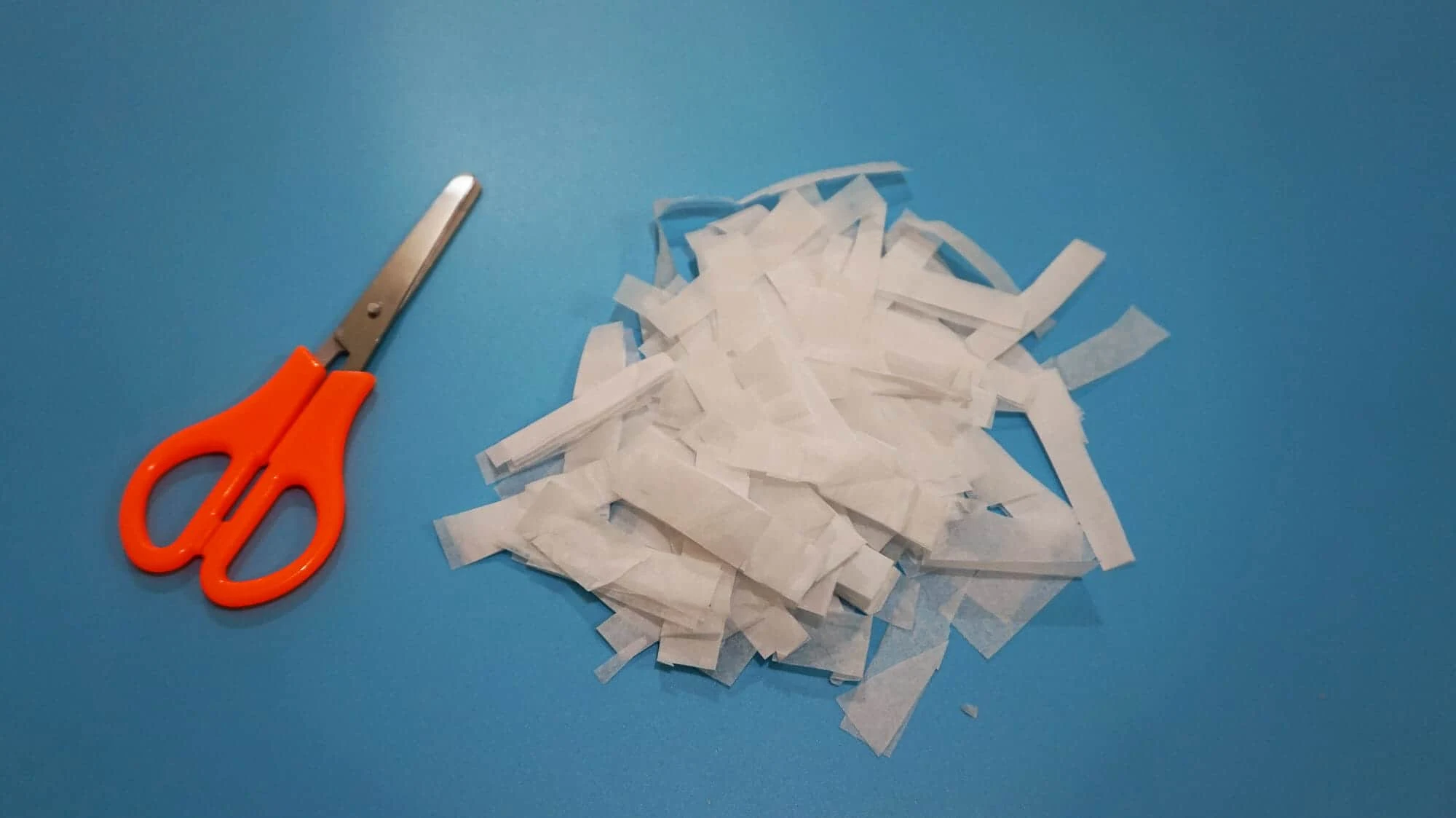 12. Put the strips inside the cup.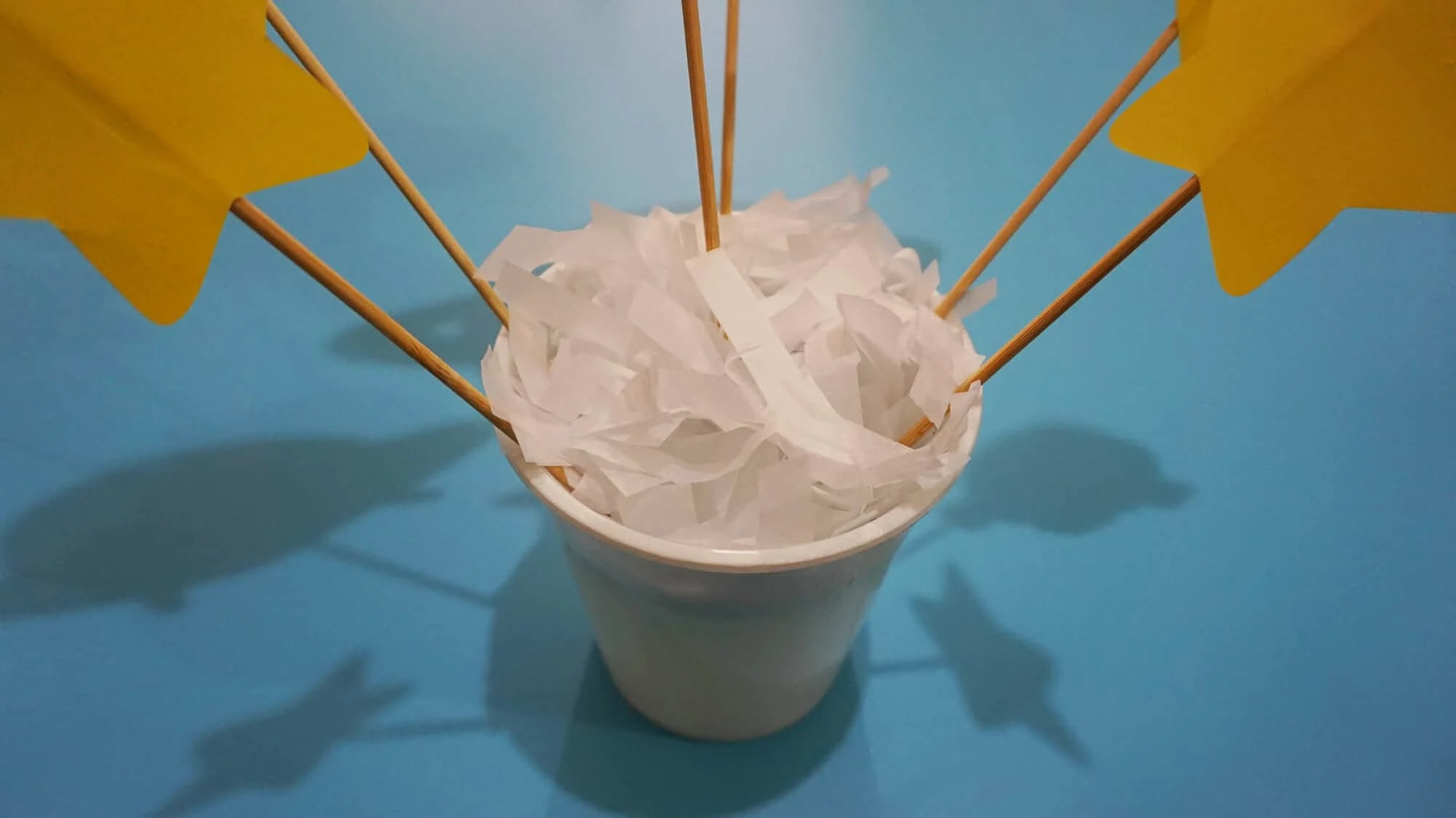 13. Tie a ribbon bow into the cup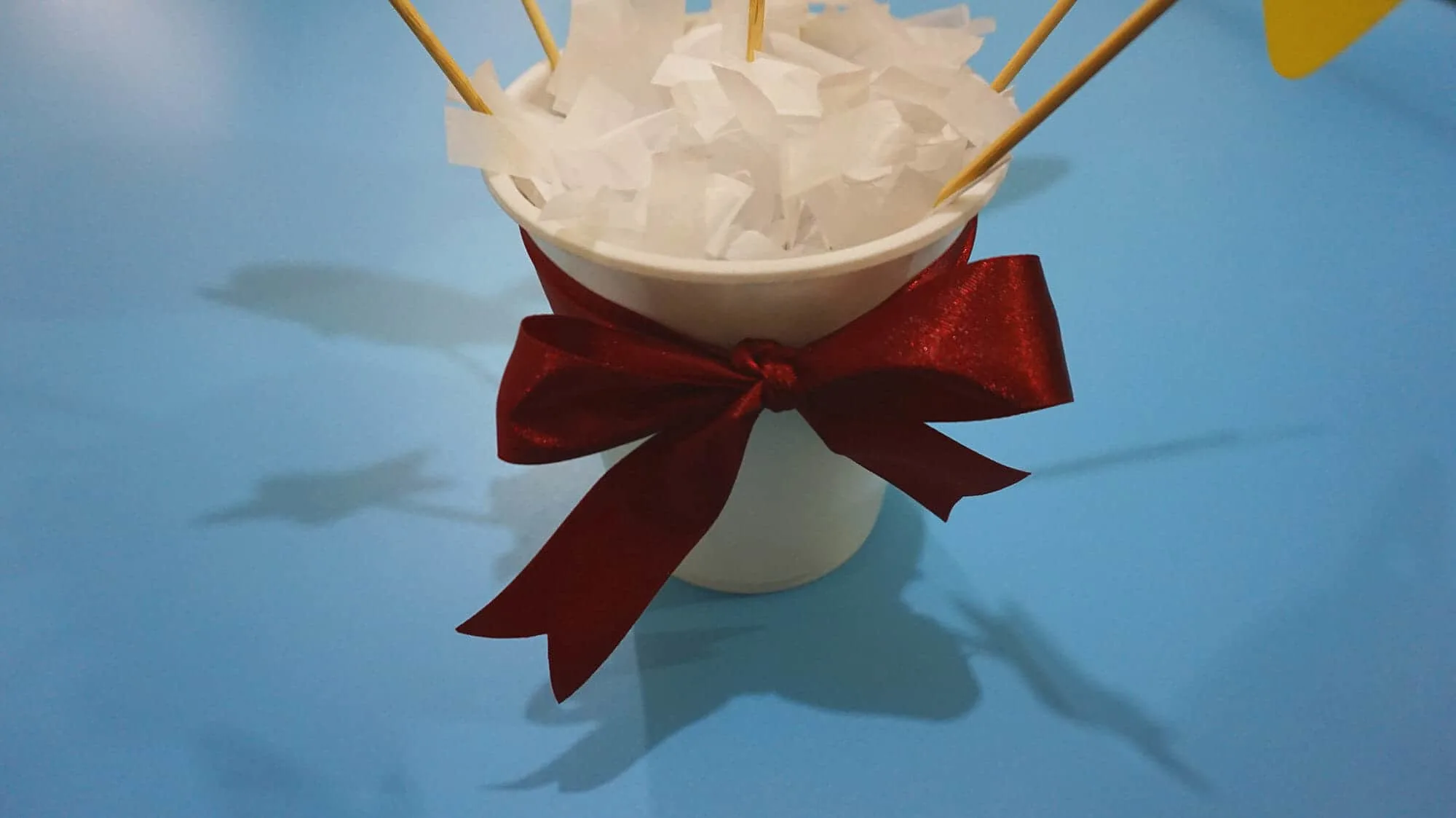 And you are done, totally simple right? You can make a couple of this space-themed table centerpiece and place it on every party table before you blast off in 3… 2… 1… Wooosh!!!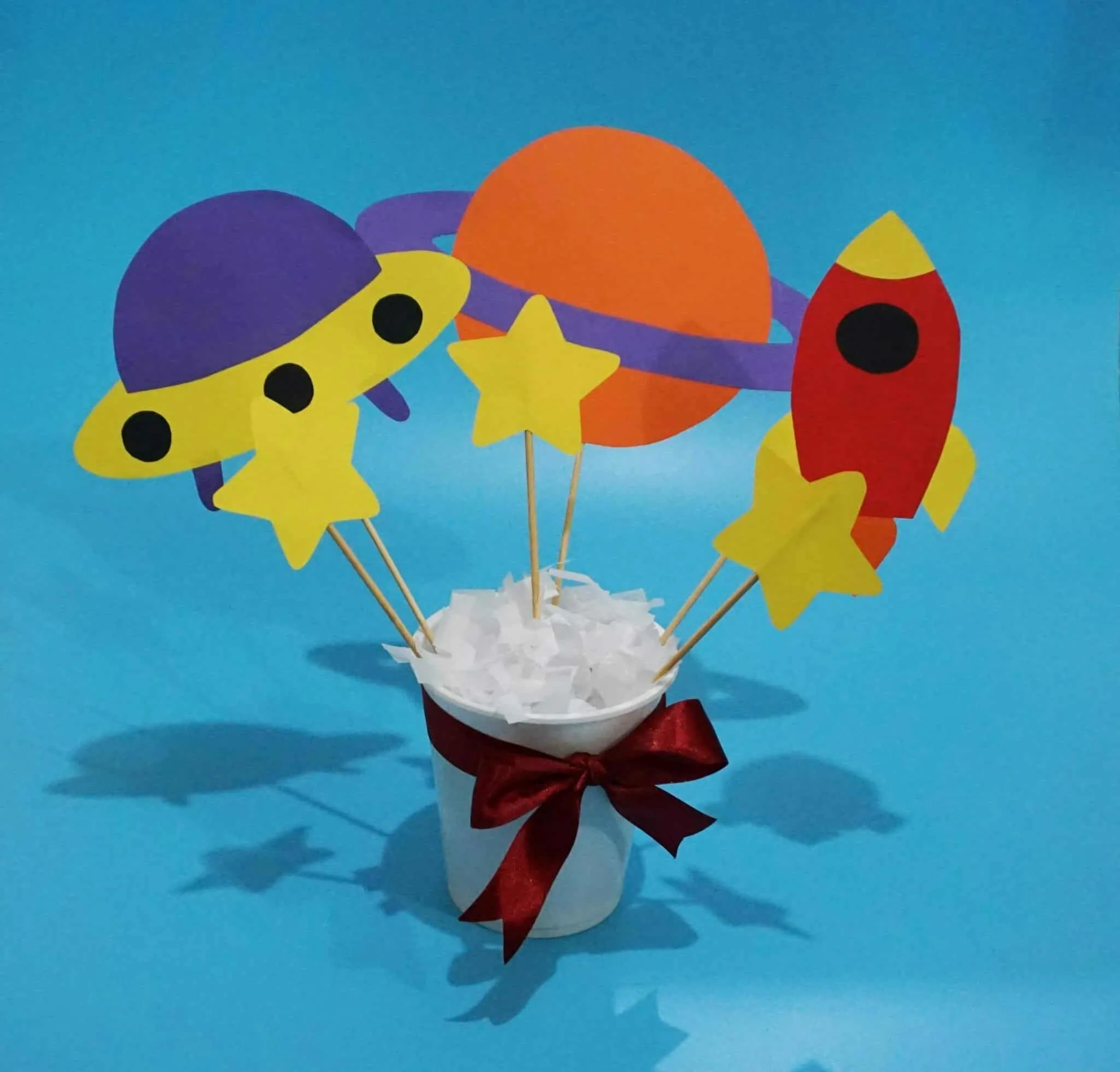 Space Party Decorations
Don't think for a second that these great shapes can only be used to create centerpieces. There are plenty of other great ideas for how you can use the same cute templates for other outer space themed party decorations:
Space themed banner
you could cut out all the shapes and string them along a banner to hang on the wall or at the entrance to the party. You could even have the banner hanging up to down instead of across the wall and have all the spaceships zooming into the sky! This doesn't even need to for a party, this cute banner would be lovely in a space theme bedroom or nursery.
Space themed Photo booth props
These shapes are also great as props for a party photos booth. These days you don't even need to supply the camera. You can just set up a little area with the props and maybe a backdrop and tell people to take pictures on their phones. If you are an Instagram user, you can designate a specific #Hashtag for everyone to use so that you can look at everyone's photos at the end of the party.
Space theme party invitations
You can cut off these shapes and cut an extra copy for backing to make a card for an invitation.
Space themed party bags
Similar to the recent dinosaur loot bag craft I recently posted, you could print out these templates and glue them on the front of good bags for the kids. A very simple DIY that can fit with the theme and decorations. You could even run regular paper bags through your home printer to give them a galaxy background.
Space themed gift tags
In the same grain as the idea above, you could use these cut-outs as tags to attached to gives or bags. Just punch a simple hole on the top and feed through some ribbon or string.
Space theme party food
Okay, so I don't think you should eat them templates, but they could be used to add space theme magic to your food container. You can attach the rocket shapes to the front of straws for some extra-cosmic drinking fun! Or you could attach the spaces to the front of popcorn boxes. You get the idea.
Space themed cake
If you have a plain cake and want to add some DIY decorations but are not comfortable in the kitchen (Most of my kitchen creations, look like they were done by my four-year-old). You could cut use these cut-outs as decorations that come out of the cake with the bamboo. Similar to the centerpieces above.
Space Party Supplies – Free out space invitations and space clip art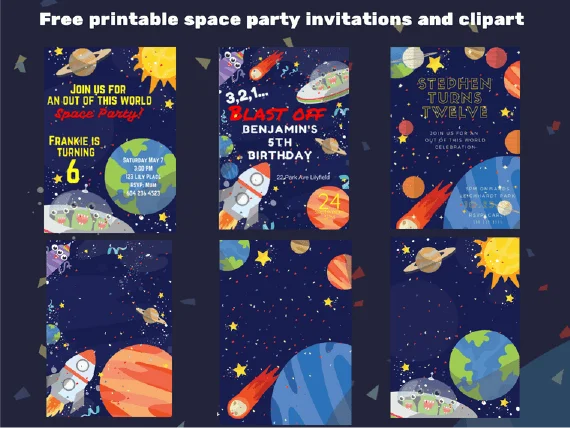 If you have not seen our other space party ideas yet, be sure to check out the recent Space themed party invitations and space-themed clip art that was posted. These items are free for you to use in your personal party planning. If you are new to digital crafting and customizing, no worries at all. The post has links to instructions for how you can customize the invitations online easily (and free) using a software a Canva. If you ever have any issues, please reach out.
I can't wait to see what you create with these new templates. Be sure to reach out in the comments or via social media to let me know what you made!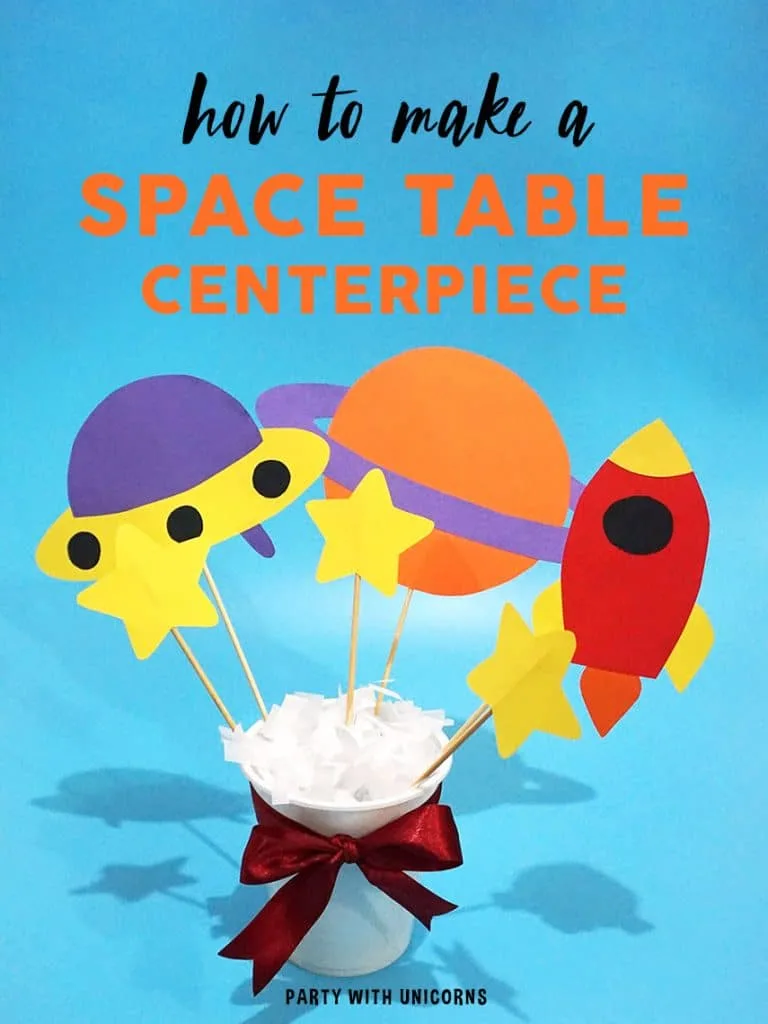 Similar Posts: