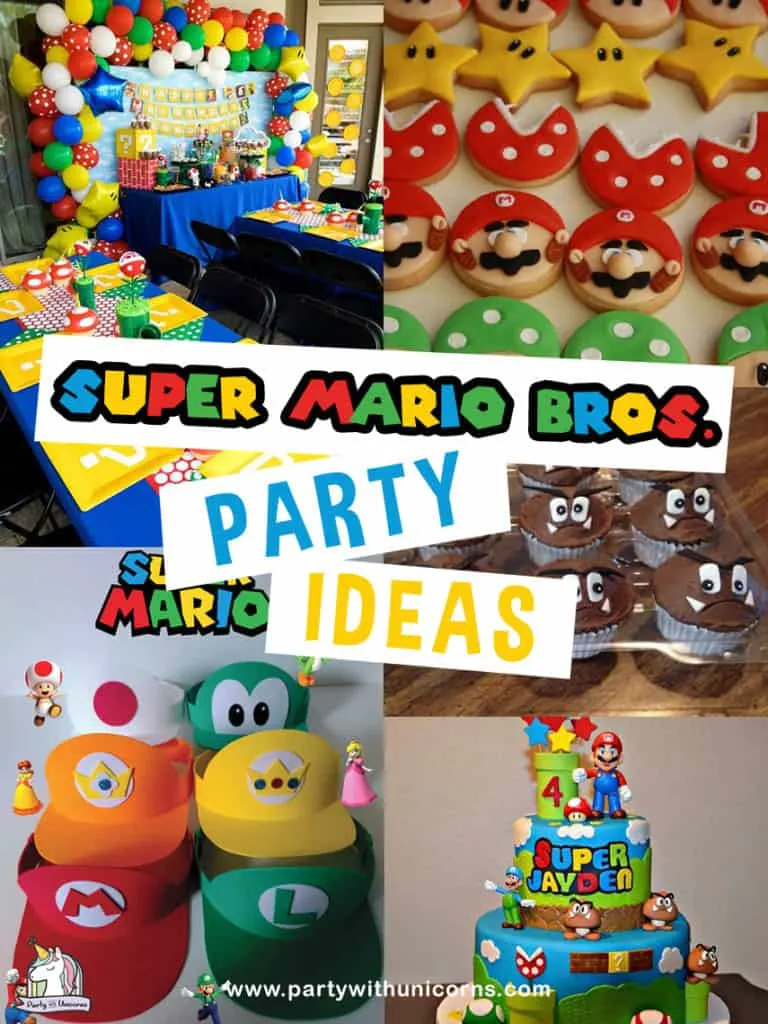 Playing Super Mario on the original Nintendo with my siblings is something I remember like it was yesterday. In fact, it was not yesterday, it was a very long time ago. Amazingly, Super Mario is still a fan favorite and a great kids Birthday Party theme. Today I'm posting 20 of my favorite Super Mario Party Ideas and including free Super Mario Party Printables.
What is Super Mario?
In case you are a parent that did not grow up playing Mario, here is a quick history lesson. Super Mario was a character created for Nintendo in the early 1980s. The plot of the game is usually pretty simple with Mario and his friends rescuing Princess Peach from a bag guy named Bowser The game usually takes place in the Mushroom Kingdom which is ruled by Princess Peach
Since then Mario, his friend Luigi and his gang of friends have been featured in over 200 different video games. Some of the titles you might hear your kids talk about include Super Mario Bros, Super Mario Kart, Super Smash Bros, Mario Maker and more.
The Mario Bros family of games have been available on a variety of gaming consoles including original Nintendo, Super Nintendo, Gameboy, Nintendo Wii, Nintendo DS, Nintendo Switch,
What Make Super Mario a Great Party Theme?
There have been so many iterations of Super Mario over the years that it is a theme that can work across age-groups for girls and boys. Mario has a regular crew of friends there is usually at least one character that a child will like. The Mario Brother – Mario and Luigi, Bowser, Yoshi, Princess Peach, and Koopa Troopas there is lots to work with.
Also because of the different Mario games on the market, you can take some liberties and tie different videogames into your activities. From Mario Cart to Dr. Mario, he has pretty much done it all!
Free Super Mario Party Supplies
Included in the list of Super Mario Party ideas below are some free printables that I have created for you. These include some free Super Mario Bros Party Invitations, Free Super Mario Party Printables and a free Nintendo Favor Box. '
Free Super Mario Invitations
Free Super Mario Party Printables
Free Nintendo Favor Box
There you have it, 20 amazing Mario Party ideas. Leave a comment below if you have any other fun Mario idea that we should check out. If you plan on using our free printables, be sure to let me know if you have any issues.
Similar Posts: