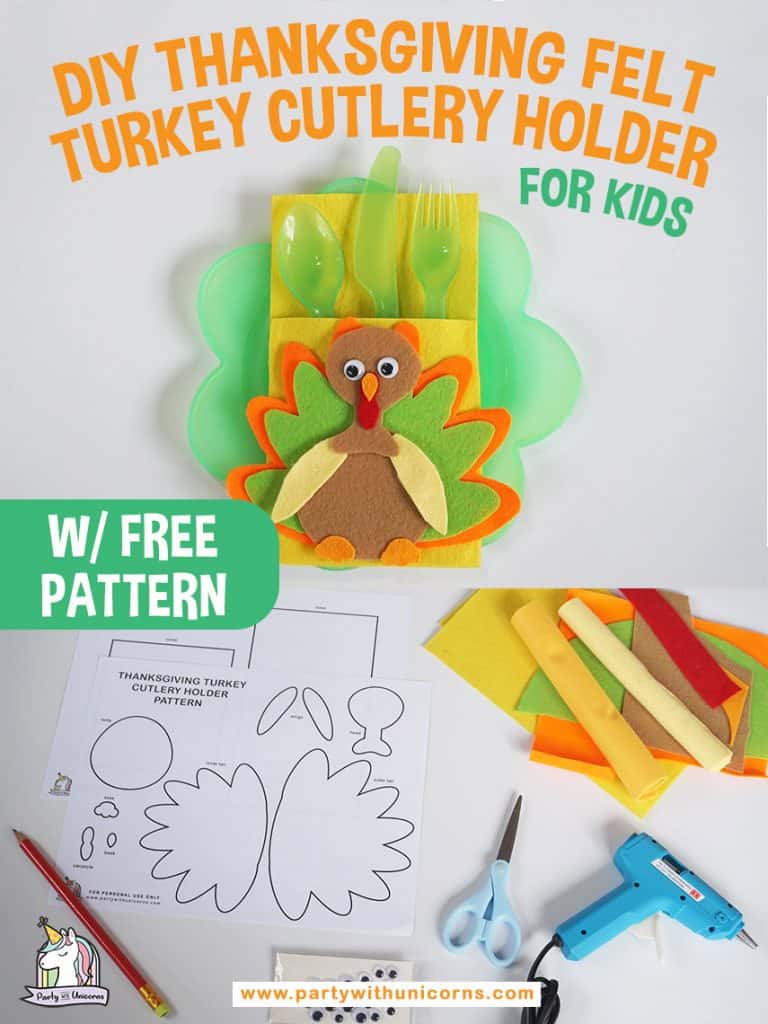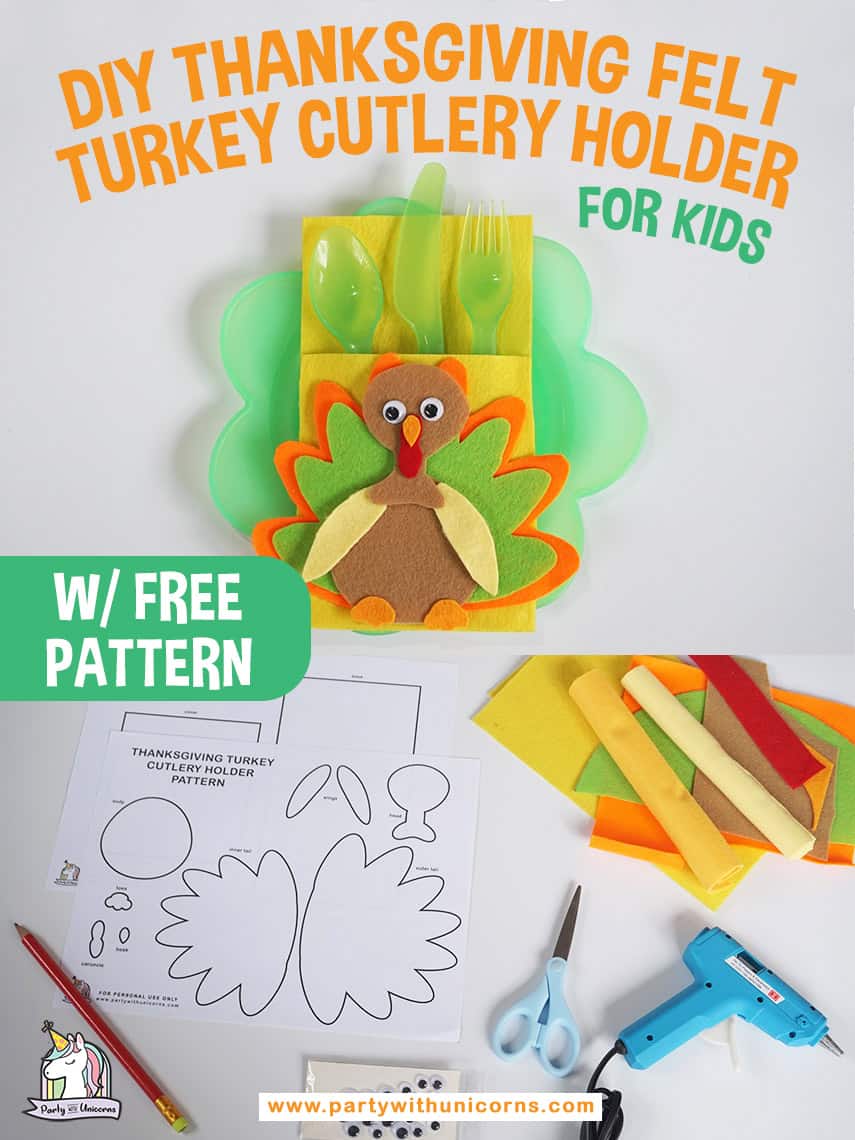 Thanksgiving is all about family, friends and being thankful for the things we have life. What a better way to give thanks than to spend some time with your kids crafting and getting ready for this special day. Granted trying to find the time between the food prep, turkey cooking, pie baking and general planning is always going to be a challenge.
So if you are looking for a fun craft to do with the kids or find a productive way to keep the kids busy while you are preoccupied in the kitchen, then this craft is for you.
Today's I am posting the templates for a Thanksgiving Turkey Cutlery Holder. This craft is not only super cute but, functional and an excellent way for the kids to contribute to the family Thanksgiving preparations.
Thanksgiving Turkey Cutlery Holder Materials
Since I still have a lot of scraps felt cloth lying around from previous crafts, I decided to create this project using felt. You can also do the project with construction paper if you prefer. So here is what is needed: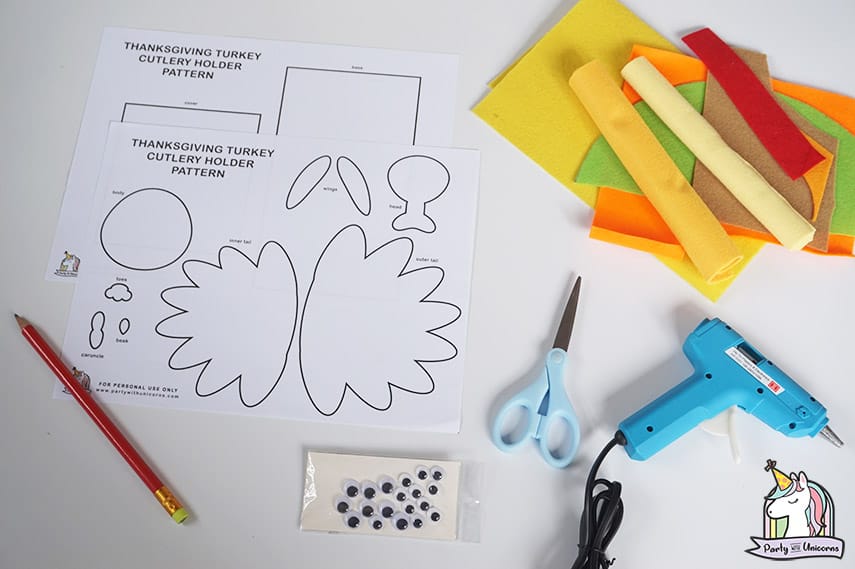 Printed Thanksgiving Turkey Cutlery Holder template
Felt cloth
Googly Eyes
Pencil
Scissors
Hot Glue
The template is available from the freebie library for download. Once you sign up for our newsletter, you will be given access to over 150 different craft templates and free printables for kids.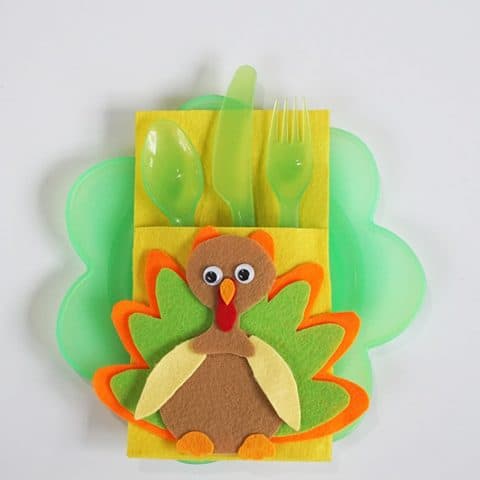 DIY Thanksgiving Felt Turkey Cutlery Holder
Cute and easy cutlery holder for Thanksgiving
Materials
Printed Thanksgiving Turkey Cutlery Holder Pattern
Felt Cloth
Google Eyes
Instructions
Download our free pattern in our Freebie Library and print it out.
Cut the patterns.
Trace the pattern onto the felt cloth. You can choose what color of felt cloth you want to use for each pattern.
Cut out the traced pattern form the felt cloth.
Get the base and cover pattern and glue it together. Make sure to glue only the side part to create a pocket.
Glue the outer and inner tail on top of the cover.
Assemble the turkey's head and body and glue it on top of the tail.
Add two google eyes.
Your cutlery holder is now ready. Put some utensils into the pocket!
And that's it! Your very own Thanksgiving cutlery holder. I hope you love this craft project as much as I do. I am sure it will look amazing at your table this year.
Be sure to follow along with us on Facebook, Instagram and Pinterest to be kept up to date as new templates are made available. More Thanksgiving crafts for kids on the way!
I hope everyone has a happy and healthy Thanksgiving celebration.
Similar Posts: