Planning a Roblox birthday for your child? These fun Roblox party ideas, especially Roblox cakes are great for boys and girls alike!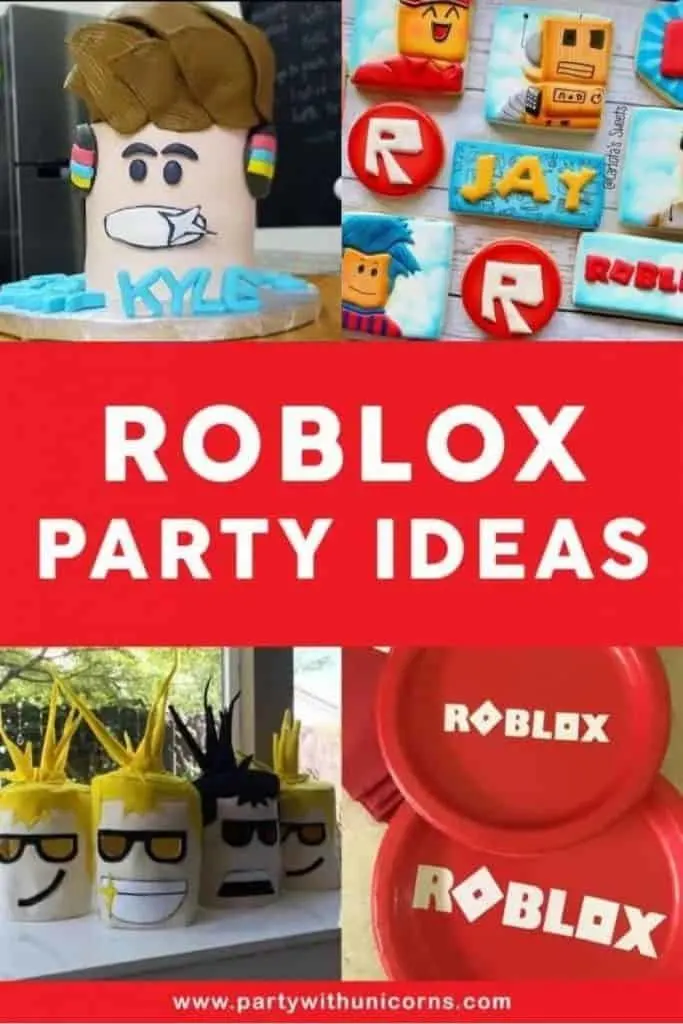 This post may contain affiliate links. See our disclosure policy for more details.
Learn how to plan a Roblox party with ideas for decorations, food, and some screen-free games and activities that will fit perfectly with the Roblox birthday theme. With all of these great Roblox party ideas, your guests will have no idea if you are a noob or not!
Roblox Virtual Parties
Before I get to the original list of party ideas, I want to let everyone know that Roblox has launched a new feature called "Party Place" allowing a private place to host a virtual party. This is the perfect way to host special occasions on your own private server. This is a fun, safe, and easy venue to get your party guests together during this pandemic.
While VIP or private servers used to cost Robux, this new service is completely free.
Roblox Party Ideas
Learn how to plan a Roblox Party theme with 15 Fun Roblox Party Ideas with creative ideas for decorations, food, games, and party supplies to put together a Roblox birthday party for girls or boys. This is the perfect theme for a virtual birthday party to keep everyone safe this year.
First on the list is our FREE Roblox Party Printables. The set includes Roblox party invitation, party banners, cupcake topper & wrapper, bottle wrapper, and thank you cards. Download this set in our subscriber shop and use it on your child's Roblox themed party!
With this list of Roblox cake ideas, you can learn how to make a Roblox cake with recipes, instructional tutorials, printable toppers, and more. We also have included some supplies to help you make the perfect Roblox cake for girls and boys.
Parties and balloons just belong together! Use these Roblox balloons will make perfect decorations for your event.
Photo Credit: www.etsy.com
If you are planning a Roblox party for a girl, then be sure to celebrate her with some decor featuring some of the awesome female avatars in the game.
Photo Credit: www.etsy.com
Another way to level up your Roblox themed party is by making sure your tablewares match the theme too. If you are looking for a perfect plate for a Roblox themed party, then this red Roblox plates I found on Etsy is a cool one. I like how simple it is because you can easily throw different colors of utensils to match the set-up.
Photo Credit: www.etsy.com
Another cute find on Etsy is this Roblox Head Mask Costume for kids. Your kid and guests will surely love playing around with this head mask during the party. Depending on the age of your guests, you could provide the shell of the mask and get the kids to design their own avatar mask as a fun activity at your special occasion.
Photo Credit: www.pinterest.com
Moving on to party food, these Roblox Sugar Cookies is a cute party food idea to try! If you can bake and love decorating cookies (or any dessert) then make sure to make Roblox-themed cookies for the guests to enjoy.
Photo Credit: www.pinterest.ph
Another fun and cool idea to have on a Roblox-themed party is this build-a-Roblox Avatar section. Gather some marshmallows and other sweet treats and let your guests be creative in making their very own Roblox Avatar made of sweets!
Photo Credit: www.etsy.com
For a screen-free activity at your event, set up a game of Roblox bingo for your guests. These bingo cards can be easily printed from your home computer.
Photo Credit: coloringwithkids.com
Another activity idea on a Roblox party is to set-up an arts & crafts corner. You can use this Roblox Avatar coloring page to make the kids busy playing with colors and getting creative. An activity corner is also great if you have any younger siblings attending that need to be kept busy.
Photo Credit: www.etsy.com
Pinatas are always a hit at a party! This Roblox pinata will be perfect for a Roblox party. If you are having a Roblox party for a girl, then the image on this pinata could easily be changed to a girl avatar.
Photo Credit: partymaniausa.com
Moving on to party favors, for a Roblox-themed party you can giveaway some Roblox wristband for the kids.
Photo Credit: www.etsy.com
You can also opt for these amazing Roblox inspired personalized key chains as a candy-free Roblox Favor.
Photo Credit: www.etsy.com
Another party favor idea that would be perfect during COVID-19 is Roblox Face Mask for kids. Depending on where you are living, you could even wear them at the party.
These Roblox party ideas & themes for decorations, food, and games are sure to make a Roblox party theme that will impress all of your guests!