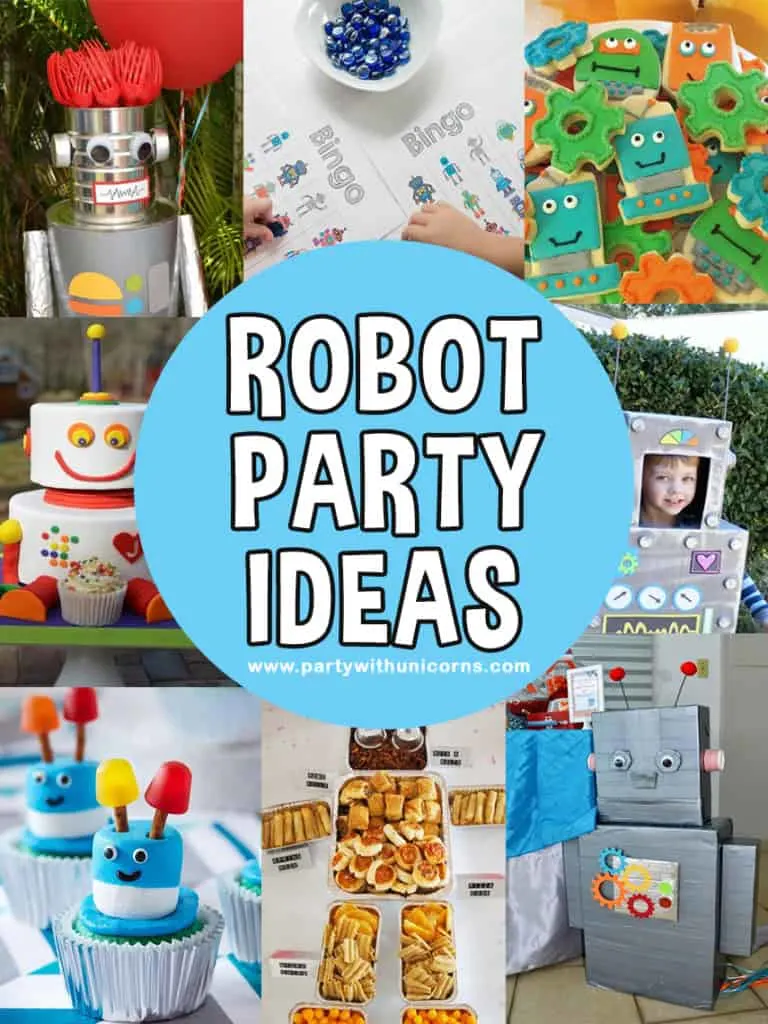 Hello, there! Today I have a list of Robot Party ideas to share with you. This post is a follow up to the recent Robot Party Invitations that I posted last week. I am working on all things robots to help a local mom out with a few printables for her son's upcoming Robot birthday bash. As I did some research into the theme, I found some fantastic ideas that I wanted to share with you all. This post is a collection of some of my favorites.
Robot Party Invitation
To start off your party planning, get some Robot themed invitations to let your guests know you are throwing a Robot party soon. If you want to get your planning started off for free, then you can download these cute robot party Invitations from Party with Unicorns. I made two Invitation designs that you can choose from. The template is editable which means you can add some text or wordings on it. If you want to know how you can check my tutorial on how to edit my party invitation templates on Canva.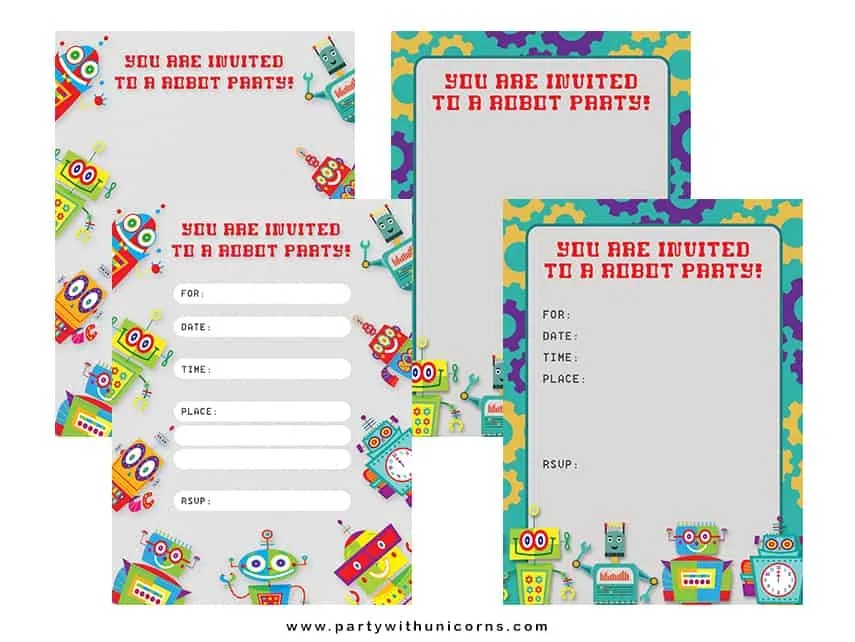 Robot Party Decor
When throwing any themed event, decorations are essential. While not every piece that you place in your party venue must match with your chosen theme, it's a lot of fun for the kids when there are themed elements included throughout the party setup. Depending on your outlook, throwing a themed party can be a pain in the neck or an entertaining way to let your creativity flow! To help you out in planning your event, I've created several decorations and printables to help you out. They are all super cute, and the perfect way to DIY your event and have a spectacular robot bash without all the costs.
Robot Box Decorations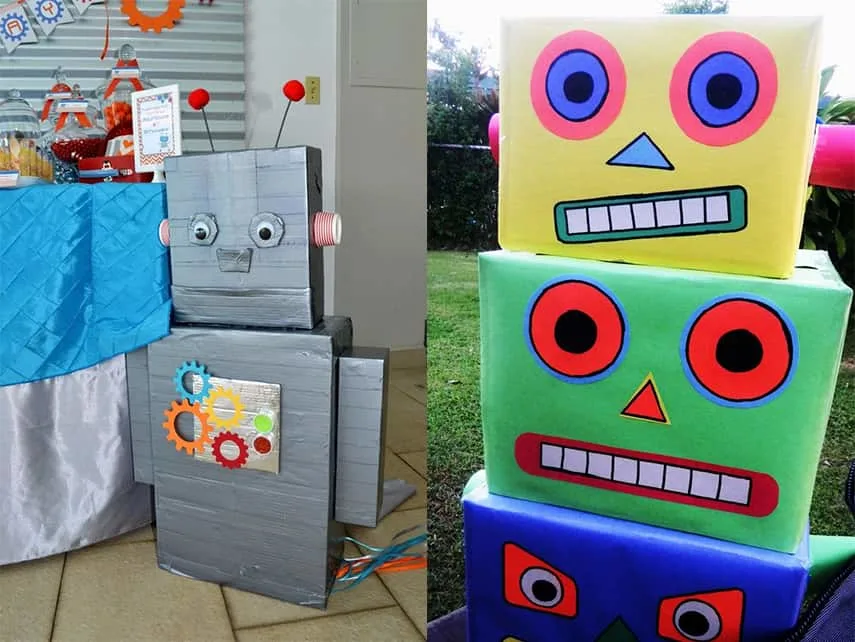 These robot boxes are a perfect way to decorate your event. It's easy to make and cheap as well. You can use boxes you'll find at home and wrap it according to colors you prefer. Then all you need to do is draw a face to complete the look! You can place this life-sized robot near the entrance or door of the venue so when your guests arrive, a real robot will be there to greet them! You can also place it near the food table or around the venue. As an added bonus, the boxes will also come in handy at the end of the day to carry the presents for transportation home. We always seem to get caught out without anything to put the gifts in.
Robot Tin Cans Decor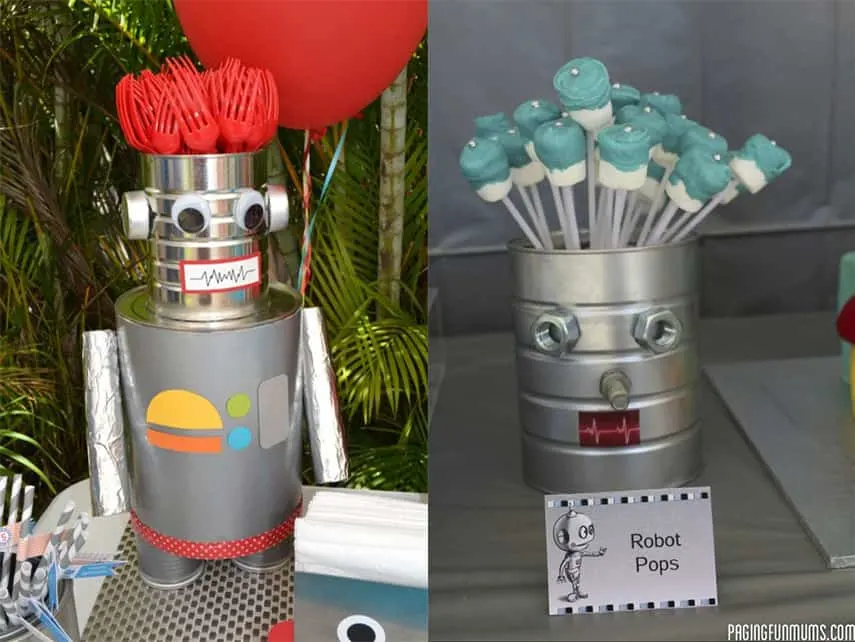 One thing I love about the Robot theme is that the decorations are pretty simple to make. Here's another cool idea you can make at home for your event. All you need are tin cans and some knick-knacks you can use to serve as the mouth, ear, and eyes of your Robot.
Robot Party Banners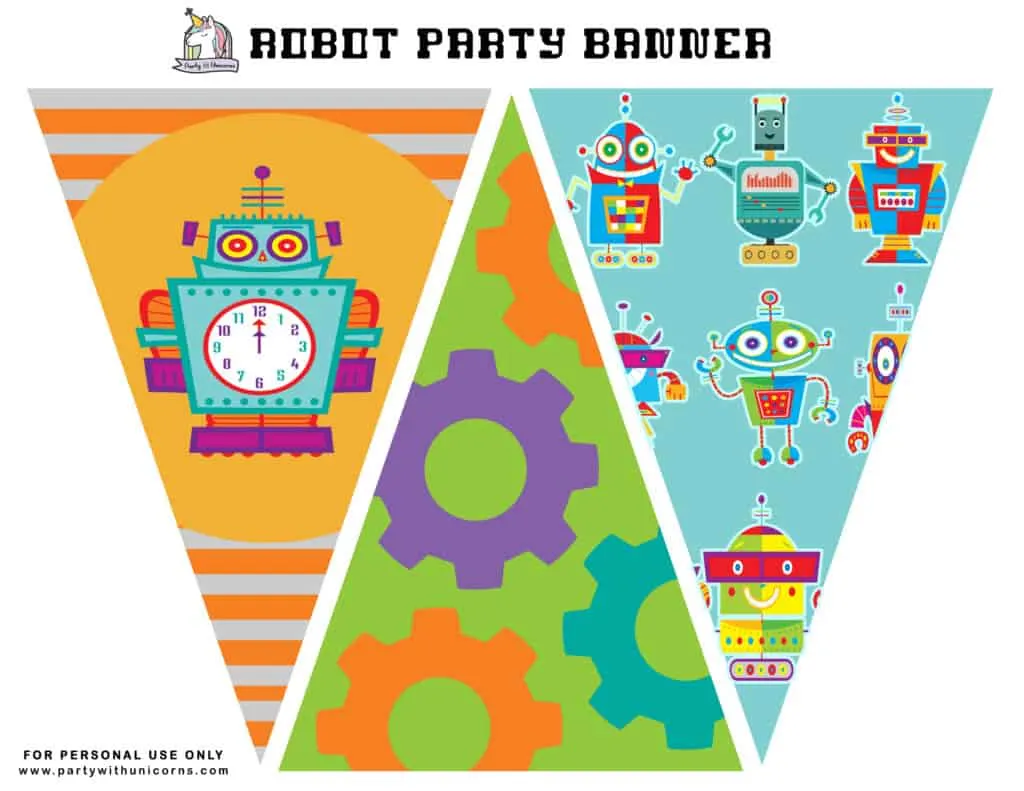 Another decoration that is easy to make is bunting. You can download and print our free Robot bunting template to use at your party. Just cut it out and make two holes on each triangle. Then insert a yarn or thick thread into the holes to make a banner. Hang it wherever you want! I also think this bunting is super cute as a decoration in a child's room. Maybe something you can do to reuse the decorations from your event. I would recommend printing the flags on cardstock if you want them to last longer.
Robot Party Photo Props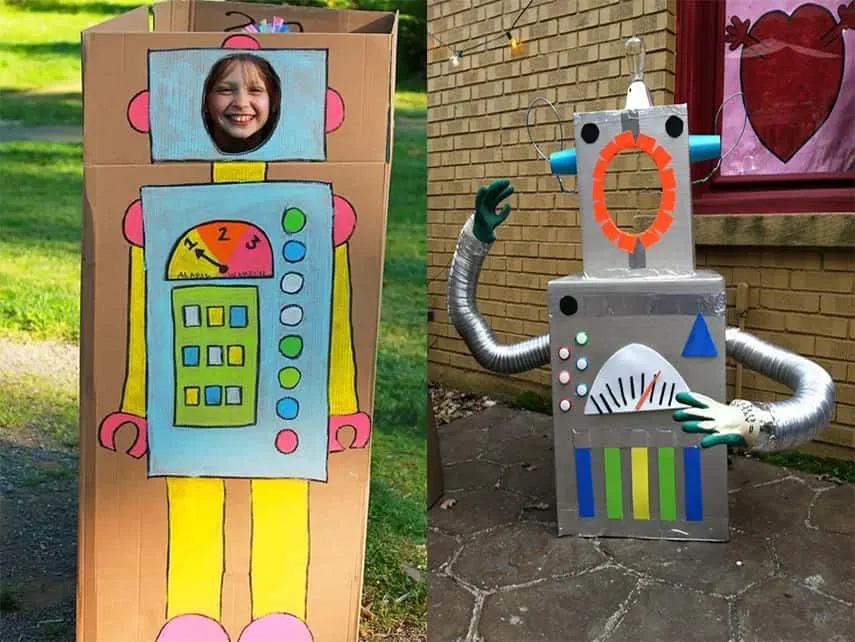 hoto props is an adorable DIY idea for party decor that you can do for the big day. Big boxes are perfect for this craft project. You can ask your kids to help you out decorating the androids. There were no working links to the Pins I found about this idea on Pinterest. If you know where credit should be due for these images, please let me know as I would love to give credit.
Robot Party Ideas – Food and Drink
There are tons of themed party food ideas available on Pinterest and various blogs; here are some of my favorite ones.
Robot Cakes
Here are some cake designs to get inspiration from. I am not the best baker or cake decorator so I love the cupcake ideas below. They are simple and I know the kids will love them (especially the ones with candy antennas.
Robot Cupcakes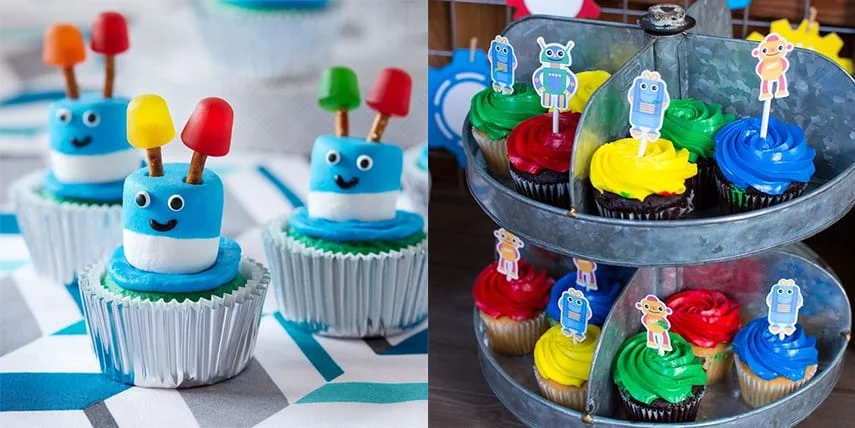 You can bake these yummy and inspired cupcakes by following this recipe or you can buy ready-to-eat cupcakes and put some cake toppers to decorate it.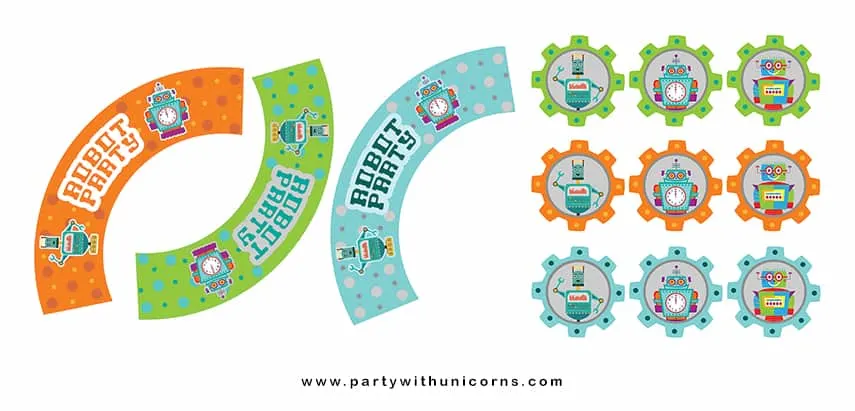 You can download and print our free Robot Cupcake Toppers and Wrappers to use for your party. This printable perfectly match with the bunting and invitations that I posted above.
Robot Snacks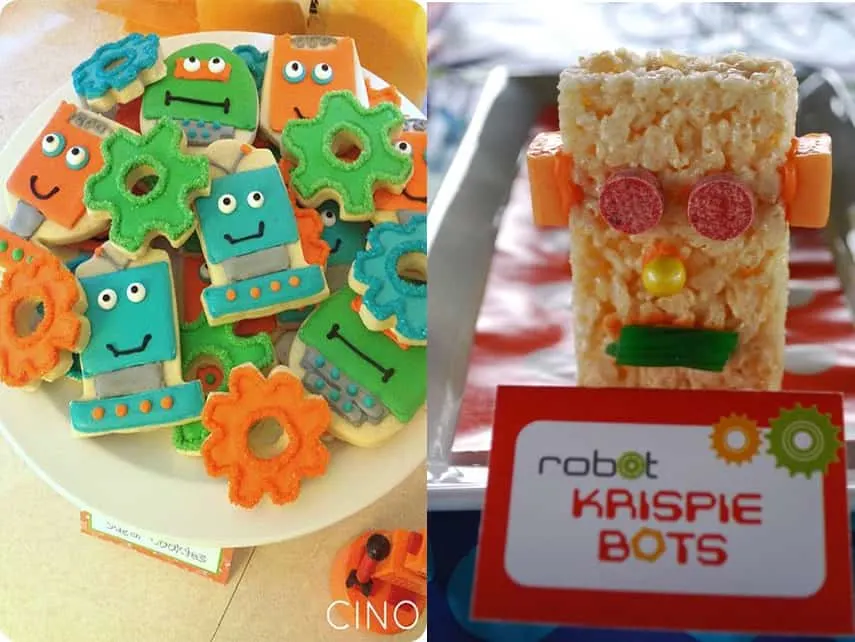 Serve these snacks on your party to make your little androids happy! What I like about the Krispie Bots idea is that these treat are something that the kids can get involved in creating. They can create them at the party or beforehand to be served to the guests.
Robot Food Tray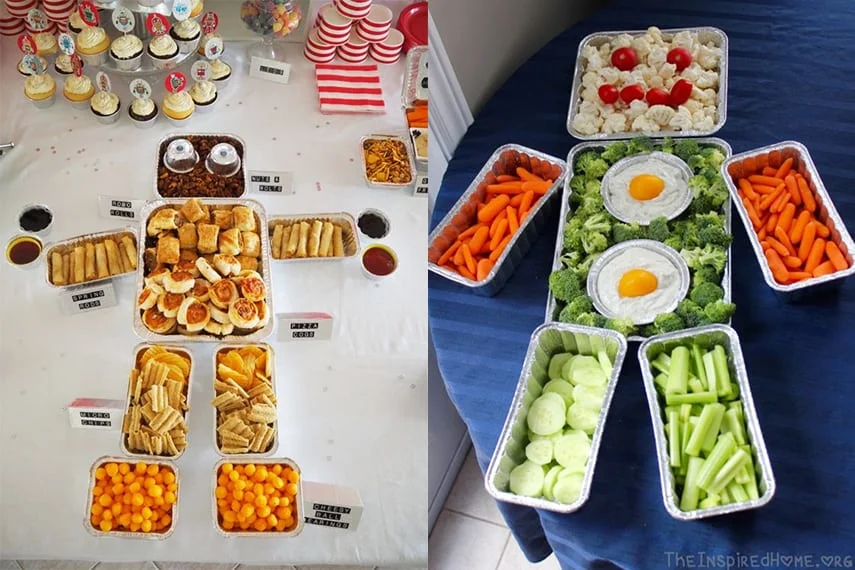 This idea is by far my favorite one! These Robot Food Trays ideas are just a super cool way to plate your food for the guest. It's cute, affordable and achievable with little preparation.
Robot Drinks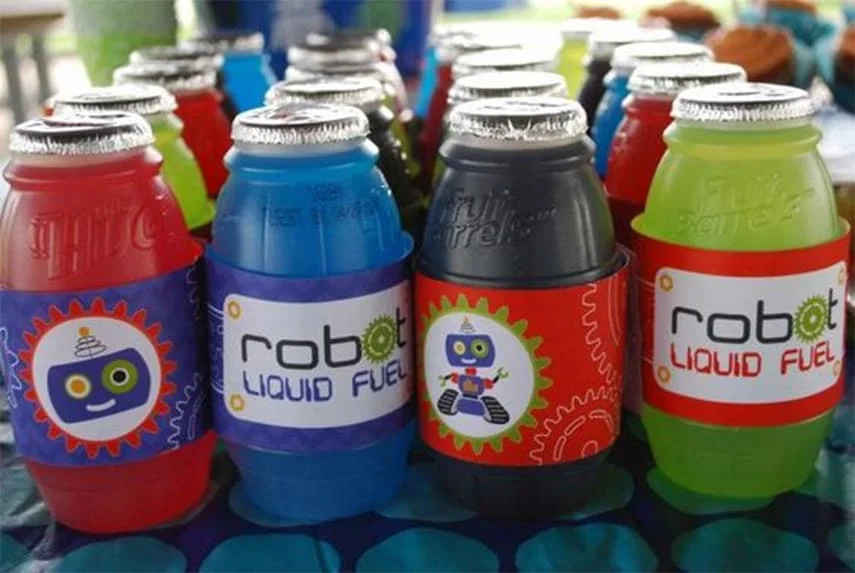 For the party drinks, you can make homemade juice and place it in a bottle or you can buy juice in a bottle too. The more colors, the better!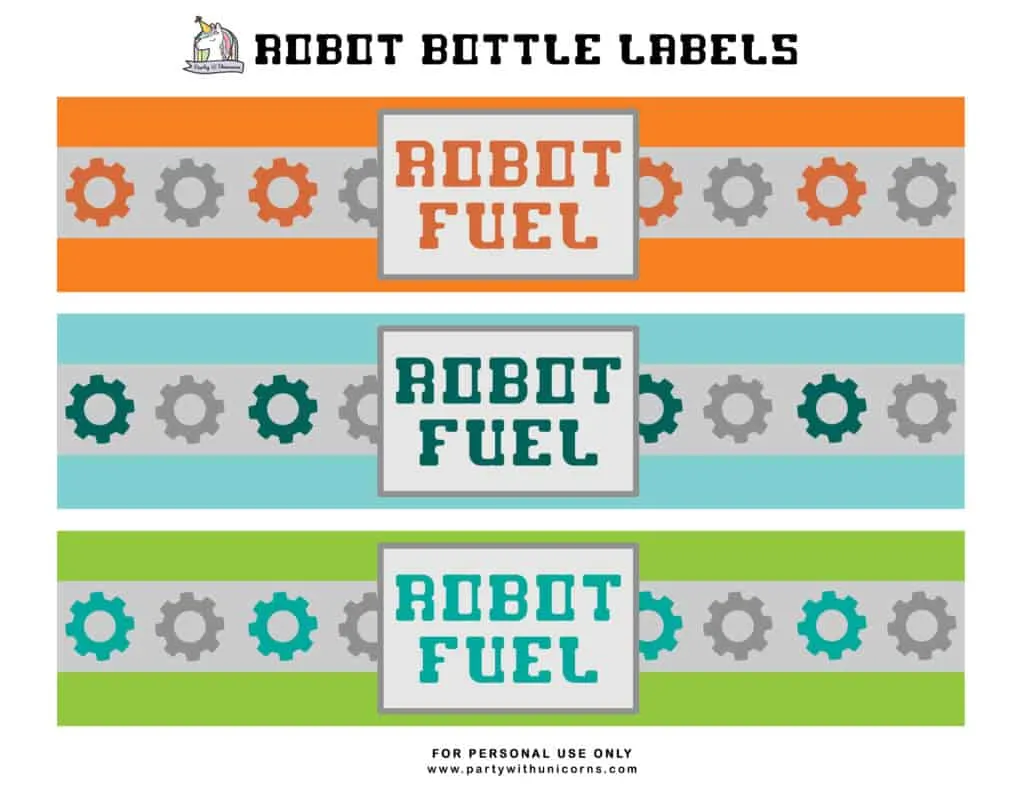 To decorate your drink bottles, you can download and print our free Robot Bottle Labels to use for the party. You can print it in a regular paper and wrap it around on your bottle and apply some glue/tape. R
Robot Party Games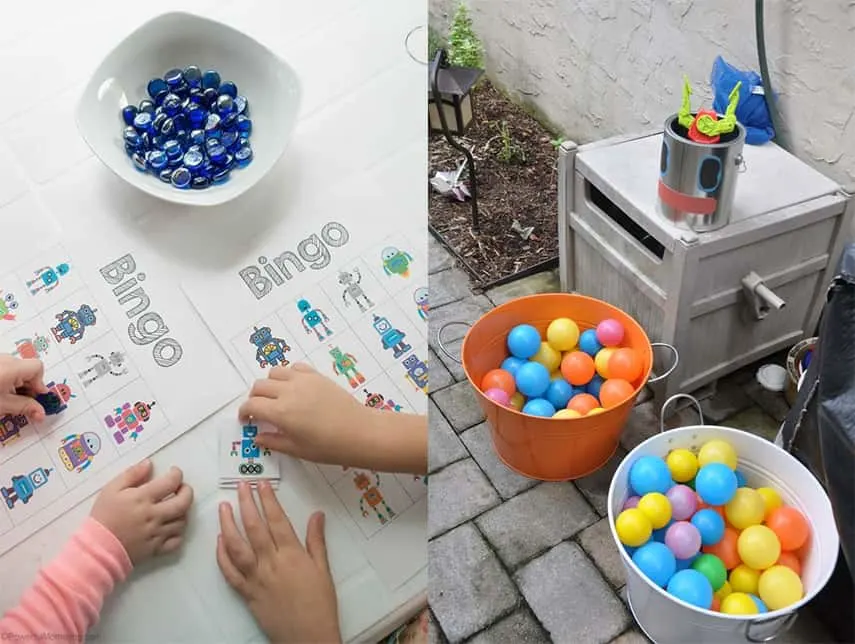 Bingo is always a winner with kids. Even the little ones can join this game with a little help. Another game idea is a "Knock Down The Can" inspired one, you just have to buy some colorful plastic balls and make a Robot head using a can. Kids will throw plastic balls into the can and they must be able to knock it down for them to win. Sounds fun, right?
Robot Coloring Sheet Masks
Another activity idea for your party is to let your kids design their own robot masks with theses Robot coloring sheets.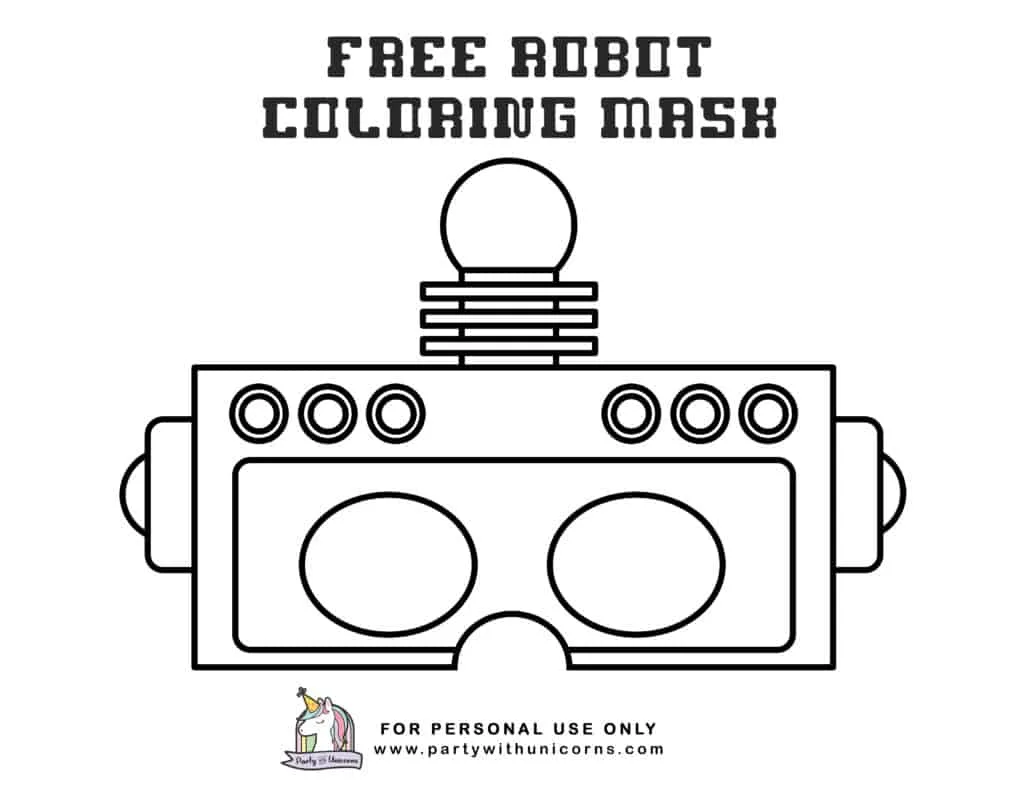 You can download and print our free coloring mask to use for the party. There are four mask designs in total and you can either use one or all of the designs.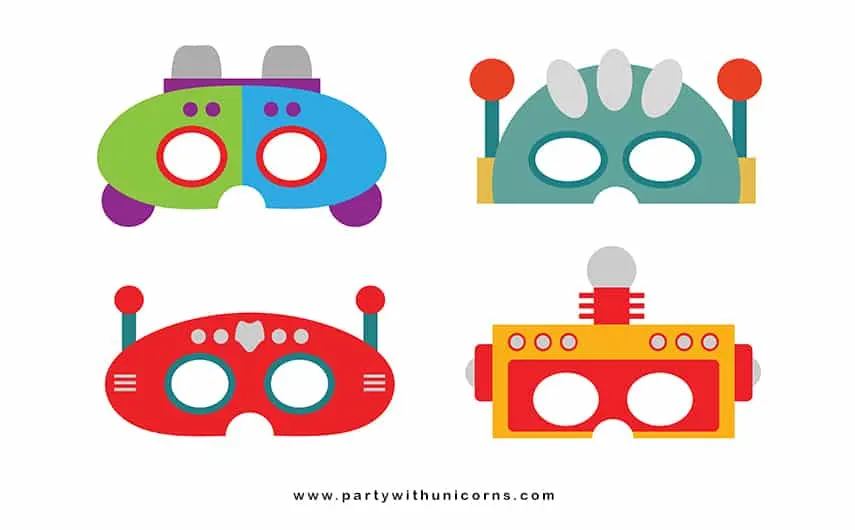 We also have colored Robot Masks that you can download. This is a cute souvenir for your guests that they can also wear during the party.
Robot Party Favor Box
What better way to say thank you to your little android guests is to give away party favors before they leave. You can use our Free Robot Party Favor Box. Our template is super easy to assemble that you can even ask the kids to help you make it.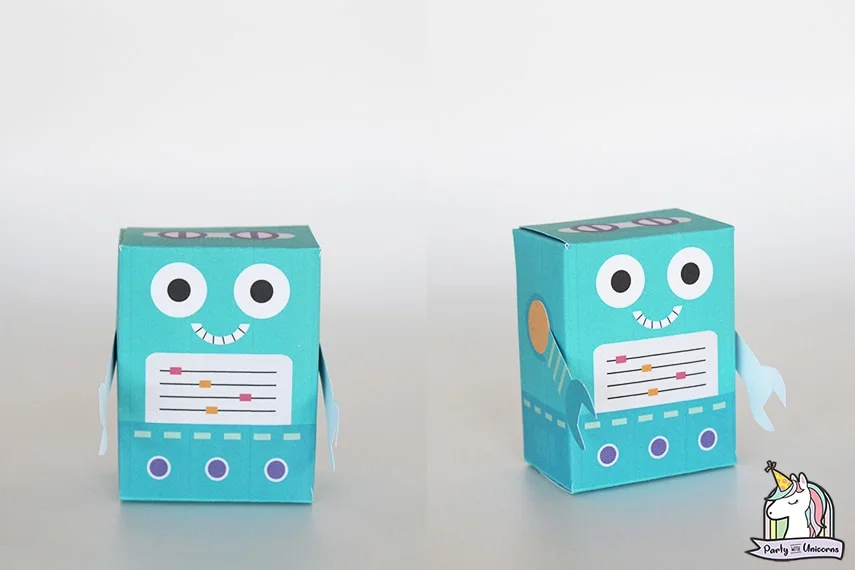 You can also make these adorable favor/treat ideas for your guest!

Robot Party ideas – Costumes
If you want to do the extra mile for your kid, why not create a unique costume for them? Like a few other ideas in this post, all you need is some boxes, a bit of paint and some decorations to add the finishing touches.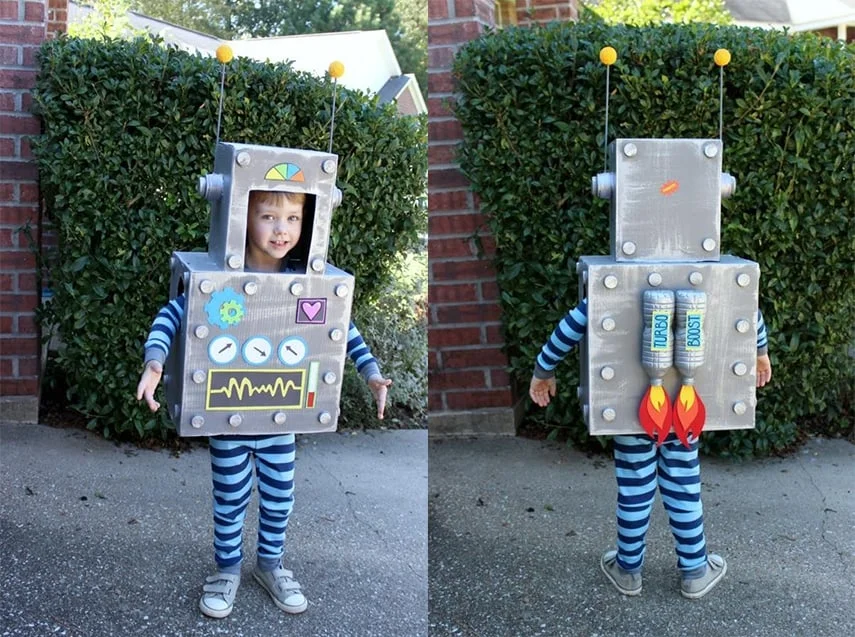 There you have it! I hope this of robot party ideas will help you in planning your party.
Similar Posts: