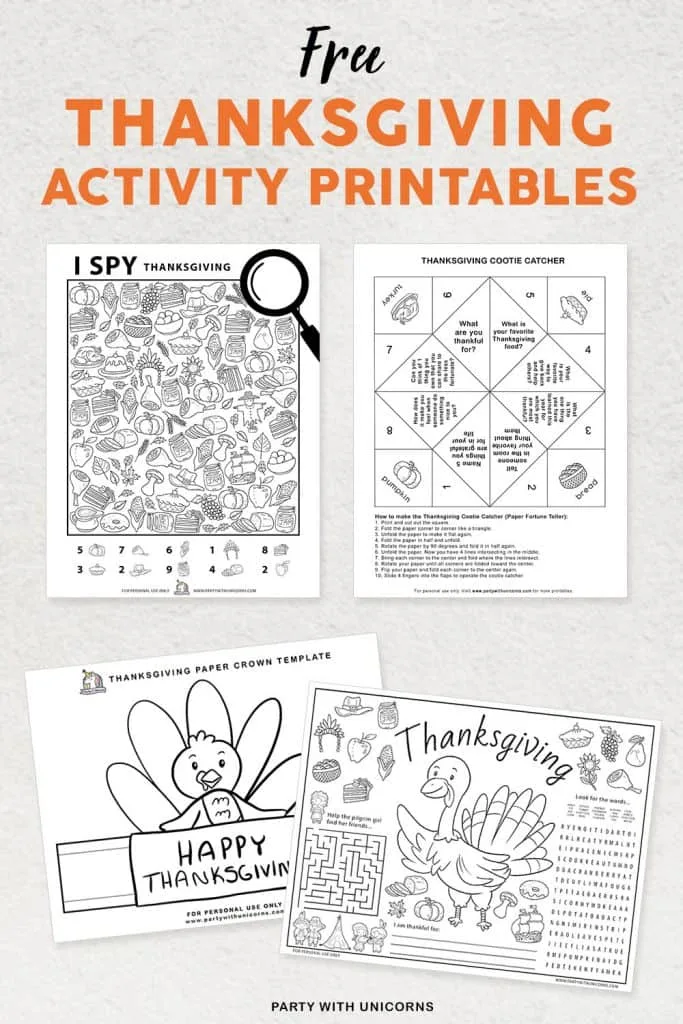 One of the things I miss most about growing up in Canada is Autumn. The crisp air, the leaves' changing colors, and all of the fun holidays like Halloween and Thanksgiving. While the weather may be very different at this time of year in Australia, I am still determined to pass along the Thanksgiving tradition to my kids.
Last weekend we had a spring Thanksgiving Dinner with some Canadian friends here in Sydney. With the kids in bathing suits and running through sprinklers, it didn't really feel like any of the Thanksgiving dinners of my childhood. To help the kids learn about Thanksgiving and to keep them entertained, I put together a set of fun Thanksgiving Printable activities.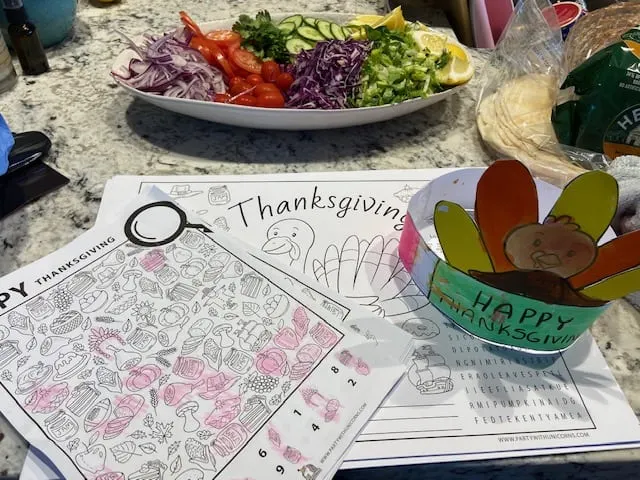 The printables were all a big hit with the kids. They especially loved the paper crown sets. A week later and my daughters are still waking up and putting on their turkey crowns! I loved the cootie catcher / Fortune tellers as it gave the kids lots of prompts to think and talk about what they are thankful for in their lives.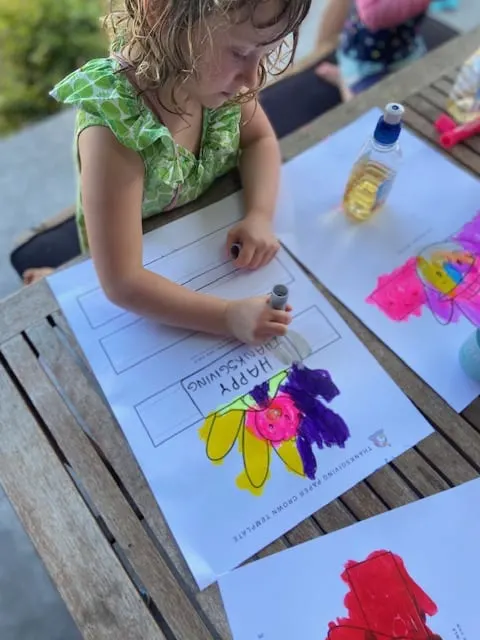 I am posting my Thanksgiving activity printables for you to use at your celebration. Keep reading for all of the details!
What's Included in the Thanksgiving Printable Set?
Regular readers of Party with Unicorns will know that I am a Brand Ambassador for Design Bundles. I use their graphics in tons of my designs and free printables, and this set is no different. Be sure to check out their free SVG sets for lots of fun Thanksgiving designs to use on your crafts and home-made printables.
Here is what I have included in today's Thanksgiving Printables for kids includes:
Thanksgiving placemat printable
Thanksgiving ISPY worksheet
Thanksgiving Paper Crowns
Thanksgiving Fortune teller printable / Thanksgiving Cootie Catcher
Thanksgiving Placemat Printable
I used the Thanksgiving placement printable to keep the kids busy at the table while we got all of the food ready to go. I printed the placemat out on A3 cardstock. The A3 print was a great size for the kids and the cardstock makes the placemat nice and sturdy. We have no issues with the placemat ripping or tearing when the kids spilled food on it.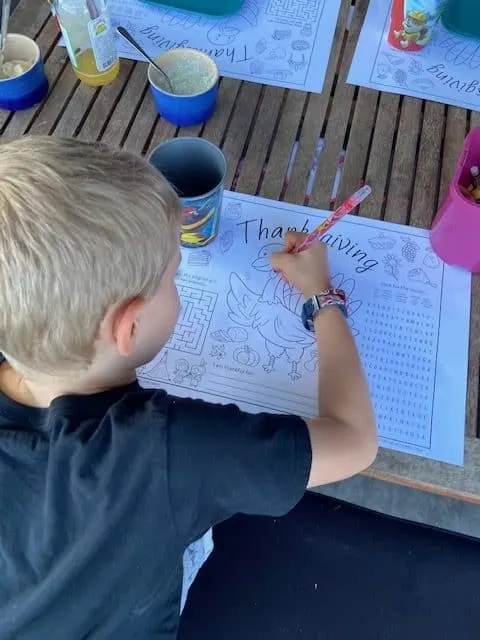 Thanksgiving Paper Crowns
For the crown, we have two different designs that you can choose from. The pages are formatted to print out on A4 paper. There are two headband extenders that you can use to make the crown the perfect size. I just attached the extenders with regular scotch tape, cello tape, or sticky tape (depending on where you are in the world!).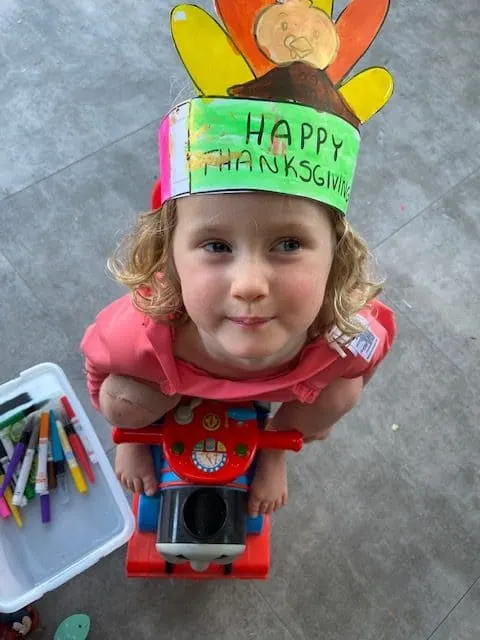 Thanksgiving ISPY worksheet
The ISPY worksheet will print out on a regular A4 paper. I found this was a great activity to pull out when the kids had been running around for a long time and needed a bit of quiet time. It was a great alternative to switching on the TV or Ipad.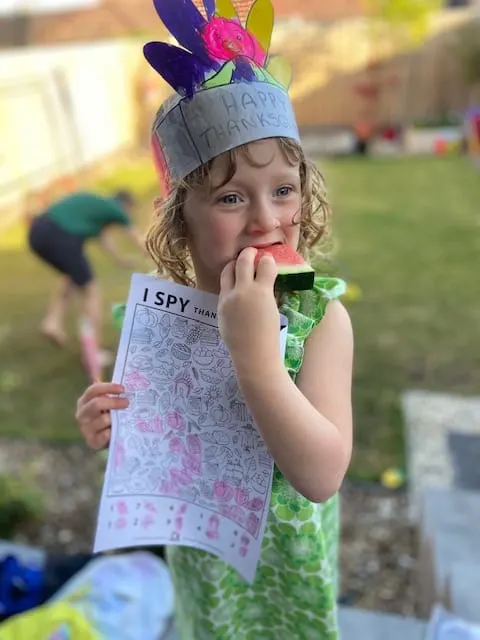 Thanksgiving Cootie Catcher / Thanksgiving Fortune Teller
I'm not entirely sure what to call the last printable. Growing up in Canada we used to call these Fortune tellers, but my American Friends call them cootie catchers. Whatever you call it, the kids love it!
The Thanksgiving version I have created has lots of fun questions to get the kids thinking about Thanksgiving's meaning and tradition. Some examples include:
What are you thankful for?
What is your favorite Thanksgiving Good?
What is your favorite way to give back and help others?
Tell someone in the room your favorite thing about them?
Fun right? The template is black and white so the kids can color in the designs to make it their very own. At our dinner, this ensured their was no confusion about kids misplacing their cootie catcher.
For older kids, I've also included a version of the Thanksgiving Cootie Catcher with a blank inside. This version is great for older kids who want to write their own questions or fortunes inside.
If cootie catchers are new to you or you need a quick reminder on how they work, I've put together a quick video to show you how the fold it correctly.
Download Thanksgiving Printables
You can download this thanksgiving activity bundle using the button below.
More Thanksgiving Craft Ideas
If you are looking for some more fun Thanksgiving activities for the kids, be sure to check out these great craft idea.
This DIY Thanksgiving Paper Wreath is a fun way to allow the kids to help decorate the house for family celebrations.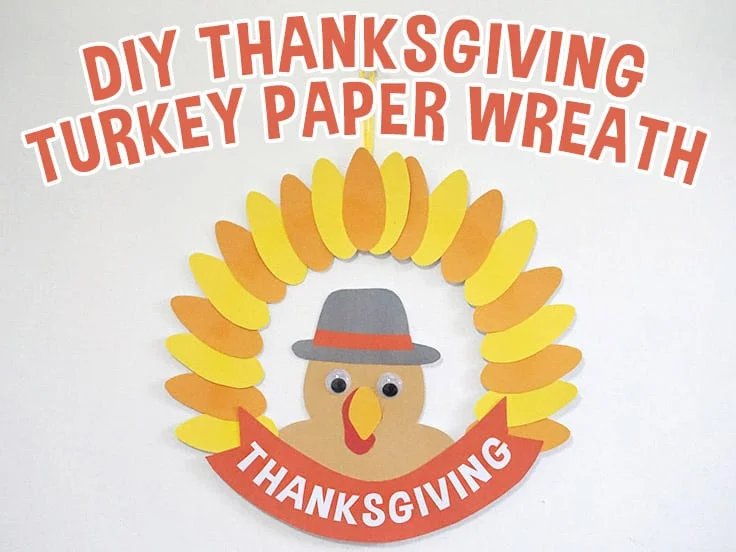 These free Thanksgiving Favor Bag templates are a fun way for the kids to gift some treats.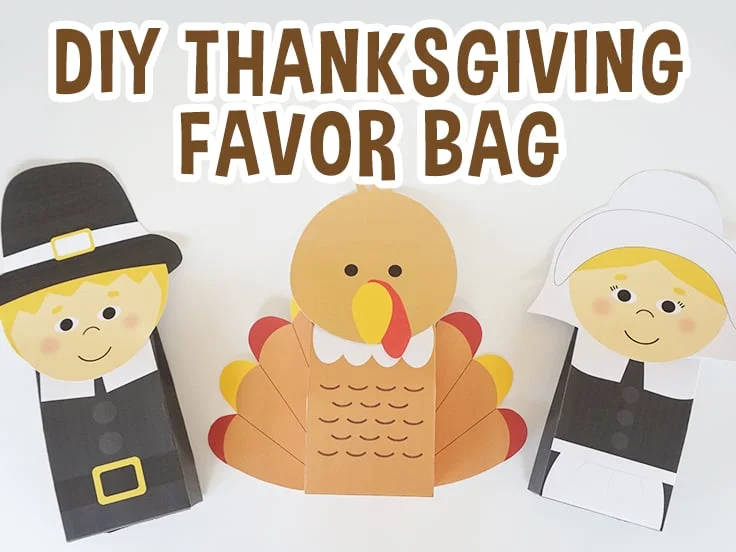 If you are up for some crafting, help the kids create the cute Turkey Cultery holders. The kids will be so proud to have their creations on the table at Thanksgiving.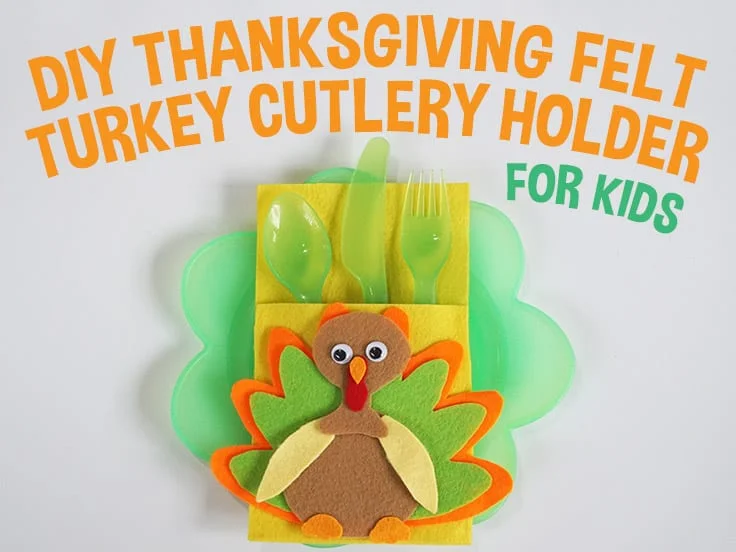 I hope you have an amazing Thanksgiving with your loved ones and that your littlest love ones love these Thanksgiving Activity Printables.
Pin this Post for later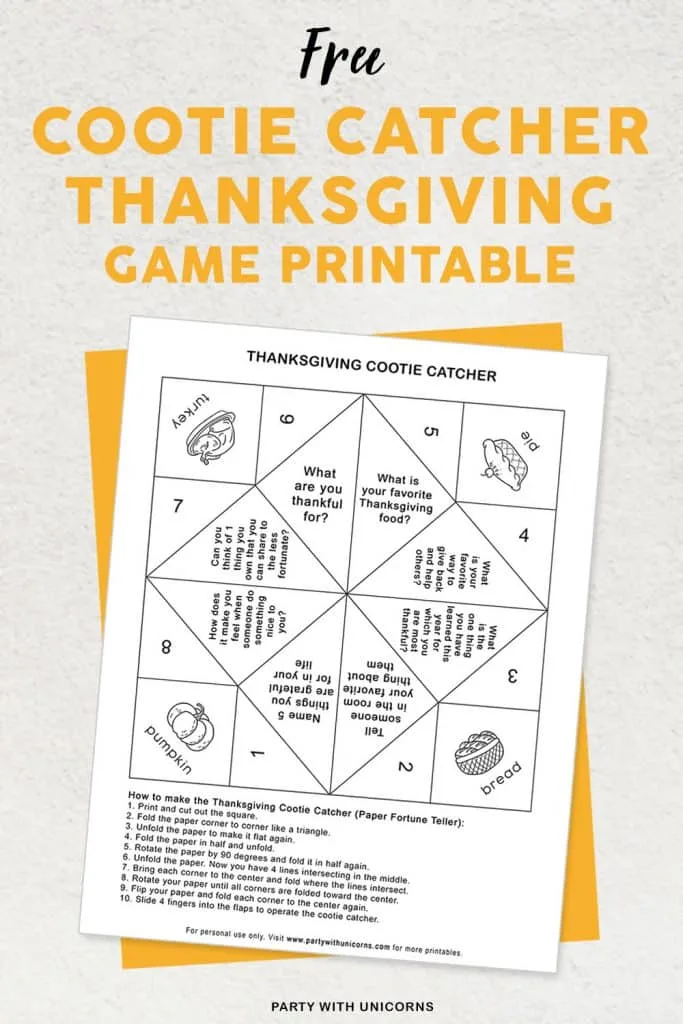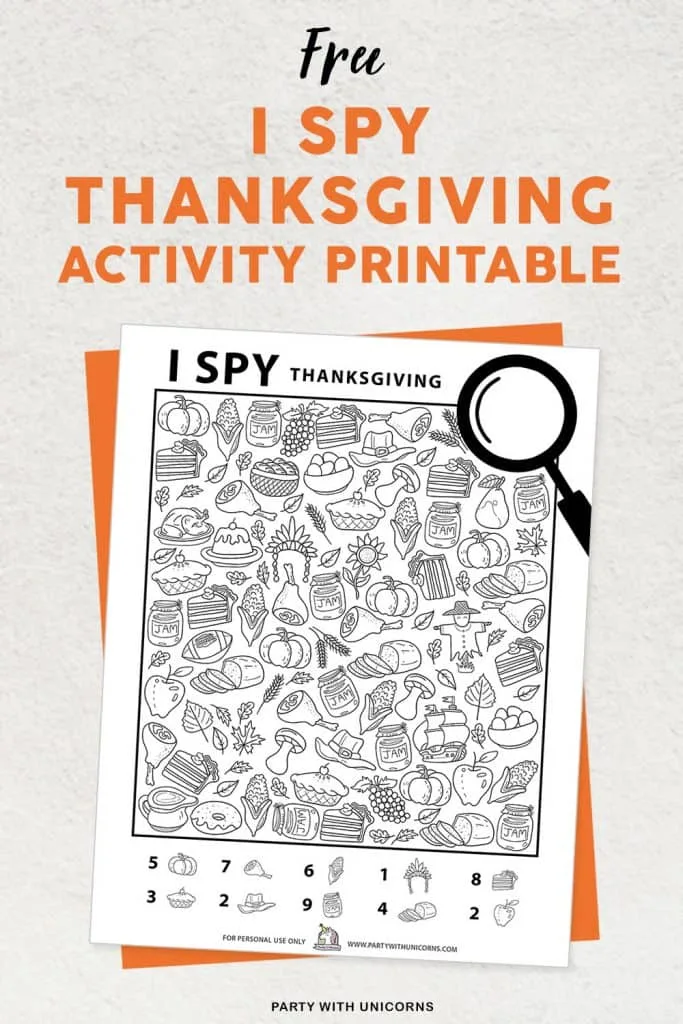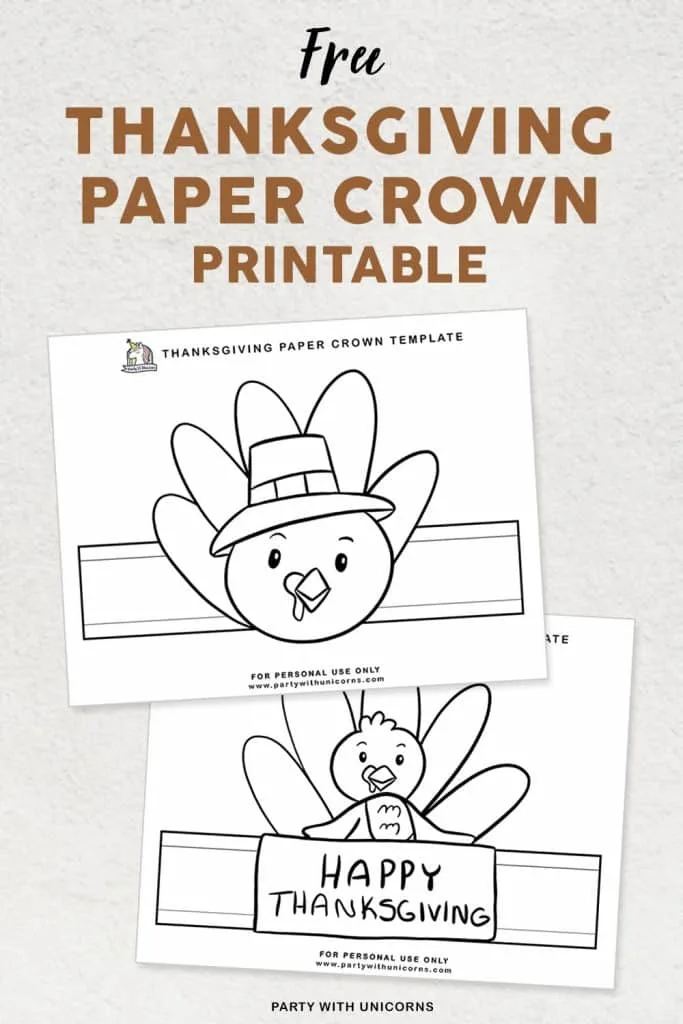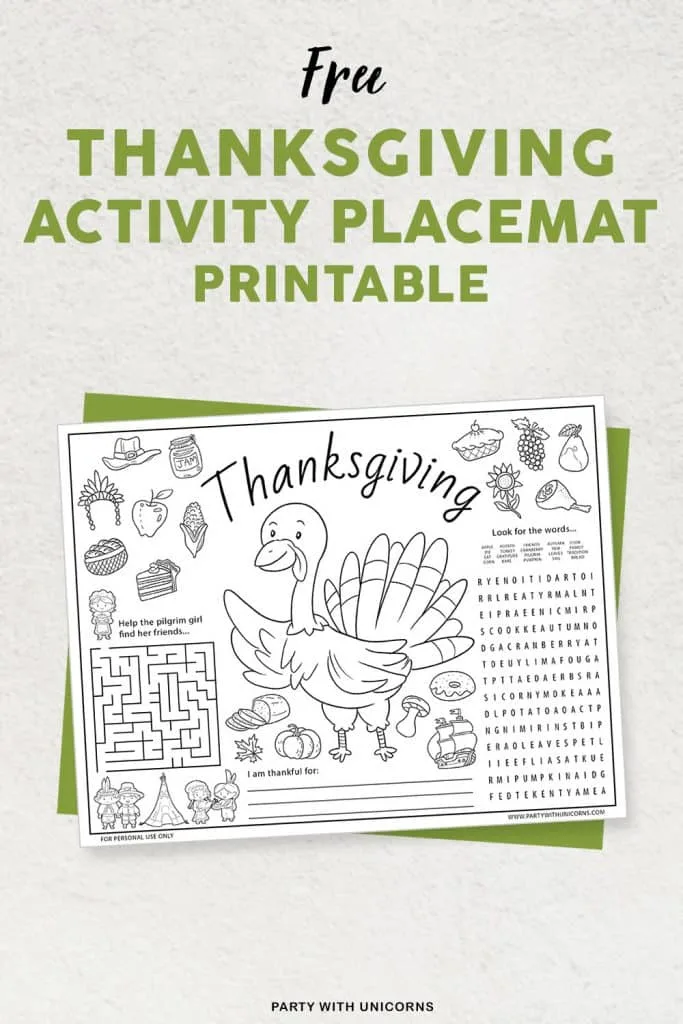 Similar Posts: