Planning a TikTok party for a birthday, baby shower, hens night, or other celebration? These awesome TikTok party ideas will have your guests ready to share videos about your event.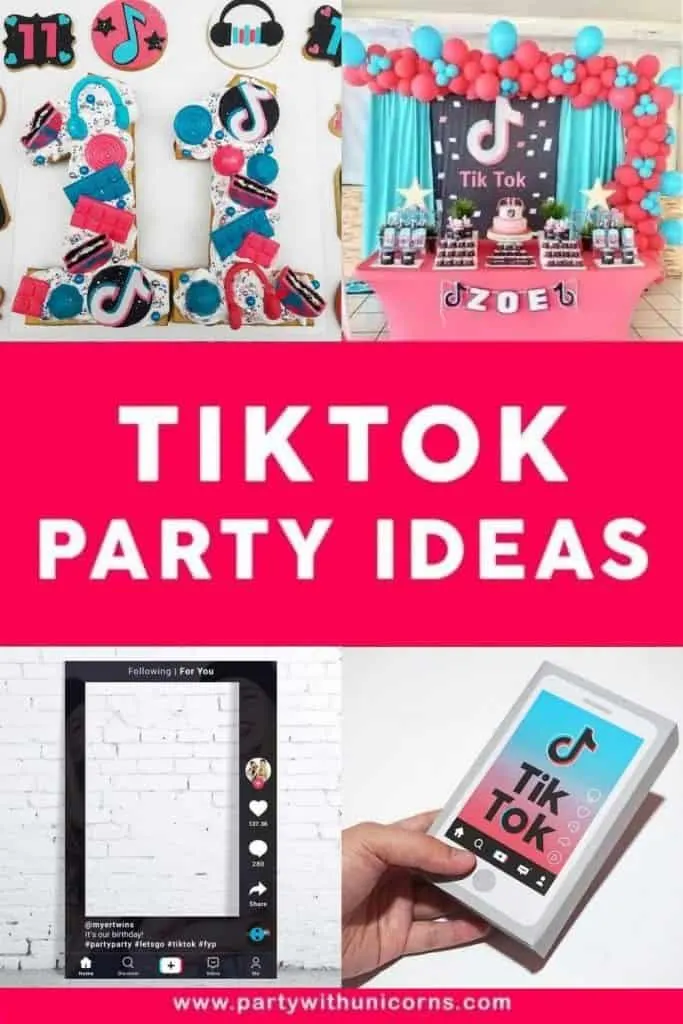 Maybe there's this TikTok song that you and your kids have been playing non-stop to perfect the dance moves? (Don't worry, you're not alone). If your child or teen loves this app, then a TikTok Birthday might be perfect for them.
This post may contain affiliate links. See our disclosure policy for more details.
Learn how to plan a TikTok party theme with creative ideas for decorations, food, and games to put together a TikTok birthday party that is worthy of a post or two.
TikTok Party Ideas
10 Cool TikTok Party Ideas
Our FREE TikTok Party invitation and printables come handy for those frugal parents who want to make their kid's TikTok themed party a memorable one. The set consists of party invitation, party banners, cupcake wrapper, cupcake topper, chocolate wrapper, bottle wrapper, and thank you cards!
Photo Credit: www.catchmyparty.com
If you want to get fancy with balloon set-up, here's an idea you can get inspiration from. You can use pink, blue, and black balloons to create arches or backdrops to make your dessert table pop-up!
Photo Credit: www.etsy.com
If you prefer a minimalist style, you can opt to use or get inspiration from these TikTok logo printed balloons instead. Black and white balloons are classy and will fit perfectly with your party.
Photo Credit: ohmypartystudio.com
Another decorative piece you can add to your party is a backdrop. This customizable TikTok party backdrop is a cute option to consider.
Learn how to make a TikTok cake with recipes and instructional tutorials to make the perfect TikTok cake for girls, boys, kids, and teens who are in love to follow long with the latest TikTok craze.
Photo Credit: www.etsy.com
If you have no baking skills and just want to revamp a grocery store cake, you can use a fancy TikTok themed cake topper instead. This sparkly TikTok cake topper I found on Etsy can make any cake stand out.
Looking for a perfect outfit for your little girl or boy during his/her TikTok party? Why not go to the laid back route and get these super cute TikTok Cat Hoodie.
Photo Credit: www.etsy.com
TikTok is all about making video memories. It would be a great idea if you can also encourage your guests to take photo memories with them during the party. One way is to set up a photo booth area. This TikTok party photo booth frame I found on Etsy will be a perfect addition to your party. Guests will surely love it!
Photo Credit: www.etsy.com
You can also add some photo booth props if you like. Here's a set of TikTok inspired photo booth printables available on Etsy.
For your party favors, we created a free TikTok party favor box template you can use. It is inspired by a mobile phone with the app on it so your guests will definitely find it cute.
These TikTok party ideas for decorations, food, and games are sure to make an awesome TikTok party that will have guests off their phones for a minute or two!